VIP's of Art Revolution Taipei, 360 Artists from 63 Countries
Presenting their Inspiration that Started it All (2)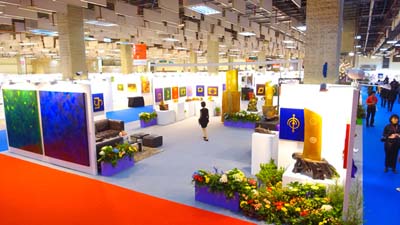 360 artists, 63 countries, 3000 artworks exhibited at Art Revolution Taipei 2017,
breaking a record high number of exhibited works.


A.R.T. (Art Revolution Taipei) reached a record high in both exhibiting artists and the diversity of countries represented by 360 artists, 63 countries and 3000 artworks exhibited.
Many A.R.T. artists have previously participated in premier art expos such as the Venice Biennale, Florence Biennale, Art Basel Miami, Armory Show New York, Frieze London and other international art fairs. This year, artists who are represented by Saatchi Gallery in the UK exhibited at A.R.T. as well.
Contemporary mid-career and established artists made up the roster for this year's art fair such as Ivan Lardschneider (Italy), Mirella Guasti (Italy), Carlo Alberto Palumbo (Italy), Khaled Zaki (Egypt) and many others. These are artists who have shown their work at world acclaimed venues such as the Venice Biennale.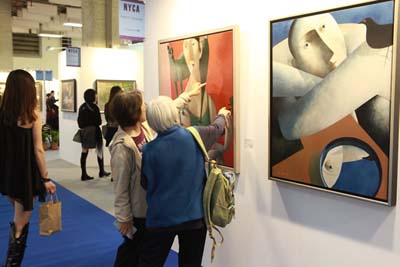 Peter H. Harskamp works are a highlight of A.R.T. each year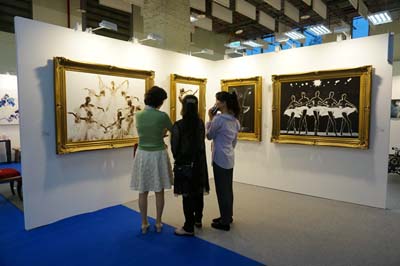 Richard Young, member of Royal Society of Arts London, master of light and shadow,
depicting the elegant strength of dancers through his delicate knife strokes.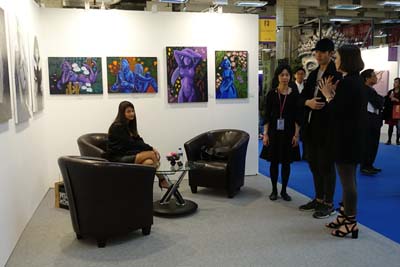 Zofia Palucha (ZOZO) comes from a family of artists.
Her works have illustrative elements with a distinctive modernist style.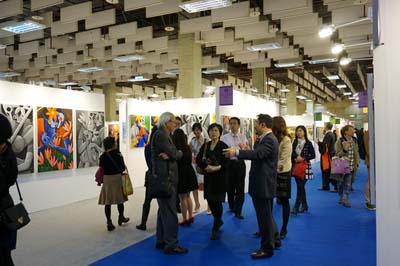 Kurma Venkata Siva Prasad was the 2015 Grand Prize Winner of the International Artists Competition.
He is a self-taught artist from India whose works are skillful and vivid



Soe Soe's works are rich in color and texture,
depicting the mountain scenery of Myanmar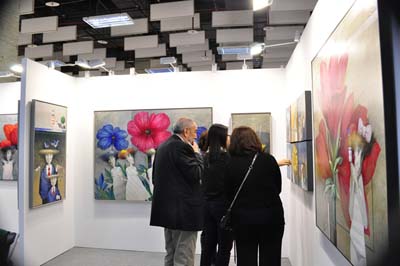 Manuel Lopez Herrera's art is subtly surreal, using expressive and
suggestive style to portray a sense of humor to entice the viewer's imagination.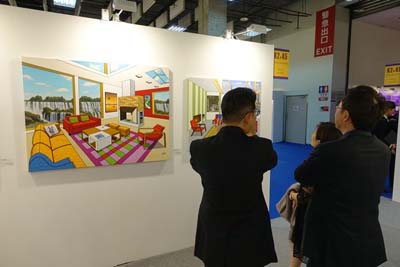 Spanish artist Mario Garcia Miro combines realism and modernism.


This years artists consists of emerging rising stars in the art world such as French artist Gregoire A. Meyer, who is currently represented by the notable Saatchi Gallery in London. Russian artist Alexander Oligerov is the winner of the "Best Painting Award" of Saint Petersburg International Arts Festival. His work is included in Samsung's Vice President's art collection.
British artist Sara Sammakia presents the current pop culture trend and encompasses the essence of the millennial generation. Two years ago, she exhibited for the first time at Art Basel Miami where she had a sold out show. Then last year, her works went to Christie's auction. Dutch artist Loes van Delft rise to fame came with her creation of her character of Pjipje. She was commissioned to design a jacket for Justin Bieber. Her works have been endorsed by the New York art broker who represented art master Andy Warhol, Miro and Lichtenstein. These two rising stars began collaboration last year following the latest trend in art and fashion.
Trend setters of the collaborative art projects is Ma Sing Ling, who comprises of MANIHOO, Singway and Ling Ling, together with their mentor Lee Sun-Don presents "Qi" series. There art explores the notion of drifting between figurative in abstraction, abstraction in figurative. Their works express the profound meaning of what is truly form of no form, and the form of no set forms. "Magnificent Wonder World" is a collaborative work by Ma Sing Ling and artist Luna Chen; when coupled with Professor Lee Sun-Don's unique totem elements, the series developed into "The Myriad Sublimity" series where all five artists collectively created, thus transforming to the "Floral Scent Dances into the World" series.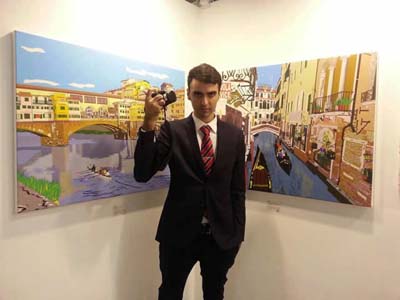 Italian artist Marco Santaniello's dual identity as pop aritst
and international fashion designer, uses travel as the theme of his creations.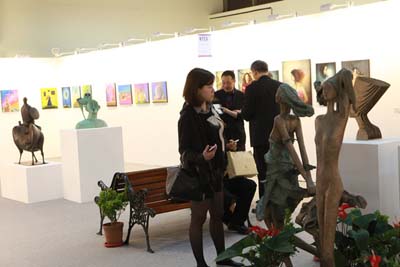 Italian artist Mirella Guasti's original human sculptures are highly recognizable.
She was invited to participate in the 54th Venice Biennale to exhibit
in the National Pavilion of Italy, New York Armory Show and London Frieze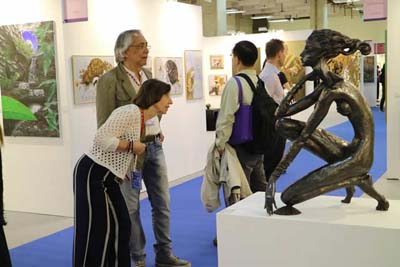 Ukrainian artist Igor Grechanyk is an internationally renowned contemporary sculptor.
In his country, he was awarded the National Olympic Medal
in recognition of the contribution of his sculpture to Ukrainian art and culture.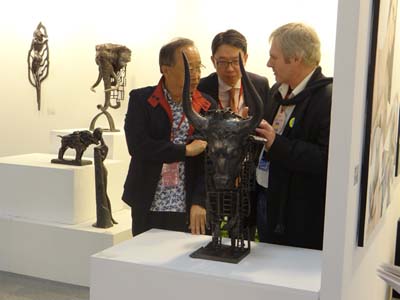 Ukrainian artist Igor Grechanyk introducing his work to the art enthusiasts.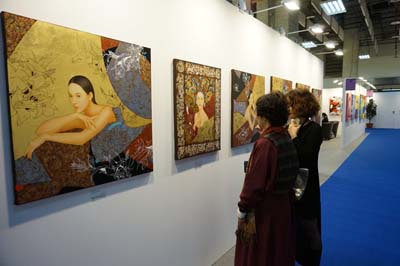 KAMU (Olga & Sergey Kamennoy) team up in art creation. Using multi-level pigments,
unique techniques, their works are included in eight museum collections.
They also won the "Kandinsky Award" in Moscow, Russia. Due to their contribution
to French culture he was awarded the bronze medal of Paris.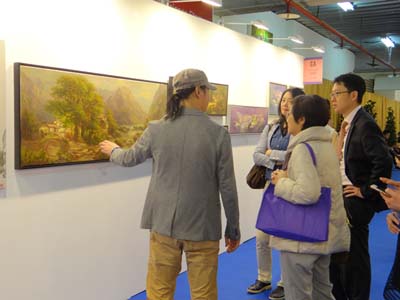 Artist Tu Jianguo shares his inspiration with art collectors
about his two new series (Chinese Contemporary Art Gallery)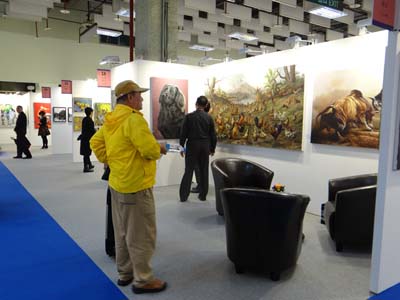 Chinese artist Xu Sha paints the vividly real gestures of animals since 2001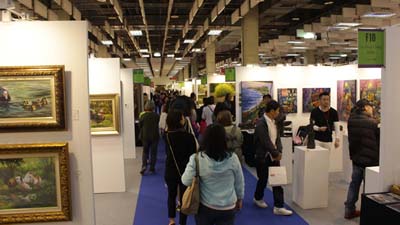 Taiwan Contemporary Art Gallery: Established and emerging art stars gather together
representing Taiwanese contemporary arts.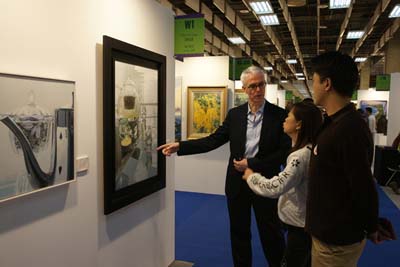 Taiwanese artist Chen Baiyuan is a rising artist who's being cultivated by
the National Hsinchu Living Arts Center, a subsidiary institute of Ministry of Culture.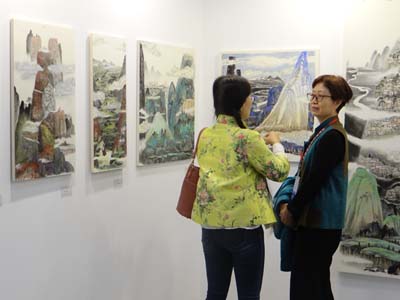 Qian Ruiying portrays beautiful scenery of mountains and rivers of the world.
Her intriguing art is shown through stylish design and fun patterns.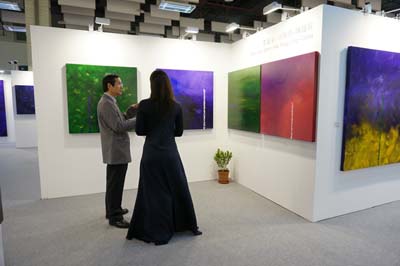 Ma Sing Ling, Luna Chen, and Art Director Lee Sun-Don pushes the creation boundaries
by collaborating between 5 artists in their series "The Myriad Sublimity"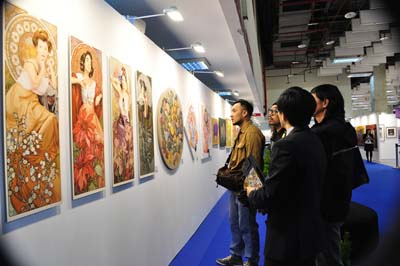 Belgian artist Alice Piemme, was invited to participate in the Berlin Biennale 2016.
"Priceless Treasure," depicts Mucha's Precious Stone with modern photography.
(International Artists Grand Prize Competition Gallery)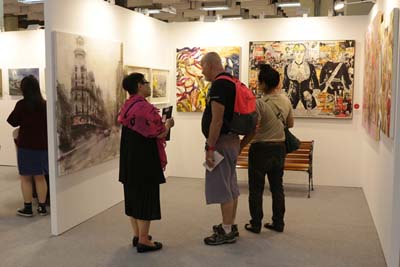 Bulgarian artist Stanislav Belovski's work (first to the right)
presents a mysterious atmosphere. (International Artists Grand Prize Competition Gallery)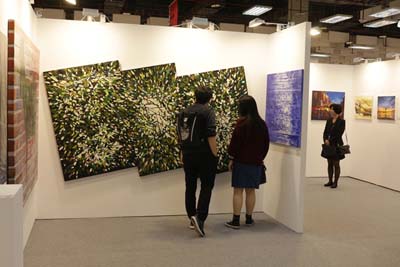 Vietnamese Nguyen Thanh Nhan was noted as one of
the "Top Ten Best Contemporary Young Artists in Ho Chi Minh City" sponsored by Melbourne City,
Australia in Vietnam. (International Artists Grand Prize Competition Gallery)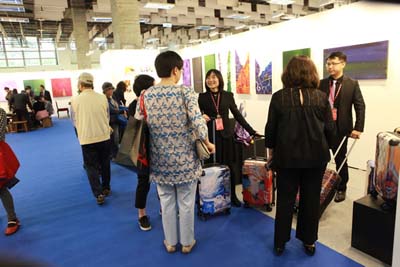 GP Deva Art and Design Section releases special edition luxury goods items inspired by
the "Fortune Fairy" series. Artistic mugs, flower teas, coasters,
cell phone power banks and cell phone cases loved by all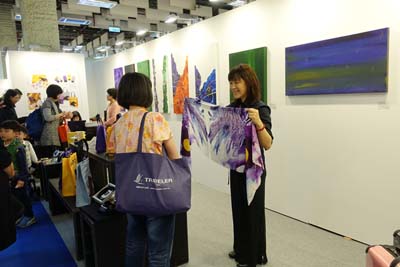 Artistic silk scarves, combined with artist's paintings reveal elegance and style.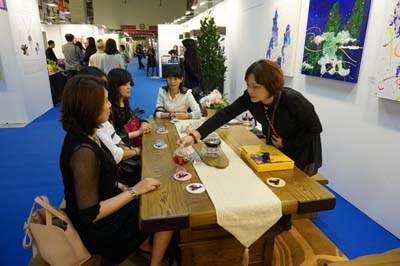 Art and Design Section brews flower tea for VIP guests of A.R.T.
Guests loved the aroma and taste of the 5 exclusive flower blends as they enjoyed the art fair.