Art Revolution Taipei 2017
Artist Interview (4)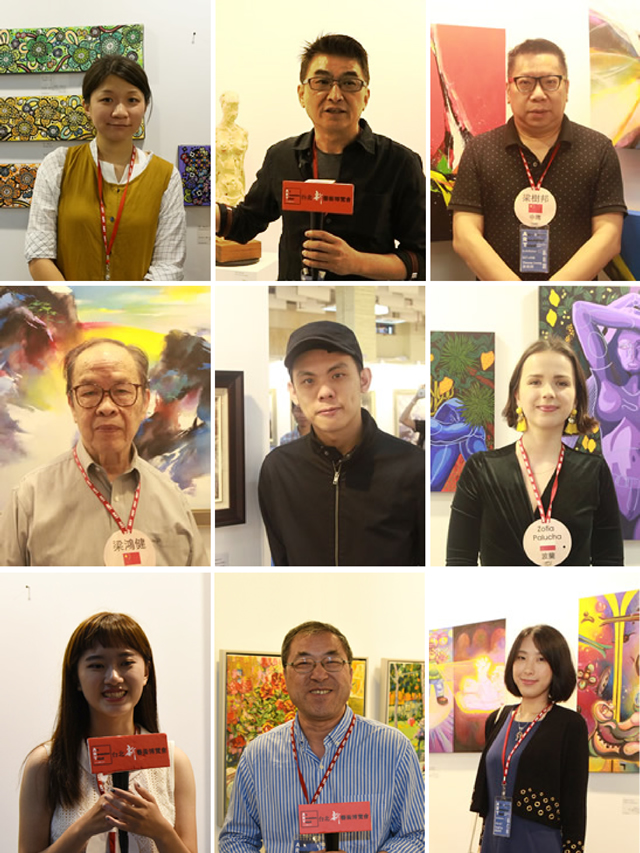 "Taipei Art Revolution Taipei 2017" Artist Interview (4)
This interview includes nine artists:
(1) Taiwan

GOGO YU,
(2) Taiwan

Yu Lien-Chun,
(3) China

Thomas Leung,
(4) China

Leung Hongken,
(5) China

Huang Fan,
(6) Poland

Zofia Pałucha (ZOZO),
(7) Taiwan

Cheng Yu-Ling,
(8) China

Zhang Donglin,
(9) Taiwan

Small Sa,
Each artist is exhibiting his talent, extending the world of beauty infinitely ~ ~
(28)GOGO YU
1989,Taiwan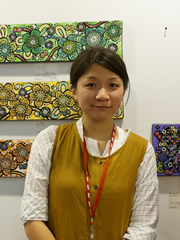 I have loved painting since I was little. In high school I majored in business, which the study was relatively stressful. I began to use painting as a way to express my feelings, and shared my painting with my classmates. This way, I could not only change the mood, but also get the support from other students. So this deepened my love of creation.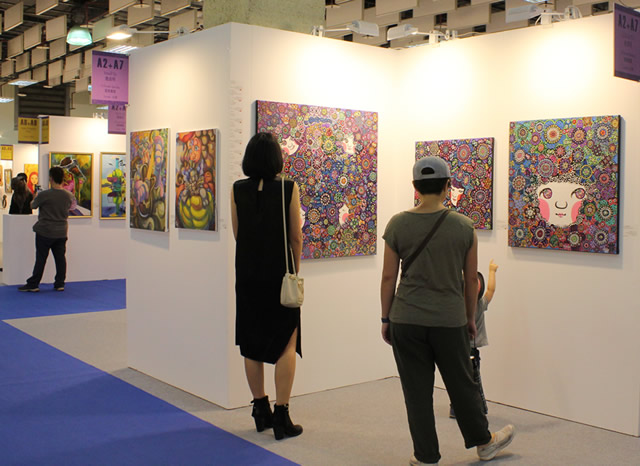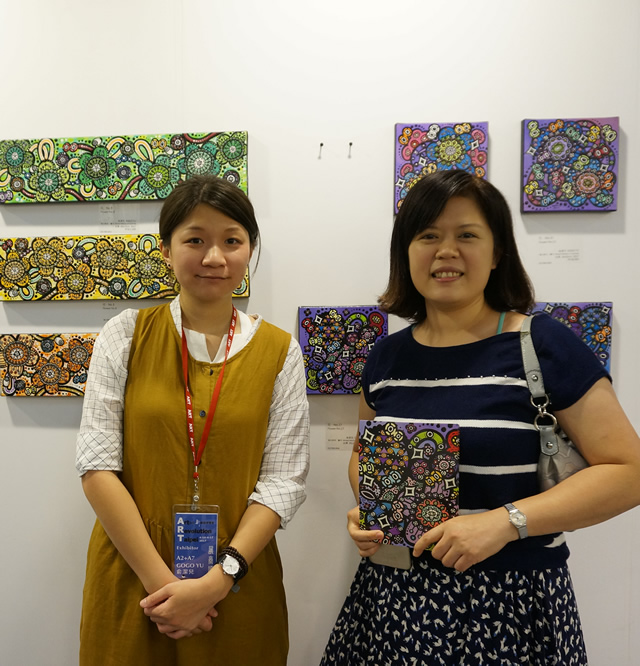 This piece of work is called "Flowers with Butterflies". I found that after graduation, life began to change significantly with friends. Some students are married, have children, or are busy with work. There is no way we can call either other to come out to chat, to share our lives as before. I feel that this is like flowers, which change with seasons. And each friend, although scattered in different places, is sending out his own light and heat in their own field.
(29)Yu Lien-Chun,
1961, Taiwan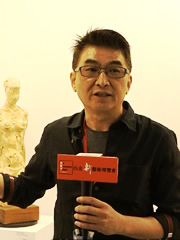 My teacher taught me the technique of "clay firing ", which the Italian calls Terracotta. Terra means "clay", and cotta means "firing", that is, to fire the completed clay sculpture.
Generally to make a sculpture people tie a stick inside, and then add earth, clay, but once the mold is shaped, the earth was removed. So there is no original work. This is the blind spot of sculpture. And in my earthen sculpture there is no tied stick. The original work can be kept. This technique is my own invention, called "acupuncture structure."
This expression does not need mending. I do it all the way from the beginning to the finish, just like ink painting. When a stroke is done, it is done. In other words, each of its stage moves very fast, without too many restrictions.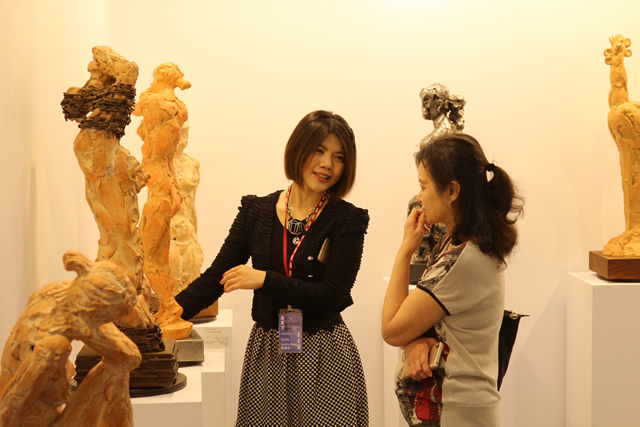 I prefer human figures but also do some series of animals, owls. In fact, the human body is not so simple and smooth. It contains a lot of emotions in itself. Take this work for example, there is a lot of strength and force within it. The earth can jump, can be agitated, containing internal forces. The person kneading the clay must bring out these situations, these gravities.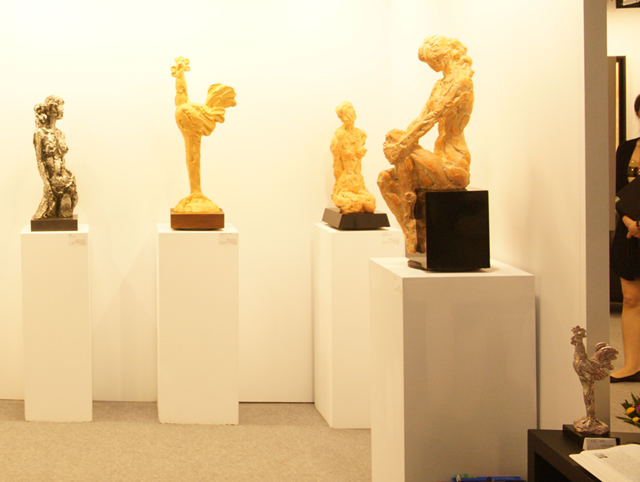 For over a decade, I have combined earth and iron, which is rare in Europe. No other artist has done so in Japan either. I have found a way to fuse two materials, creating infinite possibilities in sculpture. I insist on working with terracotta from the beginning until now. Today, my expression is become more creative and original. I have put down the sculpture knife completely and only use my fingers, fist, palms and backs of my hands to bring out the wild tone of earth.
From the first year to the present seventh year, I feel extremely honored to participate in this exhibition. I feel the exhibition is better and better, more and more exciting. I hope that I also work harder, do better than before, find the road for the future. Thank you!
(30) Thomas Leung
1958, China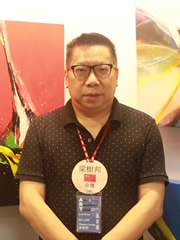 My first creation was made when my father went to Australia to participate in an exhibition. I secretly went into his studio, just wanted to see his work. Then I picked up my father's brush, and drew the first piece of work. My father had a gallery in Hong Kong, so at that time I put my first work in the gallery. Six months later, a foreign collector collected it. That was a great encouragement to me. So I went to the United States to study art and become a lifelong artist.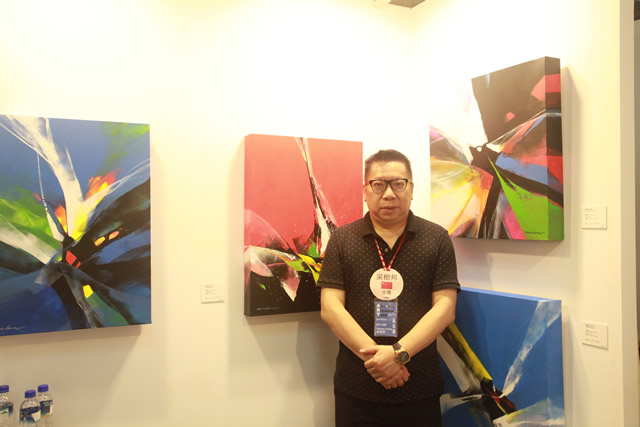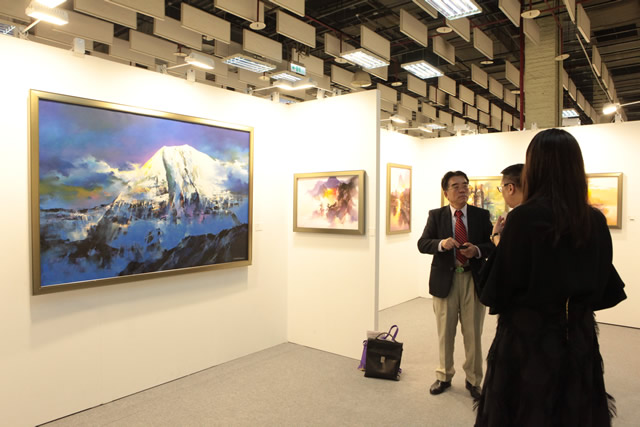 My latest work is about a famous holy mountain in Ganglangpo, Tibet. The three pieces I painted of this mountain have all been collected. This is the last one, I take a very unique perspective on the mountain scenery. I use a Tibetan rock to depict the sacredness of the mountain.
(31) Leung Hongken
1933, China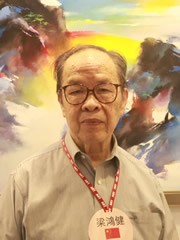 I am 83 years old this year. The exhibited works this year is my latest creation. My work is very focused on color, composition and mood. The scenery I paint is a semi-abstract style.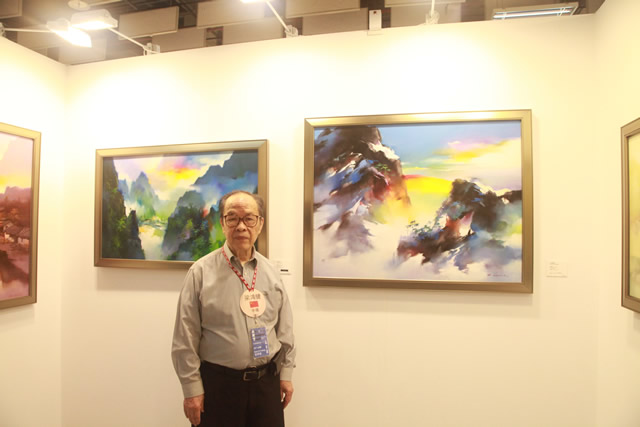 (32) Huang Fan
1992, Taiwan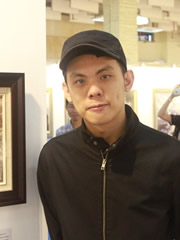 This piece is called "Mood of Fallen Leaves", depicting a woman laying on a bed of fallen leaves. I believe the fallen leaf is a symbol of death, and I choose to put a young woman on the leaves to form a contrast.
It is a great honor for me to exhibit in A.R.T. this year. This is the first time in my life that I ever participate in such a grand art event. I am very happy and very honored to be here.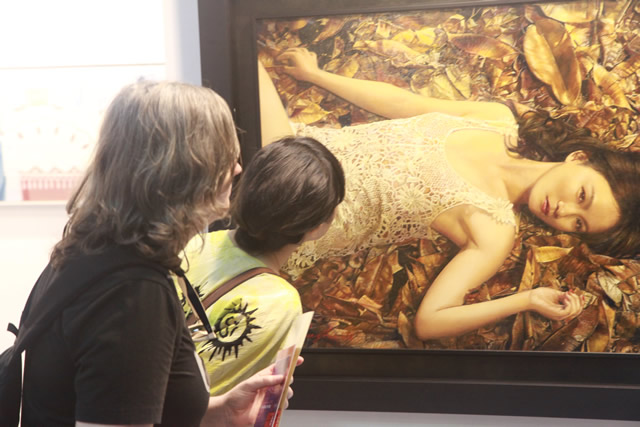 (33) Zofia Pałucha (ZOZO)
1993, Poland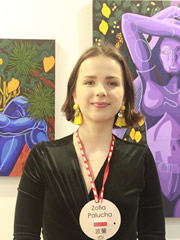 My favorite figure is "Perun", a god of Slavic mythology. Before the tenth century, including my motherland Poland, is called Slovakia. I want to update the image of the Slavic gods, making him look like a model, like someone in fashion magazine.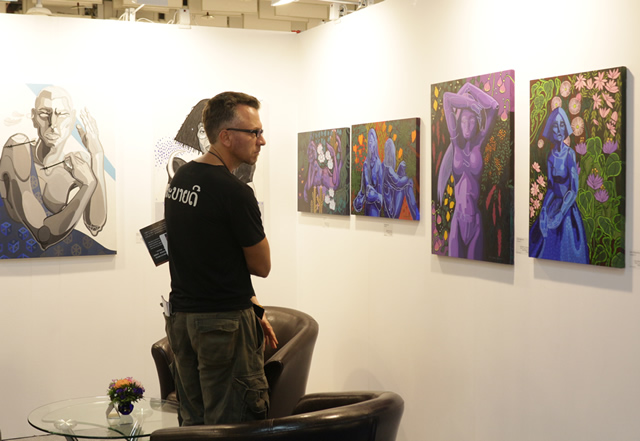 Perun's power comes from the thunderbolt, so here I put two lightning bolts that look like lightning balls. My paintings are quite pictorial, and I use light and dots to materialize Perun. He is widely known for his horse, which I used the Chinese character of horse. Although Perun has silver hair with golden beard, but I did not draw his golden beard, and I only drew his silver hair.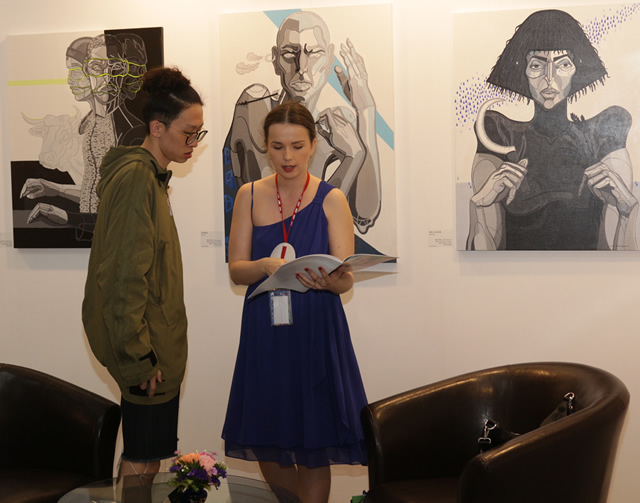 This year I brought to the A.R.T two series: one is "Perun", the other is "Garden", also called "Woman in Blue". There are two women in the picture; plants with flowers, wild jungle in the background are created by me. Why do I choose the blue color? That is because the blue is very important in the history of painting. Picasso has the so-called blue period, Microsoft's E is blue color ~ ~ blue is of great significance to me, because I like blue.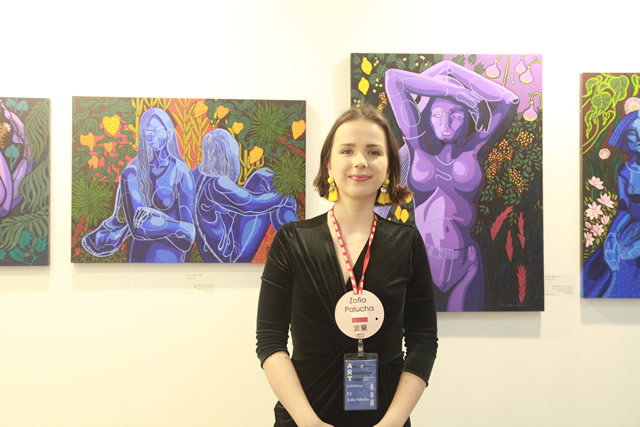 I have blue in every painting, basically for expressing an atmosphere, and the personality and characteristics of these two people.
The two people in the work are against each other, and they ignore that they are living in a very good environment, and care only about their own feelings. If we remove the defensive mentality, we can actually enjoy life.
(34) Cheng Yu-Ling
1996, Taiwan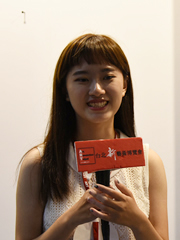 I first learned about the ink wash painting of the literati of the Song Dynasty while studying in school. I was interested in the blank or negative space within the eastern ink paintings. This medium was so beautiful that I chose to create in the ink figurative style. I learned of contemporary ink wash artists, such as Mr. He Jiayin from mainland China, who's work has had a deep impact in my life. My works have now evolved towards literati painting.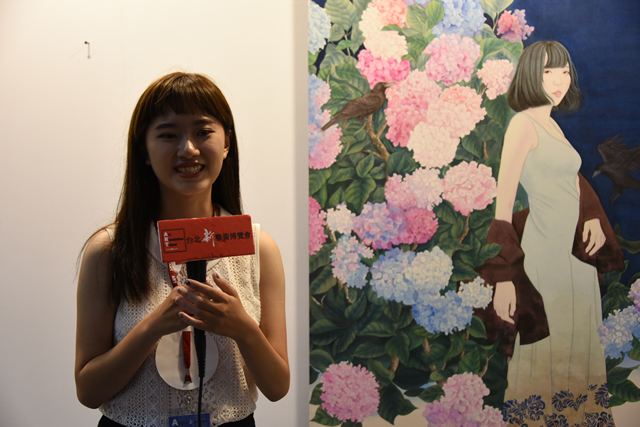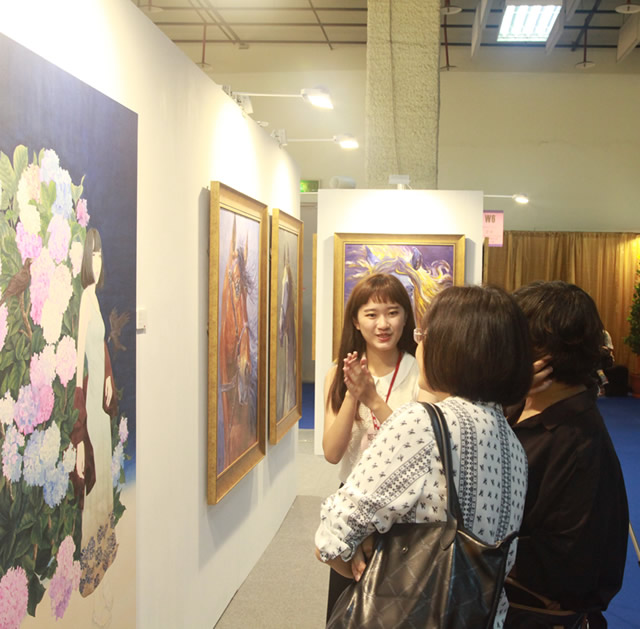 I completed this work this year, which is a turning point, describing a girl's youth. This painting is called "Still", expressing the passage of time. I think flowers and birds are fleeting. Flowers bloom only for a certain period time, while birds also have their own life spans. The bird is actually a three-headed crow, a symbol of auspiciousness in Japan.
(35) Zhang Donglin
1955, China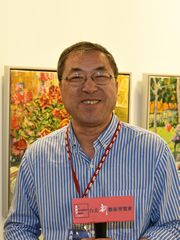 I was born in Shanghai and have been living in Melbourne, Australia for nearly 30 years. My works this year reflect the life of Australia. There are two characteristics in my artwork that I have been pursuing for decades, which is the expression of color and light. Australian Sunshine series features many flowers, reflecting daily life in Australia. This could be something as simple as drinking a cup of coffee while gardening, which is such a comfortable feeling.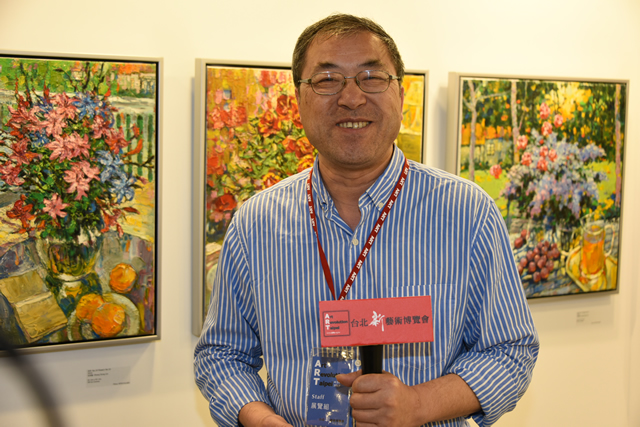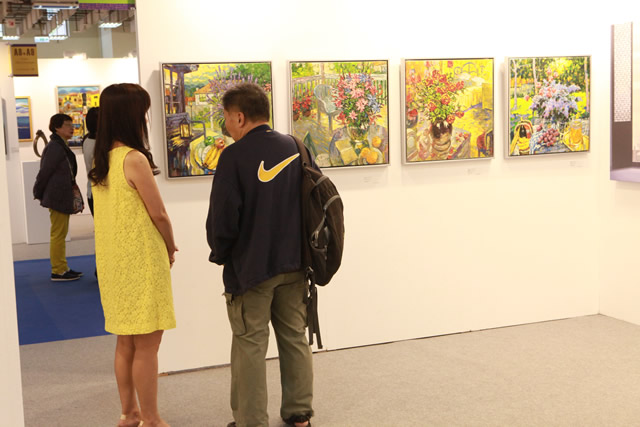 In the 14th year of living in Melbourne, I began to return to China to participate in the Shanghai Art Fair. I am so very honored to participate in the Art Revolution Taipei and think this fair is quite good, in terms of layout and lighting. I feel that this expo is more professional than the one in Shanghai. This expo has a large number of volunteers, which is also better than Shanghai.
(36) Small Sa
1992, Taiwan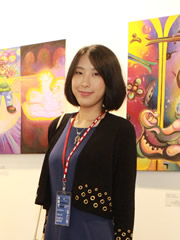 I've always loved drawing and dreamed to be an artist. I studied animation in college, but realized that I didn't enjoy this field. I am grateful that Art Director Lee believed in me and helped me to start painting. Being able to be an artist is incredibly meaningful to me.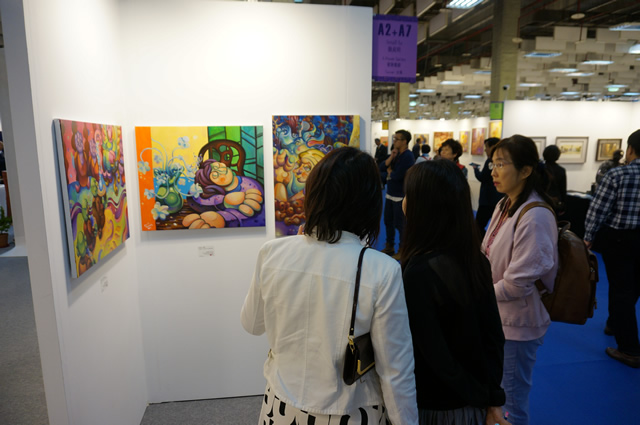 I hope that everyone who sees my paintings will feel warmth and love. I painted a very large hand. Why are the lines round? It is because I was inspired by the lines of the human body while taking a sketching class in college. I feel that these lines are beautiful so I incorporate the arc into the painting.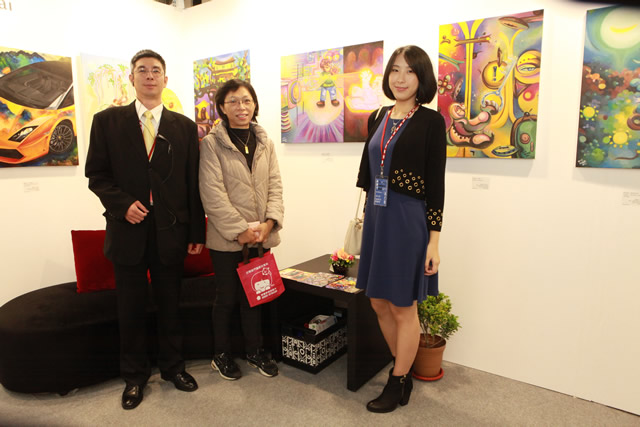 I first participated in A.R.T last year with the Colorful Life series, portraying happy moments of life. My work has evolved in the Buddy series, which signifies friendship, inspired by Pokemon. Each painting has wizards or fairies, who accompany us in our lives and help us when we are in need, just like Pokemon. I hope that these fairies will bring joy and happiness to everyone who looks at the painting.