Art Revolution Taipei 2017
Artist Interview (5)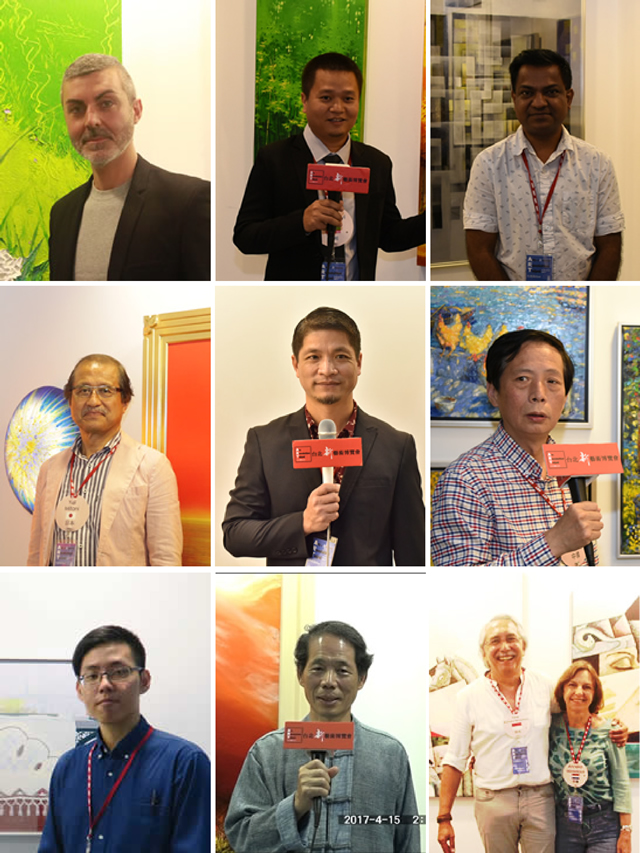 "Taipei Art Revolution Taipei 2017" Artist Interview (5)
This interview includes nine artists: (37) France Fabien Gronchi (38) Myanmar Pann Kyi (39) India Sagar Talekar (40) Japan Yuji Mitani (41) Taiwan Yu Ren (42) China Chen Jianxin (43 ) Taiwan Chen Po-Yuan (44) Taiwan Jan Chin-Shui (45) Indonesia Peter Richard Winkelaar
(37) Fabien Gronchi
1978, France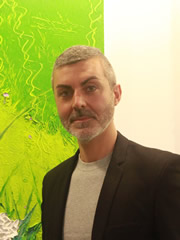 My work has to do with reproduction of nature, especially the scenery of southern France. I use a special technique to scrape the paint directly on the canvas with a knife to show the three-dimensional effect. My painting is to pay tribute to nature, to draw the light, to create a touchable, breathable nature!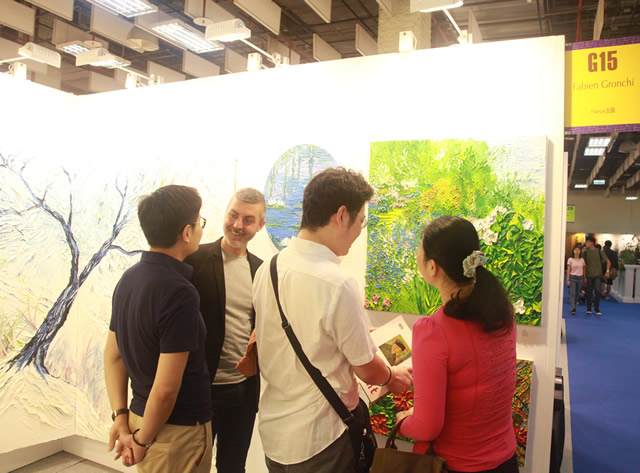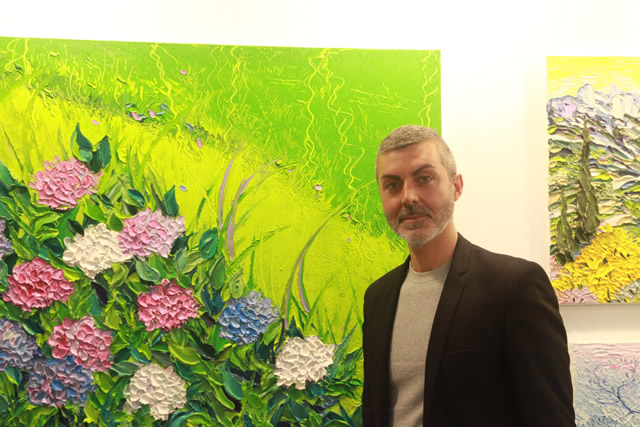 I paint outdoors, to capture the color, light and shadow of the moment. I only use oil paints and linen canvas. I paint layer after layer of paint to create texture. In fact, my intention is to sculpt nature using paint, allowing it to come alive and letting the viewer to freely enjoy themselves in nature.
(38) Pann Kyi
1983, Myanmar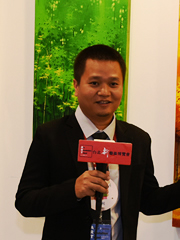 My name is Pann Kyi. I am from Myanmar. In "Bamboo Series", I spent a long time painting this series of works. There is a total of four series, including "Waterfall", "Landscape" and "Nude Model".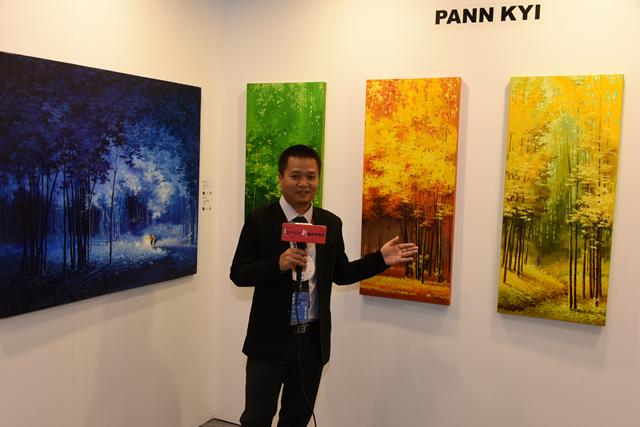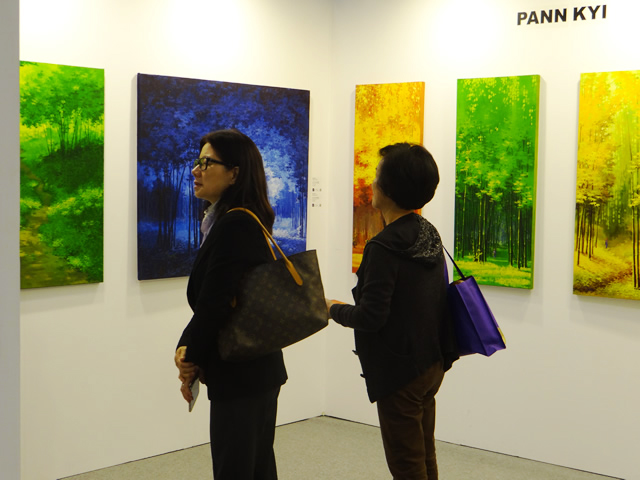 Bamboo grows near the town where I was born. I chose it as a theme in my work I wanted people to see my work and feel calm and relaxed.
I am very honored to be able to participate in this art event. Once again I thank my partner V'art space for allowing me the opportunity to exhibit here.
(39) Sagar Talekar
1978, India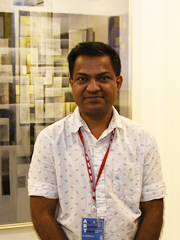 Among the works I bring, one is called Taoism series, presenting Laozi's thoughts and philosophy of "Tao Te Ching" together with abstract paintings. "Tao Te Ching" has many chapters, each chapter is a series, about 30 to 50 works.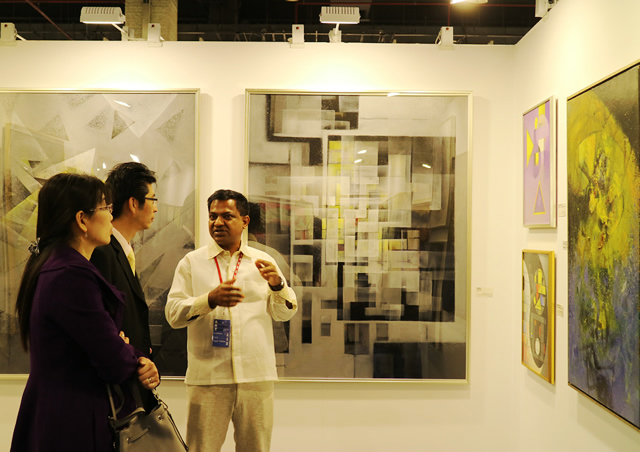 The second series is the Mandala series. I lived in Tibet for six months, and created these paintings while being among the monks. There are three elements in this series, triangular, round and square, and yellow, red and blue, used to express life. In addition, white is used to represent birth, black to represent death. I hope to portray in my art the beauty of life from birth to death.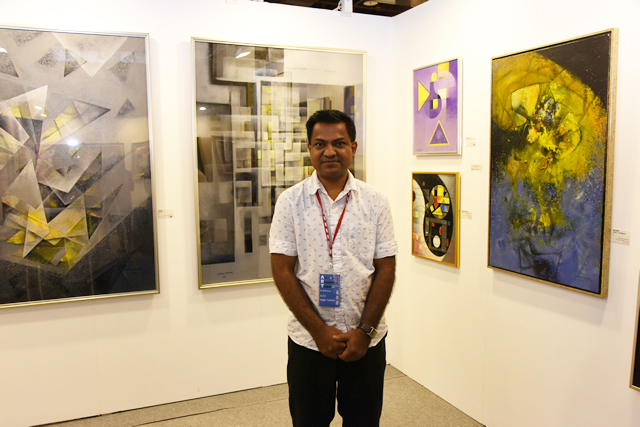 I have enjoyed painting since I was a child. Before I enjoyed realism, whether it was people, landscapes, trees or mountains. But as time went on, I began to gravitate towards abstract painting. Through abstraction, I can convey my own message. My work is like a mirror, reflecting my own ideas.
(40) Yuji Mitani
1946, Japan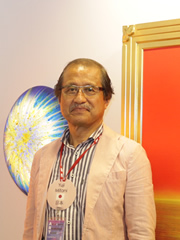 I have been working on paintings using the sun as a theme for 30 years and continue to be immersed in the world of light. Recently, I began a series of works called "Art of Light (ラ イ ト ト ト)", hoping to present the characteristics and the rich appearance of light in the painting.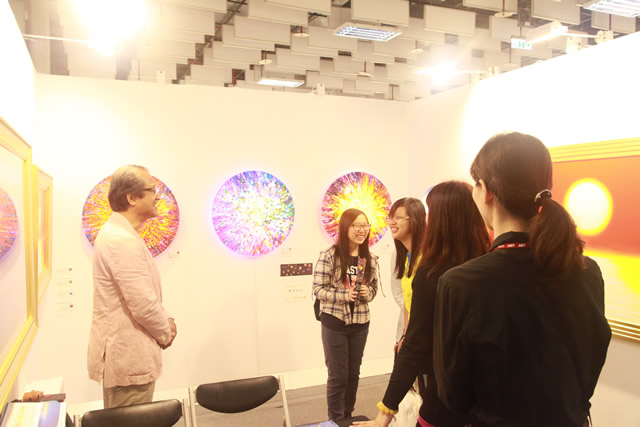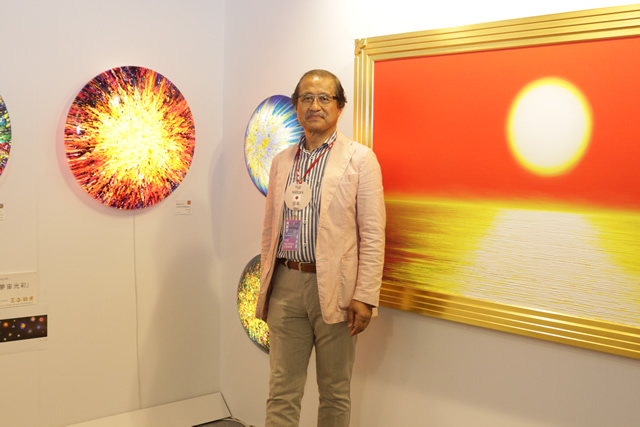 Light is the energy from the universe, and also the source for all things to grow on the earth. But it is difficult for people to see the light itself. I've tried to express this energy from the sun, turning the colors of pigments into optical colors through technology, and successfully reproduced the light. I call this work "Luster of the Dream Universe".
(41) Yu Ren
1969, Taiwan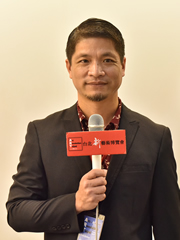 The works I brought to the exhibition mainly uses the legend of Nezha, the Third Lotus Prince as the theme. He is a symbol of justice. I created this series because I have observed the social opposition resulting either from elections or from various factors in the past few years. I want to use Prince Nezha, the symbol of justice, to express the simplest and purest side of children.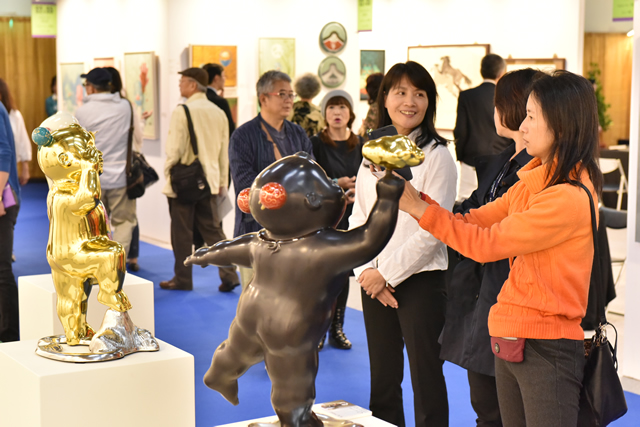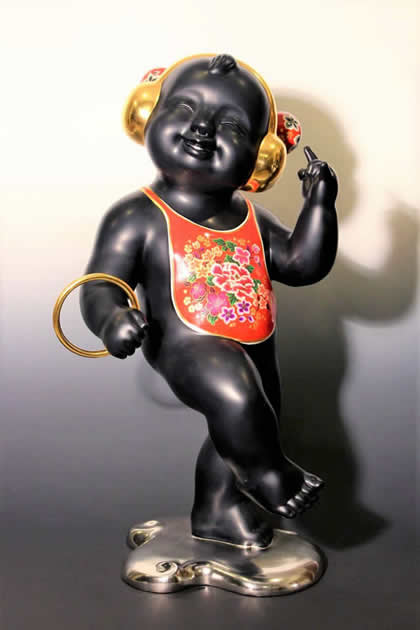 There is a saying, "See no evil, hear no evil, speak no evil". Even though we can see negative things and hear negative news, it is my hope that these artworks will bring people positive energy.
Nezha is wearing a golden headset, separating him from outside noise. He enjoy listening to wonderful melodies. ~ ~ This is the meaning of hear no evil. It's easy to "Speak no evil" as long as a pacifier is in his mouth, his mood can be calm and serene.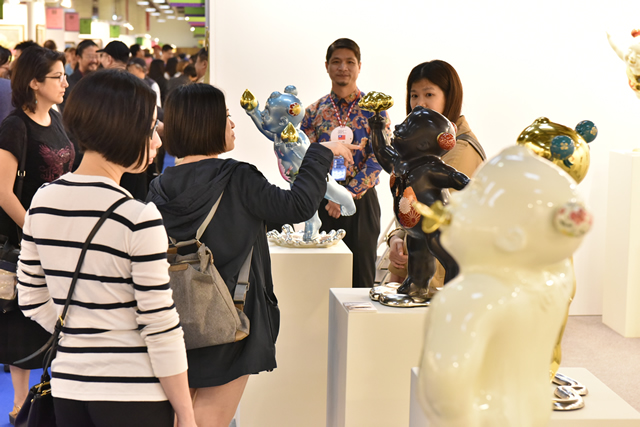 I have been creating sculptures for over 25 years. From "Childlike" series to the present, I have always expressed myself through children. I want to bring people a sense of happiness, joy, satisfaction, so that the viewers can be filled with happiness.
(42) Chen Jianxin
1956, China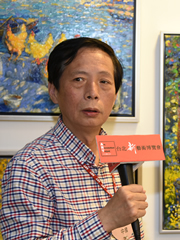 This is my first time participating in A.R.T. The chickens I paint are all from my childhood memories. Using chickens, I hope to always remember my original intention. I grew up in the countryside. My grandmother's thoughts and the warmth she gave to the family, are always imprinted in my mind. With age, I deeply appreciate the love of the world. So the artwork, I express an atmosphere of sunshine and positive energy.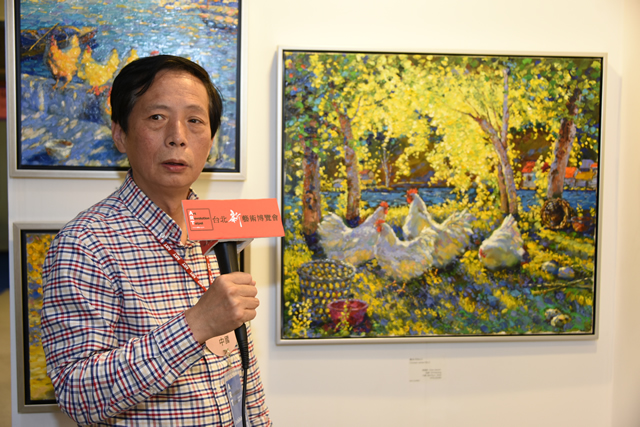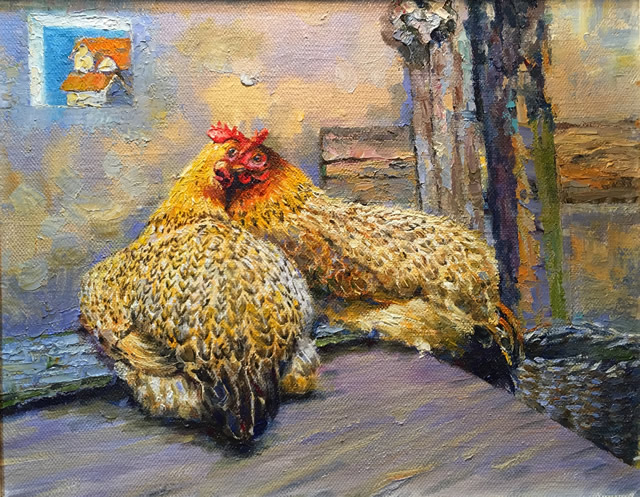 The technique I use is a knife brush to express translucent light and the warmth of bathing in the sun. I adopted the impressionist approach, hoping to allow the viewer to feel the sunshine and warmth.
This painting depicts a winter when one of the chickens was sick. My grandmother brought it into the barn to stay warm during the winter. The scene of how my grandmother cared for the chicken is deeply printed in my mind. I use it to express the feelings between mother and child, the care and attachment between people. The works use a simple light technique, portraying a quiet and warm feeling.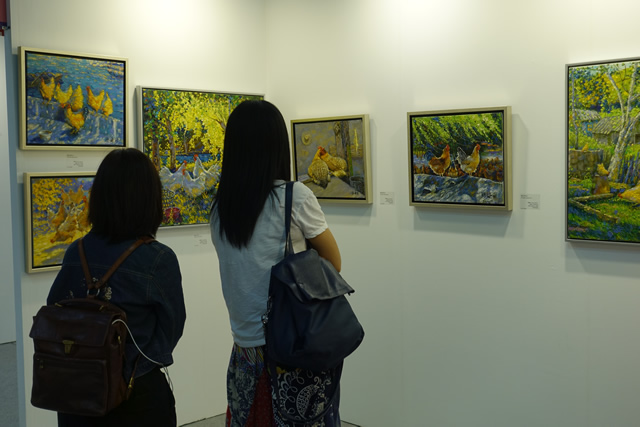 This is my first time to participate in Art Revolution Taipei. The organizers are humble, polite and have meticulous customer service. In addition, the most important thing about ART, is the respect for the artists. Next time I will come again.
(43) Chen Po-Yuan
1994, Taiwan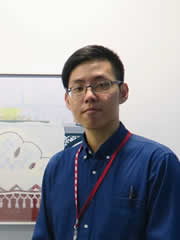 I began oil painting when my high school teacher helped me to discover my love for painting. He is a Canadian artist. He not helped me realize that I love painting, but showed me how meaningful art was.
He said some words that touched me, and also inspired me. He compared painting to cinema. Every movie has its story, showing many people's lives. When creating a painting, in fact, it is very similar to making a movie. It is like we are watching a window into a person's life, feelings, and emotions. We as artists can bring out different realizations and feelings in our paintings. Because of this enlightenment, I began to engage in painting.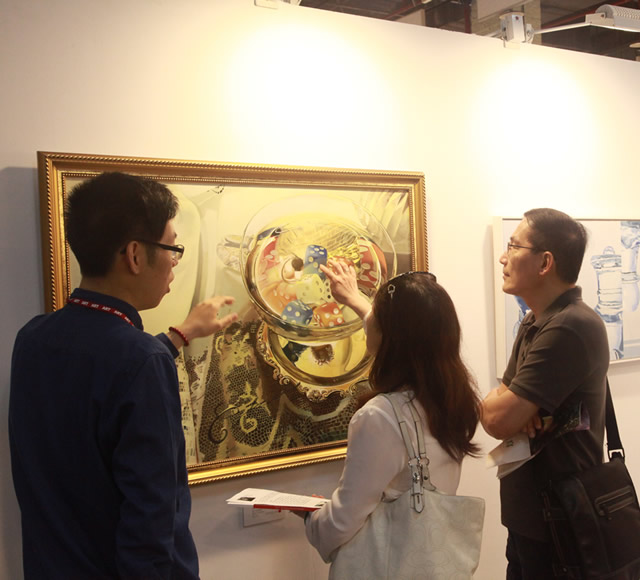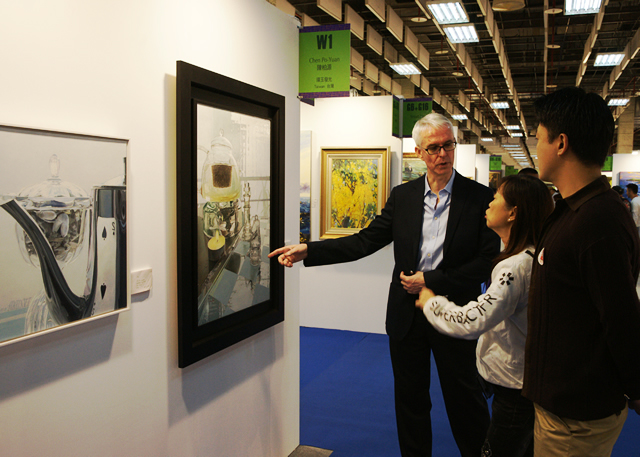 I studied and grew up in India and Thailand for ten years. The works I brought with me is Afternoon Tea series created in 2016. This series originated upon my return to Taiwan from Thailand. Because of my return home I decided to create a series of the culture in Taiwan. The Afternoon Tea series is a work created through a sociological point of view. I observed my surroundings and found that people like to drink afternoon tea, especially in a compact life style. Many people like to drink afternoon tea. They will go to a store to relax, to drink a cup of tea.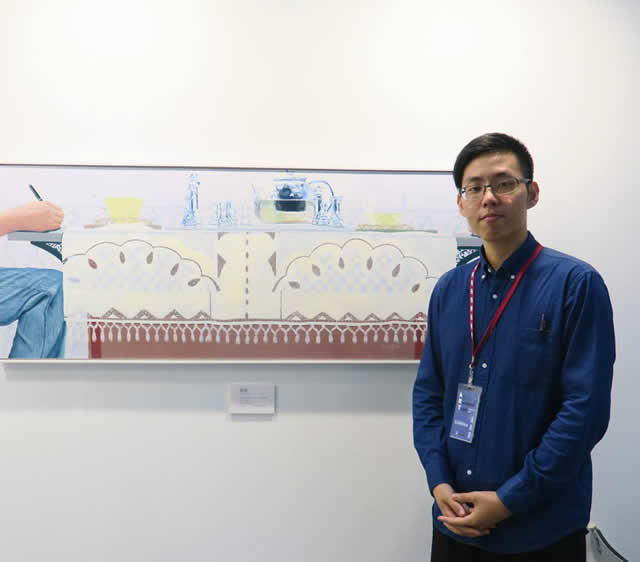 The works this year is the expression of what I observed in a tea house. Usually I drink tea by myself. In the tea house I hear many different stories. For example, this work is about a very moving story. I added a chess game to express a tit-for-tat, complex story. I will not tell the story in detail, rather I will let the work say its own words, let the viewers feel for themselves.
(44) Jan Chin-Shui
1953, Taiwan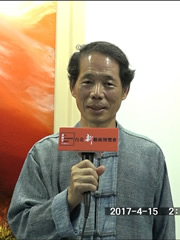 I have always enjoyed painting since I was young. In elementary school, as long as there was a blank notebook, I would just draw. Because my family's financial situation was not good, after elementary school I was unable to continue schooling. Because of special causations, I was able to come to Taipei and found a job related to painting. I worked and studied while I was attending National Taiwan University of Arts. I was older than my classmates by 12 years and on the first day of class, one of the my female classmates greeting me "Hello, Teacher, how are you?" That was very embarrassing.
I draw everything, but in my mind I have a question: what is an "artist"? I do not have an answer. Because of this curiosity, I attended art school. After graduation, I had my first solo exhibition, but I still did not have an answer. I traveled to Europe do some soul searching and traveled ninety days and visiting ten countries. During this trip, I visited more than fifty art museums. Through his experience, I am able to deeply appreciate cultural differences.
I see the differences between Eastern and Western culture because of my experiences. When a returned in 1989, I spent more than twenty years traveling mountains and rivers throughout Southeast Asia and mainland China.
There are several routes that have had great influence on me. The first is the Silk Road, the second is Tibet. The Silk Road has a lot to do with the Buddhist culture. In addition to the Buddhist culture in Tibet, the power of mountains and rivers is even more exciting and stunning The highest peak of Tibet's Gangdise Mountain is called Gang Rinpoche, regarded as the sacred mountain of Tibetan Buddhism. Opposite is Mount Himalayas, stretching for more than a thousand kilometers. Gang Rinpoche is opposite to Namtunani peak having an elevation of seven thousand eight hundred meters. The straight distance of these two peaks is nearly 100 kilometers. There are two lakes at the foothills. One is called the Holy Lake, covering the area as nearly as that of the New Taipei City; the other one is called the Ghost Lake, at the foothill of the Himalayan mountain and relatively smaller. You can see both peaks standing at any place at the Holy Lake. This kind of powerful momentum of mountains and rivers can eliminate people's arrogance because you realize that we are as small as a blade of grass or a small ant. The powerful energy fees magical. Why do mountains and rivers have this power of deterrence?
The color of the mountains are rich because not many trees grow. The entire mountain is full of different colors of the rock formation. Tibet also has colorful mountains, which from the top of the mountain to the foot of the mountain is colorful, so the entire mountain looks like a piece of jade. It is really difficult to imagine without experiencing first hand. If you have a chance to visit, you will feel the natural power between heaven, earth and life. This is feeling I want to express it in my art.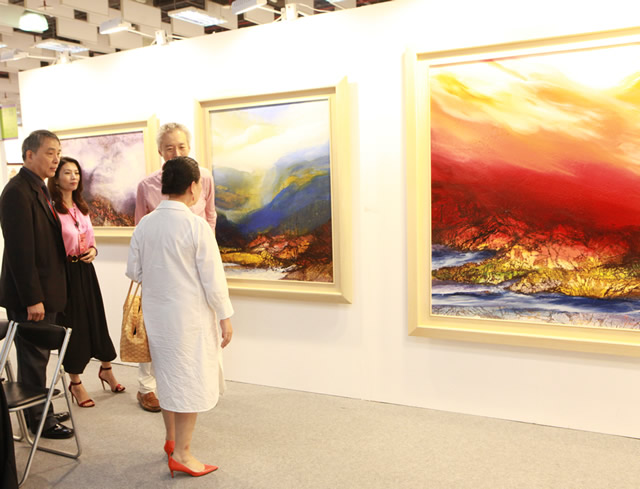 This style of painting is not easily portrayed. If you have not experienced to that depth, it will be hard for you to express that style. In fact, the style is the unique performance of an individual. You are not imitating any person. You are exploring deep into your own heart, and then slowly quenched it out, resulting in something that is naturally formed. So to establish this style, to an artist, is the most important focus and theme of life.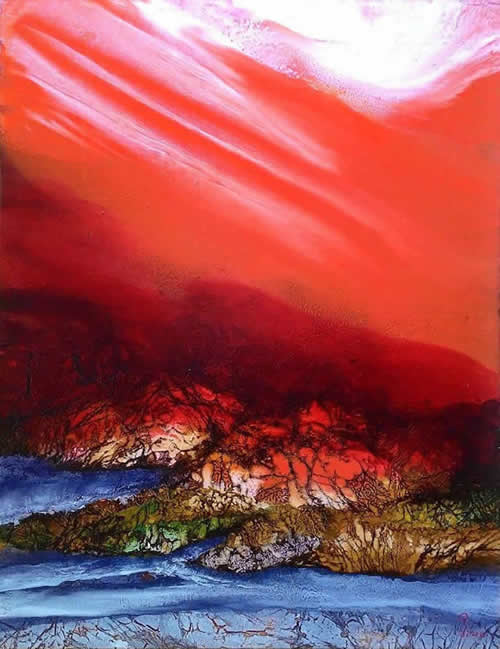 Few people show landscape with such a high saturation of red. In fact, red in the oriental culture is quite special, because it is festive, showing strong vitality. So I use red to show the strong compelling power of mountains and rivers between heaven and earth.
This purple work is the feeling that Ghost lake in the Himalayas mountain gave me. Because the elevation is so high, the mist, light refraction and rocks in the valley show a purplish color. This series took me more than two decades to create, which is best representative of my personal style of artistic landscape.
(45) Peter Richard Winkelaar
1950, Indonesia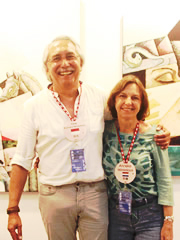 I have been teaching art and music, and I teach students in a way that tells stories. "Moria" series is about the ancient Greek story, but also my belief in theology. Moria is the three Greek goddesses: Lachesis, Atropos, Clotho.
Clotho weaves three lifelines. Lachesis leads people these silk thread to complete the human life; the last goddess Atropos, she has a pair of scissors, used to cut these threads. When she thinks the time is up, she will cut these three lifelines, people will die. The body will be purified. People will put a coin on the tongue of the deceased, to let the gods take the deceased to the other side of the river, into the underworld of Hades to accept the trial. This process is repeated; the coin is put on the tongue of the deceased, and the gods take the deceased to the underworld of Hades, and after the judgment they drink the water of memory (or forget) until one reaches the highest point of human nature.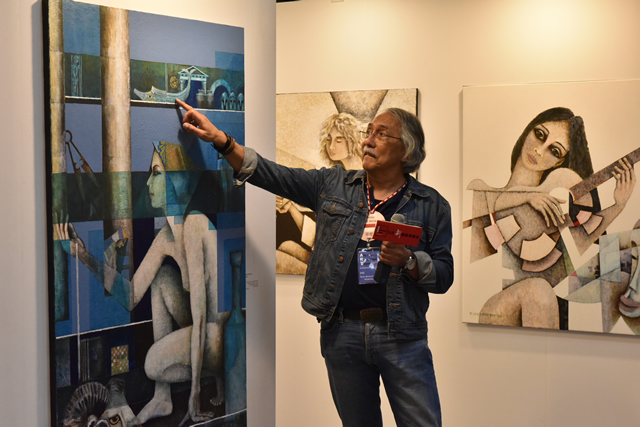 I actually do not remember when I started music creation and performance. I just remember that I suddenly created a lot of music and works of art. I think it may be an influence from the grandfather. My grandfather is a well-known artist in Indonesia, and my uncle's children are also painters and writers. My father is a musician. He plays very good piano. So my creation should be influenced by the grandfather's family, and the piano is affected by my father.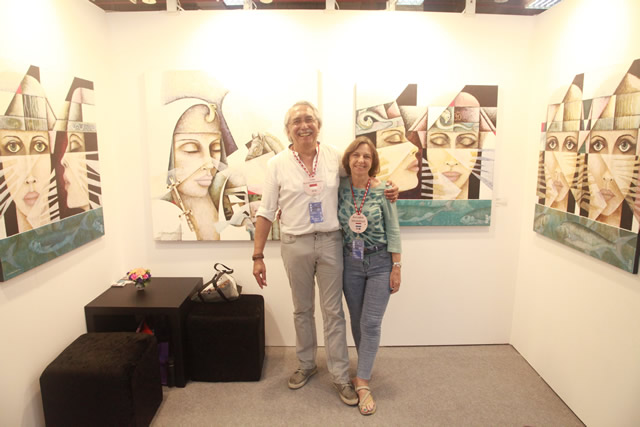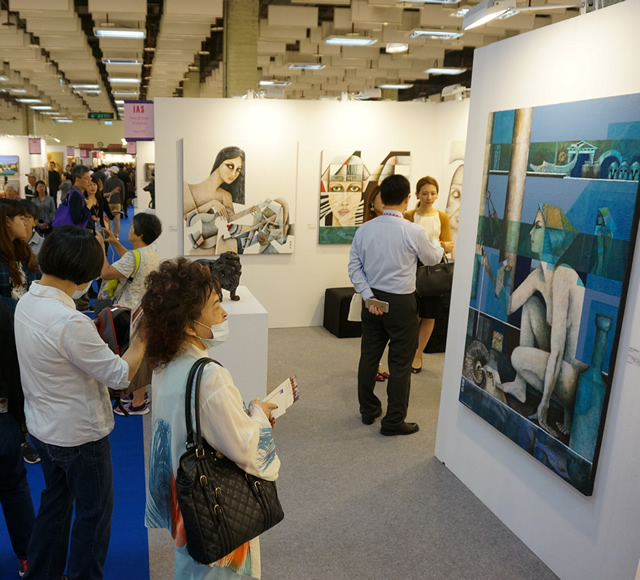 My childhood was not a very happy one, but I still managed. Later I met my wife Anne who was the guitarist, and could sing very well, so we decided to work together to perform to let her play the guitar and be the lead singer. Anne's mother is very interested in a lot of things. When she was busy in the kitchen, we are painting at her side, trying all kinds of creation. Those were very good days. Now I am 67 years old, and Anne is 72 years old. We still draw together, sing together. This is our second time to participate in Art Revolution Taipei. We are very happy to be able to once again come to Taipei!