Art Revolution Taipei 2017
Artist Interview (8)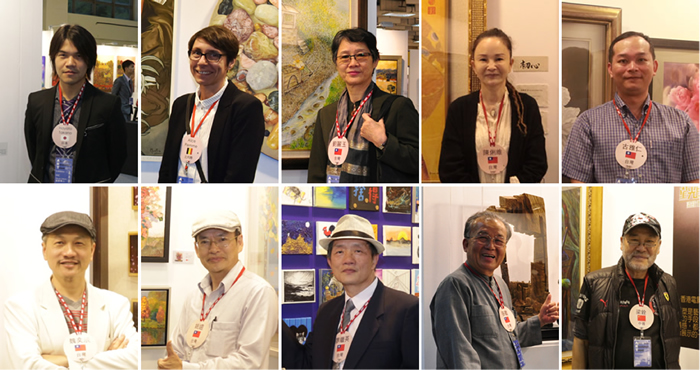 "Taipei Art Revolution Taipei 2017" Artist Interview (8)
This article includes the interviews with ten artists: (68) Japan Hayato Takano, (69) Belgium Alice Piemme, (70) Taiwan Liu Li-Yu, (71) Taiwan Chen Li-Wei, (72) Taiwan Ku Ya-Ren, (73) Taiwan David King, (74) Taiwan's Yao Yuan, (75) Taiwan Liao Jih-Ing, (76) Taiwan Chang Ching, (77) China Leung Chuen
~ ~ Originated from the initial "aspiration", driven by wholehearted passion for creation, the works display the compelling strength that moves people's heart ~
(68) Hayato Takano
1982, Japan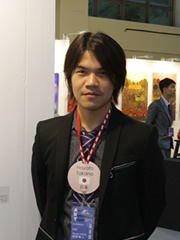 Hayato Takano's stunning works of art caught the interest of the BBC and was exclusively interviewed to showcase his innovative technique of creating wonderful visual imagery using actual music notes from sheet music. His creation began with a romantic love story ~ ~
I was twenty years old and wanted to give a gift to my girlfriend who was attending music school, but I had no extra money. After much thought, the idea came to me to use the notes of the music score for my creation. I spent more than a month to put the music notes together bit by bit to present the portrait to my girl friend. The first work moved my girl friend to tears, and also opened my future as an artist.
After that, there was a ten year blank period, but I still could not shut off my love for music and dedication to the arts. I once again began creating art to express the respect in my heart for musical masters. So, piece by piece, of clean, detailed, unique and full-of-soul works were produced, portraying long flowing musical sounds from my heart ~ ~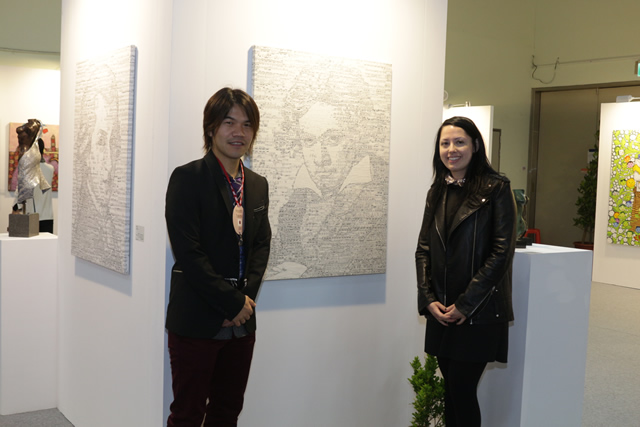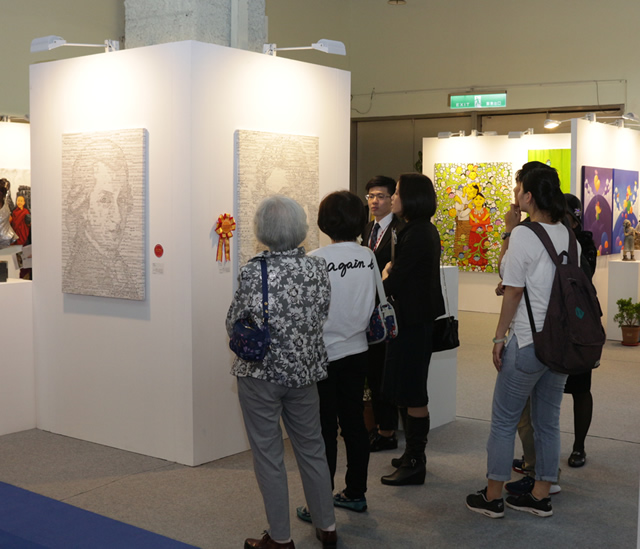 (69)Alice Piemme
1974, Belgium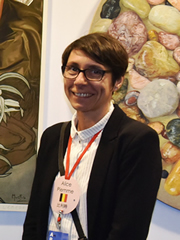 I am a professional photographer. My own dialogues within myself are often expressed in my photographic works, which are sometimes real, yet other times seem detached from reality. Sometimes they are like echoes of classic works, somewhat or sometimes not at all.
Because of my profession, I have been in Berlin, Paris, New York, Beijing, Hong Kong and other major cities. Experiencing different cultural experiences allows me to deviate from standard shooting techniques. I like to integrate real objects and add in something that is paradoxical, so that my works contain humor, fun and even ridiculous implications. These past years I have been invited to participate in various exhibitions, such as the Berlin Photography Biennale and received numerous awards.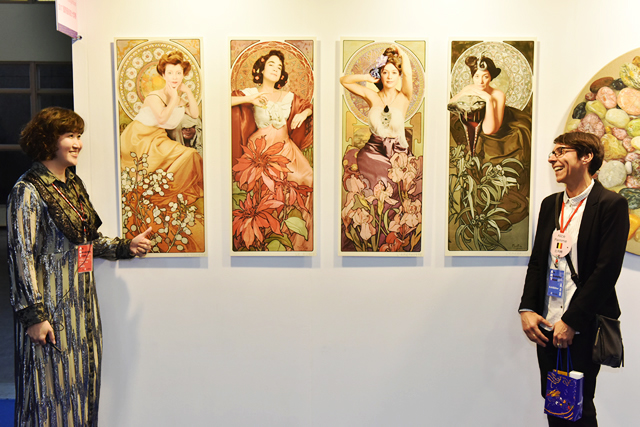 I bring to this exhibition my work "Women are Priceless". The woman under the lens wears a mysterious and elegant smile, the blooming flowers represents her femininity and beautiful characteristics. But after a closer look, people cannot help but to wonder what she's thinking. I want to give the viewer space to imagine, not to be limited to standard ideas, rather something entirely different.
(70) Liu Li-Yu
1951, Taiwan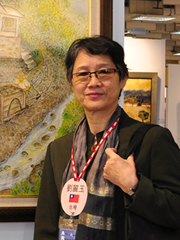 I started painting at the age of 46, when I was volunteering at a painting class in Xizhi. Because of Professor Su Zhenming's words, I began to paint ~ ~ Professor said: "Do not draw things your eyes see, draw the memories of life." These words opened up the road of art ahead of me. I began to draw my life as a child living with my grandmother. I paint ancient book stalls, quilted fabrics, works of blacksmith, all based on my early life experience of Taiwan.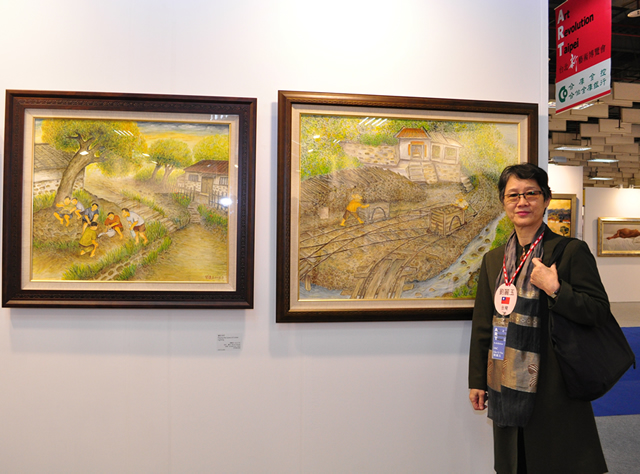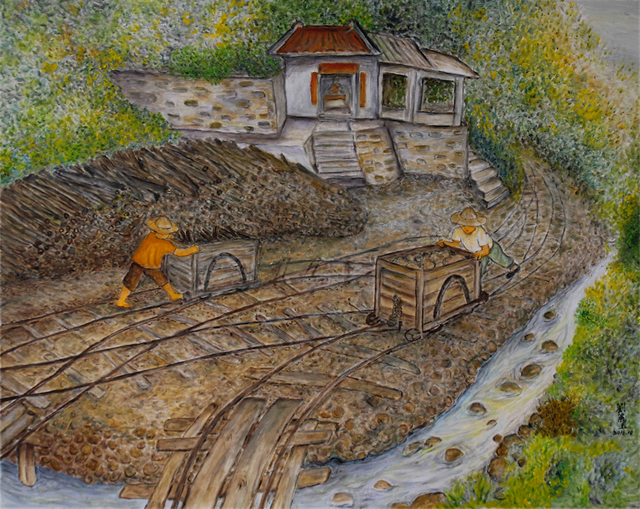 Some of my paintings are watercolor, some oil paintings. With warm colors, I painted the early life experience of Taiwan, full of nostalgia, hoping to portray a effect of healing. I wish to evoke good childhood memories and help younger generations understand life before. My works have been exhibited in the department stores, hospitals, senior homes, where grandparents shed tears while viewing these paintings.
I work very hard to portray new material, hoping to preserve memories of the past. My art is divided into several series, such as marriage, festivals, the disappearing professions, Taiwan folk custom all hoping to portray warm and lasting pictures. ART's platform is excellent and very different from other general exhibitions. The exhibition is well organized and extremely professional.
(71) Chen Li-Wei
1960, Taiwan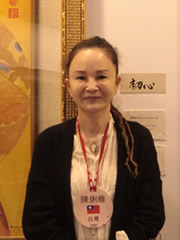 Congratulations to Chen Li-Wei . Her works "Cherry Blossoms and A Peacock Open the Screen in Spring", "Two Dependent Charming Cherry Blossoms Lean against Each Other", recieved the "Jury Award" of the French International Art Salon.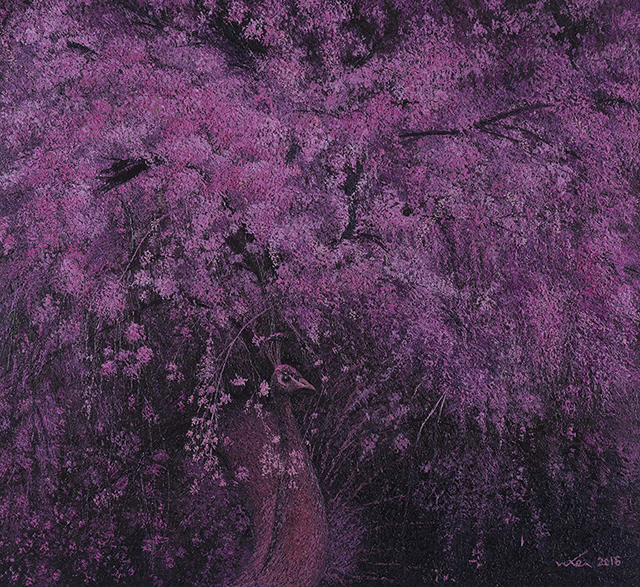 "Cherry Blossoms and A Peacock Open the Screen in Spring" depicts an auspicious peacock, and the blooming bright red cherry blossoms opening behind it.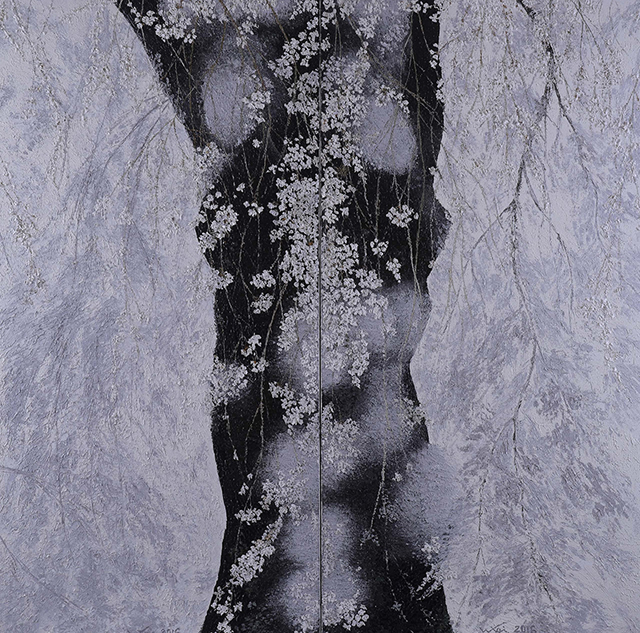 "Two Dependent Charming Cherry Blossoms Lean against Each Other" is a work of consisting of two pieces. They contain dependent cherry blossoms, as if the gentle postures of females, cherry blossoms in pure white, wickers swinging with wind, attracting many collectors to appreciate the painting.


My paintings are mostly created through knife brush. This year's new paintings, "Old Bottles New Works" series, depict a variety of vases, pottery, porcelain and bronze, known as symbols of safety and peace, filled with colorful flowers, representing full and complete sincere auspicious blessings.
In order to echo the theme of A.R.T. "The Aspiration with which it all started", I displayed two paintings made when I first began painting "Emperor and Empress" ~ being Emperor Qianlong and Empress Qianlong. These two works are realistic and elaborate style of figure painting, which is so different from my current artistic style.
I started this intricate style to see determine if I could really paint. I choose to paint Qianlong because he was gentle and the most handsome emperor. Although the style of work is quite different from my current style, I still retain intrinsic implication and consistency of "classical beauty".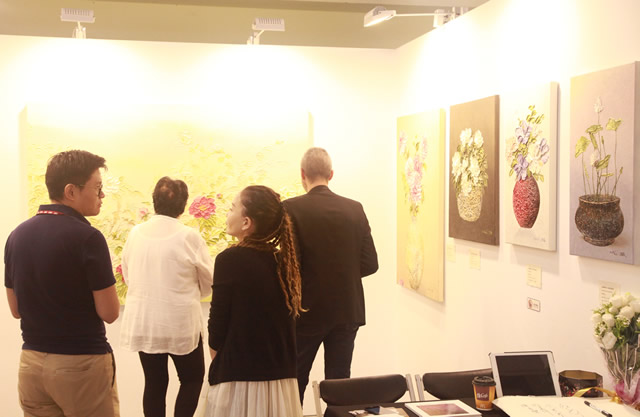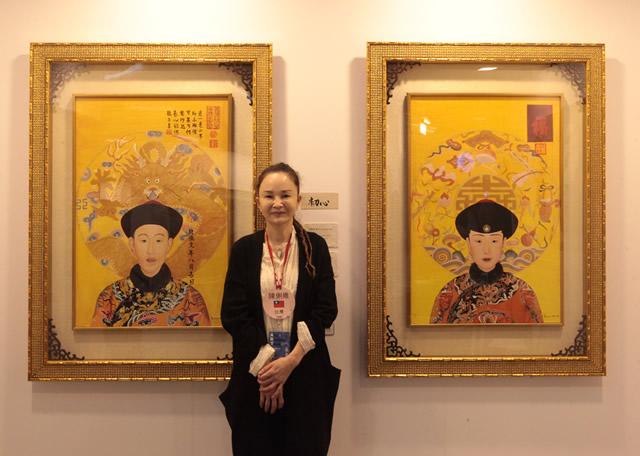 (72) Ku Ya-Ren
1975, Taiwan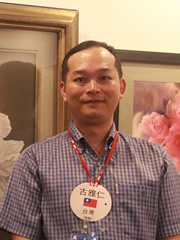 I have participated in the Art Revolution Taipei since the first year except the sixth year when I took a break. Thinking of the first year when I participated, I could only describe it as stunning and touching. This was my original aspiration, and also a new starting point.
Although this year my theme is still flowers, there is a feel of a Chinese proverb: At first glance seeing the mountain as a mountain, to then seeing the mountain not as a mountain, and then turning back to seeing the mountain as a mountain again. Flowers are not flowers, paintings are not paintings, but through the painting, I am showing the pure beauty in my heart. The state of mind is very different.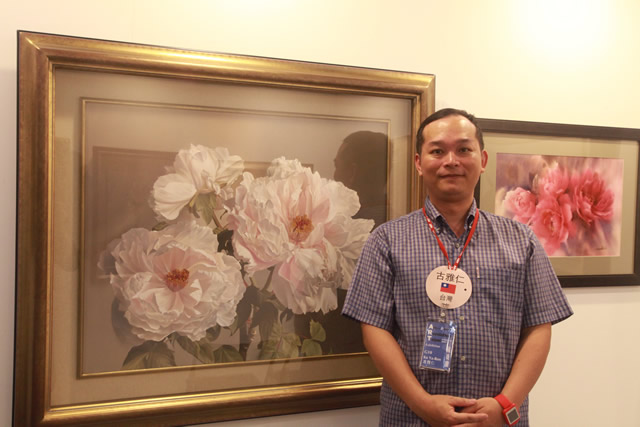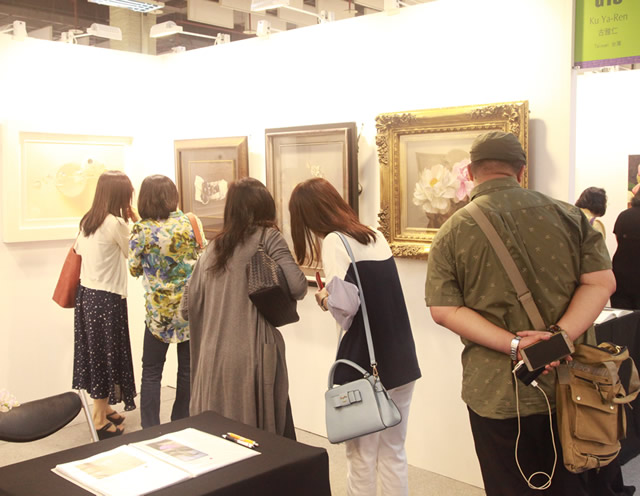 The flowers are the protagonist, I simplified the complicated, to make the composition simple and clean. In addition to oil painting, I also added watercolor for its coloring effects. I continuously create and change. I spent two years devote to just studying and creating more works. I am very grateful to the A.R.T. for such a great stage, so I can continue my art and meet new friends. Every year I come here and I feel more like coming to meet my old friends. I am very touched, very grateful.
(73) David King
1966, Taiwan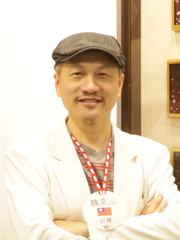 This time there is a big change in style. The last few shows, I used Western media such as acrylic to create landscape paintings that look like ink painting. This year I use lines and heavy-colored oils to depict the human body.
On the surface the style seems to be very different from before; however, in fact, the original aspiration remains unchanged. All along, I have expressed Eastern elements with Western media, using the Western media to express Eastern art. This year the lines used to depict the human body is derived from calligraphy.
Art Revolution Taipei requires the works to be "creative", so the works need to be different every year. For example, the first year was ink painting, the second year I used acrylic to present the effect of ink painting, and this year I adopted the lines of calligraphy into the oil painting.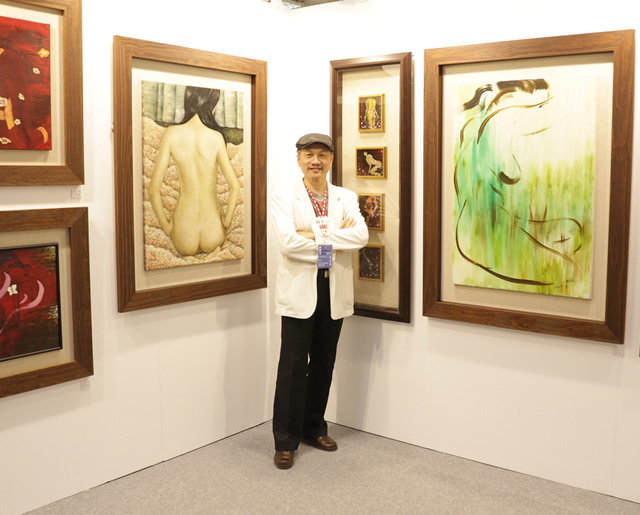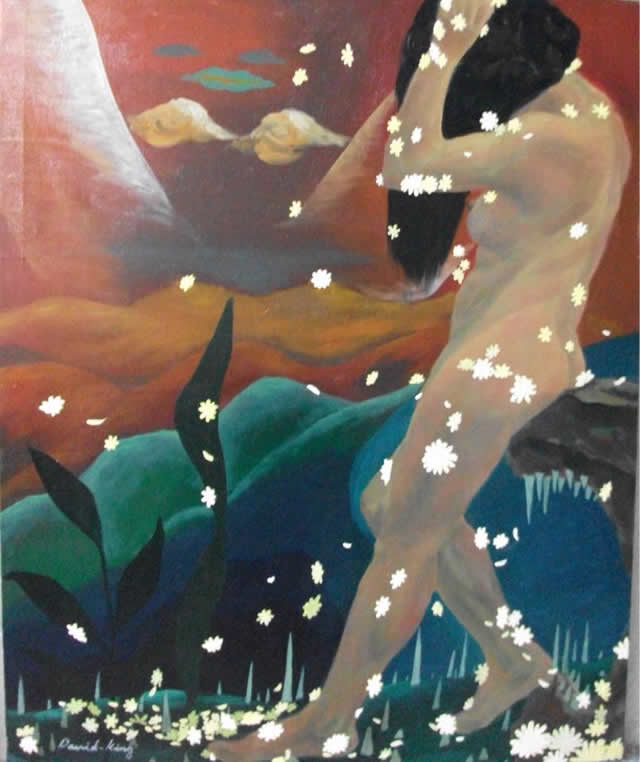 I brought my first human body painting oil painting that I created in my sophomore year in 1990. The composition of the painting is an expression of words or ideas. I painted the modern women who in the workplace of hidden danger, can still stay feel relaxed (as the flowers in the painting).
Some viewers thought that my works have changed significantly, but in fact I began to paint with lines of calligraphy in my graduate study. I did not use Western techniques to draw the human body, but rather the lines of the East, providing more space for imagination, allowing the audience to have a dialogue with the works. My mind has always the same. I hope to bring Eastern elements into the Western painting, to allow the West to see Eastern art.
(74) Yao Yuan
1959, Taiwan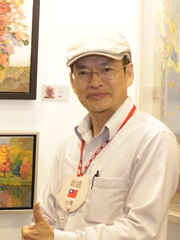 In response to the theme of this year's exhibition "the original aspiration" I brought a watercolor painting I did in 2005 called "The Arts Center of National Chengchi University". This painting was recognized positively by many friends and students, thus making me feel secure to embark on the road of becoming a professional painter. (Yao's wife standing next to him added, "As early as 1992, when their oldest son was born, he held his first solo exhibition at the National Museum of Art and knew this was his path to take")
Before becoming an artist, I was the comic editor for the Business Times for 10 years. I created humorous comics commenting on current affairs. During graduate study at the Plastic Arts of National Taiwan University of Arts, I did research on the form of expression of "pane", and published a paper "Language of Window Pane", talking about how the window is the bridge between the self and the world outside. For this exhibition, I included a number of works of "Fish as Non-fish" Pane Series, full of ingenuity and playfulness for the collectors to enjoy.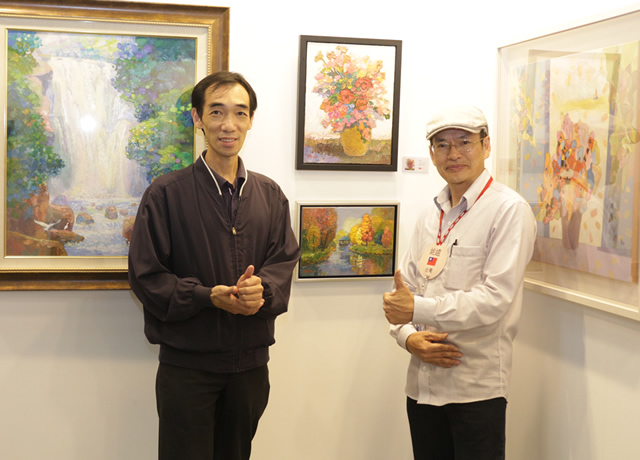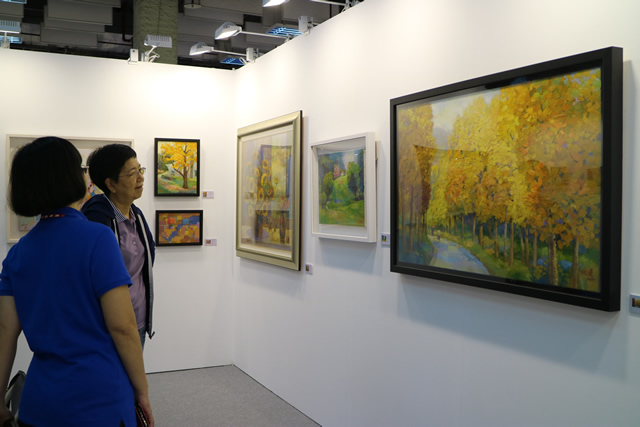 (75) Liao Jih-Ing
1960, Taiwan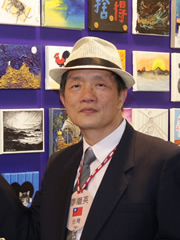 This is my first time participating in the exhibition. I teach at many art institutions such as Songshan Community College, the National Taiwan Arts Education Center, Taipei College of Maritime Technology, University of Science and Technology of China, and other schools. During VIP night, the first collector was one of the sales staff of ART, and who was also my students. Today I invite my students and gave a lecture directly at the booth. One of the students was deeply moved and collected a painting to take home.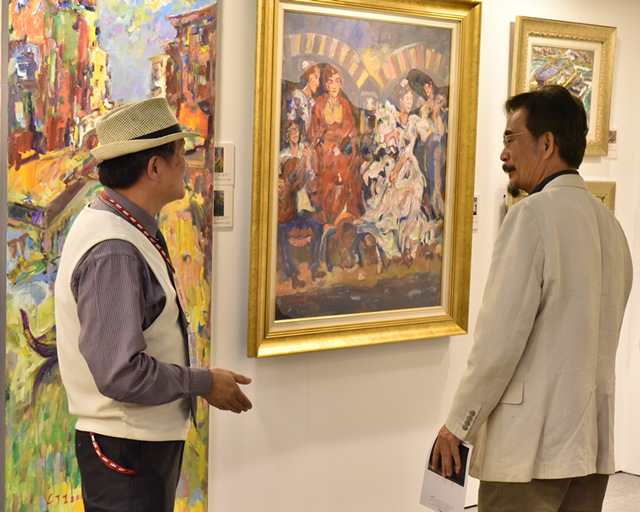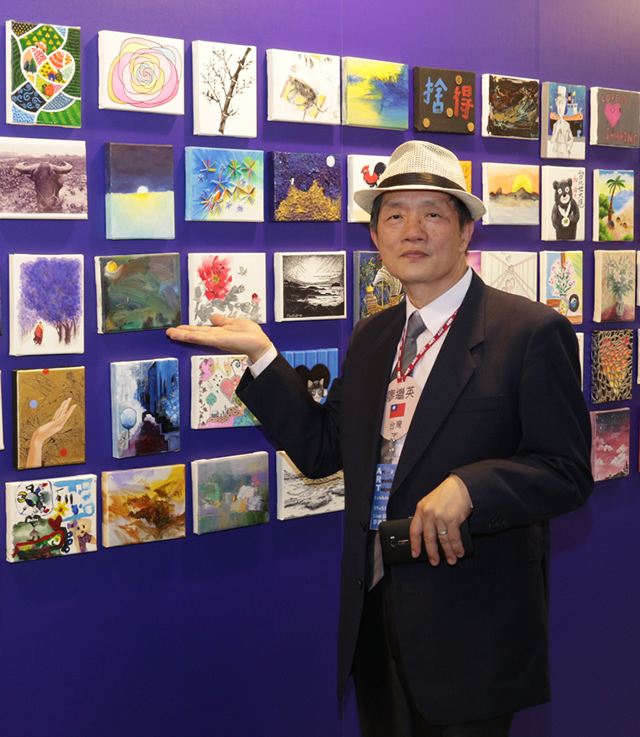 I really enjoyed the theme of the exhibition "the original aspiration". I even returned to my alma mater, the Fu Hsing Kang Art Museum to borrow my watercolor work "The Taste of Apple", which was part of the collection of the museum. This is the work completed when I was 19 years old. My teacher at that time rated the work at 93 points, the highest score of the class, and collected the work in the school museum.
When I was a student I was very poor. In order to show a different angles of the apple, I only had one apple to use, so I had to take a bite of the apple and then paint a different angle of it. In this work, you can see the technique used frequently in my recent works, the "low spill" technique. I want to express the passion as that of Van Gogh, with the color of the rainbow to show the sun, with strokes that are exuberant and unrestrained, extending the artistic passion as shown in "low spill". Since I was young, I have wanted to continuously grow stronger, more mature and fuller!
(76) Chang Ching
1937, Taiwan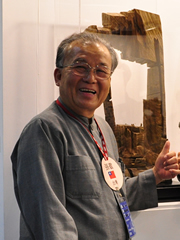 I am 81 years old, and a devout Christian. When I was 50 years old I picked up sculpture tools and entered the art world. From the age of 30 to 50 I worked as an optometrist. During my spare time I collected Taiwan's millennium "ancient heartwood", which is the remaining heartwood of petrified trees that have gone through weathering, erosion, and other natural effects in nature.
I made a turn in my course of at the age of 50 because I suddenly heard the voice of god, encouraging me to begin my artistic path, which I regarded as God's mission. So I chose the ancient heartwood carving that I was familiar with as my entry into the art world. The theme is mainly the depiction of and concern for Taiwan's humanities and landscapes, which I am still working on today.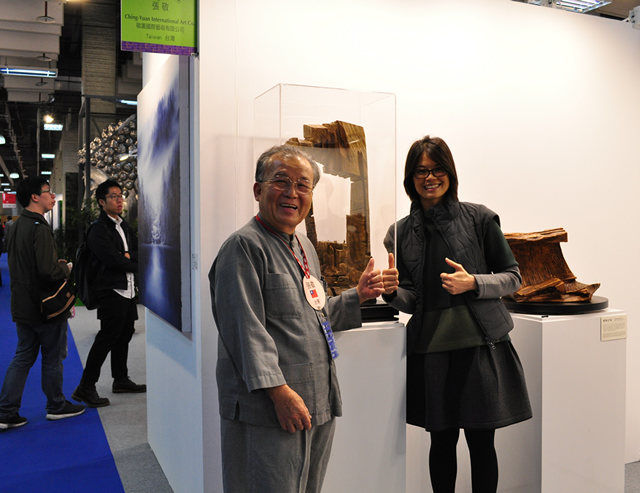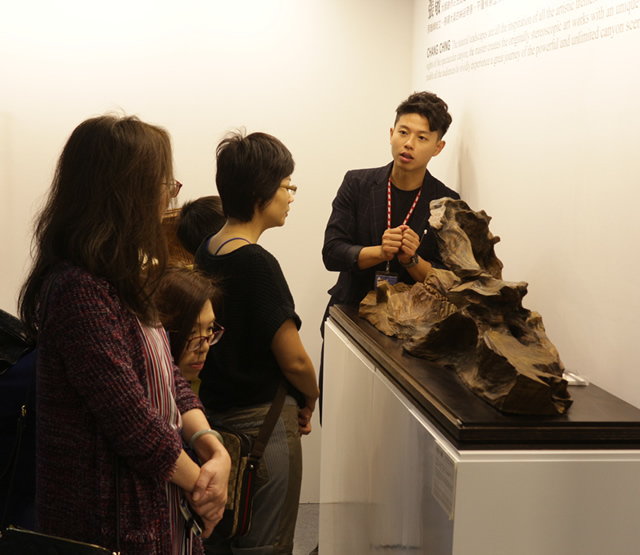 Over these thirty years on this journey of creation, from the beginning to the present, I always maintain my compassion for people and universe. After receiving an invitation from A.R.T., I created the "God Bless Taiwan" series, expressing my deep blessings to all the people on the land of Taiwan, hoping that Taiwan will become better and better, and also bring this beauty to the rest of the world.
(77) Leung Chuen
1944, China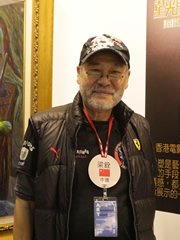 I have always focused on using bronze to depict figurative sculpture. This year I selected several of my best works over the past years for the art fans of A.R.T., including two works that have been quite popular. One is the bronze Guan Gong "General of Wealth Guan Gong" and the other is a Hong Kong Film Awards trophy "Starlight".
Infusing the spirit and techniques of the master sculpture Rodin, into oriental characters has been the special feature of my art. At first glance, the proportion and posture do not look coordinated but upon further examination, one can fully see the visual experience that is meant to convey. For example, "General of Wealth Guan Gong" looks slightly exaggerated, a bit disproportionate, sturdy chest and belly. However, it completely expresses Guan Gong's tough and strong momentum.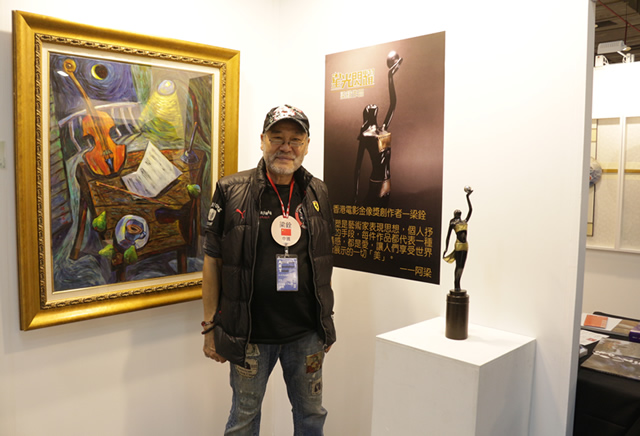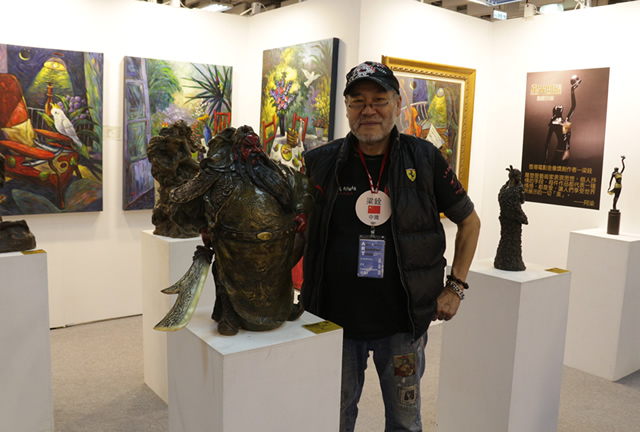 In 1991, I accepted the Hong Kong Film Association's invitation to design the trophy. I used the body of the first Miss Hong Kong as the inspiration for the body of the trophy. The left hand holds a ball to echo Hong Kong's reputation as the "Pearl of the Orient". Finally, I wrapped the body with film to make a distinctive impression that the trophy is for cinema. After years of being immersed in bronze creation, I began to expand into the fashion world and combine art with jewelry.