Art Revolution Taipei 2017
Artist Interview (9)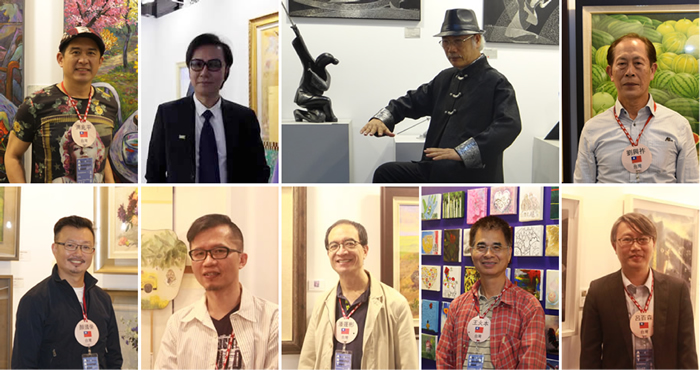 "Art Revolution Taipei 2017" Artist Interview (9)
This article includes the interviews with nine Taiwanese artists: (78) Hung Chao-Ping, (79) Ellison Chen, (80) Hsieh Tong-Liang, (81) Liu Shin-Zuo, (82) Yen Guo-Rong, (83) Lin Hung-Chang, (84) Pan Peng-Ping, (85) Wang Huo-Pen, (86) Lu Bai-Sen
~ ~ The artists see the beauty, and then draw the beauty ~ As long as you open your mind, you will find that beauty is everywhere ~ ~
(78) Hung Chao-Ping
1967, Taiwan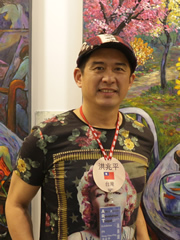 Under the artistic nurture of my grandfather who is a calligrapher, coupled with my own love of painting, I began to participate in art competitions since I was in elementary school. Back then it was already clear to me that I would become an artist in the future.
I held my first solo exhibition in college and exhibited the "Variations of Life" series. After receiving an invitation from A.R.T. this year, I chose to show the same theme, hoping to sort out the course of life for more than 20 years.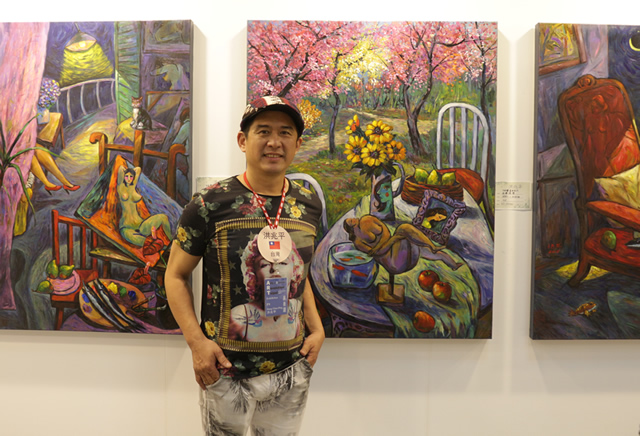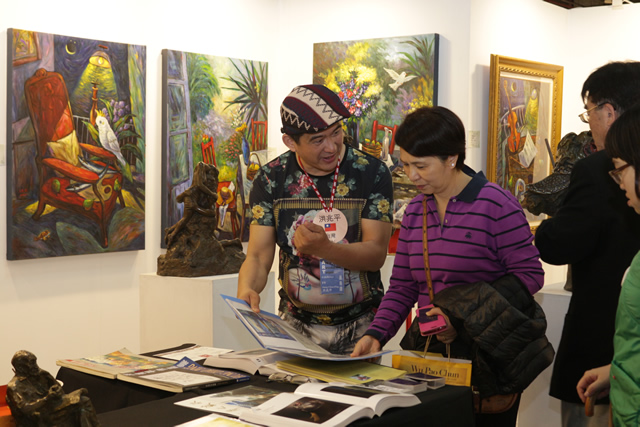 For everyone life is full of ups and downs, with the accumulation of different stages. My work is the record of my own understanding and feelings of each stage of life. Although it is still called "Variations of Life", I am able now to contemplate the meaning with more wisdom. In the painting "Monologue of the Night", the violin symbolizes that everyone has his own life tunes; the score next to the violin is completely blank, conveying the message that everyone's own music of life should be composed by himself alone, to determine whether the melody is high or low, the rhythm is fast or slightly slow, which are all up to a person's own will.
I visited A.R.T. as a guest last year, and this year I participate as an artist exhibitor. I am very happy and hope to participate next year.
(79) Ellison Chen
Taiwan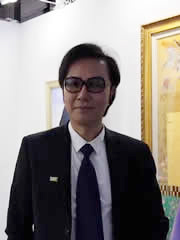 The works on exhibit are mostly landscape paintings. This portrait only exists because one day, I went out to purchase red paper to write couplets for the Spring Festival. I then saw the gold foil and thought it might be interesting to see how paint looks on gold foil. The result was not bright enough, so I ended up using the gold foil and transforming it into a beautiful portrait. I added contrasting elements such as Genghis Khan, Napoleon, Chiang Kai-shek's little portrait. It took me three months to complete this piece. I hope to continue developing this series, but realize that I need to speed up, otherwise, I can only create four paintings in a year, and bring only four paintings to the exhibition. ~ ~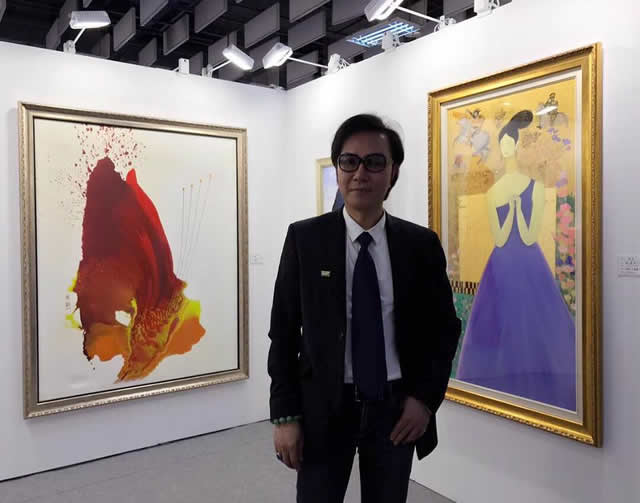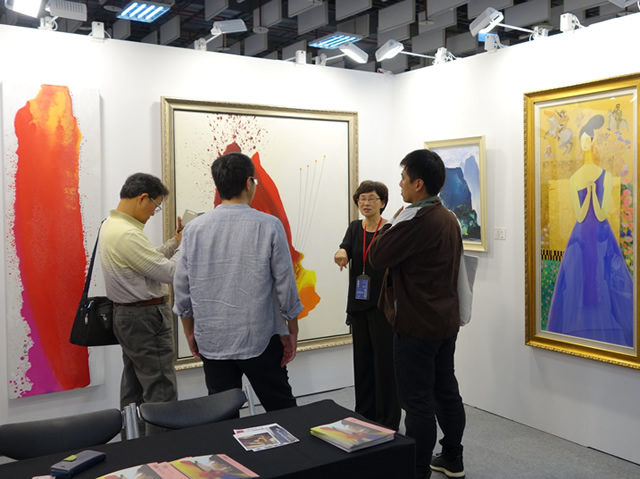 (80) Hsieh Tong-Liang
1949, Taiwan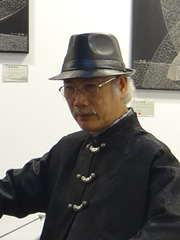 I have created eighteen series so far and each series begins from scratch, which area all the original aspirations. In recent years, as my mood changes, my works return from realism to early modernism. I created the works "Kung Fu" series for this exhibition.
Copper and stainless steel are the two most commonly used sculpture materials. Taking abstract characters and historical figures as the theme, Kung Fu series uses stainless steel in order to express the aura and energy flow of martial arts and convey the way of Tai Chi Kung Fu. I myself practice martial arts and will continue to create different series expressing the force and beauty of martial arts.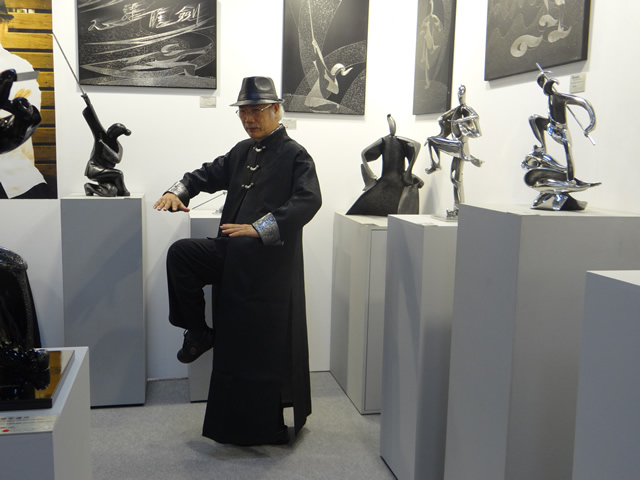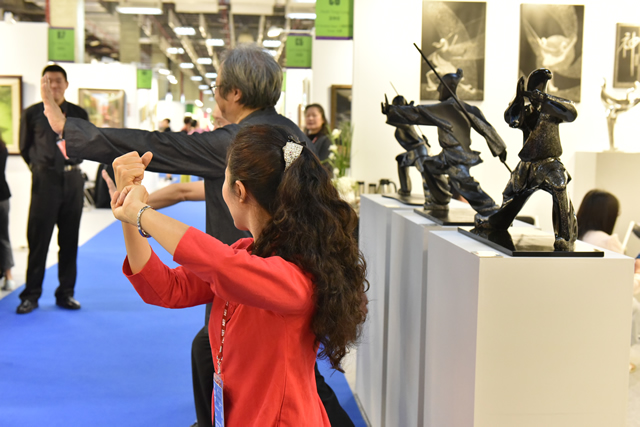 (81) Liu Shin-Zuo
1951, Taiwan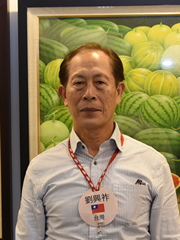 I grew up in a simple natural environment of the countryside. Fields, rivers, mud, and gardens were my childhood playmates. These childhood memories and life experiences have always brought me strength, leading me forward.
Since I started creating art until now, I am over sixty years old. These several decades I have always painted pieces after pieces of the lively forest, blooming wild flowers, the creek where I fished for loach, the grass that can be seen everywhere, among many other things.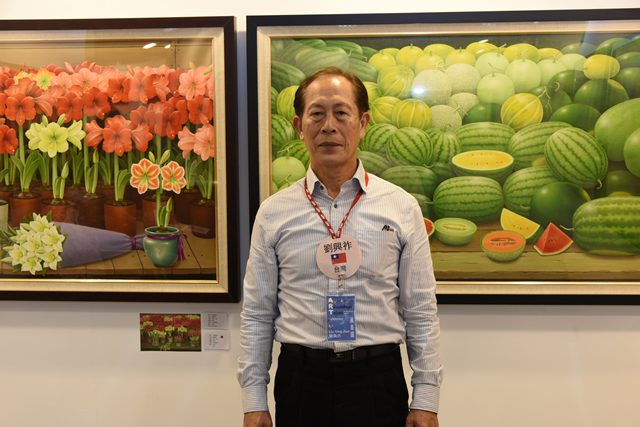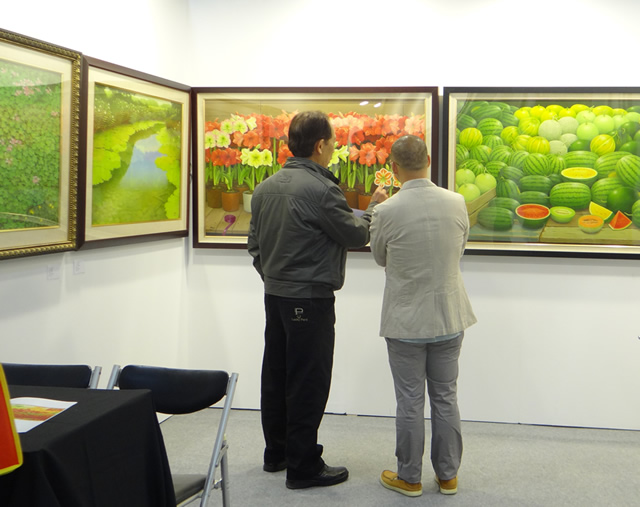 This time I am showing "Wild Ginger Lily" series, with a delicate technique, like this lilac, damselflies, water taro, red dragonfly, shamrock. From time to time, I hear visitors exclaiming: "Yeah! I also picked this to play when I was little." "Oh, I used to see this, it is called amaranth......"
My composition is very particular about details. Although it depicts a rural landscape, it is full of vitality. I hope that the interaction between people can be filled with light, compassion, care for each other.
(82) Yen Guo-Rong
1967, Taiwan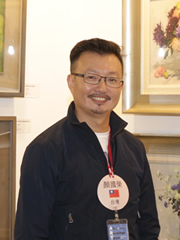 I am a graphic designer and been the business for many years. More than 10 years ago I began to consider the fact that graphic design works disappear after the end of the project and that I should figure out a way to preserve my own creations forever. Because I like painting, so I chose painting as the way to record and preserve the works.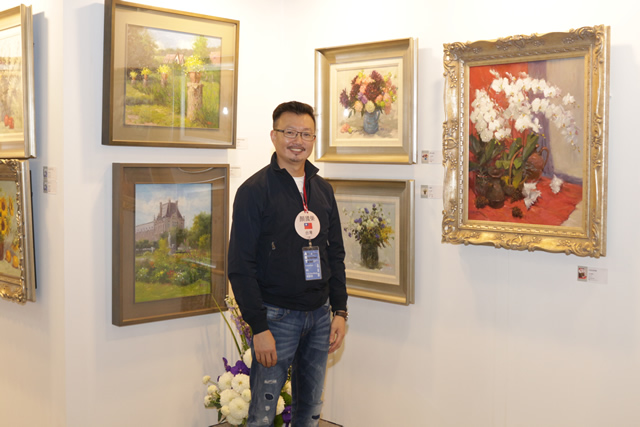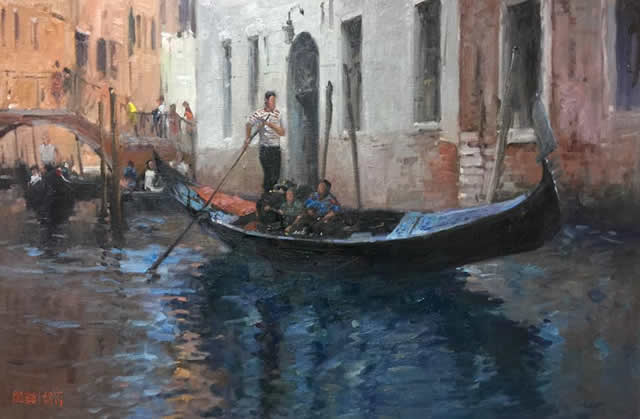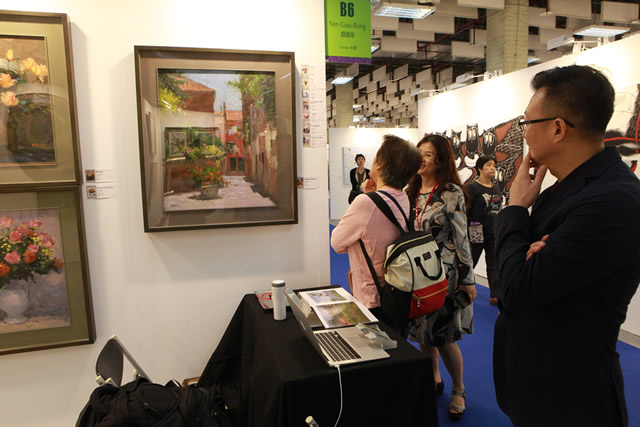 I am good at oil painting and my style is more of realism. This time I bring a painting of the Venice gondolas which many people enjoy. Venice is the ancient capital of Renaissance, and the gondola is its mark. In addition to showing the mottled buildings baptized by centuries-old history, the entire painting mainly is meant to express the light and shadow of water surface and the walls.
The rest of the works use mostly flowers as the theme, using my own unique perspective, for the best presentation of the beauty of these flowers. Considering the humid climate of Taiwan and the good preservation of oil paint, I have always painted only with oil, and that should also be the same in the future.
(83) Lin Hung-Chang
1972, Taiwan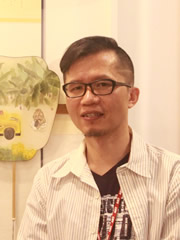 I began to paint graffiti art since I was elementary school years. My third year of high school, I created my first series using ink to portray the traditional cottage where I lived as a child. I believe that only the tone of the ink can truly present the unique charm of the oriental cottage building. Thick and multi-layered feel of oil paints cannot truly express the way ink flow can render an introverted and delicate feel of the cottage.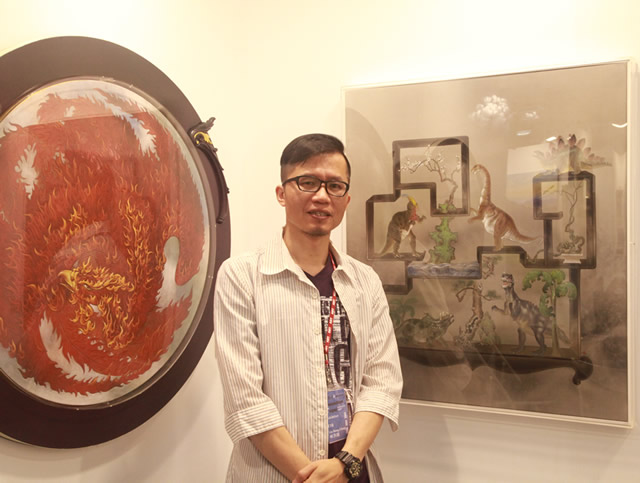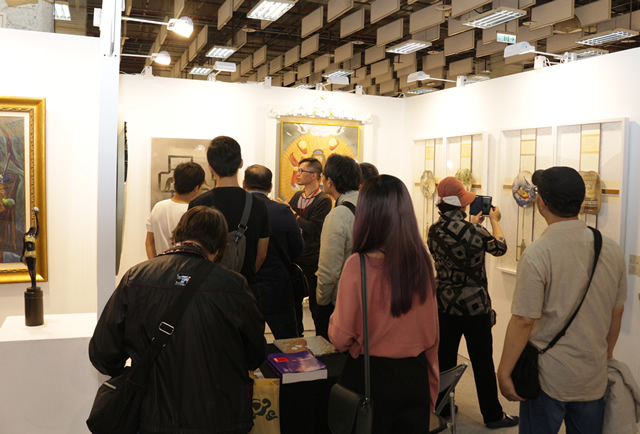 This is the first time I participated in A.R.T. I brought my latest creation "Light.Machine" series. "Gaze of the Landscape - Jurassic" is many treasures that symbolize memories or collections of thoughts of an inner world. Pine, bamboo, orchard and plum represent people's longing to be close to nature in daily life, creating a visible Shangri-la or heaven.
The dinosaurs in the paintings represent the most primitive beast, which evokes a cultural conflict. Nowadays society is manipulated by too many ideologies, which is a harsh way of eliminated culture. Preserving culture is vital and must not be forgotten. The work of art itself is a revelation, through personal feelings of artworks exploring one's truest inner self.
This exhibition I hope to interacting with people and art lovers from different social circles. Through personal interaction, I can understand whether my works accord with the viewers and be able to understand people's different meaning and interpretation about my works.
(84) Pan Peng-Ping
1957, Taiwan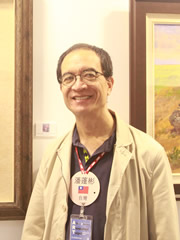 This is my third year participating in the exhibition. Because this is the year of rooster, along with the curatorial theme of "old theme, new ideas", I focused on the chicken as the theme. I portray various types such as gold chicken, silver chicken, and chicks. In particular, the baby "chicks" are specially made to echo the theme of this year's A.R.T..
I use baby chicks to represent the starting point of life, childhood and the inception. There are no hens in the painting. A collector asked me a question while viewing the paintings, "Why are there no hens next to the chicks?" I replied that this composition is adhering to the original spirit, to present the original, purest state of mind.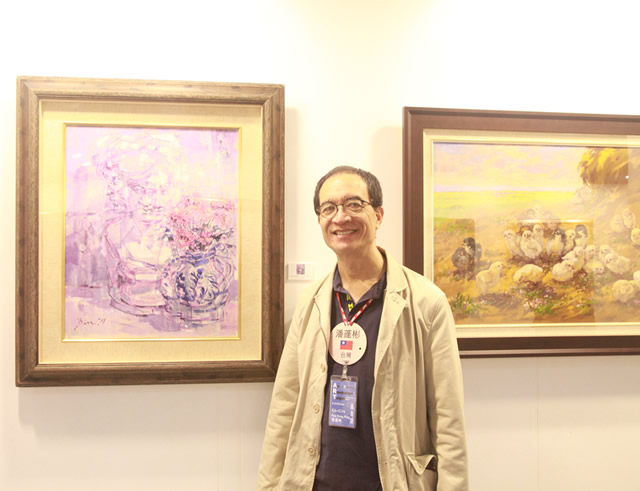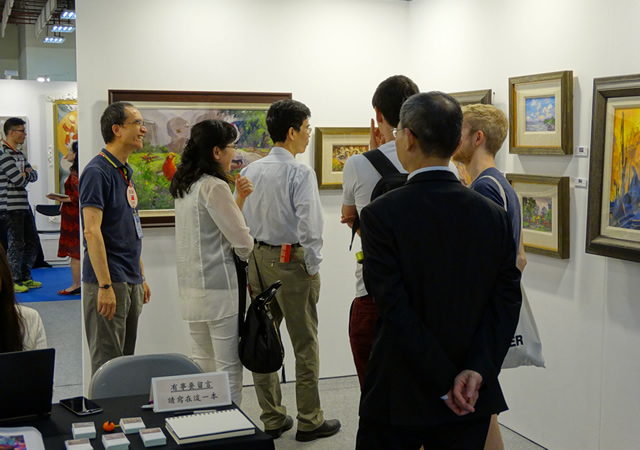 (85) Wang Huo-Pen
1952, Taiwan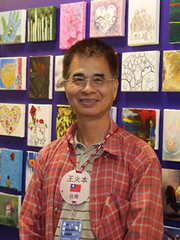 The first painting is the depiction of the stones of the riverbed of my hometown Nantou, using watercolor. It is because of painting these stones, that I began a relationship with my wife, which developed into a romantic story.
Throughout my career, I tried a variety of themes, including cattle, human deformation, abstract paintings, etc., and finally returned to the beginning, focusing on painting stones. I used oil on canvas to depict various looks of stone. Now when I look at previous stone paintings, I have a different realizations and notice that I have matured in my skills. Although I use the simplest, the most ordinary way to paint, I strive to achieve complexity within simplicity, such as the composition of the picture, the fine stone texture, the perseverance on painting, among many other aspects.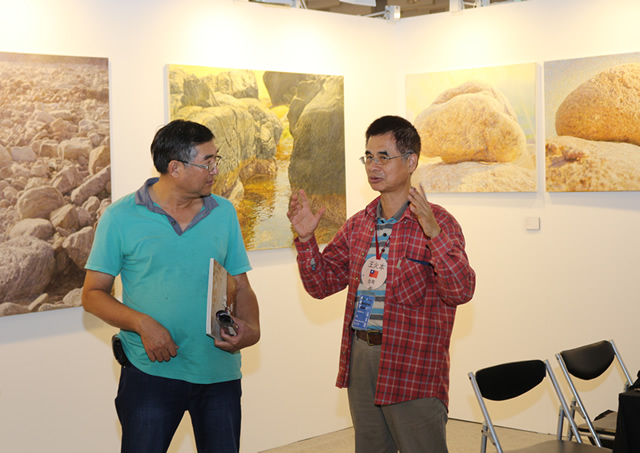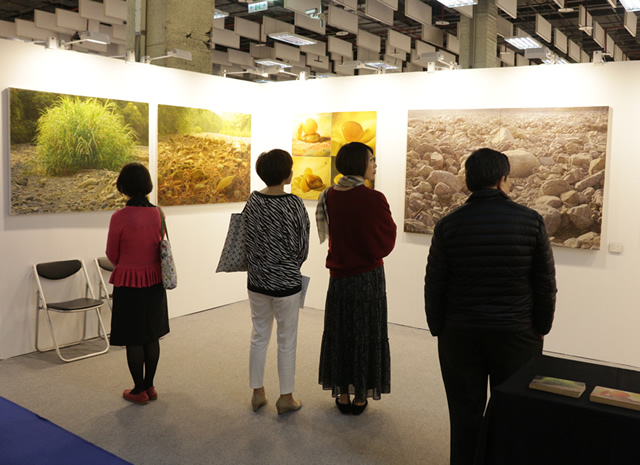 It takes me three months on average to finish one painting, more than eight hours a day, no rest in the middle. When I am painting, my mind is very quiet. That is why the picture exudes a serene atmosphere. As a result of painting stones, the scenery in the surrounding will also be painted, such as grass, streams, etc. Others have commented how clearly I paint the stream, but in my mind, my main focus is still painting the stones.
I think that every stone can speak, and each has its own life. When I was young, the river and the air are clean. The stone's essence was different from how they are now. However, I record its current appearance, which also presents another kind of beauty. For me, impermanence is a normal state. Even the rubble stones after the 9/21 earthquake, there is also a tragic beauty.
(86) Lu Bai-Sen
1971, Taiwan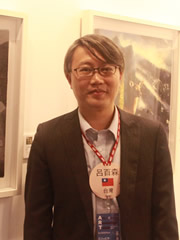 This is my fourth year participating in this exhibition. This year's "Life of the Earth" series are paintings that continue my favorite theme of "deer" and "light", which have the most sensitive and most mysterious characteristics. This series in particular focus on the representation of "dawn", depicting the point of breaking through the darkness, and the idea that the light will eventually arrive.
There was a lawyer and his daughter who visited the booth. The daughter was about to go on a trip. They listened to my description of the painting titled "Promise". The eagle in the air represents the trip, the deer looking back at the blooming roses in the light implies "Forget Not the Love of Parents". This piece of work completely fitted the father's state of mind, and he collected this painting on the spot, as a gift to the daughter at his side who was about to travel, giving a promise "Not to Forget Each Other".
The "original aspiration" with which I started my creation is derived from my belief, my expectation for life. Starting from the "deer" looking for a spiritual homeland, until now, I am still responding to the calling of my original aspiration through my paintings.