Art Revolution Taipei 2017
Artist Interview (10)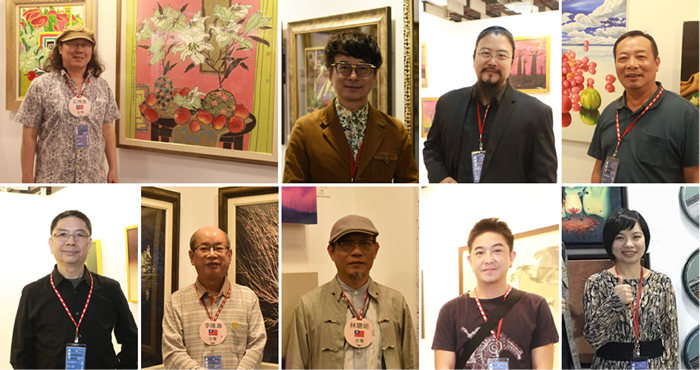 "Art Revolution Taipei 2017" Artist Interview (10)
This article includes the interviews with nine Taiwanese artists: (87)Shih Po-Chin, (88)Chen Chun-Nan, (89)Tao Tian-Lin, (90)Huang Han-Sheng, (91)Liang Pei-Zheng, (92)Lee Lung-Shou, (93)Smart Lin, (94)Jeffrey Yeh, (95)Chen Hsiu-Wen
~ ~ As an artist, how can they continue to create and change? Let's take a look at the secret of success ~ ~
(87) Shih Po-Chin
1959, Taiwan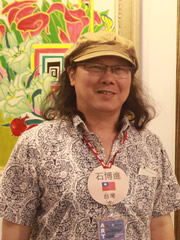 I originally created ink paintings because it emphasizes a certain mood that needs to be appreciated carefully, resulting in less people able to fully understand the medium. I later change styles so that my art is colorful and direct. I gradually incorporated watercolor, oil and acrylic as my medium. I then added innocent and childlike elements, such as Pikachu, tropical fish, so that the younger generation can relate and appreciate art.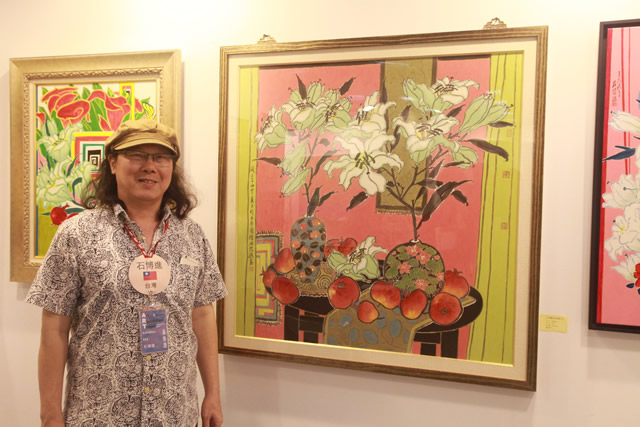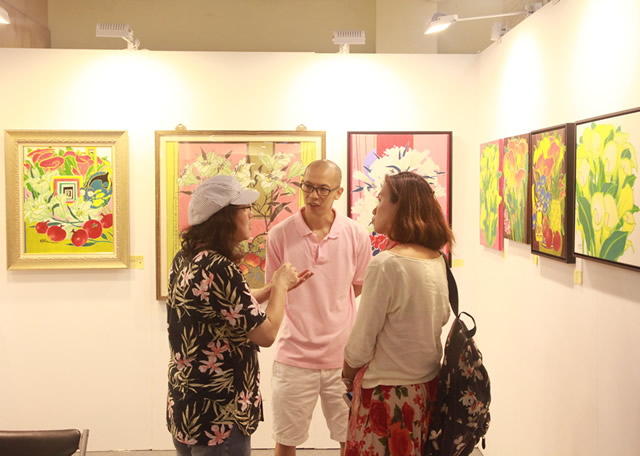 I have always painted things with more personality. For example, if I paint landscape, I depict the landscape of Taiwan, rather than traditional Chinese landscape. The outlines are made up of calligraphy strokes, flowing vividly with strength. Although the theme of the art is direct, but there is still space for the imagination. I believe that art must have connotation in order to have life, and be able to reflect the mood of the current moment. For example, Nantou, my hometown, was damaged in the 921 earthquake. I was very depressed afterwards, and my art contained more gray tones. Now after going through that period and feel cheerful again, my works have become colorful and diverse.
(88) Chen Chun-Nan
1963, Taiwan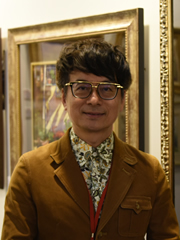 When I was a child I loved painting. I liked to paint things I saw. When I was in junior high school, I decided to apply for the Department of Fine Arts. At that time, it was thought that majoring in art would not be financially successful in the future. So my teacher took two measures. First, I was admitted to the high school of my first choice, so that my family could have a peace of mind, although my parents did not strongly oppose my aspiration to become an artist. Then the second step would be to pass the college entrance exam to be admitted into the Department of Fine Arts of National Taiwan Normal University, which was also my first choice.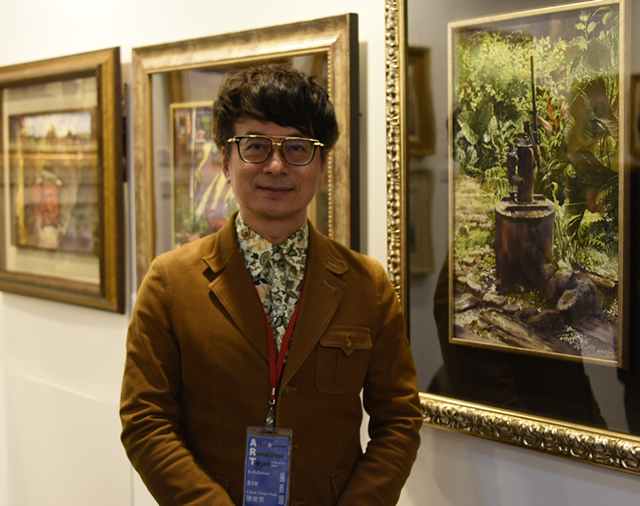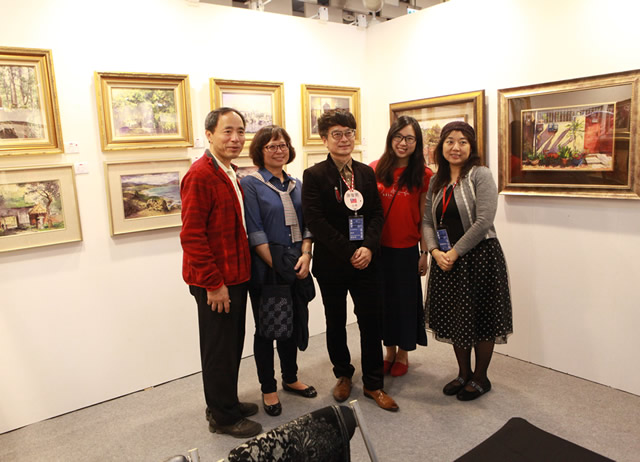 After graduation I began teaching and stopped painting. After more than twenty years of being a teacher, I picked up my brushes again. The opportunity arose at the 2007 Mayor's Cup Art Exhibition, which was a local competition near my home, and the prize was pretty handsome (1st place: 50,000, 2nd place: 30,000, 3rd place: 10,000). I created a painting and submitted it and ended up being awarded 3rd place. I felt that I still could paint, so I picked up my brushes again.
In general the western painting uses oil on canvas. I choose to use watercolor because my kids were young at that time and allergic to the volatile paint oil. I was worried about any allergic reactions of the kids to the oil, so I chose watercolor instead.
(89) Tao Tian-Lin
1973, Taiwan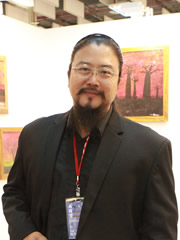 Africa is the place I dreamed to explore since my childhood. After retirement from military service, I followed my teacher, Taiwanese adventure painter Liu Qiwei and began my adventure journey in art. Africa was filled with magnificent mountains and rivers, galloping wild animals, incredible sunset blooming the sky with colors. These experiences were a clear and powerful calling that revealed the hidden dreamland in my heart. After exploring Africa, I used my unique painting language to paint the "Wild Africa" series.
In this exhibition, I choose more pieces from the first series which embody mostly figurative impressionist style in order to coincide with the theme of the exhibition "original aspiration". These are the remaining paintings of my collection since many collectors have not seen this series, and I will not go back to make this kind figurative paintings in the future.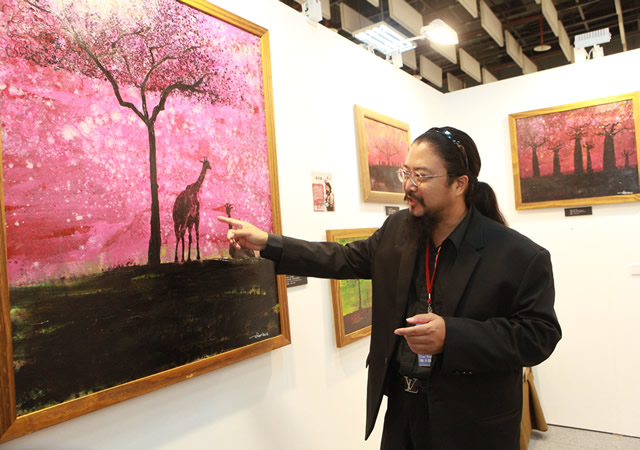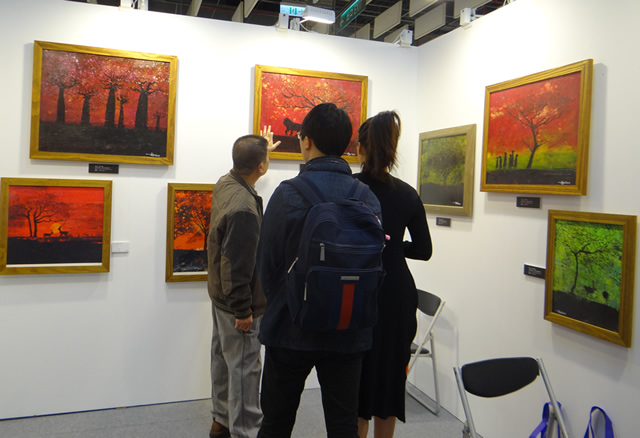 Although this is my first time participating in ART, I have visited the art fair for the last five years. By the third year I already wanted to participate in the exhibition. However timing wasn't right, either I was too busy or missed the deadline. Being able to participate makes me feel very happy and surprised. ART is improving every year, with more and more originality, clearer vocabulary of contemporary art, which is very good. In addition the overall arrangement of the exhibition, VIP night, meticulous service, etc., are not found in other art fairs.
I am determined to inherit the ambition of my teacher Liu Qiwei, and strive to be Taiwan's only adventure painter. I just returned from India, and in October I will explore the Amazon, hoping to depict the wonders of life through a new original series.
(90) Huang Han-Sheng
1960, Taiwan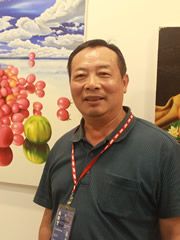 Since childhood, I enjoyed graffiti art. When I was 17, I passed by a gallery and through the window I felt the beauty of oil painting. From that moment, I began to create oil paintings.
I challenge myself to always come up with new ideas, styles and changes in my paintings. Whether that be realistic, abstract, or impressionist style, I always strive for the best creation. I think painting is a manifestation of strength and beauty, and also a symbol of the continuation of one's own life. Through the painting the viewer can feel the soul and the rich feelings of the creator.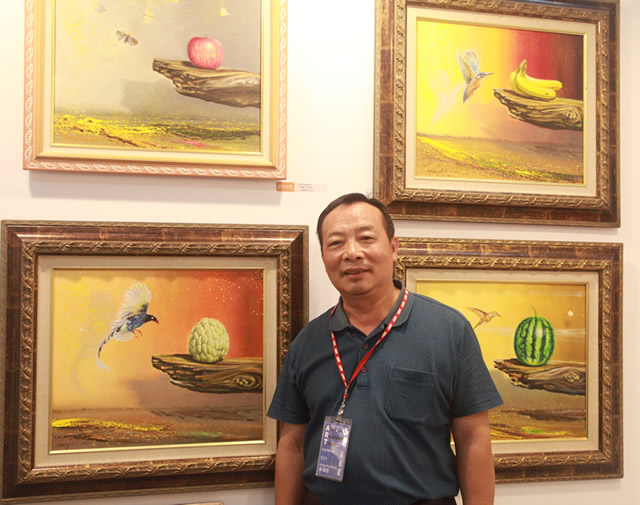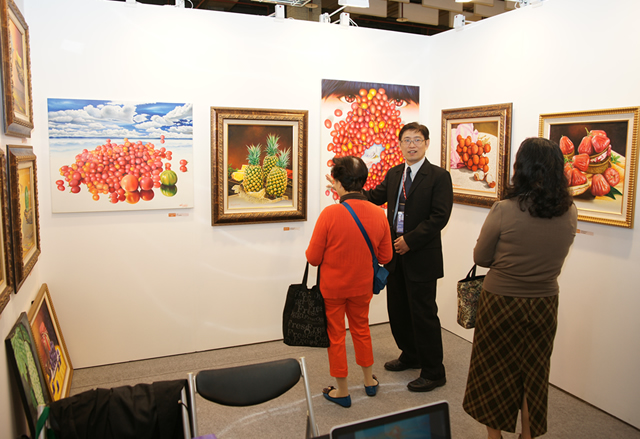 I began with the "Taiwan Image Series", depicting farming, cattle carts, red brick old houses, truthfully showing a strong Taiwanese local charm. Of the "Taiwan Fruit" series on display, the work "Taiwan Red", features colorful, small red tomatoes arranged in the shape of Taiwan, along with famous attractions along the central line from north to south, including 101 buildings, Yushan, Alishan , Sun Moon Lake and Kaohsiung 85 buildings. There is also the outline of rainbow butterflies to promote Taiwan's famous tourist attractions and agricultural products to the world. It is a yearning to portray the goodness and betterment of Taiwan.
This is my second time to participate in the exhibition. I think the works exhibited in A.R.T. are of an even higher level, and the participating countries are from wider range.
(91) Liang Pei-Zheng
1950, Taiwan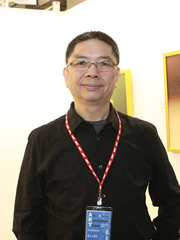 I mostly paint still-life, such as fruit, flowers and so on. I enjoy playing with colors, especially the beautiful colors of food, which I feel have quite a healing effect. I used to do more landscape paintings, but in the past few years I painted mostly still life. Whether it is oranges in plastic bags, apples wrapped in tin foil paper, cantaloupe or clove fish, braised pork in a dish, all are painted lifelike, so much so that it will make your mouth water.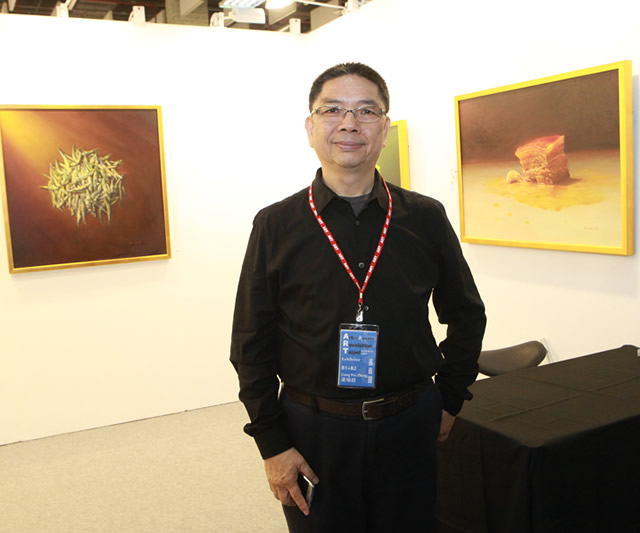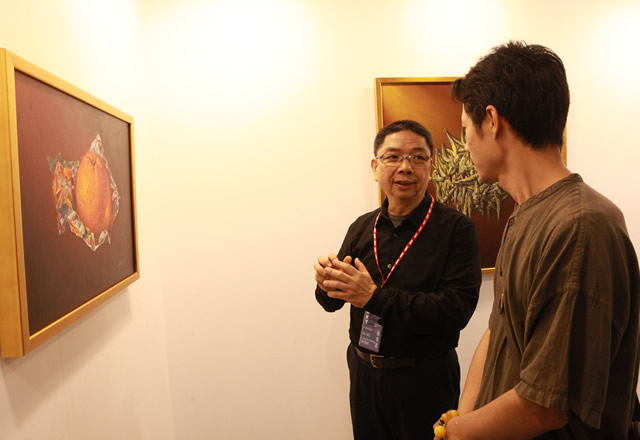 I began to write calligraphy at the age of three and began painting at 10 years old. Later, the financial situation in the family was difficult, so I started working after graduation. It wasn't until I was 40 years old, financially well established, that I returned to painting. Currently, I am a full-time painter. My days are simple but full. Now I live in art; art is my life. So I am very content.
This is my third time participating in A.R.T. I think ART is amazing that it can unite the world's top established artist, so everyone can observe and learn from one antoher. This becomes the driving force of creation. If one wants to continue to go beyond oneself, one must continue to learn, and learning is endless.
(92) Lee Lung-Shou
1954, Taiwan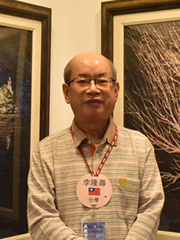 My hometown is in the fishing village Shuangchun in North Gate of Tainan County. I grew up in the seaside, catching milkfish to make living and to earn tuition. Once I picked up the scenery bookmarks that dropped from an air balloon floating from the mainland. I thought the scenery was so beautiful, and that made me long to paint landscapes.
In my second year studying in the Ping Dong Teachers Collage, I began to study under Huang Guangnan to learn Chinese painting. The first work is "Solitary Travel", painting myself as an eagle hovering over the sea of my hometown, hoping one day to fly to other places to pursue my dream.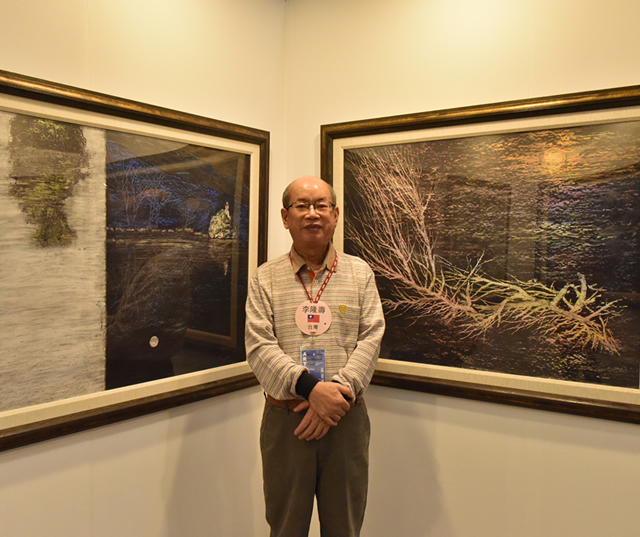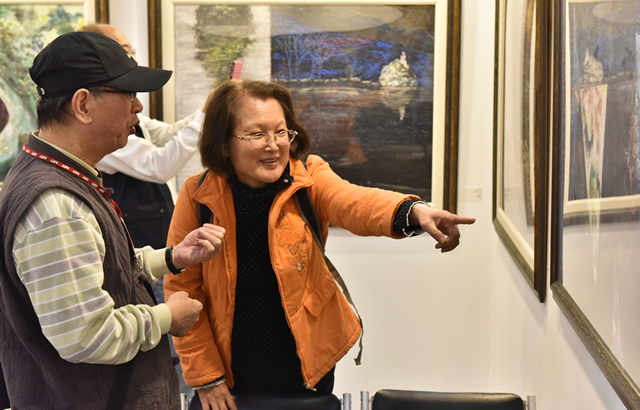 The sea is a very important theme of my works. I wanted very much to depict the beautiful scenery of my hometown. I won the first place in Taipei City Art Exhibition and Kaohsiung City Art Exhibition, both pieces using the water as the subject.
Before graduation I chose to be a teacher in Taipei in order to learn painting within Taipei. I studied under Professor Fu Juanfu to learn the skills of painting water. I was admitted to Normal University without going through any entrance examination, only based on my academic performance. I learned many more painting techniques from different schools of thought and harmonized these differences in order to develop my own style. I retained Chinese ink painting and oriental human spirit, combined with the Western painting elements, such as oil, acrylic or glass paint. I always strive to better myself, create new ideas in each exhibition, and continuously update my painting style.
This exhibition I bring "The Sunset Red and the Dead Wood", which reflects the theme of A.R.T. Depicting the same seaside of my hometown, as depicted in "Solitary Travel", only now there is 41 years difference in time, with different mood, different materials, this work of the same sea was still infused with the same deep feelings of love!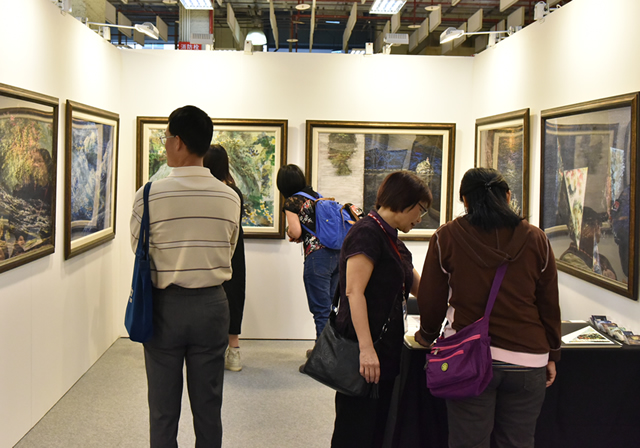 (93) Smart Lin
1961, Taiwan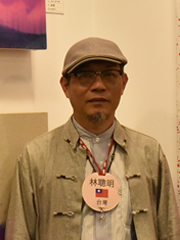 My works are mainly about local things in Taiwan, such as Yushan, chickens, ducks, turkeys, cattle and so on. I currently live in Ilan. I raised the chickens and ducks in the painting myself. I observe and have contact with them every day. That is why I have a more vivid description of the animal's loveliness and gestures, hoping to be able to portray daily life and the inner feelings.
I have always taken first place in art class since I was a child. After graduation I taught and painted. Painting is my way to express my feelings, and also part of my life. I hope to faithfully portray my own emotions. This is my fourth time participating in Art Revolution Taipei. We connect with friends through ART and the artwork. You may meet old friends that you have not seen for more than ten years and feel very happy. Reunited with old friends is the biggest gain.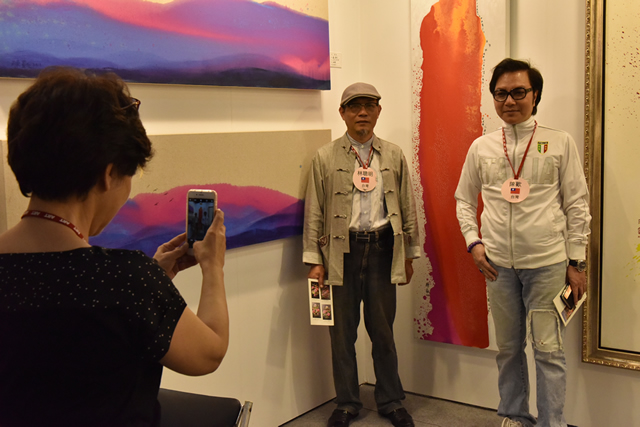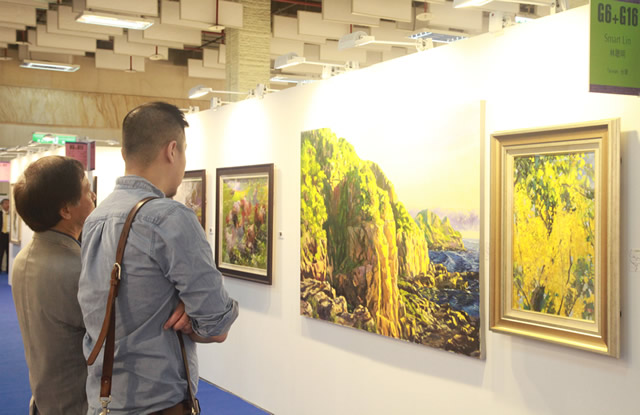 (94) Jeffrey Yeh
1975, Taiwan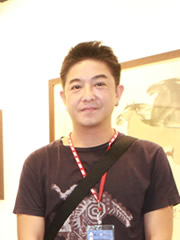 I work in children illustration books and commercial designs. Currently I am represented by Together Arts. Because of my love for art, I use 80% of my income to continuing my art career and 20% is dedicated to running a studio to teach oil painting courses.
Painting can inspire one's own creative power. I hope to follow my own heart, to have stories in my works, allowing the audience to interpret with their own imagination, and also hoping that the audience feels happy when looking at my work.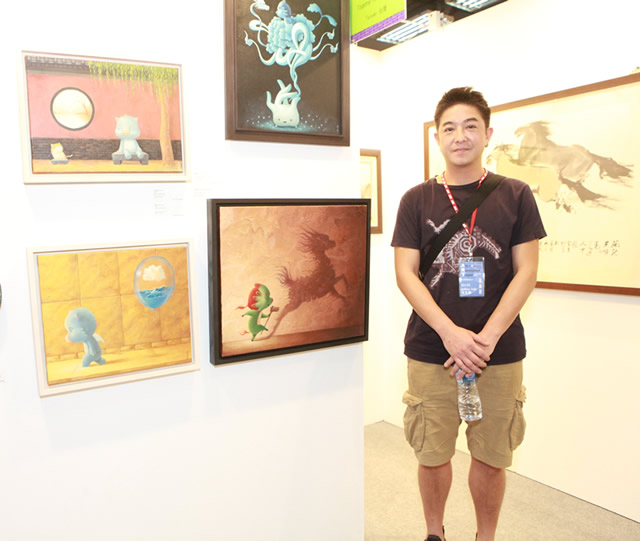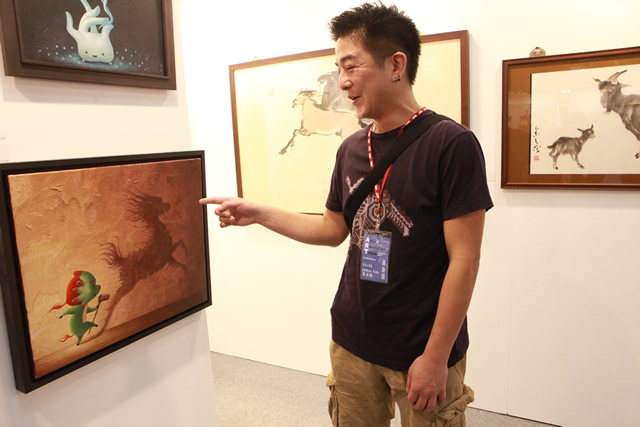 This is my first time participating in A.R.T. The works I exhibited mainly depict Chinese animals, such as a phoenix, dragon, and Pixiu. I interpret these characters in a modern, humorous way. I also hope that everyone will smile as their inner child is affected. I will continue this style in my art, so that the picture will be more colorful, and perhaps the expression will be more abstract.
In A.R.T., it seems that the audience is older and have more collecting potential. Also, I enjoy the fact that artists can communicate with one another, making this exhibition a very good platform for exchange of ideas.
(95) Chen Hsiu-Wen
1981, Taiwan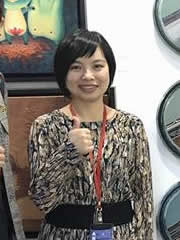 The first time I participated in ART, my booth was in the Art with Entrepreneurs section. At that time my works contained old houses of Taiwan, glass bottles, plants as the creation elements. After the exhibition I was chosen by Together Arts to become one of their represented artists.
Almost all of my works I created have been collected, and cannot be borrowed for display. So I cannot display my first painting. This year's works still portray the traditional art of Taiwan, using old houses as the theme. I will continue my creation towards this direction.
In past paintings, I included old houses and glass bottles. This year I wanted to focus more on the picture, so I use circles to emphasize the opening of the bottle, and to portray that feeling when a bottle is building up. For this series, I processed everything on my own, from the stretching of the canvas to the painting of the base color. I did not want to show the cloth texture or any texture. For this reason, I did not want the canvas to be processed by anybody else but myself.