Art Revolution Taipei 2018
Interview with Artists (1)
Listening to artists introducing their own favorite things and attitude of life brings us so closer to the artists!
(1) Taiwan Chang Meihua, (2) Paraguay Adriana Villagra, (3) Taiwan Leo Liu, (4) The Netherlands Peter H. Harskamp, (5) China Wang Zhaoju, (6) Japan Hayato Takano, (7) Taiwan Chen Chiang-Hsu, (8) Spain August Vilella, (9) China Qiu Shengxian
(1) Chang Meihua
1960, Taiwan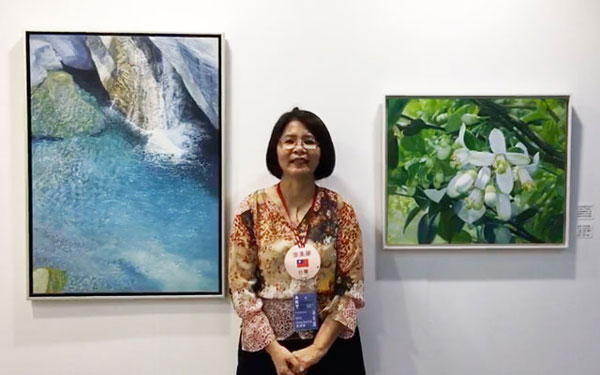 Since I was little, I like the river very much, which nurtures all lives. In my younger years, I liked particularly taking trips to Hualian in the east coast. When I saw the sun shine upon the ocean, or the clear water of the river, I felt clear inside. The blue color made me very agitated I felt like being cleansed, feeling fresh and pleasant in body and mind.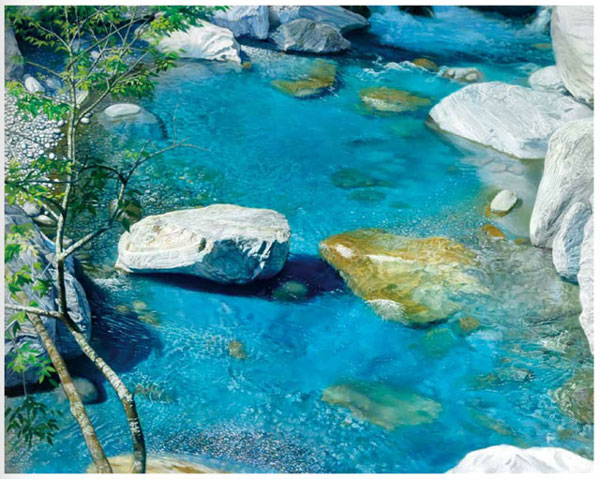 I often felt that in the mountain the quiet rivers are like God- bestowed treasures, fresh and mysterious, like the clear stream in people's heart, which is the most original, free from pressure and scars. This is why I like depicting rivers.
(2) Adriana Villagra
1978,Paraguay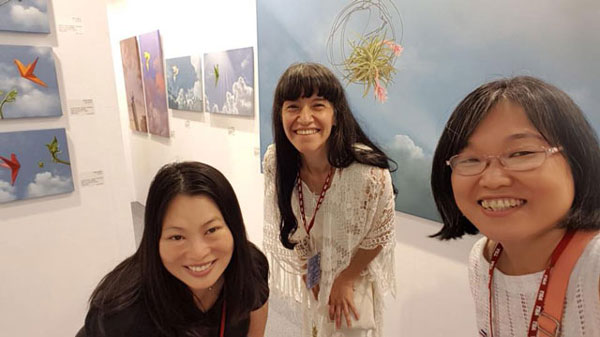 My works are symbolic realism, based on elements in everyday life.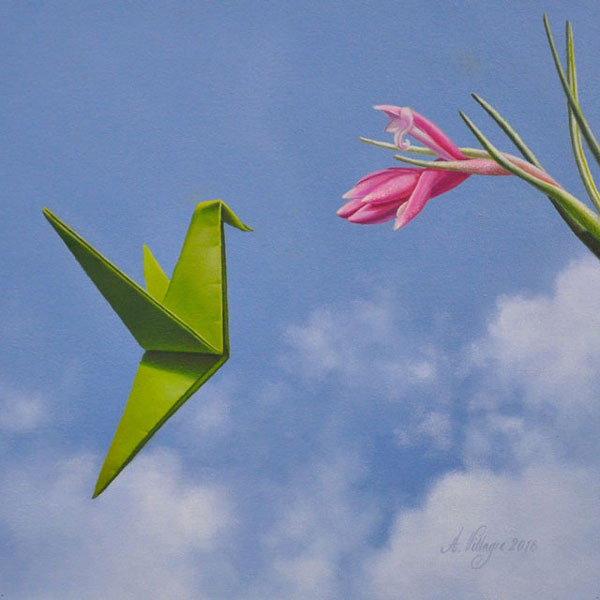 For this year's exhibition in A.R.T ., I especially created a new series. In each piece of this series I painted a paper crane as the main character, connecting the objects and the beautiful world. The blooming or growing plants are used to express the free spirit.
(3) Leo Liu
1959, Taiwan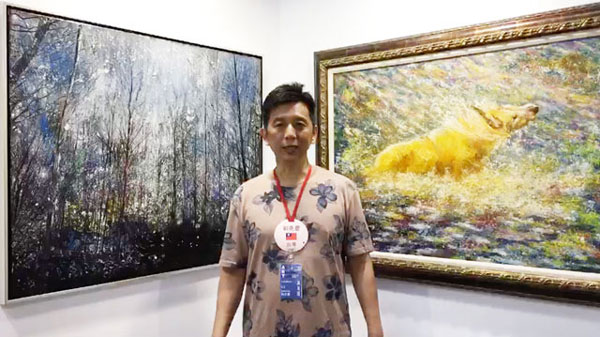 Hoping to share truth, goodness, and beauty through my works.

"Miss" is a work using a lot of gold silk, entangled one on top of another, thread on top of thread, just like heavy thoughts of remembrance. Finally, what is left are treasures, gold and silver, jewels, the most precious. This is like someone is not around anymore, but leaves behind the most beautiful things to stay with us.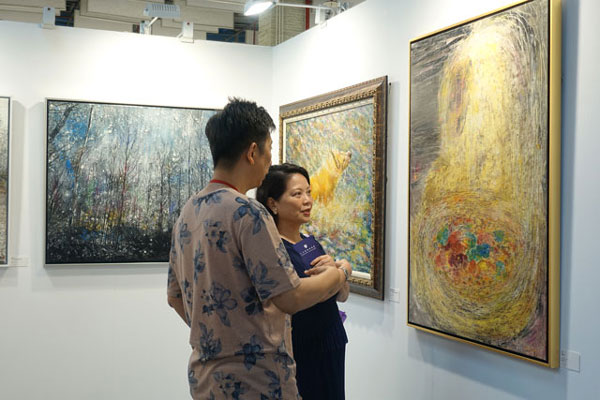 (4) Peter H. Harskamp
1951, The Netherlands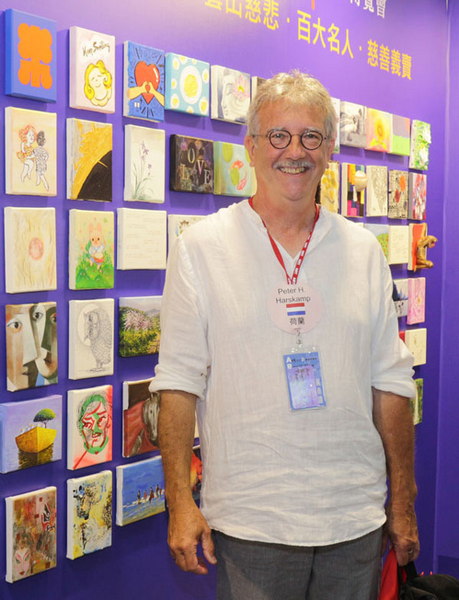 Usually I do not make plans before painting. I just went straight into painting, following my subconscious.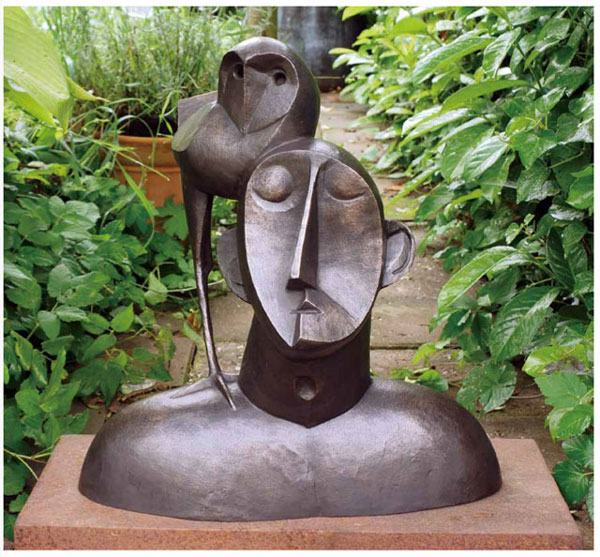 Objects, animals in my daily life, etc. can be the main subject of my work. Once I begin the painting, I do not know myself when I am going to stop because colors, lines, and various shapes always keep coming into my mind. Therefore, creation has always been a surprise, an amazing magic to me.
(5) Wamg Zhaoju
1966, China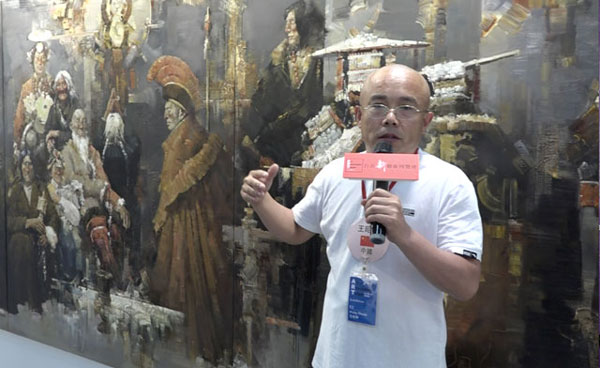 This year I bring with me two pieces of work. One is the nine kilometers long "Crossing the Heaven" and the other is "The Pure Land of Brahman," each in different style.


Realism has long been the main style of my artworks, as in "Crossing the Heaven", while "The Pure Land of Brahman" is a breakthrough with stronger expression. I used to do the painting seeking the light effect whereas "The Pure Land of Brahman" puts emphasis on seeking the flat composition. Colors are more subjective and break through the boundaries of the objective.

Why do I do painting of Tibet? I have been to Tibet several times to have deep feelings toward the Tibetan culture. I think it is the most mysterious, most unique, and purest culture in the world. It is not only a folk customs, it also includes climate, the amazing landscape of Tibetan plateau, which is very impressive. In particular, the Tibetan people's worship of Heaven and man, the pure spiritual sentiment, has a sacred beauty.
(6) Hayato Takano
1982, Japan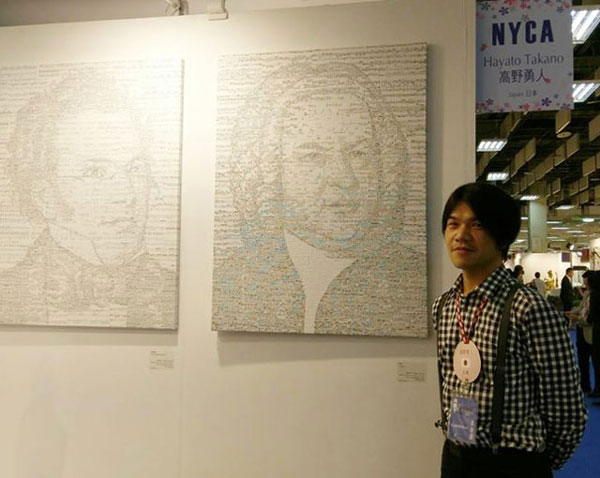 Hayato is a Japanese artist whose was one of the finalists of last year's International Artist Grand Prize Competition and received the "Chairman's Award."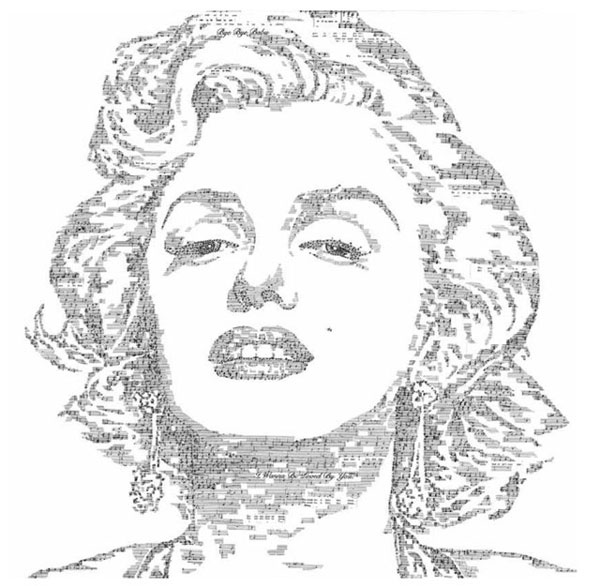 My creative concept was based on the combination of two things, music and art, which were also the two things I was really into. Since I was little, I was exposed to music and art. I went to a music school. When I was looking at the sheet music, I felt those curves, dots are like a piece of painting. Since then, I began to do the art creation, using sheet music to create different portraits.
(7) Cheng Chiang-Hsu
1982, Taiwan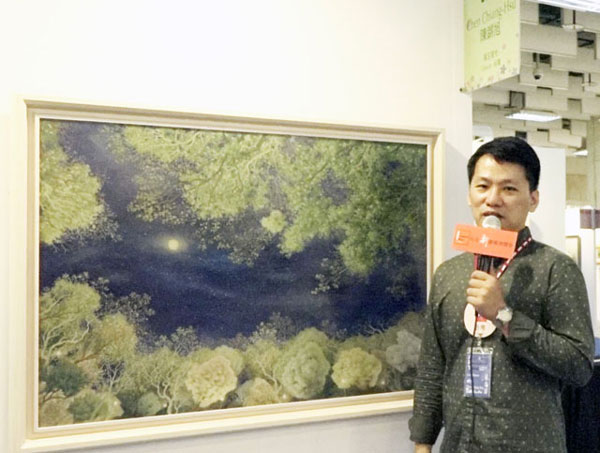 My works are mainly landscape, which has a meaning of getting away in English. In an over-spinning contemporary world, we need a sense of stability, getaway. It is a kind of flexible confrontation to give another kind of sustenance to the soul.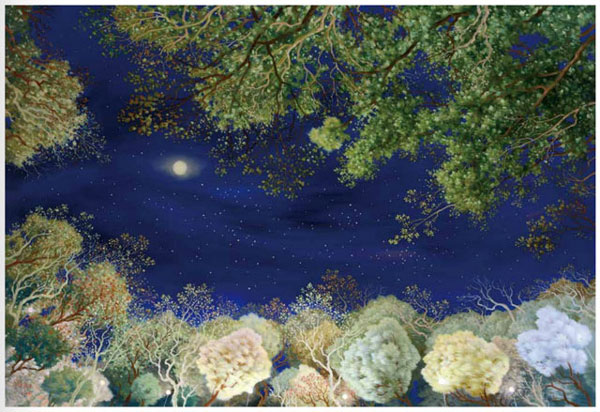 This piece titled "Endless Night" hopes to express the movements and vitality of all things in the night, to feel the groves, branches, leaves, sky at night, moon and stars.
(8) August Vilella
1986, Spain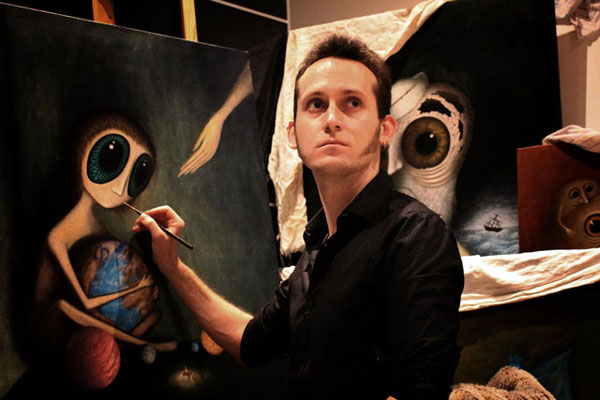 I am August Vilella from Barcelona. I have a rather different, or even somehow strange way of painting. I do not do sketching, no set ideas. I call this intuitive surrealism. The painting process is automatic. Because of this, I do not set a subject, or character before painting.

Therefore, when someone asks me the meaning of my painting, I usually tell them that its meaning to me is not that important, but what it means to you is. Because it is automatic, the meaning is open.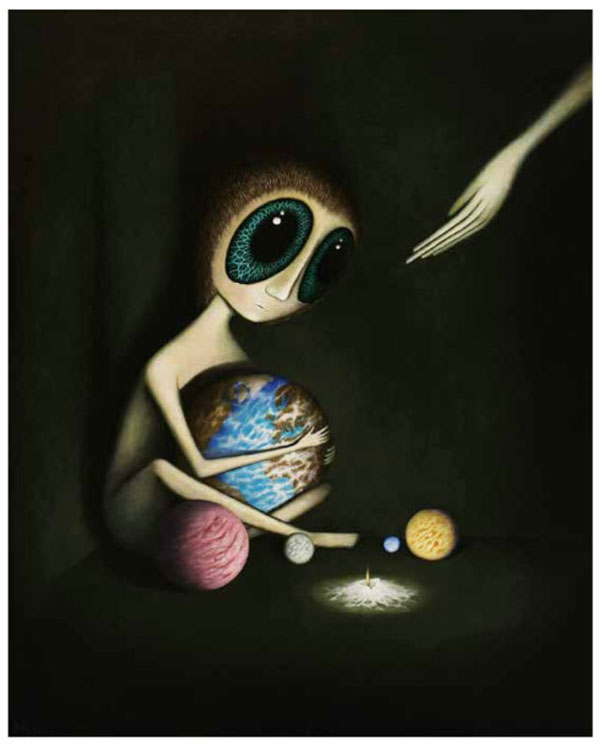 Of course, this paintings has meanings to me. For example, this piece represents the concern for Nature. Green represents Nature; blue represents the earth. This piece is about the moment when you receive a letter from someone who is a very important to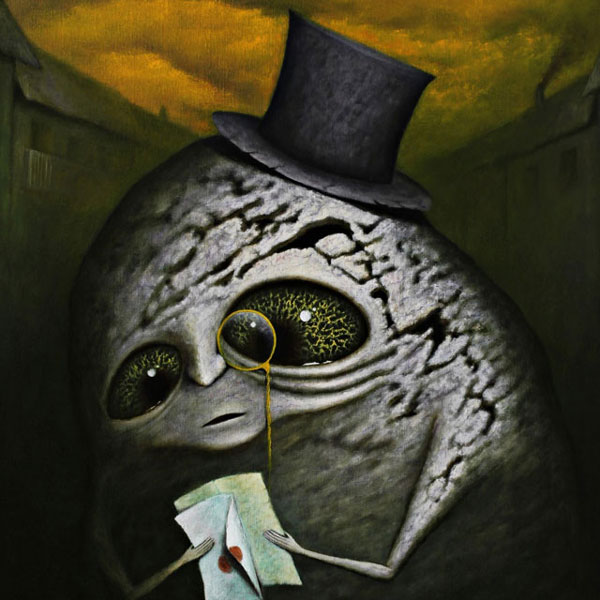 To me this may be a letter from the past; to others it may have different meanings. Many people of different experiences told me what this work means to them.
(9) Qui Shengxian
1955, China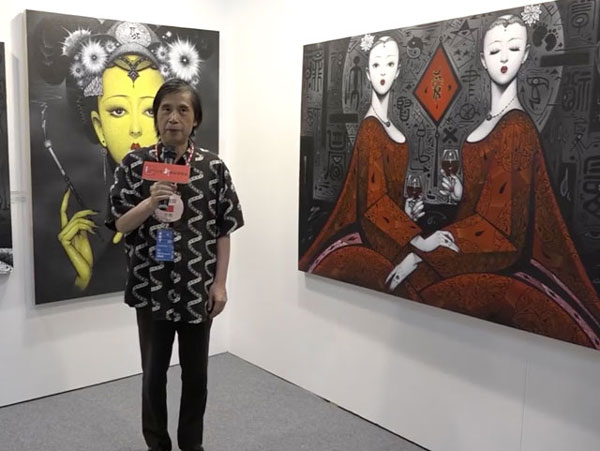 This time I bring two series "Fashion Baby" and "Sentiment" to exhibition. These are the two series that I have exhibited around the world.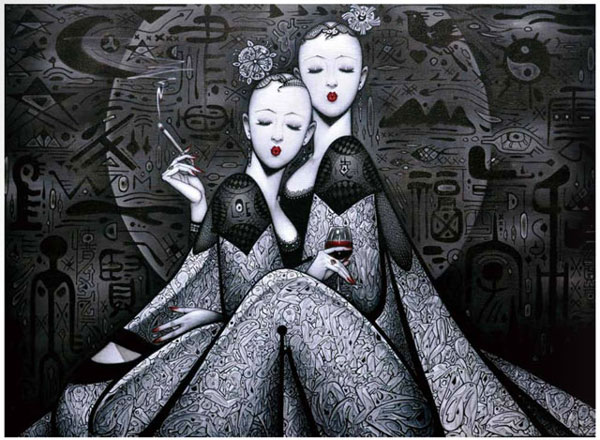 My works mainly reflect the true feelings and love of a human being. The form of expression combines fashion with classicality. As for the style, I use advanced consciousness and apply modern methods to express the spirit of the Chinese people. For example, for the treatment of the head image, I use the bald heads to express a sense of advancement, to imply a traditional, religious spirit of the Chinese people. As for the ctothes, there are mothers and children's bodies to express the Chinese people's great spirit of compassion.