Art Revolution Taipei 2018
Interview with Artists (4)
Listening to artists sharing their favorite things, attitude of life, and ideals in their hearts brings us so much closer to the artists!
In this interview we will introduce to you ten artists: (1) Lawrence Lu, (2) Pan Chen-Hung, (3) Chen Kay-Son, (4) Peng Pei-Ci, (5) Leu Yuh-Huey, (6) Lin Cang-Pei, (7) Liang Yi-Feng, (8) Robert Kuo, (9) Lu Bai-Sen, (10) Luna Chen.
(1) Lawrence Lu
1970, Taiwan
~ I have always asked myself to do something that has not been done in the history of art ~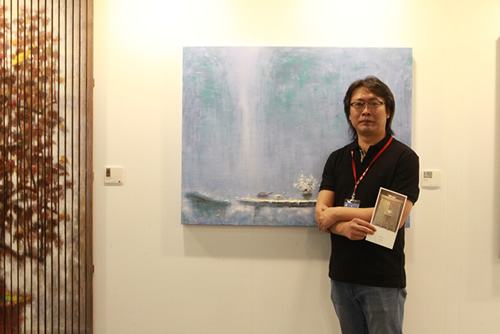 I'm Lawrence Lu, an artist from Taiwan. I am very happy! Just today, some viewers saw my paintings and liked them very much, and asked: "Where are you from?" I said, "I'm from Taiwan." They were so happy. That is actually the greatest encouragement for the artist!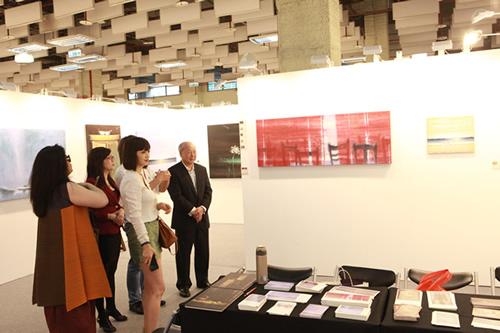 I have been coming to A.R.T.(Art Revolution Taipei) for eight consecutive years. I am very grateful to the A.R.T. committee to arrange such a good location for my booth every time. I have a lot of large paintings and it requires relatively longer distance for the audience to appreciate the works. I like to create larger paintings. This year I bring 15 pieces. I create about 15 to 17 paintings every year. I would create different series at the same time, for instance, the bench series, the gap series, my earlier series – the wood series, as well as mixed media on smaller canvas where I combined pen and paint.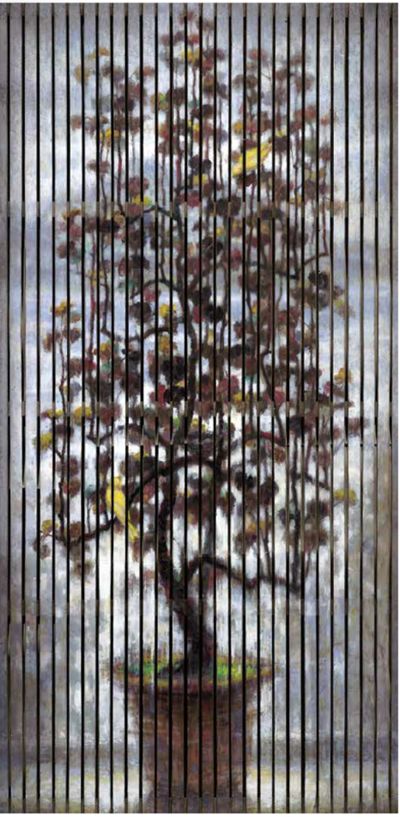 I push myself to create different series every year, while still working on previous series. I have always asked myself to do things that have not been done in the history of art even though it is very difficult and I have to work very hard. When you are an art school student like I was, it is very difficult to forgo the technique you have learned before. The better your skills get, the more reluctant you will let it go. So I need to keep adjusting myself and communicating with my work.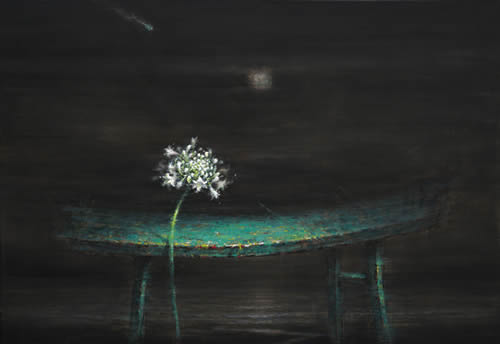 Many of my artist friends often ask me how come so many collectors like my work. Of course, we are very grateful to the A.R.T. committee for giving us this platform. On the other hand, the most important thing for the artists is their creation. You need to pursue it with your heart, do not try to please the audience; the more you want to please the audience, the less you get the support of the audience. This is how I feel. I think the most important thing is that I myself feel happy while making a painting, and then I will think why I really want to do this? Why do I want to express this work this way? What are the things that I learned from others? What are the things that are my own? This is what helps for me to continue on this path.
(2) Pan Chen-Hung
1981, Taiwan
~ There is a saying that "you must not leave blank in your youth," so I painted the whole picture full. ~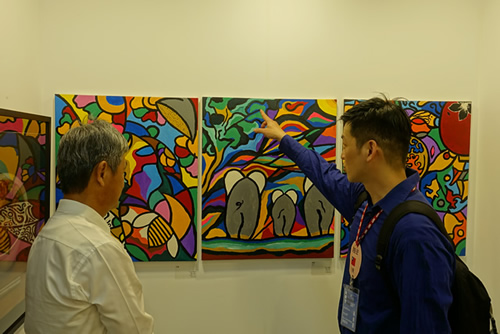 The works I exhibit this time present things in everyday life. For example, this one is called "Flowers", why is it called "Flowers"? That is because we live in a busy city, and we all want to go outdoors, to hear the bird singing and to smell the fragrance of flowers. This painting is full of flowers and insects. When being outdoors, you can breathe in the aroma of nature to feel relaxed.
The middle one is "Home". Why is it called home? The elephants live outdoors. They still need to find their living, to find food, to have fun, and they always have to go home at a certain time. The feeling that I am trying to present is that everyone always goes home at the end.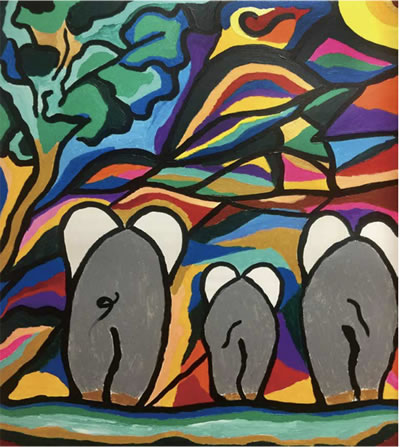 This painting called "Meiji" incorporates all the elements from the Meiji Era in Japan, such as cherry blossoms, lantern, carps, shrines, Japanese drums, samurai masks, and geisha's fans. People lived on small islands where every family had a small fishing boat to use as the tool to make a living.
In my earlier days, many people told me to leave more blank on the canvas. However, there is a saying that goes, "You must not leave blank in your youth." So I prefer to paint the whole canvas. Using a variety of colors to highlight what I want to express in my heart.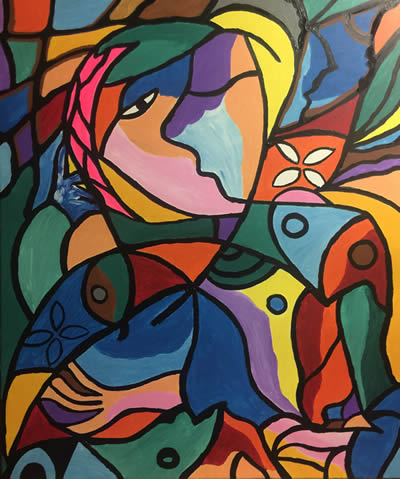 (3) Chen Kay-Son
1968, Taiwan
~ I have hidden an ancient Chinese character, Happiness, in the ball,
wishing them a happy marriage that will last as long as a hundred years. ~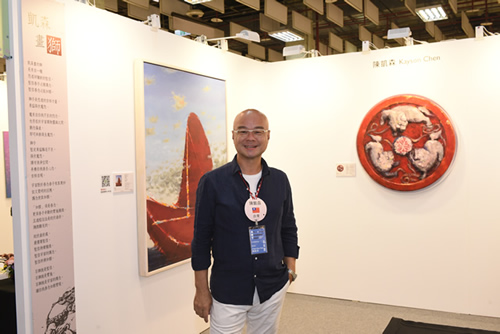 I am very honored to be invited to Art Revolution Taipei for the first time to participate in such an art event. In the past few years, I created the Guarding series and Promise series. I had a very close relationship with my grandpa. In my mind, the lion is my guardian angel. I exhibit two pieces of scarecrow & stone lion this time. The stone lion guards the mansion of the rich man. The scarecrow guards the farmer's golden harvest. I combined the two to present a very joyful and happy picture. In the composition, the sky and the immense ocean, the oceans and the sky are connected together.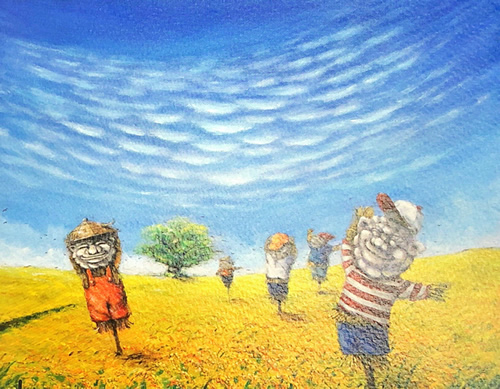 I use Moon Blocks for the Promise Series. Casting the Moon Blocks is a way to ask the Buddha questions and there are three possible outcomes – agreeable cup (okay to proceed), laughter cup (re-evaluate) and null cup (do not proceed). It is inevitable to experience all outcomes to have a colorful life.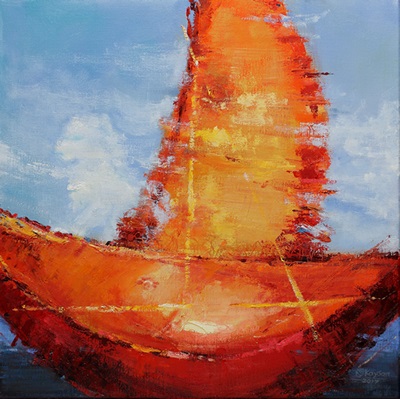 There have been many happy occasions at home lately, such as a daughter getting married. I have used such a mood to create the "True Love Series." It represents a successful man, supported by a very good and virtuous woman, with a pair of unwavering stone lions guarding from the above.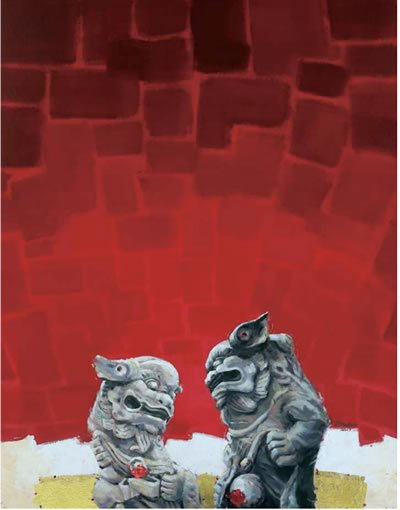 (4) Peng Pei-Ci
1965, Taiwan
~ It is saying: I smell the persimmon, and here I come ~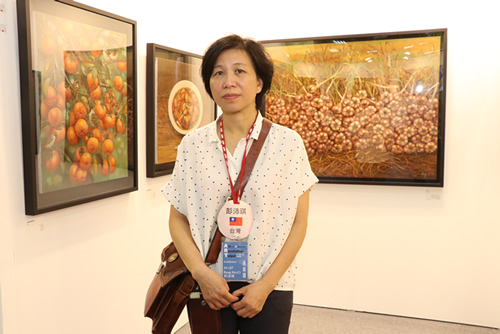 My inspiration is mainly from my childhood, particularly about the local customs and crops in Taiwan. One thing that stood out the most was sparrows. I remember when I was a child, I often saw sparrows. I was a naughty child. When I saw a bunch of sparrows on the telephone poles, I would run over and say "boom," all the sparrows then would fly away. It was fun at that time.
Once, when I was driving with my husband, I saw a sparrow fainted on the ground. There were two other sparrows standing by. They kept calling out to the fainted sparrow. I think that they are just like humans. They have feelings and thoughts. Therefore, I like to present the sparrows talking to one another, in bird language in my work. Like in this piece, "Bird and Persimmon" - it is saying, "I smell the persimmon, here I come." It also symbolizes harvest. Many of my works express the fruits after all the hardship and sweat of the farmers, and added the joy of harvest. I wish those who collect my work can also have a good harvest.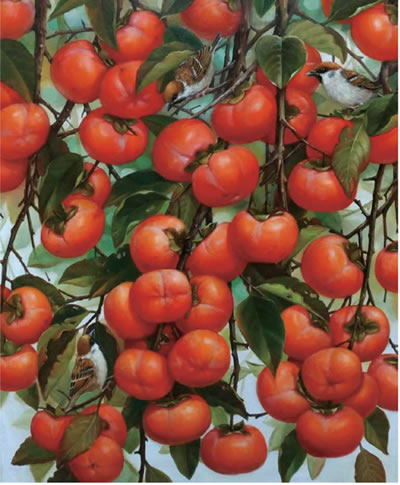 I am very happy that the organizer invited me to participate in the exhibition, and also gave me many new ideas. This exhibition is very international, very diverse. Each artist's style is very impressive, very strong. There are many points that I can learn from. Thank you very much to the organizer.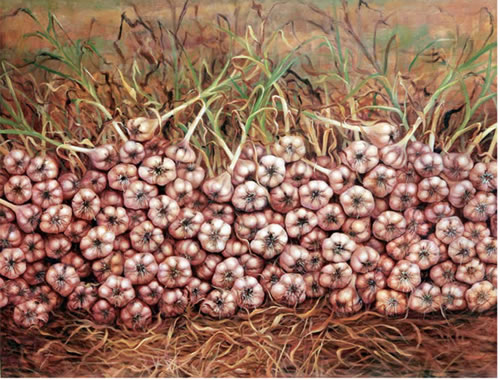 (5) Leu Yuh-Huey
1967, Taiwan
~ Very happy to receive a lot of praise ~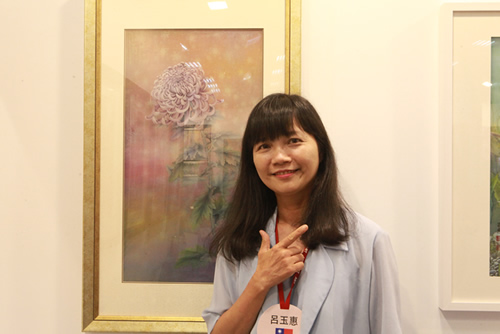 This is my first time to participate in Art Revolution Taipei. The artwork I brought are all mixed media. Like this cat, it is oil and acrylic. I use natural oil pigment. The oil is all natural from Japan. This is the first time I tried to combine oil paint with a water-based acrylic.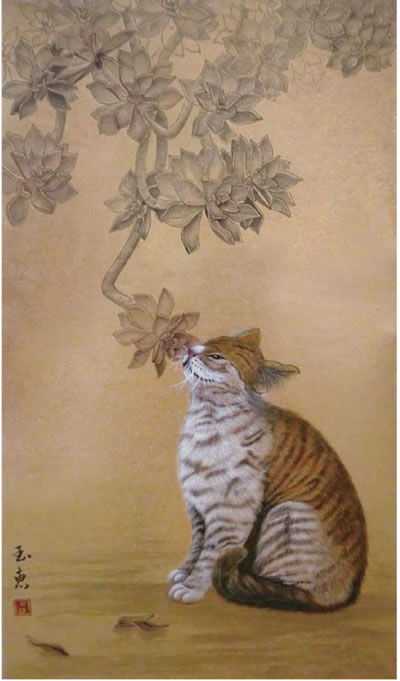 In addition, I used the Japanese gold paper to create an ancient style but also modern at the same time. So it is a combination of ancient and modern, times and media. It is a very happy thing to do, and it has received a lot of praise.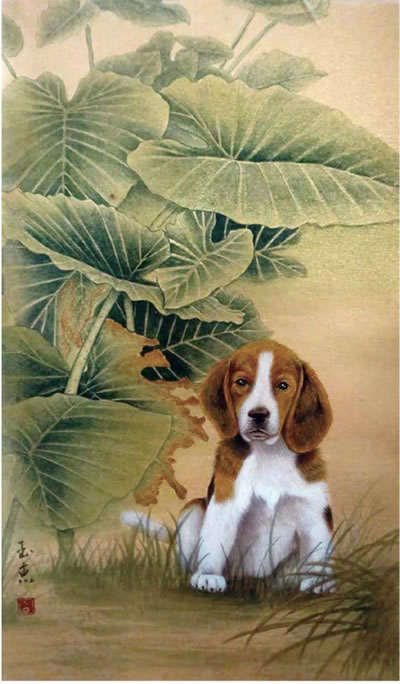 The Art Revolution Taipei is quite international. I like it very much. Although it gives me a great pressure, it is still good. At the VIP night yesterday I already sold two pieces of my works, and today another two pieces were sold. One thing I want to say is that everyone does not have to have the same appreciation. Like this work is sought after by many people. People can choose different pieces so everyone is happy. ~ ~
(6) Lin Cang-Pei
1975, Taiwan
~ Without your efforts, the exhibition will not be successful. ~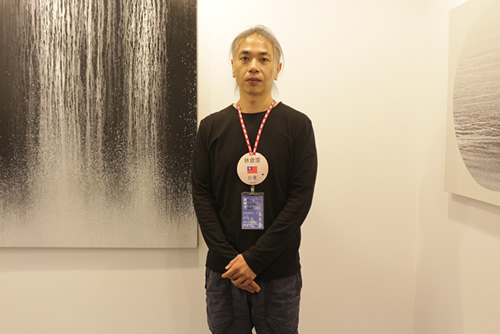 The theme of this exhibition is "Artists in and of themselves is art." My understanding of this topic is: the artist's creative nature. I meditate sometimes and use Zen spirit as the theme of creation at times.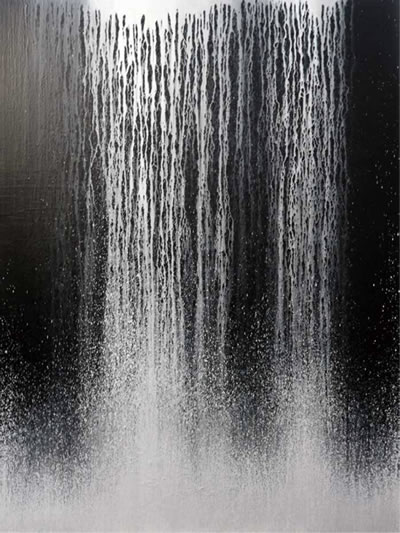 Water does not have a fixed shape, and it changes its appearance depending on the environment. I describe the appearance of water to convey the different perceptions of life in my creation. The "dry landscape" series was created using three colors: white, gray and black, to guide the audience into a quiet view of their own soul.
For me, white is the origin of life, and it is also our own heart; gray is the process of life, and also the understanding of the process; black is unconditional tolerance and merciful forgiveness.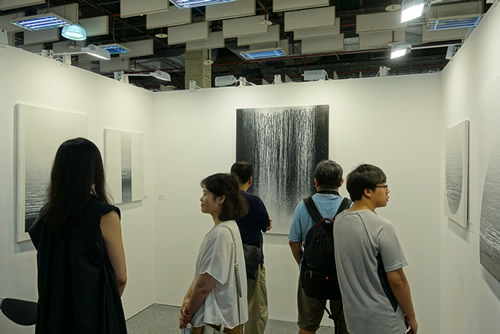 This is my second time to participate in the Art Revolution Taipei. I hope everyone will like my work. Finally, I would like to express my heartfelt gratitude to the A.R.T. team. Without your efforts, the exhibition wouldn't have been successful. Thank you.
(7) Liang Yi-Feng
1937, Taiwan
~ The animals are his best friends - birds, cats, peacocks and dogs. ~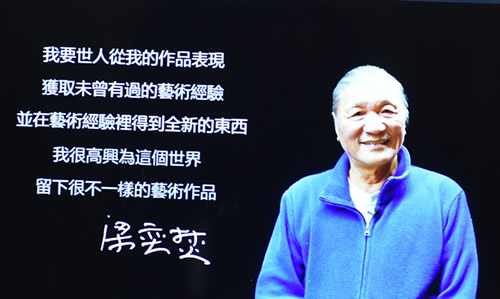 The gallery staff introducing Artist Liang Yi-Feng:
Liang Yi-Feng, 82 years old, was a student of Li Zhongsheng who is one of the most influential artists in Taiwan's art circle. Liang went to New York at the age of 50 and was presented by a gallery agent in SOHO. His early "Black Beauty Series" incorporated local customs and regional traditions, very distinctive and recognizable. Attracted many attention. Liang's artwork has been at Christie's and Sotheby's International auctions almost every year. Some people even call him the "Chinese Matisse". He devoted all his life to painting women. The lines are very strong and the colors are very beautiful. His use of color and composition comes from within, his internal strength. Even when the color is removed, the line can still hold up a painting.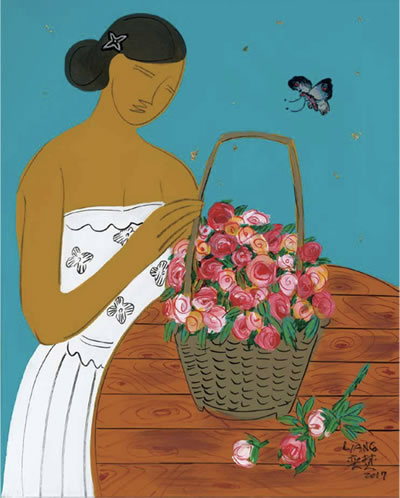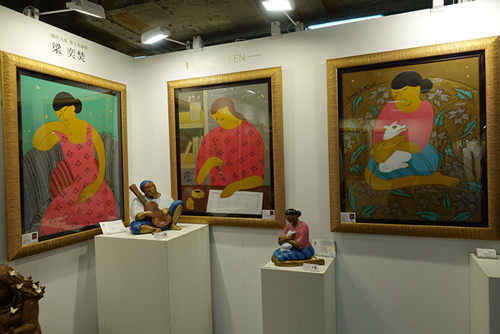 He is now back in Taitung, a sunny place in Taiwan. He has some land in Taitung overlooking the Pacific Ocean. He focuses on painting. Books and animals are his best friends now. There are birds, cats, peacocks, and dogs. They are close friends and treat each other with sincerity, relax his mind, and even inspire his creativity. "The Golden Beauty Series" was developed during this period. In addition to continuing the beautiful lines of the "Black Beauty Series", the "Golden Beauty Series" also added modern life contexts and feelings. I hope that there will be dialogues and feelings between collectors and paintings.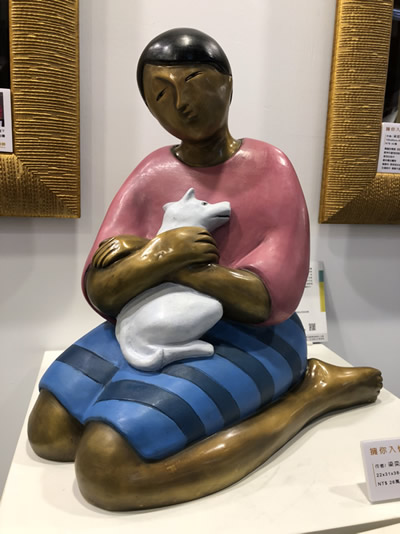 (8) Robert Kuo
1958, Taiwan
~ A painting must have life before it can touch people's heart ~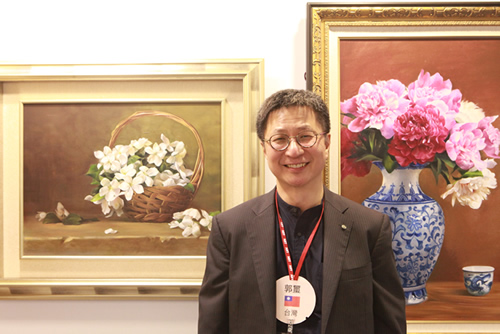 I was not an art college student. I studied art for three and a half years, and I simply like art. Last year I exhibited here and sold 37 pieces. I hope that I can also sell more than 30 pieces this year. ~ ~ Because my paintings are closer to life and n is no craftiness. I am not selling to any big collectors, but to people who are interested in art.
For instance, a celebrity commented: "Your painting is very close to people's hearts." That means there is no sense of distance. My paintings may not be excellent in techniques, but they are close to people's hearts. Therefore, people feel that my works are relatable. I like painting, and I also collect paintings myself, so I know what I want to paint to get close to the average person.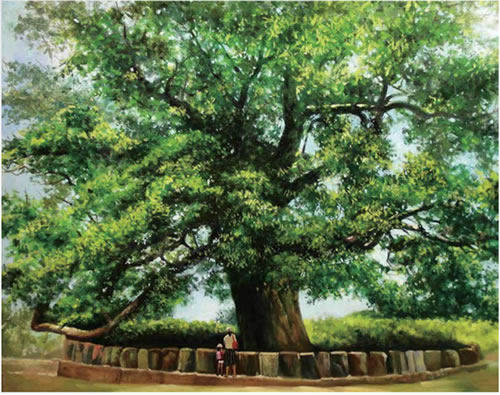 My subject is mostly flowers. A painting needs to have a life in order to touch a person's heart so audience can resonate with it so I try my best to make my paintings to be full of life.
(9) Lu Bai-Sen
1971, Taiwan
~ Deer represents the dialogue between the soul and the earth. Light represents hope and blessings. ~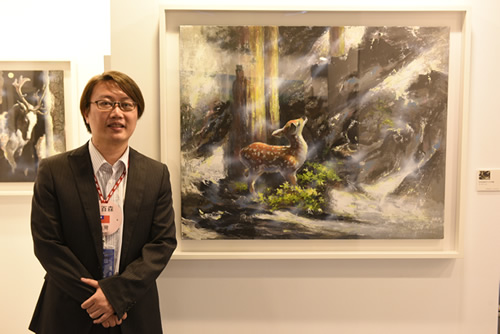 This is my fifth year participating. Although I continue to use deer as the main theme, each time has different interpretation. The deer represents the dialogue between the soul and the earth. In addition, I also emphasize the light. Light represents hope and blessings. I choose the light of the dawn. You can meet light only after you wait for the night to be over.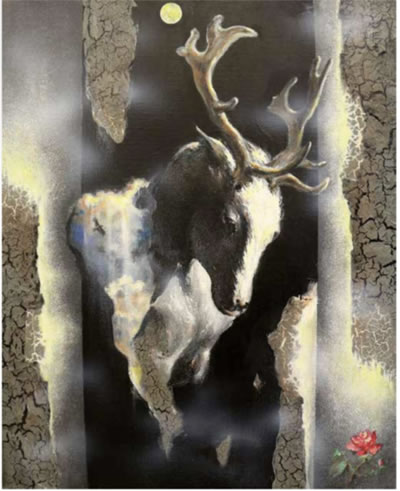 My works are both figurative and abstract. Some cracks in the painting or other abstract patterns, are all symbols of the earth. They also represent life experiences. In addition, the sun or the moon in the painting represents the blessings from heaven and is also the expression of hope. Roses or other flowers represent the promise of love, a kind of love that is pure. When we go separate ways, or soar to a higher level, we still remember the beginning of the heart. My paintings all have these meanings in them.
(10) Luna Chen
1990, Taiwan
~ I like the starry sky, then use Swarovski crystals to do the dots. ~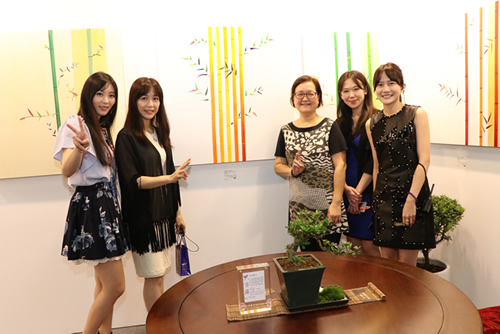 From left: Luna Chen, Ling Ling, Collector, Singway, Manihoo
I am exhibiting two series this year. The first one is "My Flying Heart." It is a series of horses. It is extended from "Exuberant Green." The horse has two wings, a flying horse, and it is very happy to fly in the air. Very happy.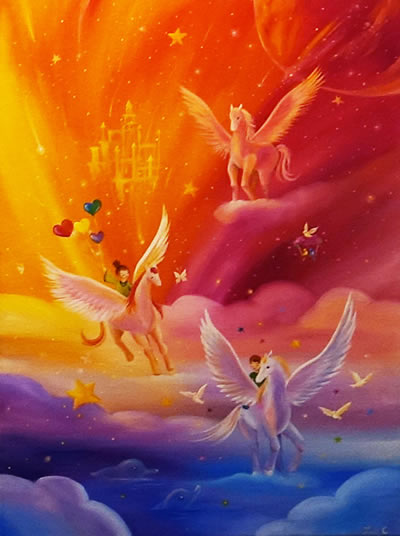 The second series is "Love in Star Night." It depicts the sky and the universe. I like the starry sky a lot, the stars, and then use Swarovski crystals as dots to decorate. I painted the goldfish, and the feeling of goldfish swimming in the sky. It is very romantic so I used the goldfish to create.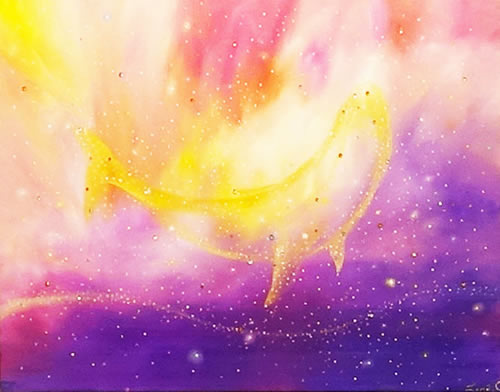 There is also a very special series called "A House Full of Gold and Jade," which is created on white marble. It was very difficult to create on the white marble. The stone itself will absorb the pigment so you have to be very precise and use paint brush very well, otherwise it will be easy to spread out, and then it will spread bigger and bigger. I think the interesting thing about the white marble is that the canvas is flat, but the stone is uneven. A lot of planning needed to be made before painting. How to make a round circle.
The "Dragon Eye" series has been created since last year. This series has once again made a new extension for this A.R.T. Black and white represent yin and yang. Two very simple and minimal colors appear on the canvas and decorated with this colorful dragon ball. The placement of Dragon Ball is very important because it is the most important point in the whole painting..