Asia's Largest Scaled Art Competition
International Artist Grand Prize 2020 Announcing its Finalists:
334 Pieces of Artworks by 168 Artists Are Selected and will compete for
the Grand Prize during the Art Revolution Taipei 2020.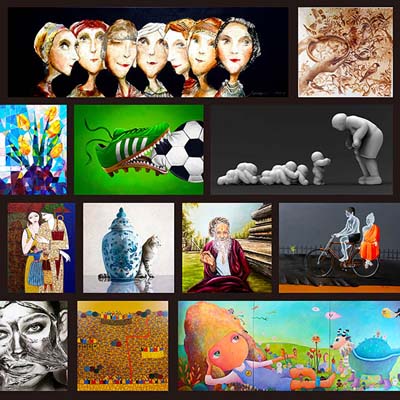 There are 4,337 pieces of artworks competing for the laurel
in the International Artists Grand Prize Competition 2020.

The International Artists Grand Prize Competition (IAGPC), a world-class art event organized by Taiwan International Contemporary Artist Association (TICAA) in affiliation with Art Revolution Taipei (A.R.T.), has announced its finalists, and 334 pieces by 168 artists were selected out of 4,337 artworks from 82 countries being submitted to compete fiercely for the Grand Prize. The chosen artworks are posted on the official A.R.T. website and Facebook fan-page for art lovers' preview, also will be exhibited during the 2020 Art Revolution Taipei (A.R.T.) from May 22 through May 25, 2020. The coveted Grand Award and Gallery Awards will be determined during the exhibition, and announced on August 31 on the official website. Sponsored by X-Power Gallery, the winners will be granted booth spaces to exhibit at A.R.T. 2021, under the spotlight for heavy-weighted collectors in Taiwan and Asia.
Establishing a Platform in Asia for Artists around the World
Organized by Taiwan International Contemporary Artist Association (TICAA) since 2012, this competition upholding the Art Director, Professor Lee Sun-Don's idea to connect Taiwan with the global market, has risen to a notable scale amongst the Asian art fairs, gaining great reputation for attracting some of the most excellent artists around the world. The purpose of International Artist Grand Prize Competition is to inspire artists to fully exert their talents and creativity, and offers an international platform to showcase their works, even the emerging artists have an opportunity to shine. Since its launch, some artists have obtained supports from collectors and the market from their participation, and gain their popularity increasingly. One of them is the self-taught artist Kurma Venkata Siva Prasad from India, becoming a new star due to being highly appreciated by collectors. The Turkish artist Mustafa Yuce became famous from being covered by the local media in 2015.
Some selected artists from 2019 have been well-known around the world; for example, the classical realistic artist Carlo Alberto Palumbo from Italy exhibited at the 54th La Biennale di Venezia on behalf of Italy, and once won the prize of Arte Laguna in Italy; Joey Schmidt-Muller form Australia exhibited at the Biennale Florence 2017, reflecting on the past and the present with the style of Neue Sachlichkeit; Anne Wolk from Germany won the special prize of Art Takes Paris selected by a jury panel from the Andy Warhol Museum in New York, Lisson Gallery and Marianne Boesky Gallery; Juca Maximo, the Brazilian illustrator, won various prizes from many illustration competitions; and Bettina Rebecca Westerheide from Germany.

Including Diversified Creativities and Embracing Different Cultures Globally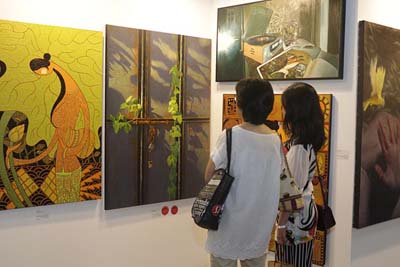 Since its debut, the International Artists Grand Prize Competition
has been catching artists' attention around the world.
There's no limit on the participating themes, to include diversified creativities and embracing different cultures across five continents. Artists over 18 years old are eligible to enroll, with the fair and rigid jury process in place, which facilitates the Grand Art Competition to become the largest scaled art competition in Asia after 9 years' dedications, and to attract artists around the world to compete. Every year, there are artworks with outstanding creativities in innovative media emerging from the fierce competition. This year's competitors come from 82 countries around the globe, covering five continents, including the United States, the United Kingdom, France, Germany, Spain, India, Cuba, Peru, Iran, Ivory Coast, Cameroon, Bhutan, and more, presenting stunning artworks in unique folkish features and cultural connotations. Visitors are surprised by artworks in such diversified styles from so many different countries, which not even the famous fine art museum could reach. From the increasing number of competing artists' nationalities, the important role of the International Artists Grand Prize Competition is obvious on promoting the international cultural exchanges and assisting artists in exploring the Asian art market, which enables to gather the art elites around the world together.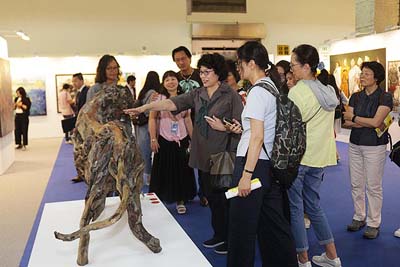 The selected artworks for the International Artists Grand Prize Competition 2020
will be exhibited from May 22-25, 2020, at the Art Revolution Taipei.
The Art Revolution Taipei (A.R.T.) is an international art fair debuted in 2011. Unlike the conventional art shows organized around commercial galleries, A.R.T. places the artist front and center, with every booth resembling an artist's solo exhibition. This pioneering curatorial vision has led A.R.T. to become an Asia's ionic art fair. The new concept has made A.R.T. a heartwarming art fair full of impressive and touching stories. Over 80% of participating artists sold their artworks in every edition. In 2019, 448 out of 297 exhibitors sold their artworks, 22 artists among them sold out their artworks exhibited.

New Venue for Art Revolution Taipei 2020
Another characteristics for A.R.T. is to establish a different theme to showcase a new look every year. A.R.T. reaches its 10th anniversary in 2020, and will move the venue to the Taipei World Trade Center (TWTC), Hall 1. For 9 years, the organizer has been fully dedicated in perfecting every detail; there are individual professional teams to handle each and every aspect, including setting the key tones and core concepts; collecting artists' information and sending out invitations; curating, planning and implementing; and public relations, etc. All dedications and efforts paid off in facilitating the connection between Taiwan and the global market, bringing the world into Taiwan and making Taiwan seen by the world in return. In its 10th anniversary, A.R.T. will uphold the core concept to put artists front and center, and also introduce new ideas and innovative creativities.
List of the finalists for 2020 International Artists Grand Prize Competition: (in alphabetical order):
Afza Tamkanat、Agnieszka Potrzebnicka、Aleksei Pichugin、Alena、Alexey Ivanov、Alina Santana、Aljohara、Amir Faiyaz、An Sky (Anastasia Schultz)、Ana Duncan、Ana Schmidt、Andrea Alonso、Anisuzzaman、Anu Kharbanda、Arash Mohajerpour、Arisa Ihashi、Artist Waith Zar、Asha Debbarma、Atyeh_Zeighami、Avanthi Dileka Lelwala、Beauty Tingalay、Belinda Deutinger、Beni Gassenbauer、Biswajit Mondal、Bruno Badaró 、Carlo Alberto Palumbo、Cecilia Flaten、Cesar Alvarez、Chandra Morkonda、Che Wei Su、Chen Po-An、Chen Rou-Lyn、Chen Ying-Lan、Cheng, Lo-Sa、Chiou Tai-Kuan、Chung Chih-Ming、Cindy Kuhn-Chuang、Claire Iono、Damien Senyuy、Daria (Alena) Molostnova、Dariusrafaello Dydymski、Dawid Planeta、Dhan Prasad、Diana Malivani、Dorji Wangchuk、Dragomir Sabina Elena、Eduard Loginov、Ekaterina Ilina、Ekaterina Kuzmina、Emad Qanbari、Enric Rubió Serra、Ethel Villarreal、Farzaneh Golrizkhatami、Fatemeh Pishvaee、Fawad Tamkanat、Fiorentina Giannotta、Gabriele Luciani、Gaillard、Gangadhar Mukinapalliniga、Gouri Vemula、Hanny Widjaja、Helena Faitelson、Hesam Javadzade、Hla Htun Aung、Hsieh Miao-Pei、Htwe Khine、Huang Chia Fu、Huang Der-Shing、Huang Su-Ling、Hüsniye Kıldır、Hyang Sym Jeong、Julia Azarova、Julia Zvezdnaya (Kotenko)、Junsung Back、Konstantin Kachev、Krzysztof Powalka、Kurma Viswa Kalyan、Lai Yi-Yu、Lale Karayaka、Lee Ying-Hui、Lesley Wengembo、Li Zheng-Long、Li Zheng-Long、Liao Yi-Fan、Lin Jung-Chun、Lin,Kuan-Pin、Liu Jin-De、Lorena Kloosterboer、Lucell Larawan、Luis Aguirre、Mahtab Matini、Maria Kniazeva、Marion Barraud、Marta Argentina Garcia Suerez、Maryam Deyhim、Massimo Onnis、Mauri Virtanen、Mehrdad Mehr、Michelle Boggess、Muaviyath Ali、Muzaffar Yulchiboev、Myra Jago、Nadezda Syachina、Nasim Bahman、Natalia Berezina、Natallia Lovitskaya-Ermolova、Nayakoti Damodhar、Neeraja Valiminda、Nwachukwu Onuorah、O. Yemi Tubi (Moyat)、Oleh Omelchenko、Özlem Öztürk、Pascal Bejeannin、Patti Vaz Dias、Pepe Hidalgo、Peter Richard Winkelaar、Pinar Toker、Rafael Triana、Rajeshwar Kumar、Rakhee Roy、Rishi Raj Tomer、Rosa Maria Gregori Corominas、Rudragaud L Indi、Sai Priya Mahajan、Salman Alhajri、Sam Omidi、Samuel Njuguna Njoroge、Sara Guberti、Sardor Atabayev、Saw Lin Aung、Saw Moe Zaw、Seyedeh Parsa /Hosseinpour、Sharmila Karri、Shih Yu-Chung、Shikha Verma、Shohreh/ Shahabahmadi、Sniege、Stephen Bennett、Sung Yen-Hsiang、Svetllana Vinogradova、Sweta Chandra、Sylvie Overheul、Tanika Yezhova、Teddy L Wang、Thrigulla Murali、Thu Ra Kyaw、Tien Hung I、Tiziana Gallo、Vasanthula Ramakrishna、Vitaly Leshukov、Volha Prankevich、Wang Hsiao-Yi、Wang Shao-Yu、Wang Xun (Wang Chien-Hsiung)、Wang Yang、Weng Jui-Lien、Weng Zhe-Ren、Winn Zaw Oo、Yang Hsin、Yao Kouassi Georges 、Yeng Dong_Sheng、Yulia Supchuk、Yuma Radne、Yun Chi(Wu Ting-Yu)、Zamminlun Singson、Zhang Jin-Wen、Zhanglu、Zoee Xiao