Art Revolution Taipei 2017
Artist Interview (2)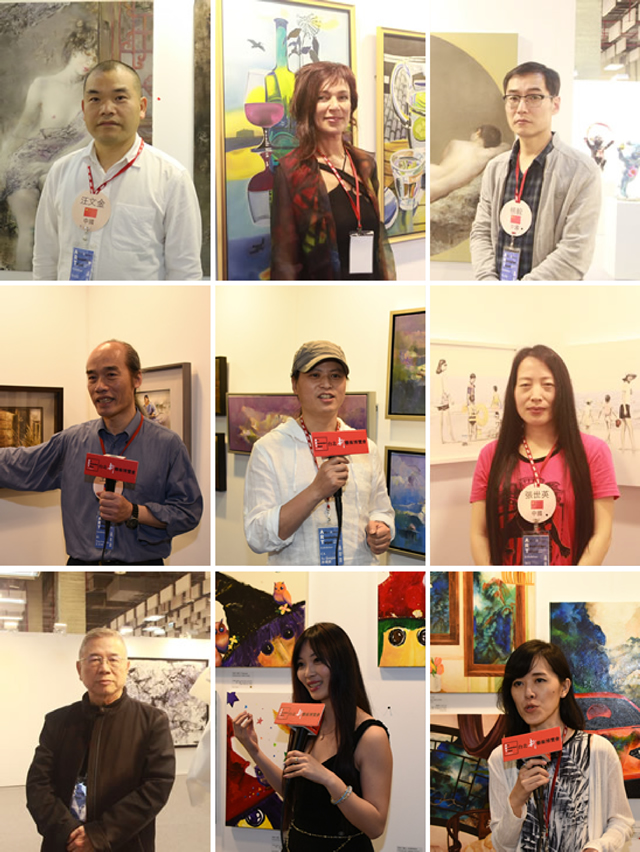 "Art Revolution Taipei 2017" Artist Interviews (2)
Interview includes nine artists: 
(1) Wang Wenjin, China
(2) Natasha Foucault, Russia
(3) Yang Yi, China
(4) Wang Wen Cong, Taiwan
(5) Tujia Guo, China
(6) Zhang Shiying, China
(7) Xu Dongrong, Taiwan
(8) Luna Chen, Taiwan
(9) Yachi Lai, Taiwan
Artists talk about the inspiration, with which it all started, the curtorial theme of this year's show.
(10) Wang Wenjin
1974, China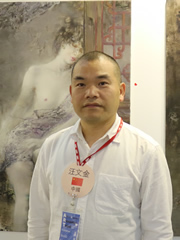 The paintings in the exhibition are a series of works that I have made over the years. The characteristic of my human body series is not figurative nor abstract, but the "image" that is between the two. Some of the elements in the works are Chinese elements which I recognize very much about the traditional Chinese things. Why did I create the human body series? Because I believe that the female body is the most important category in figurative art.
My goal is that the women in my paintings appear beautiful, comfortable and incredibly impressive that they are impossible to forget. There are many viewers and collectors who can appreciate this kind of aesthetic in this series.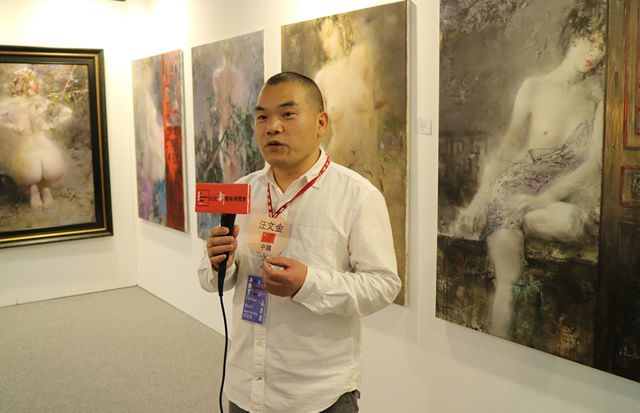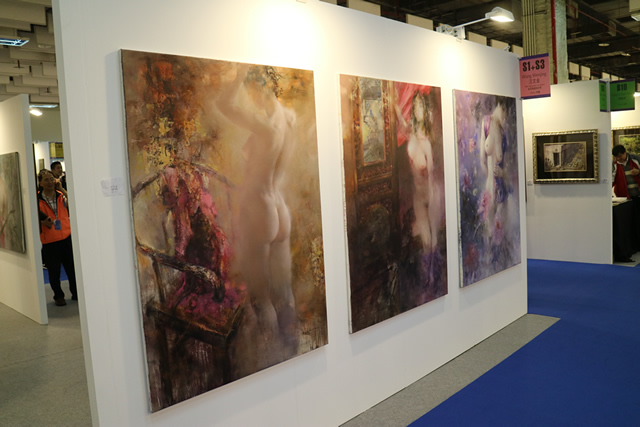 When I was in the elementary school I liked painting, and received recognition from many teachers and students. As I journeyed from junior high school to high school to college, students and teachers often encouraged me along the way. It is through their support is why I still can continue today. Each phase in life has affected my understanding of painting. Like the time my university professor took us to an exhibition abroad. This is the moment that I learned of Western painting masters and this left a very heavy impression on me. I was determined to learn and work hard to become a great artist.
In the beginning, I started from a small composition, and then slowly began to find the feeling I wanted to portray, which was entirely different of others. I wanted my own unique ideas and concepts to show. Later, I began to study ancient Chinese painting and calligraphy and began to extract the essence of this ancient medium. I utilized the expression of mood and applied it to this series, to achieve a state in which the energy flows smoothly and vividly, mottled, yet flowing. My work exudes the effect of Chinese ink painting, but contains the effect of light and shadow of Western painting techniques.
(11)Natasha Foucault
Russia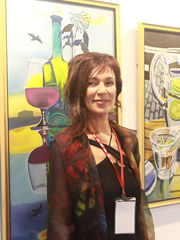 This is my favorite painting, I call it "the world in the glass". It is very special to me. Many years ago when I was in a town of Gutuna, Italy, I created it. The process of my work is to take photos first. When I see very beautiful things, I take photos to create. That can inspire my feelings. After I take photos, I decide what to stay there and what to add on there. I keep as close as possible to the beauty of the natural scenery ~ ~ like the sky, like architecture.
I have been doing silk painting for more than 30 years. Silk is my favorite material. Silk produced in China, which has connection here. Why do I like silk painting? Because it has contrast. I think silk material is very magical. I can use other materials to paint, but I think other materials for me are not enough, I can use silk material to create all that I want to create.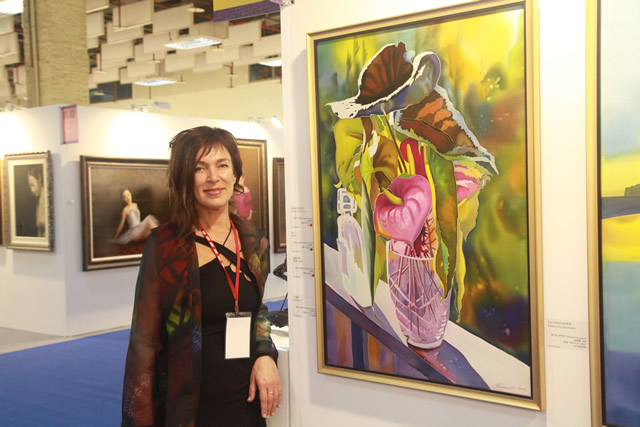 I am a Cancer. I love water. Wherever I go, I look for water. I get to a place, my first question is: "Can I can swim there?" So for this trip to Taipei, that was my first question too. They answered me yes, and I said: "Well, I will try."
This picture is the Maui Island in Hawaii, where there are many beautiful turtles. I took my underwater camera, followed one to take photos. Look at this amazing action, this posture. Look at this beauty. The underwater world always fascinates me. I have been a teacher in Australia, where I dived. A very wonderful thing. This is an experience of spiritual exploration, to experience the color, the posture of the underwater world, which is one of my favorite things to do. There is almost no white color on this picture, because the turtle is underwater, the water makes the color turn blue. You see the flashing color and refraction in here.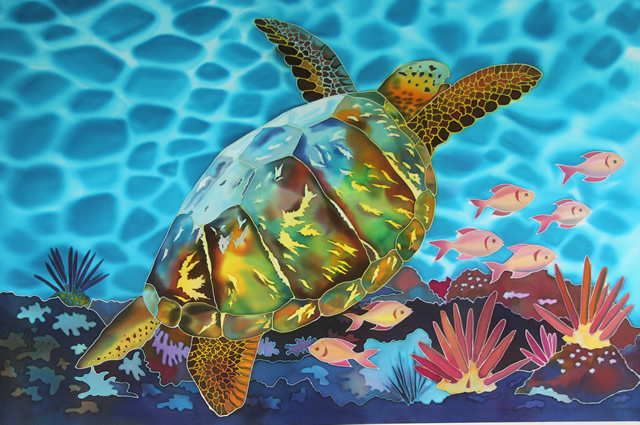 I also love glass and the refraction of glass. This time I am very happy to go to a very beautiful place in St. Martin of the Caribbean Sea, half Dutch, half French. My friend bought a house there with a beautiful terrace, ocean scenery, where boats pass by. I found a glass bottle. I never left the porch and the terrace. Every night I placed different objects as still life to shoot, listened to music, while watching the light refraction. At that place I did some works of still life. The bottle on the table has a perfect refraction. The rays of sunset are like magic. There were boats sailing by near the coast, and there were ships passing by in a distance, producing in the glass amazing colors. I took a very clear picture, because you can not imagine that kind of scenery. I keep my creation as close as what I can see.
(12) Yang Yi
1970, China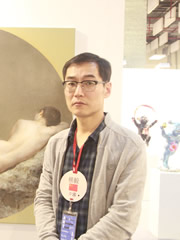 Many of us begin learning art from the classical painting genre. Many people believe that the beauty of art began from classical painting. Over the past few years, I have tried to combine traditional classical art with contemporary art, in order to reinterpret and unite the strong traditional Chinese classical aesthetics. This year's works are the portrayal of this combination.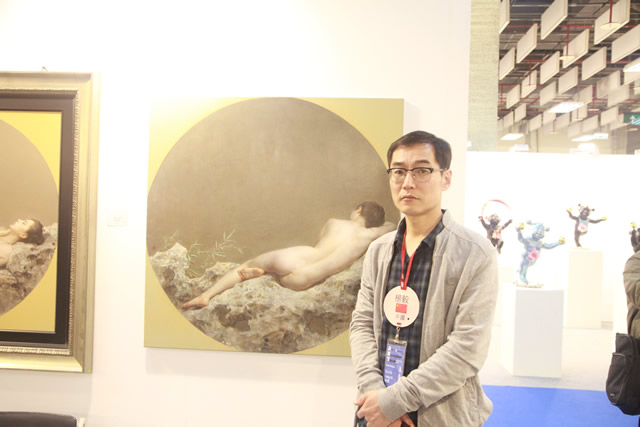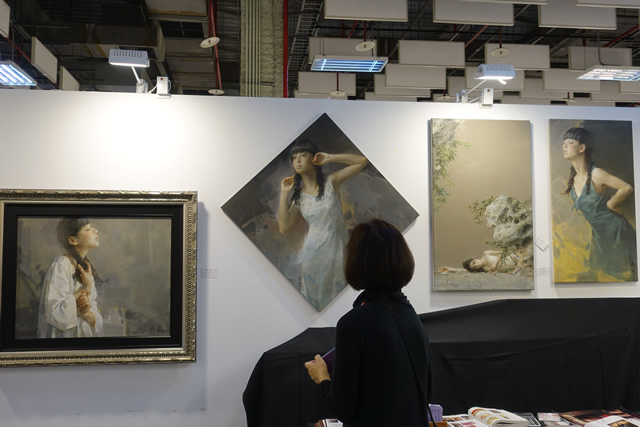 The model is like an introduction in artistic creation, and she leads to the desire of the artist to create; the relationship between the artist's work and the audience is the same. For example, these works, is my perspective presented to everyone; when the audience views these works, they explain my works also from their own point of view, thus becoming a re-creation process. The artist's creation is one perception, the audience seeing the works is another perspective. All of us are actually involved in the creation of works of art.
I combined the human body into traditional Chinese landscape, and within the artwork, I added some elements, allowing the audience to do some thinking, which can be a very interesting process.
(13) Wang Wen Cong
1957, Taiwan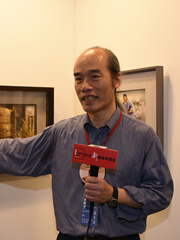 I studied civil engineering in school and later realized that I had no interest in this field. After graduation, I worked two years as a supervisor and decided to change career. My ultimate goal was to become a photographer and work for National Geographic magazine, so I worked diligently to master the art of photography.
Then I realized that photography wasn't one of my talents, which I accepted and gave up on this dream. Then, by coincidence, I worked on a real estate transaction for a friend and they wanted to paint sale signs. I volunteered and told him that I can draw for them. I was in a panic as soon as I started the job because I've never done anything like this before. So I began to studying painting.
My teacher who introduced me into this field is Professor Xie Ming Chang. I painted this piece in class back in 1995. My professor asked the students to bring in a photograph that they wanted to paint. I used a black and white photo, with a cool winter scenery of a salt farm in Budai, Chiayi. I dare not even sign the painting because I didn't think my art was worthy. It was only an exhibition in 2000 when I finally signed my name. This painting has hung in my house for over 10 years. Because of ART's curatorial theme, I specifically brought the piece so that guests can understand how far I've come in my artist life.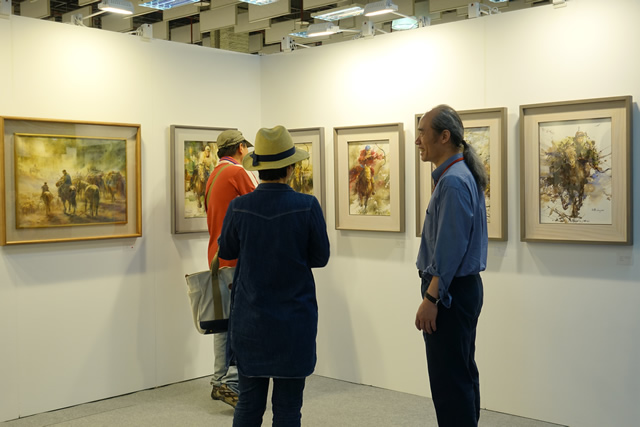 After taking working on this job, I became very interested in this profession and continued to pursue art for 20 years. I continuously learn new techniques while working on commissions. I try not to paint based on commercial practices in my artwork. I would like my work to be displayed in lobby and office buildings but with my unique style. Business owners are often demanding that they want more expression of texture in the details and atmosphere. In order to achieve their standards, I continue to better myself in technique and materials. After 20 years, I believe that I do have a basic grasp of the true nature of watercolor.
When I was first introduced to foreign culture, I was very interested. After work, I would go to Xinjian, Monglia to take photos. During my spare time, I sketched and worked on my art. Through many blessings, I was introduced to Art Revolution Taipei during it's 3rd edition and was truly honored to be accepted. I still was working on commissions as well as participating in exhibitions. After a couple of years, I realized that if I pedaled two boats, I would not steer well in either of the two. I submitted a photo to a juried exhibition in France and won the French Artists Salon Bronze Medal, which was very encouraging. I ended up closing my studio work and devoted full-time to watercolor creation.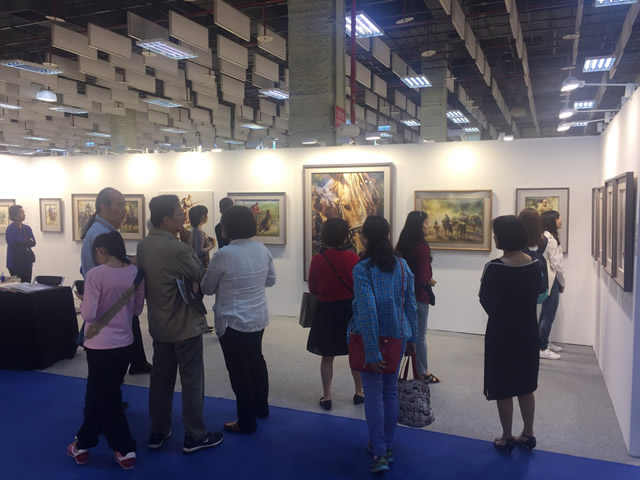 This painting is called "Son of the earth", which was the piece that won the French Artist Salon Bronze Medal. This piece signified my release of 20 years of working to devote myself to being an artist. This painting is of Northern Kazakhs, who migrate every autumn from the mountains down to the ground during winter. Herds of cattle and sheep come down from the mountains filling the air with dust. This scene is incredible! I was sitting on the front seat of the bus when I witnessed this scene, so I quickly picked up my camera. This shocking scene left a profound impression in my mind. When I had free time, I began to compose my artwork. I painted for about one month, using many different techniques, layers and layers of color hoping to portray that thick feeling of dust. With gratitude, this was the painting that won recognition of more than 20 judges of the artist salon and awarded the bronze medal.
(14) Tu Jianguo
1973, China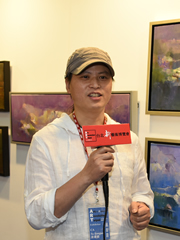 I have participated in Art Revolution Taipei from the 1st edition until now. In the beginning, my works consisted of mainly landscapes, which is still the same in the 7th year. Through the years, I have never forgotten my original aspiration, which is my devotion to landscape creation. I've always wanted to portray a sense of returning to nature and reflecting rural life. My aspiration begins with the love for life and the return to nature.
Why have I continued to participate in Art Revolution Taipei for seven years? Because I see the progression and growth! The first year was like a newborn baby. The show has grown, matured, the quality of work is superb, the staff is professional, every aspect is better and better. Every detail has been considered which is something I have never encountered in participating in any other art fair around the world.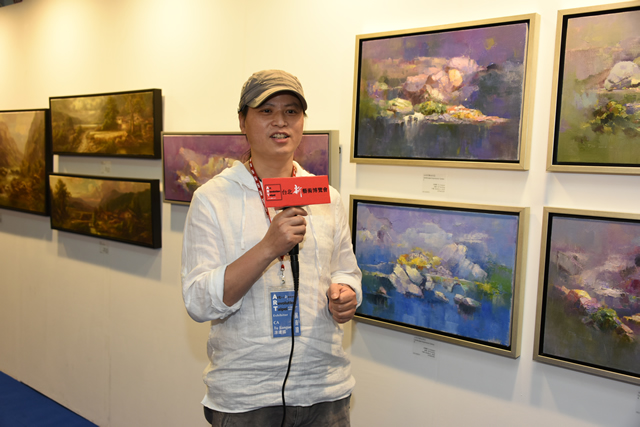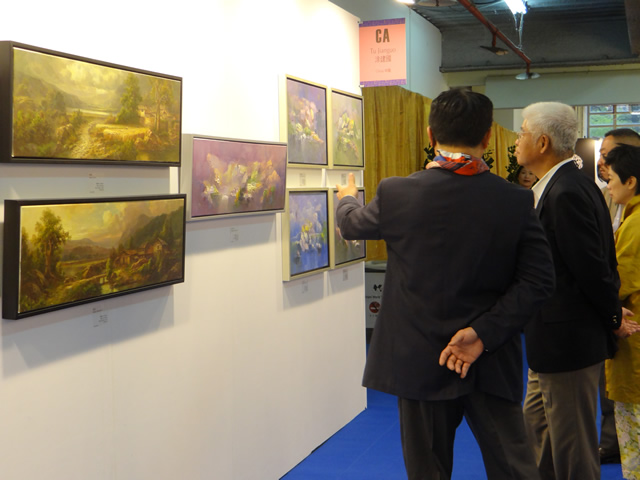 All my fellow artist friends who participate in ART appreciate the show immensely. They all say that they have never been in an art fair that is so well organized. I reply jokingly, "I told you, I did not lie to you! It is really a great show, very meticulous, very considerate." Creating works for ART is a priority, in terms of creative concepts and the viewpoint of the collectors.
(15) Zhang Shiying
1973, China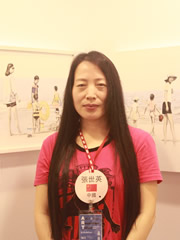 I come from Suzhou City, Jiangsu Province. I have participated in A.R.T. from the first year until the seventh year. Every year I bring my latest works to the exhibition. In 2004, I began my unique creation of little girls and little angels with very cute wings on their backs. They are innocent, romantic and carefree. In 2008, I surpassed my creative limits and began to paint city scenes, which are the artworks I exhibited at the first edition of ART.
Each year, the art fair asks us to improve our artwork, so we can continuously breakthrough our perceived creative limits. This year, I create three series, "In that Afternoon", "We are Together", and "Single Shot". These series still contain my unique style, but I have made changes along the way. The theme of my art has always been the concept of "love", expressing love between friends, schoolmates, colleagues or family members.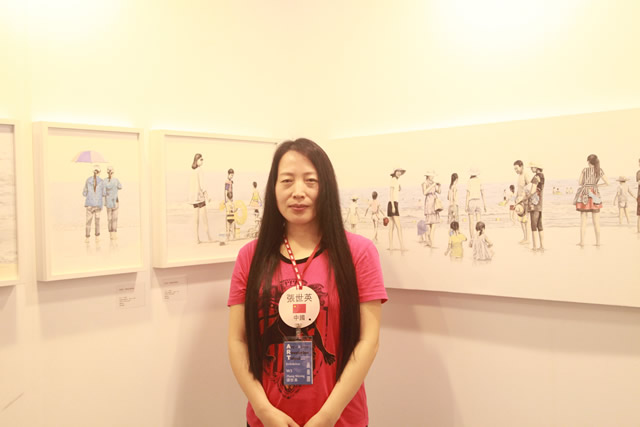 I am so grateful that A.R.T. has provided us the opportunity to exhibit, from the first to the seventh year. Every year we learn many things. This year there are many new artists that come to participate in this exhibition, so there are many breakthroughs. We also continue to grow in here. Especially after visiting the YuanDao Guanyin Temple, we saw the latest works of Professor Lee Sun-Don. Learning that these works of art is an extension of the Thousand-Hand Guanyin, I was truly touched by this creation. In addition, all the staff are very friendly and professional. We feel that this is like a big family, which is like the theme of my work ~ ~ "We are Together," always together, not forgetting the original aspiration, insisting on being ourselves.
(16) Xu Dongrong
1947, Taiwan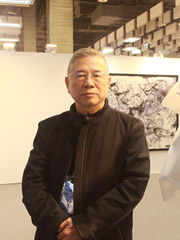 I consider my creation, "the uninhibited natural effect of writing". For example, this work is beyond my own feelings, because it is like a bundle of cotton like clouds drifting down from the air. I grab it, using this concept to create. The major difference between my creation and the general traditional sculpture is that the general tradition always has a draft first, then begins the creation. Mine is not. My creation is has many sporadic effects which tends to surprise people.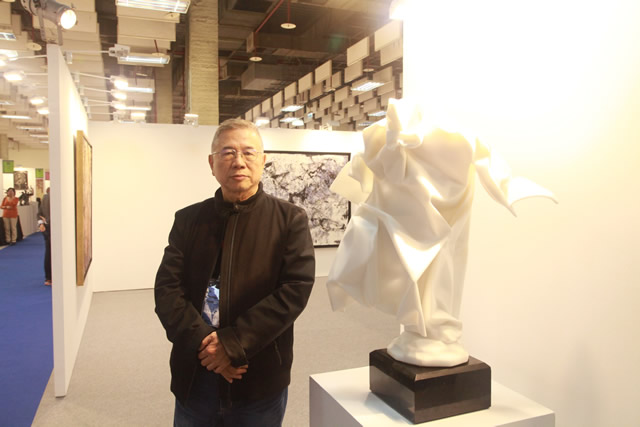 I use the same approach in my paintings. I do not set the theme in the beginning. The first stroke gives me inspiration. Then I slowly add on or take away. I may draw a part of it and then later completely remove what is drawn, and then add some more again. Consequently there are all kinds of traces in it. The work may go through this process thirty to fifty times, but at the moment of completion it only takes ten minutes. Because before the completion, it accumulates all the traces it went through, strokes, thus producing the final feeling, which touched me to complete it.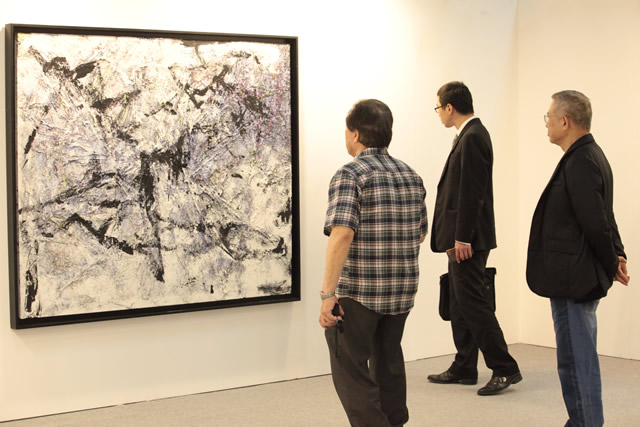 This idea of uninhibited natural effect of writing at first has no initial idea. It uses the first stroke to trigger the inspiration. After the first stroke, that trace triggers the next inspiration. I may feel disoriented during the process and may add another layer of color to re-inspire. There is no purpose, no standard and no direction. This kind of abstract art is harder to create than the realistic painting. It appears that it is easy and fast to start the first stroke but it will take a lot of time in the midst of struggle. It completely relies on energy and feeling to create. The end result will completely amaze you which is beyond human control.
(17) Luna Chen
1990, Taiwan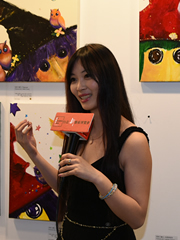 I became an artist in fact because of Art Director Lee Sun-Don, who introduced me to the field of art. This year, I launched a new series called "Bodhisattva with Sparking Zen", mainly painting Bodhisattva on the wooden clogs. There is Guanyin, Wenshu, Dizang, Puxian, Sunlight Bodhisattva and Moonlight Bodhisattva. Why do I use wooden clogs? It is because the wooden clog represents some historical aspects of Taiwan, and also suggests the traces that Bodhisattvas have walked through. In every painting I will put in the egret bird. This is because many people are playing Pokemon, so I use the shape of a Pokemon named Eevee to be the divine animal representing a Dharma Guardians.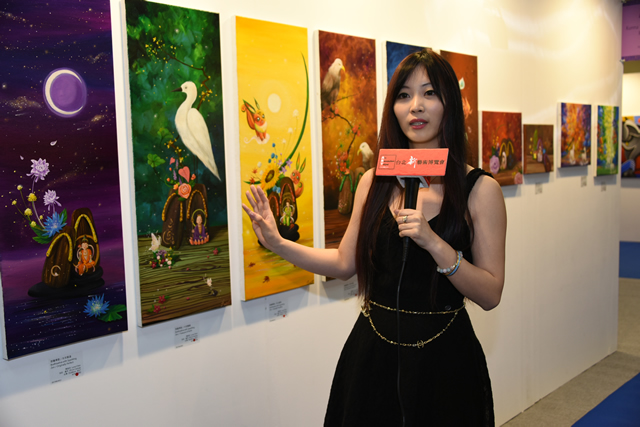 "Fortune Girl" series is a series that I cooperated with Professor Lee Sun-Don. The Fortune Girl is Professor Lee's creation and the owl and the background are my works. Each painting has sea shells, a symbol of fortune. In ancient times, sea shells represent money. It is used in the painting as the symbol of fortune. This is also the first time that Professor Lee created a series that is more light hearted and playful. This painting was not meant to be an upside down painting. I deliberately put it upside down and found that it was quite gorgeously strange, very playful. Professor Lee painted her eyes a bit cross eyed. I wanted to resonate with the little girl, so I painted eyes of owl playfully cross eyed too.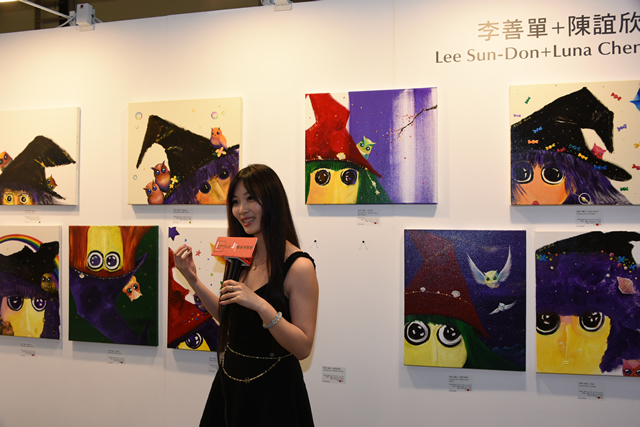 There are four roses in the painting Magnificence. The earliest inspiration is from a school assignment. This painting has geometric patterns to form the roses with overlapping colors to show the layers of roses. The golden dots are like the fragrance of roses diffusing in the air. The four roses also represent the four of us, MaSingLing and myself.
Many luxury goods were inspired from the "Fortune Girl" design. The language printed on the merchandise means "treasure" in Greek. Because the Greek language looks very elegant, I used it as a design on the bag. I use different ways to present it, some are arranged neatly, some are scattered, to create a more lively look. There are also Fortune Girl phone case, power bank, mug with coaster, in different colors, pink blue, pink purple, pink yellow and pink.
"The Floral Scent Dances in the World" is a collaborated series by five artists, me, three girls from MaSingLing, as well as Professor Lee Sun-Don. The landscapes were done by Professor Lee Sun-Don and the lines and dots were by MaSingLing and myself together. Colorful lines with dots are like flowers blooming in the mountains and forests, forming a very beautiful landscape.
(18) Yachi Lai
1980, Taiwan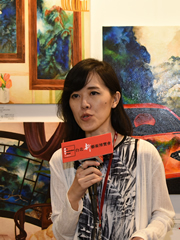 My original aspiration for painting comes from the first painting I did in kindergarten, even though kindergarten was so long ago but I do not know why that painting has always been very clear in my memory. I always remember it to be a very strange large dog. Ever since then, I've been enjoying painting very much.
When I was older, suddenly one day, I had no desire to paint any more. It wasn't until I decided to give up painting, that I came to a realization that art and my life were inseparable. At that time I began to hope that one day I could pick up the brush again. I was so grateful that I participated in the Art Revolution Taipei seven years ago.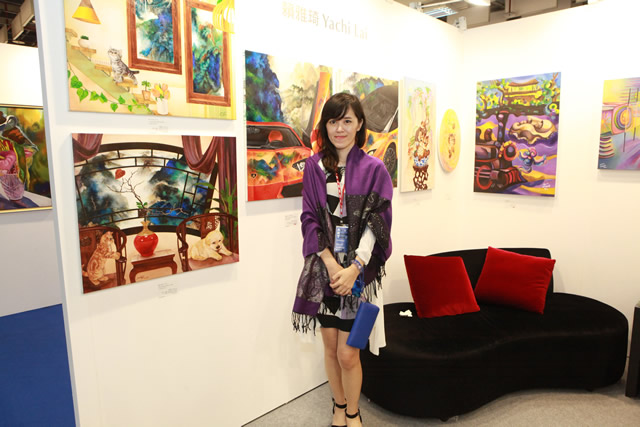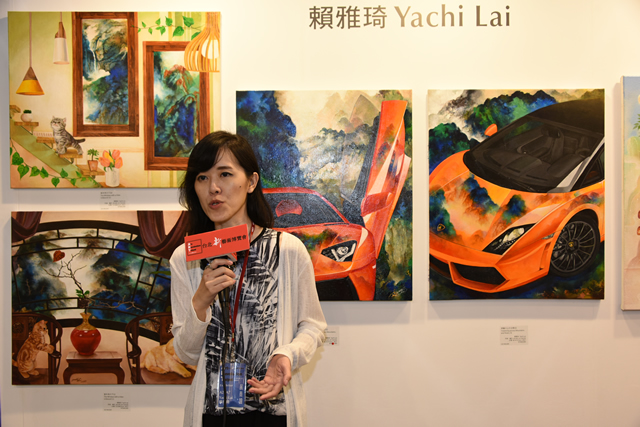 Once I finally picked up my paint brushes again, the first work was derived from my childhood memories, full with feelings. I cherished the fact that I was able to do my favorite thing again, which is my first aspiration for painting. Also because of this, after finding my original aspiration, I told myself, that I would never go off the track, always hold this original aspiration in mind, and continue painting. Therefore, the works I bring this year, are very different from my previous works.