Grand Launch for Art Revolution Taipei 2011
The Classic Masters and Contemporary Artists Around the World Gather At The Art "Temple"
Hundreds Of Celebrities and Elites Joining Alongside The Event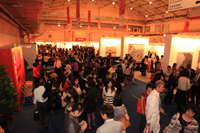 Art Revolution Taipei 2011, a most eye-catching event, launched at 6:00PM on May 11 and was crowded with celebrities, elites and people from all walks of life. Zhang Bo-Ya, Ji Zheng, Ou Yang Long, Huang Zi-Jiao, Zheng Zhi-Zhen, Lu Guang-Zhong, Kuang Ming-Jie, Fan Wen-Shan, Yang Jun-Rong, Tang Lan-Hua, Jade, Eli Shih , Xiao Qing-Yang , Zhang Man-Juan. Attorney Lai Fang-Yu; baseball coach Zheng Xing-Sheng; Chen Wu-Xiong, CEO of Kelti International Co., Ltd; Shen Qing-Jing, Chairman of CPCity Living Mall; , Xu Xue-Fang, General Manager of Far Eastern Deparment Store Co., Ltd.; Huang Chong-Ren, Chairman of Powerchip Technology Corp.,; Zhang Rong-Gang, Chairman of World Peace Industrial Group; Francis Yu, Chairman of LICO Technology Corp.; Chen Qu-Xiong, Director of Chinese National Federation of Industries; Ma Wei-Jian, Former General Manager of Yuan Da Financial Holdings; William A. Stanton, Director of AIT; and entrepreneur Lin Fan-Nan and his wife(Lin Zhi-Ling's parents) are among the guests.
Art Revolution Taipei 2011 is divided into A.R.T. Curatorial, Taiwan Contemporary Arts, Mainland China Contemporary Arts, International Contemporary Arts; Ullens Center for Contemporary Art, New York Contemporary Art Foundation, New York Contemporary Art Fund, Art & Design, Art Your Compassion, and ART LUXGEN, totaling nine main thematic sections with 216 leading artists from 22 countries.
The top 6 artworks at the venue include the rarest red print from Rembrandt; the most unusual print and handwriting from Miro; the most expensive painting of Zhu Da-Qun's creation at 3 meters wide; the most innovative installation in the form of an antique steam locomotive with artists' names on the outer body symbolizing artists leading the way and the promotion of arts in Taiwan; the most interesting creation from MANIHOO's concept of LED lights combined with paper bills; and the most eye-catching event titled Art Your Compassion Hundreds Celebrities Charity Sale.
In addition to an unbelievable art exhibition, there is a special program for charity titled "Art Your Compassion—Hundreds Of Celebrities". Each participating celebrity creates an artwork about the size 17.5 x 14 cm for a charity sale. The invitees, very renowned figures locally and globally, supported this event enthusiastically. They contribute their compassion and talent simultaneously. Among them was Lin Zhi-Ling, Shu Qi, Yu Cheng-Qing, Luo Zhi-Xiang, Xiao Jing-Teng, Ji Zheng; fashion designer Jason Wu; Xiao Qing-Yang, four-times Grammy Nominee; tennis player Lu Yen-Hsun; baseball coach Zheng Xing-Sheng; A-Qi-Shi, famous chef; Shih Jui-Jen, Director of Museum of Contemporary Art Taipei; writers Guang Guang, Li Ang and Zhang Man-Juan; Charles Gao, Founder of the CommonWealth Magazine; Liu Xing-Qin, caricaturist; Lee Ten-Hui , the former President; Rai Hau-Min, president of the Judicial Yuan Jiang Yi-Hua, Minister of the Ministry of the Interior; Taichung Mayor Jason Hu; Sheng Chih-Jen, Director of the Council for Cultural Affairs; Lai Fang-Yu, Consultant Attorney of the Women's Refuge Center, Department of Social Welfare; and many others.
This meaningful and innovative charity sale has attracted the public's attention. Many people inquire for further information, and intend to queue for artworks they were interested in. A long line is expected before the sale launches on May 12.
The A.R.T. Curatorial Section hosts some classic masters' original artworks including the one and only "red print" by Rembrandt van Rijn, the rare final artist's proof of Pablo Ruiz Picasso, Joan Miró 's original painting juxtaposed with its print, paintings from Marc Chagall, Salvador Dalí, and Pompeo Massani. These works are comparable to collections of museums in London and Paris. Also paintings from Wu Quan-Zhong, Zhu The-Qun, Ishikawa Kinichiro and the like were on display. Visitors were caught pleasantly surprised by these rare artworks.
The dual-axis for this year's A.R.T. Taipei featured ripened artists and emerging new stars in Taiwan simultaneously, such as Pang Jun, Lu Zong Can, Wen Zong Yi, Xie Hong Da, Xu Dong Rong, Ye Fang, Dai Jing Huang, Yang Bing Hui, Hong Gi Yuan,Ttan Xian Hua, TT, and others, totaling 71 artists. Also, there are 6 artists representing the Fubon Art Foundation, including Bu Hua-Zhi, Hong-Yi, Tao Wen-Yue, Chen Shun-Zhi, Cui Yong-Yan and Liu Shi-Dong.
These years, emerging Chinese contemporary art has caused a collecting trend in the global art market. The paintings exhibited this time are selected with the artist's great potential in mind. For example, Ling Zuewei, Dean of the Haerbi Institute of the Arts. Other famous artists include Liu Baojun, Zhang Yuying,Jin Shi, Zhang Po, Gong Dong, Zheng Hongxian, Yuan Zhibin, Qin Zhenghui and others, totaling 75 artists.
Ullens Center for Contemporary Art, which played an extremely important role for the development of contemporary art in China, exhibited with some brand-new paintings for the first time in Taiwan. This is due to the concept dedicated to artists and the whole framework set by the organizer. All artists representing Ullens Center for Contemporary Art are shining stars including Yue Mingjun, Wang Guangyi, Fang Lijun, Liu Xiaodong, Wang Qingsong, Feng Zhengjie, Liu Wei, Sui Jianguo, Cui Xiuwen, Yang Yong, Yu Fan, Huang Yan and Rong Rong.
Art Revolution Taipei is supported internationally by 70 artists from France, spain, Germany, USA, Russia, Ukraine, Korea and other countries. It's also attached great importance by the art academy in Japan. Professors from the top three globally renowned art universities in Japan, namely, Tokyo University of the Arts, Musashino Art University, and Okinawa Prefectural University of Arts, take the lead to exhibit their works especially created for A.R.T. 2011. Other famous artists take part as well including Taira Ichikawa, Kenji Endo, Gibo Katsuyuki, Kamijo Fumiho and Hatano Izumi.
The New York Contemporary Art Fund pays special attention to international emerging artists in contemporary art, nurturing their achievements in art step by step. The NYCA Fund strives for developing new artistic styles for paintings, photography and installation. Through the cooperation from Askenazy Galleries, this section features artworks from Leopold Survage, Odilon Redon, Bernard Stern and others. Besides that, the Askenazy family admires the art director Mr. Lee Sun-Don's creative talents and invites him to create a new artwork based on an Odilon Redon painting which was bought in 1981 at a Sotheby's auction. The new artwork combined with an antique oil painting results in a novel idea which is simply spellbinding.
The other highlight is the Art Your Compassion charity sale, which was held at noon on 05/12. Each artwork was priced at US$30. Proceeds from the sale of these artworks went directly to the Good Shepherd Social Welfare Services.
Established in 1987, the Good Shepherd Foundation is run by good shepherd sisters, devoting to eliminating abuse, abandonment or trafficking among children, teenagers and women, as well as offering placement, refuge and remedial education. Due to lack of resources, servicing the society never has been easy; but nevertheless the foundation sticks to their quiet contribution against all odds. They need support from everybody. Some artworks from celebrities are exhibited on the website of ART Taipei 2011
The innovational and revolutionary concept to curate the art fair around artists and the hope of promoting artists in Taiwan internationally, has been recognized by some commercial groups, including HSBC Bank, Fubon Financial Group, Taiwan Business Bank, Luxgen Motors, GP DEVA, Farglory Land Development, and Kelti Foundation. They became sponsors to demonstrate their supports for promoting the arts, culture and creation in Taiwan globally.
This world-class art fair offers a venue for emerging artists in Taiwan to make their debut in an international art scene. With the boundless influences of art penetrating far and wide, Taiwan will stand out globally.