Art Revolution Taipei,

A.R.T.

2011

Live from the fair
Video clips
Videos from the Exhibition
"Art Your Charity‧Celebrity Charity Sale"
Comments To A.R.T. 2011 From Artists And Guests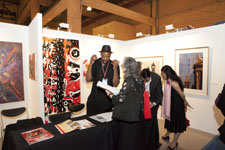 Spanish artist: Lizzy Forrester
It's the most awesome exhibition I have ever attended; the magnificent scale was impressive indeed. Many people were interested in my works and posed lots of questions. The organizer made me feel like home, everybody was kind and patient. Even though I came here alone, I felt safe.
……more
Art Revolution Taipei 2011 came to an end with some pioneering acts, winning professionals and public approval with attendance totaling at 26,681.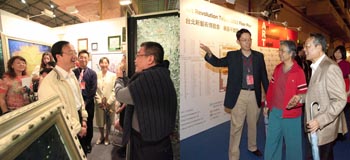 Art Revolution Taipei 2011 closed May 15. The total number of visitors reached upwards of 26,681 people during the 4 days of the fair and including the preview night. The final sales percentage calculation was 89.66% meaning 182 different artists sold their artworks at the fair. The total sales amount exceeded the expected target of NT$30 million. The most expensive painting sold was at the price of NT$3.7 million; the most artworks sold by an individual artist were 30 pieces.……more
Art Revolution Taipei 2011 Catches Artists' Attention Globally
The Famous Japanese Artist Takashi Murakami & the Former Prime Minister Su Tseng-Chang visit.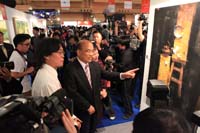 On the third day of Art Revolution Taipei 2011, visitors in total exceeded 20,000 people. This sensational art event has been eye-catching to say the least and some famous people are attracted to have a look. The famous Japanese artist Takashi Murakami, former Prime Minister Mr. Su Tseng-Chang and entertainer Jade came to visit on May 14.……more
Art Revolution Taipei 2011
Artworks from Hundred Celebrities Were Sold Out In One Hour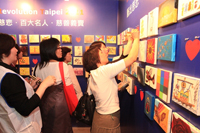 Art Revolution Taipei 2011 has launched with its preview at 6:00pm on May 11th in Hall 2 of the Taipei World Trade Center(TWTC). It's such a revolutionary grand art fair event in Taipei with esteemed guests gathered. Among them, there were ambassadors from Italy, South Africa, Swaziland, Nicaragua, Honduras; celebrities such as Zhang Bo-Ya, Ji Zheng, Xu Geng-Xiu, Örkesh Dölet , Shao Yu-Ming, Fu Da-Zen, Zheng Zhi-Zhen, Chen Wu-Gang, Ye Liang-Chuan, Zhang Zhao-Fan, Huang Zi-Jiao, Tang Lan-Hua, Yang Lin, Xiao Qing-Yang, He Qi-Sheng, Gu Huai-Xuan, Jade, Fan Guang Yao, Chen Zi-Qiang, Guang Gaung, Guo Shi-Lun, Wang Yi-Lu, Gan Yu-Fei, Qin Wei, Wave Brothers, Liu Wei-Ci, Alicia, Li Ya-Ming, Hei Jia-Jia, Liao Jia-Hong, Liu Mei-Yan, and many others.……more
Grand Launch for Art Revolution Taipei 2011
The Classic Masters and Contemporary Artists Around the World Gather At The Art "Temple"
Hundreds Of Celebrities and Elites Joining Alongside The Event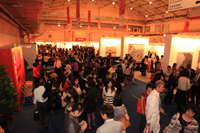 Art Revolution Taipei 2011, a most eye-catching event, launched at 6:00PM on May 11 and was crowded with celebrities, elites and people from all walks of life. Zhang Bo-Ya, Ji Zheng, Ou Yang Long, Huang Zi-Jiao, Zheng Zhi-Zhen, Lu Guang-Zhong, Kuang Ming-Jie, Fan Wen-Shan, Yang Jun-Rong, Tang Lan-Hua, Jade, Eli Shih , Xiao Qing-Yang , Zhang Man-Juan. Attorney Lai Fang-Yu; baseball coach Zheng Xing-Sheng; Chen Wu-Xiong, CEO of Kelti International Co., Ltd; Shen Qing-Jing, Chairman of CPCity Living Mall; , Xu Xue-Fang, General Manager of Far Eastern Deparment Store Co., Ltd.; Huang Chong-Ren, Chairman of Powerchip Technology Corp.,; Zhang Rong-Gang, Chairman of World Peace Industrial Group; Francis Yu, Chairman of LICO Technology Corp.; Chen Qu-Xiong, Director of Chinese National Federation of Industries; Ma Wei-Jian, Former General Manager of Yuan Da Financial Holdings; William A. Stanton, Director of AIT; and entrepreneur Lin Fan-Nan and his wife(Lin Zhi-Ling's parents) are among the guests.……more
Special Program of Art Revolution Taipei 2011
In "Art Your Compassion - Hundred Celebrities " Charity Sale,
Lee Teng-Hui, Jason Wu, Chai Song-Lin, Kao Xi-Juan and other renowned people Join Enthusiastically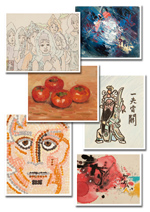 Mr. Lee Sun-Dun, Art Director of Art Revolution Taipei 2011, thinks differently about approaching the art fair experience. To integrate humanitarian and public welfare, this art fair reveals a more charity driven, warmer side than just the usual commercial interests. The special program--Art Your Compassion from Art Revolution Taipei 2011 will be held on May 12, which hosts two events. One is "Hundreds Of Celebrities", for which each participating celebrity will create an artwork about the size 17.5 x 14 cm and priced at US$30. Each collector is allowed to collect two artworks at most. Hundreds of renowned people are invited to take part. Among them, the former President Lee Ten-Hui, Taichung Mayor Jason Hu, Professors Chai Song-Lin and Kao Xi-Juan are pleased to draw their own painting for the charity sale. The other event is "The Compassionate Rich's Charity Sale," which invites locally well-known figures keen for public welfare to participate and each donates 1 to 3 pieces of artworks of his/her own creation. Proceeds from the sale of these artworks will go directly to the Good Shepherd Social Welfare Services.……more
Art Revolution Taipei 2011 Special Programs
"Art Your Compassion - Hundred Celebrities Charity Sale": Zealous Responses from the Art and Religious Communities with Shi Jui-Jen, Guan-Guan, Zhang Man-Juan, Huang Chuan-Ming, Lee Ang, Xiao Qing-Yang, and Others Presenting their Compassion Through Drawings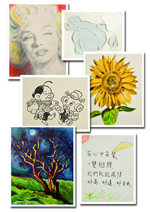 Only Love and Compassion can traverse various territories and boundaries. Artists, chess players and religious leaders alike from Taiwan and China jointly take part in this special program, "Art Your Compassion", coinciding with Art Revolution Taipei 2011 which will be held on May 12.……more
Special Charity Event of Art Revolution Taipei 2011
Jason Wu, Qi Shu, Rendy Lu Yen-Hsun, Wu Bao-Chuan, and Other Celebrities Zealously Take Part In"Art Your Compassion - Hundred Celebrities " Charity Sale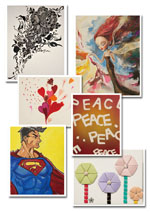 Focusing on the artists themselves, Art Revolution Taipei will take place on May, 2011 in Hall 2 of the Taipei World Trade Center(TWTC). In addition to the 214 artists exhibiting from 22 countries worldwide, the organizer will arrange a special program titled "Art Your Compassion"featuring fashion world celebrities' own artworks for charity sales. This event will include the likes of Jason Wu, Pun Dai-Lee , Qi Shu, Rendy, Lu Yen-Hsun, Wu Bao-Chuan, and Bob Yeh. Proceeds from the sale of these artworks will go directly to the Good Shepherd Social Welfare Services.……more
Beijing's Ullen's vs Taipei's GP DEVA
Each will be a shining star in Art Revolution Taipei 2011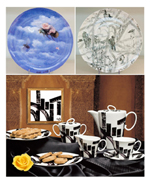 Art Revolution Taipei 2011 definitely has become a front-page event for art communities, which will be held in Hall 2 of theTaipei World Trade Center(TWTC) in May. There will be 206 artists from 22 countries participating in A.R.T. including two art groups, Ullens Center for Contemporary Art(UCCA) and GP DEVA. These 2 world art powers have joined the exhibitor list in order to witness this unprecedented art pageant.……more
Capture Your Mind
Awakening Art DNA…The Iron Catcher, Zhi-Zhen Zen, Crossing the Border of Contemporary Art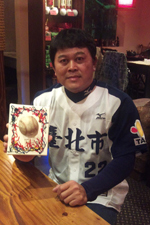 Mr. Zhi-Zhen Zen, one of three iron catchers in Taiwan and current head coach of the Taipei Adult Baseball team, was recently invited to take part in the charity event connected with Art Revolution Taipei 2011 titled "Hundred Celebrities' Charity Sale". Mr. Zen designed his artwork around an actual baseball depicting his love for the sport. Amazed by his creation the Art Director, Mr. Sun-Don Lee, has invited Mr. Zen to create 10 additional pieces which will be on exhibition in the upcoming A.R.T. fair. Mr. Zen finds himself becoming a revolutionary figure. One of the first to traverse the border from baseball to contemporary art. ……more
Three Top Art Universities in Japan Jointly Participate in ART 2011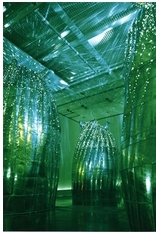 Art Revolution Taipei 2011(A.R.T.)will take place during May of 2011 inside Hall 2 of the Taipei World Trade Center (TWTC). This grand event not only impacts deeply the international art circles and is supported zealously, but also has included a great degree of importance courtesy of the art academy in Japan. Professors from three globally renowned art universities in Japan, namely, Tokyo University of the Arts, Musashino Art University, and Okinawa Prefectural University of Arts, will take the lead to exhibit their works especially created for this ART 2011 fair. ……more
Have An "Art Meeting" with The Masters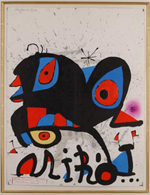 "My works were on display along with those of Rembrandt, Chagall, Miró, and Picasso", then imagine what a sense of pride it would establish and maintain over the artist's entire career. The choice that Art Revolution Taipei has made is to have Miró's work with its print on display side by side. Those who are in the art business would recognize right away that this is the collecting style of Tate London. ……more
Savoring World Masterpieces
Preview of 1st Art Revolution Taipei Exposition 2011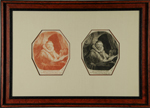 Rembrandt's rare "red" print, Miro's hand-painted original gouache over lithograph, Picasso's A.P. (artist proof) collection, and not to mention artworks by Dali and Chagall will all be exhibited at the 1st Art Revolution Taipei 2011 (ART) fair running during May 12 - 15 in Taiwan.
Exhibition: Preview of the 1st Art Revolution Taipei 2011 Venue: X-Power Gallery (B1, 207, Dunhua N. Rd., Taipei) Date: Apr 01 – May 10 Open Hours: 11:00~22:00……more
Masterpieces Appear in the Upcoming Art Revolution Taipei 2011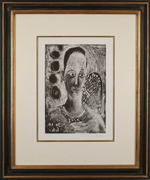 Have you ever seen the great artists' masterpieces collected by those prestigious museums?
The first annual Art Revolution Taipei 2011 fair (A.R.T. 2011), to be held this coming May, will present Joan Miró 's original painting paralleled to the print, which is comparable to collections of the Ted's Museum in London. In addition, A.R.T. will include a section called "They Are Masters," in which the works of Rembrandt van Rijn, Pablo Ruiz Picasso, Joan Miró, Marc Chagall, Salvador Dalí., and the like will be on display.
Exhibition: Preview of the 1st Art Revolution Taipei 2011 Venue: X-Power Gallery (B1, 207, Dunhua N. Rd., Taipei) Date: Apr 01 – May 10 Open Hours: 11:00~22:00……more