Art Revolution Taipei 2011
Artworks from Hundred Celebrities Were Sold Out In One Hour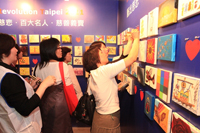 Art Revolution Taipei 2011 has launched with its preview at 6:00pm on May 11th in Hall 2 of the Taipei World Trade Center(TWTC). It's such a revolutionary grand art fair event in Taipei with esteemed guests gathered. Among them, there were ambassadors from Italy, South Africa, Swaziland, Nicaragua, Honduras; celebrities such as Zhang Bo-Ya, Ji Zheng, Xu Geng-Xiu, Örkesh Dölet , Shao Yu-Ming, Fu Da-Zen, Zheng Zhi-Zhen, Chen Wu-Gang, Ye Liang-Chuan, Zhang Zhao-Fan, Huang Zi-Jiao, Tang Lan-Hua, Yang Lin, Xiao Qing-Yang, He Qi-Sheng, Gu Huai-Xuan, Jade, Fan Guang Yao, Chen Zi-Qiang, Guang Gaung, Guo Shi-Lun, Wang Yi-Lu, Gan Yu-Fei, Qin Wei, Wave Brothers, Liu Wei-Ci, Alicia, Li Ya-Ming, Hei Jia-Jia, Liao Jia-Hong, Liu Mei-Yan, and many others.
The entertainer Huang Zi-Jiao, also an art collector, described this event as 'amazing'. The rare red prints from Rembrandt and Picasso were displayed parallel to an E-book in a unique way. Furthermore, he organizer invited some talented artists who almost stopped their careers due to the poor mega environment to resume their art creation and to exhibit their artworks. It's one of the ways to realize the concept of nurturing emerging artists.
This highly focused event attracted collectors from every level, with almost 6000 visitors attending for the preview evening. Some of them even acquired artworks in no time. There are 6 top works at the venue including the rarest red print form Rembrandt; the most unusual print and handwriting from Miro; the most expensive painting of Zhu Da-Qun's creation at 3 meters wide; the most innovational installation in the form of an antique steam locomotive with artists' names directly on the surface as a symbol to promote the arts in Taiwan; the most interesting creation from MANIHOO's LOVE STORY series; and the most eye-catching event of Art Your Compassion Hundred Celebrities charity sale.
Another climax for this A.R.T. Taipei 2011 fair was the charity sale of Art Your Compassion, launched at 12:00 PM on May 12th. Almost 500 artworks from Hundreds Of Celebrities were sold out in one hour. Many guests gathered at the booth during the preview night to check and select artworks they intended to get. In addition, half of paintings from the Rich's Compassion booth were sold by 16:00 on the same day.
The first buyer, Mr. Yu, came to queue for his favorite artworks around 4:00 AM. Being an art enthusiast, Mr. Yu had his choice on mind already. The artworks he bought were from Taiwan artist Tong Wu-Yi and Japanese painter Asuka Irie. Others also got what they wanted. What Mr. Wang bought was Jason Wu's artwork. He came to the fair with his wife who was attracted by that particular painting and demanded to have it by all means. So he came to queue at 5:00AM due to anxiety of missing it. He was so surprised and pleased to know that it's from the famous fashion designer.
All artworks were priced at US$30, and two at most for each collector. Proceeds from the sale of these artworks went directly to the Good Shepherd Social Welfare Services. Sister Therese Thong said that this was a such successful event with positive meanings to show beauty to society, just like the sunflowers from her painting to face the sun against all odds.
Established in 1987, the Good Shepherd Foundation is run by good shepherd sisters, devoting to eliminating abuse, abandonment or trafficking among children, teenagers and women, as well as offering placement, refuge and remedial education. Due to lack of resources, servicing the society never has been easy; but nevertheless the foundation sticks on their quiet contribution against all odds. They need support from everybody. Some artworks from celebrities are exhibited on the website of ART Taipei 2011:
"Artists as the core" is the revolutionary concept for this A.R.T. Taipei 2011 fair. The organizer strives to establish an international stage for artists in Taiwan, which demonstrates in turn that Taiwan is capable of organizing a world-class art fair. With the boundless influence of art to penetrate far and wide, Taiwan can stand out globally.