Art Revolution Taipei 2011 came to an end with some pioneering acts, winning professionals and public approval with attendance totaling at 26,681.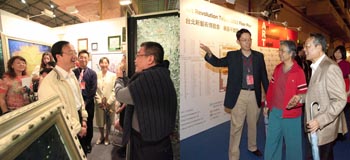 Art Revolution Taipei 2011 closed May 15. The total number of visitors reached upwards of 26,681 people during the 4 days of the fair and including the preview night. The final sales percentage calculation was 89.66% meaning 182 different artists sold their artworks at the fair. The total sales amount exceeded the expected target of NT$30 million. The most expensive painting sold was at the price of NT$3.7 million; the most artworks sold by an individual artist were 30 pieces.
The executive director of A.R.T. Taipei 2011, Mr. John Cheng said:"It's exactly the organizer's intention to establish an art platform with characteristics which create more chances for artists to exhibit their artworks while expanding their collector base. The exhibition is not aimed at sky-high selling amounts, but rather focuses on the sale of each individual artist's works instead. Apparently from the sales percentage, our goal has been met. Some artists sold out their works completely and galleries contacted with many artists about representation and subsequent distributions. The statistics we publicized are precise and accurate. We hope to eliminate the usual bluffing rooted in the art dealing business."
This world-class art fair not only won the public's praise, but also approval from exhibiting artists. Some foreign artists expressed their surprise by stating that A.R.T. is such a high quality and popular art fair which out stood all other fairs they took part in before. The exhibitors were touched so deeply by the organizer's respect to artists and the diligent efforts that went into planning, that they have already applied for Art Revolution Taipei 2012. The famous Japanese sculptor and artist Katsuyuki Gibo and Kenji Endo were amazed and surprised by people's enthusiasms towards art in Taiwan.
The Korean artist Han Jung-Hi appreciated greatly the quality of artworks exhibited. Exhibiting artists from Taiwan described this art fair as unique. With the concept –Artists as the Core, artists had the chance to express their feelings and ideas about creation in exchange of the public's feedback.
On the last day of this A.R.T. 2011 fair, there were some famous people visiting including Jiang Yi-Hua, Minister of the Ministry of the Interior along with his wife; Mr. and Mrs. Stan Shih, founder of the Acer Group and president of National Culture and Arts Foundation; Li Si-Duan, a senior media man; Zhou Jun-Xun, the Go champion; Liu Gou-Hua, champion of Chinese Chess; and many others. The Minister and his wife took their time to take in the A.R.T. Curatorial and Taiwan Contemporary Art sections. They both stayed until closing time. Mr. and Mrs. Stan Shih, accompanied by the executive director Mr. John Cheng, gazed at artworks and listened to artists' explanations for hours. Mr. Shih recognized the organizer's diligent efforts while Mrs. Shih exclaimed that the exhibition, with varied and rich content, provided visitors such a wonderful tour of arts.
It's such a revolutionary grand art fair event in Taipei with esteemed guests gathered. Among them, there were representatives or ambassadors from Italy, South Africa, Swaziland, Nicaragua, Honduras; celebrities such as Zhang Bo-Ya, Ji Zheng, Xu Geng-Xiu, Mr. and Mrs. Su Tseng-Chang, Mr. and Mrs. Jiang Yi-Hua, Mr. and Mrs. Zhou Jun-Xun, Chen Wu-Gang, Zhang Zhao-Fan, Liu Ke-Zhen, Zhu Guo-Rong, Xie Zhong-Bi, Chai Song-Lin, Murakami Takashi; Wang Chen-Hua, Huang He, and Zheng Zhi-Zheng, Huang Zi-Jiao, Tang Lan-Hua, Yang Lin, Xiao Qing-Yang, Ye Liang-Chuan, Li Si-Duan, Gu Huai-Xuan, Jade, Chen Zi-Qiang, Guang Gaung, Li Ya-Ming, and many others.
This highly focused event attracted collectors in every level, with almost 6000 visitors attending the preview evening. Some of them even collected artworks in no time flat! As of May 15, visitors in total reached upwards of 26,681 people.
"Artists as the core" is the revolutionary concept for this Art Revolution Taipei 2011 fair. The organizer strives to establish an international stage for artists in Taiwan, which demonstrates in turn that Taiwan is capable of organizing a world-class art fair. With the boundless influence of art to penetrate far and wide, Taiwan can now truly stand out globally.