Art Revolution Taipei 2011 Catches Artists' Attention Globally
The Famous Japanese Artist Takashi Murakami & the Former Prime Minister Su Tseng-Chang visit.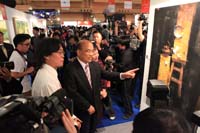 On the third day of Art Revolution Taipei 2011, visitors in total exceeded 20,000 people. This sensational art event has been eye-catching to say the least and some famous people are attracted to have a look. The famous Japanese artist Takashi Murakami, former Prime Minister Mr. Su Tseng-Chang and entertainer Jade came to visit on May 14.
Takashi Murakami looked around the 9 thematic sections for more than one hour. He enjoyed the artworks and paid his regards to those Japanese professors from Tokyo University of the Arts, Musashino Art University, and Okinawa Prefectural University of Arts. Artist Chen Guang-Ming's works caught his eye and drew him back to the booth twice for more information.
The former Prime Minister Mr. Su Tseng-Chang has been supportive to the arts. He and his wife came to the art fair in the afternoon, and The Prime Minister expressed his admiration for the installation of a steam locomotive, a symbol of the artists leading the way and promoting the arts in Taiwan. He said with a big smile that the steam train used to be part of his childhood. Mr. and Mrs. Su visited the artist Lu Zong-Can's booth and listened to Mr. Lu's explanations and ideas. Also, they expressed their supports and recognitions to the participating Taiwan contemporary artists. Being art enthusiasts themselves, they spent more than one hour to look at different sections and appreciated very much the organizer's diligent efforts.
The entertainer Jade came to visit for her second time. She has been working on her own artistic creations as well and took part in the "Art Your Compassion" charity sale. The art director, Mr. Lee Sun-Dun, not just encourages Jade to continue her artistic path, but offers his instructions and suggestions regarding her future artistic direction. Mr. Lee urges Jade to exhibit her artworks in Art Revolution Taipei 2012.
It's such a revolutionary and grand art fair event in Taipei with esteemed guests gathering to pay respect. Among them were ambassadors from Italy, South Africa, Swaziland, Nicaragua, Honduras; celebrities such as Zhang Bo-Ya, Ji Zheng, Xu Geng-Xiu, Örkesh Dölet , Shao Yu-Ming, Fu Da-Zen, Zheng Zhi-Zhen, Chen Wu-Gang, Ye Liang-Chuan, Zhang Zhao-Fan, Huang Zi-Jiao, Tang Lan-Hua, Yang Lin, Xiao Qing-Yang, He Qi-Sheng, Gu Huai-Xuan, Jade, Fan Guang Yao, Chen Zi-Qiang, Guang Gaung, Guo Shi-Lun, Wang Yi-Lu, Gan Yu-Fei, Qin Wei, Wave Brothers, Liu Wei-Ci, Alicia, Li Ya-Ming, Hei Jia-Jia, Liao Jia-Hong, Liu Mei-Yan, and many others.
The entertainer Huang Zi-Jiao, also an art collector, described this event as 'amazing'. Rare red prints from Rembrandt and Picasso were displayed parallel to an E-book in a unique way. In addition to that, the organizer invited some talented artists who almost stopped their careers due to the poor mega environment to resume their art creation and to exhibit their artworks. It's one of the ways to realize the concept of nurturing emerging artists.
This highly focused event attracted collectors in every level, with almost 6,000 visitors emerging in for the preview evening, some of them even buying artworks in no time. Up to May 14, visitors in total exceeded 20,000 people.
"Artists as the core" is the revolutionary concept for this Art Revolution Taipei 2011 fair. The organizer strives to establish an international stage for artists in Taiwan, which demonstrates in turn that Taiwan is capable of organizing a world-class art fair. With the boundless influence of art to penetrate far and wide, Taiwan can stand out globally.