Capture Your Mind
Awakening Art DNA…The Iron Catcher, Zhi-Zhen Zen, Crossing the Border of Contemporary Art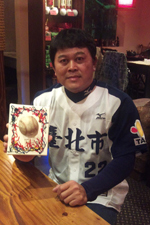 Mr. Zhi-Zhen Zen, one of three iron catchers in Taiwan and current head coach of the Taipei Adult Baseball team, was recently invited to take part in the charity event connected with Art Revolution Taipei 2011 titled "Hundred Celebrities' Charity Sale". Mr. Zen designed his artwork around an actual baseball depicting his love for the sport. Amazed by his creation the Art Director, Mr. Sun-Don Lee, has invited Mr. Zen to create 10 additional pieces which will be on exhibition in the upcoming A.R.T. fair. Mr. Zen finds himself becoming a revolutionary figure. One of the first to traverse the border from baseball to contemporary art.
Full of vitality and affection, Mr. Zen's artwork deeply touches the heart of Art Director, Mr. Sun-Don Lee. According to the Art Director, "He pasted a used baseball directly on the canvas as the theme, revealing a tension full of life. Because the used baseball has fought battles in games, it is full of animated life and history!" On the back of the canvas Mr. Zen wrote "Hopeful that Taiwan baseball regains prosperity". This reveals his zeal and expectation for the future of his beloved sport. Therefore, the Art Director has invited him to create 10 pieces of artwork for the upcoming Art Revolution Taipei fair. Mr. Zen will for the first time find himself stepping into the field of contemporary art. The green concept of recycling used baseballs into artworks and the development of ones untapped artistic prowess are two factors perfectly in line with the spirit of A.R.T. Taipei - Innovation.
Mr. Zen is overjoyed upon receiving the positive feedback from his artworks. He said, "Now I realize that I can utilize this artwork manifestation to express my deep affections for baseball." According to Mr. Zen, baseball is a fascinating sport and he's always been proud of being a baseball player. Due to the recent cheating scandal, morale has hit bottom for baseball teams and it has become such a sadness for him. Therefore, when he created his first work he utilized a used baseball, which absorbed players' efforts and sweat. This was a statement full of passion and hope. With artistic creativeness, Mr. Zen filled in brightly colorful lines around the baseball representing a wish for teams in Taiwan to radiate their honor once more just like the beautiful pigments.
As for the 10 pieces of artwork to be exhibited in A.R.T. Taipei, Mr. Zen said that he would discuss the concepts with his son majoring in textile before he makes the embodiments on the canvas. Following his previous creative concept, Mr. Zen will interpret his enthusiasm for baseball through artistic creativeness. He said, "I'm so happy that I can convey my affections for the sport not just on the baseball field, but also in the artistic field, thanks to the Art Director, Mr. Lee's recognition. It's excellent to introduce our country through admiration of baseball in the arts." It is Mr. Zen's hope to do away with the haunting shadow currently looming over baseball, the sport he loves so dearly.
A Brief Introduction to Art Revolution Taipei 2011
The first Art Revolution Taipei 2011(A.R.T. 2011) fair features leading and emerging galleries and artists from around the globe. 187 artists, ranging from the established to the latest generation of emerging figures, are represented in the show's multiple sections. We expect to see tens of thousands of art lovers turning out to visit and enjoy the show.
The exhibition includes time-tested and cutting-edge paintings, sculptures, drawings, installations, photographs, and prints. A panoply of people are expected to attend the Art Revolution Taipei including art collectors, art dealers, artists, curators and other art enthusiasts to enjoy a revolutionary, one-of-a-kind art fair. Another important aspect of Art Revolution Taipei 2011 is that we will also invite 100 highly renowned and influential collectors to attend, which would certainly guarantee to bring considerable well-deserved attention to the participating artists and their works.
In addition, to make the actual art fair experience more meaningful, the organizer intends to link art with public interests and to proceed with a special charity program, which collects the compassion from celebrities, social elites and art enthusiasts. This special thematic charity program hosts two events. First is the "Hundreds Of Celebrities' Charity Sale" while the other is "The Compassionate Rich's Charity Sale". Proceeds from these two charities will go directly to the Good Shepherd Social Welfare Services. The great expectation is for all participants to join in and convey their compassions from the heart.
Source: