Comments To A.R.T. 2011 From Artists And Guests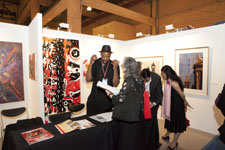 ARTISTS
Spanish artist: Lizzy Forrester
It's the most awesome exhibition I have ever attended; the magnificent scale was impressive indeed. Many people were interested in my works and posed lots of questions. The organizer made me feel like home, everybody was kind and patient. Even though I came here alone, I felt safe.
French artist: Gilles Vanackere
It's lucky to be able to participate in this wonderful art fair. I found many things interesting. People in Taiwan are so different from Europeans, straight and simple, no barriers at all. I like this place very much, and surely I'll come back.
French artist: Amour Chammartin
At the beginning, I was more like an observer without any idea about interacting with people in Taiwan. Gradually, I found people here to be so easy to interact with, they were just friendly and direct. Now, I feel so comfortable to be here and the visitors have formed a connection with my paintings. I find out that people here are very tolerable to different forms and subjects.
NewYork artist: John De La O
The diversified art and artists' talents impressed me a lot, and I learned something from all of the different artistic styles. I'll bring what I saw and learned back to New York. It'll be inspiring to my future work. It's my honor to participate in this art fair, and I'm pleased to exhibit my paintings among such various artwork styles.
Mexican artist: Diego Anaya
I felt it's a unique art fair. The organizer took good care of the artists and made them feel at home.
Ichikawa Taira, Japanese Artist
I'm so happy that visitors were keen to understand my works. The overall feeling about the venue was so great which pleased me a lot. It's so meaningful that there were vendors willing to promote my artworks as part of the public art in Taiwan. I made friends and learned a lot from this exhibition. Taiwan offered great support to Japan in the disaster relief. We do appreciate people's kindness in Taiwan, and it's beyond description. Taiwan is Japan's first and best friend, and we are deeply touched inside.
Hatano Izumi, Dean of the Okinawa Prefectural University of Arts
Generally, it's a very successful art fair. I'm grateful for the opportunity to exhibit my work here. I didn't expect that my work would be sold at the fair, which made me feel so happy. I received compliments from visitors, which will serve as my drive for the future. I'm so joyful and grateful about my work being recognized. There's more pains than joys during the process of creation. So the recognition would certainly become the driving source of creation.
Kenji Endo, Public Artist in Japan
This was my first time to exhibit in Taiwan, and I learned a lot from it. Difficult though, but interesting indeed. This was also the first time for me to sell works in small-scale. I'll apply for the art fair next year. I watched various artworks from many artists and learned a lot from their individual creativity. When I saw those works from the A.R.T. Curatorial section, I felt that I had a group exhibition with Picasso. It's just fantastic. Thanks very much for Mr. Yu who introduced me to exhibit here and for services offered by the organizer. I was surprised that visitors actually regarded my works. They could just pass by directly, but they did stop by to raise some questions about my art. It's really pleasing to me.
Kenji Endo, Japanese Artist
It's so nice that there are so many people in Taiwan interested in the arts. And, it's such a benefit for me to understand further about Taiwanese cultures through people I met. Even though we didn't speak the same language, it's great to communicate with each other through artworks.
Asuka Irie, Japanese Artist
People in Taiwan have a very different perspective from Japanese. In Japan, most admirers of my works are senior people. I was so surprised that young women in Taiwan love my work. Collectors of my work include couples, a female office associate, and an art dealer. I was so happy that people liked and bought my works.
Han Jung-Hi, Korean Artist
I've exhibited at many art fairs, but this A.R.T. was just something else with such a balanced ambience. Not to mention the and high quality paintings in all of the booths. Even the music fit well. I felt so comfortable to stay at the venue. I told my husband that I would apply for this exhibition again next year, if possible. My husband gave his thumbs-up to praise this art fair that it's just outstanding. The whole space and ambience went so well along with the art without being too commercial-oriented.
All in all, it's more than satisfactory and much better than I expected. I felt at ease with so many security personnel around. Furthermore, it's so clean and neat here. Many art fairs I've exhibited in before were dirty and messy on the floor. The restrooms were even worse! But here in Taipei, even though the restrooms looked old, they were clean. I could tell that they have were constantly cleaning. People in Taiwan were more open and willing to share their feelings with me. Their feedbacks gave me strength and confidence for more creations. I was so happy and moved that people in Taiwan understood the ideas I attempted to convey through my works.
Taiwan artist: Yang Ping-Hwuei
I did appreciate the organizer of A.R.T.2011, due to the excellent results with 64 paintings sold. Still, there are more commissioned paintings. It's the best art fair I have ever attended. I'm so happy about the sales. One of the best parts was the interview by TVBS; furthermore, TVBS produced a 30-minute special program on the theme of the painting about Zheng Cheng-Gong. It's just joyful. This was a top quality art fair. The organizer were devoted to this art fair diligently!
Taiwan artist: Wen Tsung-Yi
While delivering my painting to a recipient in Tainan, I realized that the purchaser is a great collector who just bought a painting priced at $1.6 million from a gallery. According to that collector, he would purchase 20~30 paintings a time, if an artist's works touched his heart. It's surprising to me. Also, there was a person from Rotary Club inviting me to deliver a speech. This art fair offered me a chance to meet collectors face to face, it's such an extraordinary experience for me. I do appreciate the organizer's complete diligence.
Taiwan artist: Cheng Jhen-Wun
Most art fairs focus on galleries, and most of the buyers are galleries too. The only topic is about selling. This time was unusual indeed for the reason that artists could meet collectors directly. The visitors gave positive feedbacks. I think art is a part of education. If artists participate in the art fair themselves and interact sincerely with visitors, then it's possible for their works to be collected. All of the personnel were so diligent, and worked with spontaneous joy. It's really touching.
Taiwan artist: Lin Ying-Che
Every painting is a recording of life. I hope to grant my paintings to my offspring as memorials. This was the first time ever I sold my paintings. I didn't want to sell them. But the Art Director said to me that I should share with more people, and that touched me deeply. So I decided to share with people. Many collectors wanted to buy more, but I insisted to sell only one, so I could share other paintings with more people.
Taiwan artist: Yu Lien-Chun
It's just perfect! I was amazed by such a crowd at the preview when I came in from the back door. Everybody was shocked. Outstanding!
Taiwan artist: Chang Pin-Chun
I was greatly moved by this art fair, because all staffs were so nice. Even just 4 paintings sold, I learned something from this event that it's a real battlefield between artists and collectors. Afterward, I was invited to exhibit in other art fairs and galleries.
Taiwan artist: Lu Tsung-Tsan
Dear Art Director and all staffs, you're highly appreciated because of your dedicated efforts and diligent work. I felt deeply grateful for what you have done for the art circle in Taiwan. It was like injecting a refreshing spring and opening an innovative open sea at the same time. It's my pleasure to have this chance to create a new page in the history books with you. I trust that the art fair and artists will achieve unprecedented success. Thank you.
Taiwan artist: Rita Lee
It's such a pleasure to take part in this high quality art fair event where the artworks spoke for themselves. Artists have done their best to create remarkable works just for this fair, all with diversified styles and vivid creativeness. Above all, there were some rare large-scale works. I myself made one as large as a whole wall, which was not an inviting idea for most artists. The organizer made a keen selection. The invited collectors and visitors were professional, which I could tell from the questions that they raised.
Taiwan artist: Huang Ko-Chuan
Huang He-Qing, Huang Ko-Chuan's son said: it's a very successful event with crowds of visitors and great sales. Thank you for you for the hard work! I will apply to A.R.T. 2012.
Taiwan artist: Zheng Hui-Mei
My artworks are not mainstream, so my participation was contradicting. However, it's a chance for me to absorb art nutrients from such a broad range of works. The venue planning was great. It's nice to meet other artists and to have exchanges.
Taiwan artist: Shao Yu-Xian
During this art fair, I had a chance to communicate with visitors, and to meet many excellent artists. I learned and benefited a lot from this experience. The most touching moment for me was when one visitor told me that she was so moved by my works that she would like to organize exhibitions for me to help stray dogs. I was moved to tears on the spot.
Taiwan artist: Chou I-Hsiung
The booth I rented this year was too small while most of my works on display were large-scale and abstract. I'll expand my booth next year to display more realism sculptures and small works, to complete my sculptural history with an array.
Taiwan artist: Yu Go-Go
I benefited a lot from this art fair. It's wonderful to exchange with other artists, to see diversified ways of expression and media application, and to have genuine interactions with visitors directly. For me, the process of creation is a quest for discovering myself.
Chinese artist: Gong Dong
The overall organization was great, with crowds of visitors and a nice ambience. The new event from this fair, Art Your Compassion, was something innovative.
Chinese artist: Wang Zun
My purpose for this trip was to make people in Taiwan understand more about Chinese artists' works in depth. There is much more art illiteracy in China than in Taiwan. People in Taiwan are more cultured, and their perspectives in art are comparable to artists'. More people know how to comprehend my art in Taiwan.
Chinese artist: Yang Zi
Art Director Mr. Lee Sun-Dun has outstanding achievements in China and internationally. The organizer was quite helpful for artists. I hope to introduce my artwork to America and Europe and to enter into the international market.
Chinese artist: Tian Liusha
People in Taiwan are keen on art. It's great to see so many visitors even on the rainy day. It's a more friendly environment for the art fair in Taiwan than other foreign countries with a language barrier.
GALLERIES
UCCA Beijing
The organizer diligently built an artistic ambience and the media in Taiwan reported positive stories too with quite proper strength. The cleaning work was outstanding, even during the exhibition preparation. It's such a neat and clean venue that was much better than U.S.A., Hong Kong, or Singapore. We got some ideas about people's taste here in Taiwan which will prove to be the guiding information for our next exhibition.
Shiangri Gallery
"This art fair was just fantastic! Amazing!" Ping Taishun, Owner of the gallery decided right away to apply for A.R.T. 2012, and said "The organizer is so zealous and diligent. I feel grateful to the whole team. The performance and results are so obvious that lay a sound foundation for A.R.T. 2012. The concept "20 seconds to select an artwork" from the art director is marvelous. It's important to catch a visitor's eye swiftly. I'll bring more artist' works to A.R.T. 2012."
Mingdian Art Gallery
It's amazing to have such an outstanding performance for the first exhibition. I'll take part again in A.R.T. 2012 definitely. Some galleries and artists planned to exhibit at this fair but withdrew for some reason. They concerned about the situation as I was myself. The excellent outcome surely pushes them to participate A.R.T. 2012.
GAIA Gallery, Korea
We appreciate the organizer's efforts, and feel so impressed by this art fair. I was surprised by Taiwan's zealousness regarding art with so many visitors and actual buyers. This was our first time to participate in the art fair in Taiwan. We'll address the characteristics unique to Taiwan and A.R.T. for the next exhibition in order to be more successful. My special thanks go to the translator who interpreted the paintings full of enthusiasm, very touching.
City Art Gallery, Malaysia
The representative of City Art Gallery Mr. Shen Bao-Lian, who held a Malaysia Art Expo, commented: "It's incredibly successful for the first Art Revolution Taipei to attract such a crowd of visitors. It's obvious that people in Taiwan are highly cultured".
Ovas Art Gallery, Singapore
We are satisfied with the number of visitors and sales after the first installment of Art Revolution Taipei fair.
Forest Rain Gallery, Singapore
Congratulations for the success of A.R.T. 2011. We are satisfied with the professional services provided during the exhibition. We are also grateful for the management's warm greetings and staff's diligent assistance. The organizer's comprehensive arrangement eased so much tension so that we could exert our best during the exhibition. The outcome is satisfactory. We appreciate the pleasant experience in this exhibition and look forward to the next one.
Comments from visitors and participants of the Hundreds Of Celebrities Charity Sale
Mr. & Mrs. Stan Shih, Founder of Acer Group, Chairman of National Culture and Arts Foundation
The organizer was diligent and the contents of fair were rich and diversified; it's great for art lovers to appreciate so many works.
Mr. Xie Zhongbi, director of SinoPac Holdings and Ms. He Meiqing, chairman of Sino Cell Technologies
We visited this fair right after our return from abroad, thought it was very successful. The Hundreds Of Celebrities Charity Sale was a brand-new event in Taiwan with great significance. The theme of my work was the pineapple, with which my career started. My wife runs the bio cell company, and she uses three circles in different colors to show the connections.
Wu Rong Ming, ex-chairman of the Taiwan Sugar Corporation
It was a pleasure to attend this event. I felt grateful that the public had the opportunity to get involved in this charity.
Chen Mei-Yun, mother of Jason Wu, the famous fashion designer
The modest price of US$30 grants an opportunity for everyone to get involved in this charity event, and to attract more people to get in touch with the arts. It's quite a meaningful event. I passed the message to Jason, and he was so zealous to be part of it, even though he's been extremely busy. He learned different art fields since a child such as music, fine arts and pottery. His creative elements are rich and diversified. This painting reveals his consistent style with simple and concise lines.
Lin Fan-Nan, entrepreneur, father of Lin Chi-Ling
I hope to participate in this event with my daughter and to draw more people to get involved in charities. It's so shocking to see the occurrence of earthquakes in Japan. We should go for what we should without delay.
Tang Jing-Lian, Founder of Good Shepherd Social Welfare Services
This was a very positive and successful event offering beautiful things to many people and bringing positive strength to the society. It's just like my painting of the sunflower, facing all the time to the sun and dealing with challenges against all odds.
William A Stanton, Director of AIT
The literature holds significance for me. I'm fond of 4 genres of literature. Namely issues about growth, politics and society, romance and life. I drew a tree with golden leaves falling, and wrote down my favorite poem on my work. That poem served as my inspiration when I painted.
I love art and I love Taipei for all of those diversified art events, exhibitions and museums. This was such a great opportunity to help people.
Shao Yu-Ming, Former Director of the Government Information Office
Master Cheng-Yen told me during my first time to visit her at Hua-Lian in 1979 that the treasure of Taiwan is charity. I think it's quite a meaningful phrase, so I wrote it down. I'm not very skilled in calligraphy, but this phrase would benefit Taiwan and the world.
Zhi-Zhen Zen, The Iron Catcher
It's my first time ever to do charities through painting. It never occurred to me that I could combine a baseball with art. To cheer up Taiwan baseball in the downturn, I utilized bright colors to depict the glow of Taiwan Baseball. This is exactly a baseball player's expectation.
Gu Huai-Xuan, TV Show Hostess
I was more than pleased to be part of this event, since the Good Shepherd Social Welfare Services is a warm organization. I like art very much, but I don't know how to draw due to lack of self-confidence. I thought the invitation over for two weeks, and decided to go for it with friends' encouragements. I referred to paintings from my favorite painters, and depicted my inner emotions directly. I felt very happy and warm at the moment I finished the painting. It could fit the description of being filled with Dharma joy.
Su Lan, Universal Radio Hostess
I accepted the invitation for this event to celebrate the hundredth anniversary of the Republic of China. It meant so much to me to create paintings for a charity sale with other people. I created the painting with a universal love, hoping to deliver the endless love. Best wishes for a successful event and that each painting goes to a warm home with its owner.
Huang Zhi-Jiao, Entertainer
It's a pleasure for me to be able to participate in this event. I'm an art lover, and feel so honored to exhibit my work with master artists in the same exhibition. I was amazed at A.R.T. 2011, it's like a small museum. The layout for Picasso's work told stories with related information and photos in parallel. The only red print from Rembrandt was a surprise too. I was surprised by many emerging artists and their works which were listed at such bargain prices. I bought 4 paintings from them to serve as an encouragement.
I used to paint on handbags or dolls before, but it would be my first time ever to paint on the canvas. The theme of my painting is love. I used 26 English characters as creative elements to convey my advocate to write more with pens.
Tang Lang-Hua, Entertainer
Being encouraged by my friends, I picked up the paint brush for the first time to paint a parrot I raised at home. I took a photo first for the parrot, then drew it on the canvas for half an hour.
Jia Xin-Hui, Entertainer
I came here right after getting off the airplane, because I felt so happy to have the opportunity to participate in this meaningful event. I think this world is full of love, and it's so wonderful to be able to help people with my limited ability. It's my first time to draw a painting with a theme about daily life. In my opinion, the art is about good intentions, to deliver everybody's love for more people in need.
Fang Si-Yu, Entertainer
This was my first time to participate in a charity event through my painting. My last name is Fang(means 'house' in Chinese), so I depicted a house as the theme. After the disastrous earthquake in Japan, I wanted to draw a warm house with dreamlike and cute colors.
Fei Jie, Former Gourmand Show Hostess
Don't fall behind when it comes to charity. It took me a week to finish my work. Not a painter myself, I chose to paint a cute looking self-portrait. If possible, I would like to buy that painting with Marilyn Monroe which I like very much.
Wang Yi-Lu, Entertainer
It took me one day to finish my painting with 2 or 3 hours considering my theme. I associated charity with green color and the environment too. Love starts from our planet. My first name is Lu, same pronunciation as 'deer' in Chinese. "Deer" symbolizes good luck, happiness and love. SO I combined concepts concerning the environment and the deer as my theme. It's so joyful to participate in this charity event with so many celebrities. I painted 2 or 3 more paintings after this one. And I found that I love painting! Hope I will have the opportunity to take part in this event next year.
Jiang Li-Li, Entertainer
Everybody drew such wonderful paintings. I spent one day on painting to depict the snow scene around my house in Canada in my mind. Friends said that it looked like a postcard.
Guo Shi-Lun, Entertainer
I felt so happy to receive the invitation. My painting follows Bansky's graffiti skills. There were disasters around the world recently, I wanted to convey the concept that love exists without boundaries of races. I thought every painter was creative, and their works embodied unique features and meanings. I came to the event from Mao-Li for the preview.
Xiao Li-Yang, Singer
It's so joyful to participate in this event. I've been poor in drawing since my childhood. It's a nice opportunity to paint. I used to be downhearted for quite a long time. K ONE was a dynamic group, and I'm thinking about music in a different style for the future. I drew a box with colorful balls inside to convey a refreshing image to come as well as a positive strength to encourage people in all walks of life.
Wu Zhen-Ya
It's my first time to involve in charity through painting. I tried to convey my love for my daughter through this painting, since I had her in my mind while I drew.
Lin Qi-Le, Playwriter
It's such a joy to participate the charity with an alternative way. I drew a girl dancing on the teeth of a crocodile. In my opinion, life is the process of crossing a river from this side to another, with lots of barriers to conquer, such as crocodiles. No matter how hard life would become, people still dance on the teeth of a crocodile gracefully and overcome all difficulties bravely.
Fan Guang-Yao, Entertainer
It's a great honor to make my little contribution. I felt happy to pick up my paint brush again. Best wishes for a successful art fair.
Liao Jia-Hong, Conductor of Taiwan Pro Arte Orchestra
It's a pleasure to take part in this charity event. All 7 pieces of my photographs were taken in Italy last July. I utilized shadows to express the depth of field and gradations, the beauty of courtyards, and the sublimity of St. Peter Cathedral. In an ancient town, a mother and a daughter happened to pass by. I took dozens of shots to capture the right sensation in order to express the unique charm of an ancient town.
Liu Mei-Yen, Vocalist
I'm not a painter and don't know how to paint. But I have become a painter for this charity event. I intended to draw something natural and refreshing. As a vocalist, I think music and art are connected. I didn't attempt to draw in color, instead I went for the ink in a Chinese style which I felt more comfortable doing. I took care of the symmetry and every stroke, and it turned out to be a meaningful painting.
Fu Da-Ren, Former Sport Anchor
I feel more keen on charities as I'm aging. My hope is that people in the whole world are compassionate to sense the message of Faith, Hope and Love through my painting.
Ho Qi-Sheng, Senior Media People
It's a great honor to paint for the Good Shepherd Social Welfare Services. I felt joyful but nervous, since it's my first time to paint for charity. Glad to see so many people attending this event. This is a compassionate society. There were richly diversified contents at this art fair with many amazing works. It's indeed a spiritual banquet.
Chen Yin-Tong, Miss Universe Beauty Queen
It's a great joy to get involved in the charity event through painting for the first time. The theme of my painting was my pet.
Mr. & Mrs. Zhou Jun-Xun, Go Champion
It's refreshing to visit the art fair with my wife and children, contrasting to my Go world in black and white. I felt great for the whole day. Mrs. Zhou said the fair was more vivid and diversified than expected. Overall, it was so great. We are looking forward to the next art fair.
Liu Guo-Hua, Master of Chinese Chess
It's a great honor to participate in this charity sale. It's a citizen's duty to be compassionate and to help the minority. The venue was wonderfully decorated. The event was much grander than I expected with crowded visitors. The public were so highly involved in the charity sale.