Special Program of Art Revolution Taipei 2011
In "Art Your Compassion - Hundred Celebrities " Charity Sale,
Lee Teng-Hui, Jason Wu, Chai Song-Lin, Kao Xi-Juan and other renowned people Join Enthusiastically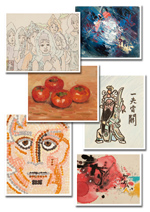 Mr. Lee Sun-Dun, Art Director of Art Revolution Taipei 2011, thinks differently about approaching the art fair experience. To integrate humanitarian and public welfare, this art fair reveals a more charity driven, warmer side than just the usual commercial interests. The special program--Art Your Compassion from Art Revolution Taipei 2011 will be held on May 12, which hosts two events. One is "Hundreds Of Celebrities", for which each participating celebrity will create an artwork about the size 17.5 x 14 cm and priced at US$30. Each collector is allowed to collect two artworks at most. Hundreds of renowned people are invited to take part. Among them, the former President Lee Ten-Hui, Taichung Mayor Jason Hu, Professors Chai Song-Lin and Kao Xi-Juan are pleased to draw their own painting for the charity sale. The other event is "The Compassionate Rich's Charity Sale," which invites locally well-known figures keen for public welfare to participate and each donates 1 to 3 pieces of artworks of his/her own creation. Proceeds from the sale of these artworks will go directly to the Good Shepherd Social Welfare Services.
These special and meaningful events are widely recognized and participated in by social elites and celebrities, including the former President Lee Ten-Hui; president of the Judicial Yuan Rai Hau-Min and his wife Gu Deng-Mei; Minister of the Interior Jiang Yi-Huah; Taichung Mayor Jason Hu; Minister of Council for Cultural Affairs Sheng Chih-Jen; Jia-Yi City Mayor Huang Ming-Hui; legislators Fei Hong-Tai and Yu-Tien; former legislator Luo Wen-Jia; alderman of XinBei city Yin Xiao-Wei; former alderman Hou Guan-Qun and others.
There are also responses from outstanding foreigners in Taiwan, such as William A. Stanton, Director of AIT; Mario Luis Cucalon, Ambassador of Panama; Carlos Martinez Ruiz Diaz, Ambassador of Paraquay; William Manuel Tapia Aleman, Ambassador of Nigaragua; Marta Chang de Tsier, Ambassador of El Salvador; Ludwig Keke, Ambassador of the Republic of Nauru; Abed Alnaser R.A. Alhyari, Director of the Jordan Commercial Office; and the famous soprano Virginia Tola.
Chai Song-Lin , Chairman of Environment and Development Foundation; Kao Xi-Juan, Founder of the Common Wealth Magazine; Wang Li-Xing, Publisher of the Global View Cultural Industry; Ji Chong-Hui, Chairman of BNP Paribas Investment Partners; Wu Yi-Xun, Lico Technology, Lin Fan-Nan, entrepreneurs, and other social elites are eager to express their compassion through paintings created by their own hand.
Celebrities from other fields are making themselves part of the event as well, such as the famous fashion designer Jason Wu; fashion model Lin Zhi-Ling; Shih Jui-Jen, Director of Museum of Contemporary Art Taipei; writer Zhang Man-Juan; tennis player Lu Yen-Hsun; baseball coach Zheng Xing-Sheng; Liao Jia-Hong, conductor of Pro Arte Orchestra; and vocalist Fan Yu-Wen.
The artworks of Hundred Celebrities will be sold from 12:00 at noon, May 12, at the venue of ART Taipei 2011. The art director, Mr. Sun-Dun Lee said: "We appreciate very much those celebrities' compassion which was revealed through their artworks. We also expect the public collectors to bring these artworks home with the same compassion." The public is welcome to have a look at the venue during this time, or visit the website:
The Good Shepherd Foundation is run by good shepherd sisters, devoted to eliminating abuses, abandonments or trafficking among children, teenagers and women, as well as offering placement, refuge and remedial education. Due to lack of resources, servicing the society has never been easy; but nevertheless the foundation sticks on their quiet contribution against all odds. They need support from everybody.
The Art Revolution Taipei 2011 fair will take place in May12-15, 2011, at Hall 2, Taipei World Trade Center(TWTC). The installation of an antique steam train will reveal the classic masterpieces with artworks comparable to collections of the Tate Modern of London, such as Joan Miró 's original painting juxtaposed with its print, the one and only "red print" by Rembrandt van Rijn, the rare final artist's proof of Pablo Ruiz Picasso, Marc Chagall, Salvador Dalí. There are also 261 artists from 22 countries exhibiting their artworks. Art Revolution Taipei is a world-class art fair offering a grand experience beyond the boundaries of time and space .