【A.R.T.】 Interviews with participating artists (1)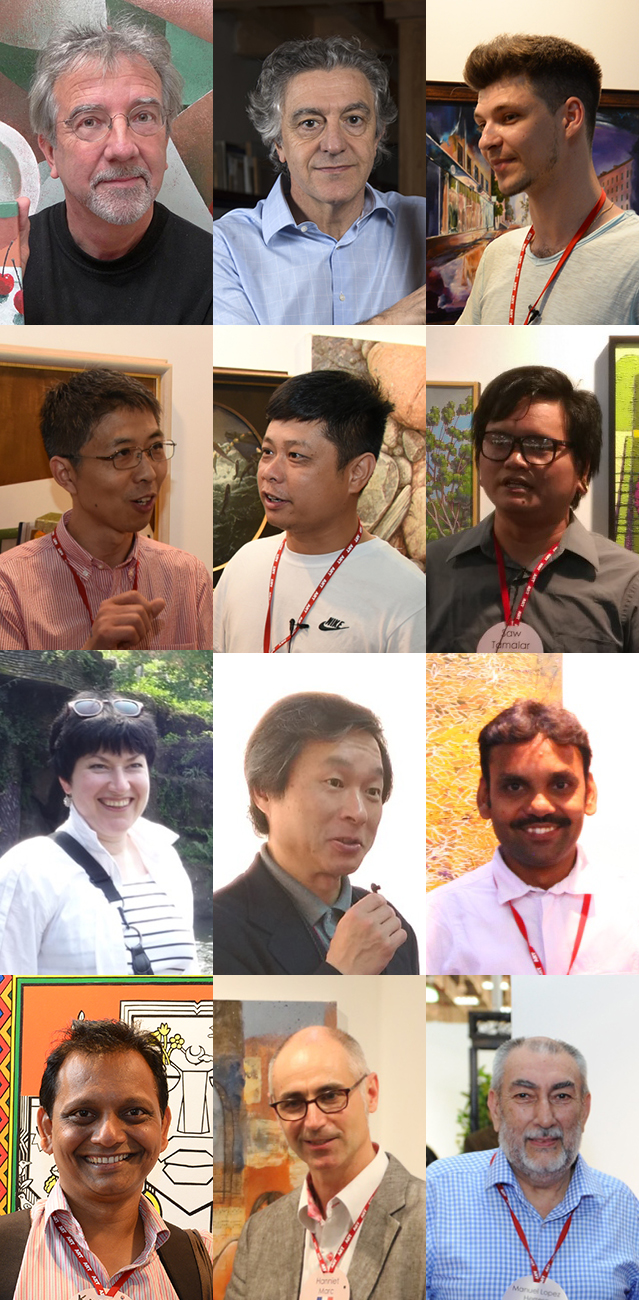 (1)Peter H. Harskamp
1951, the Netherlands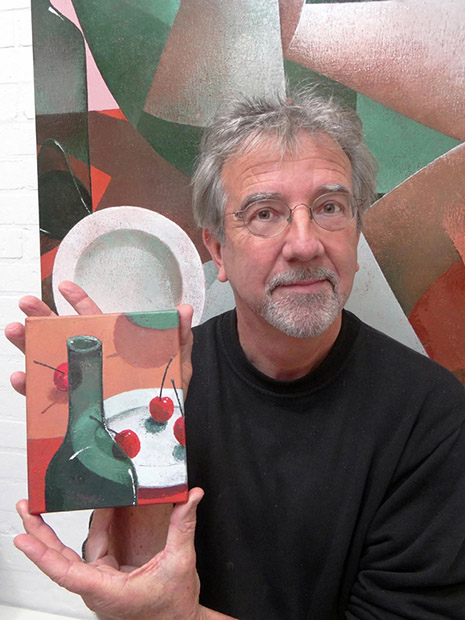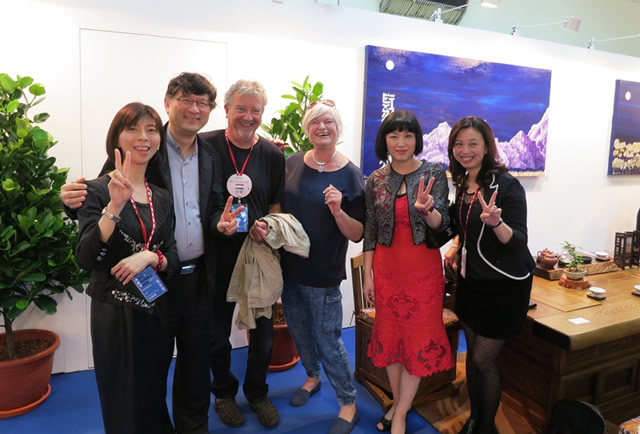 Peter and his wife (in the center) live in a small quiet village
He started participating in Art Revolution Taipei in 2012. The number of his collectors and fans has grown rapidly. He decided to fly to Taiwan from the Netherlands to meet with the fans! How rare is this? It is extremely rare~ as this was his "first time" to take the airplane! Since he was here and Taiwan is so friendly, it would be a big pity not to have a good time. For this reason, he planned to rent a car and travel with his wife on this island for 8 days after the exhibition was over.

They don't have any kids, so they treated their French bulldog "Gogo" as their own kid. (it happened that the name of the dog "Gogo" has the same pronunciation as "doggie" in Chinese). Since Gogo had diabetes, they had to give it an injection every day. Last year "Gogo" passed away, so they decided to come to Taiwan.

"If you love dogs so much, why have you never put them into your works or make dog sculptures?"He laughed and answered; he did try to draw dogs but did not succeed because the eyes of dogs are too gentle and friendly. The cats and owls he drew all have mysterious eyes and are very dramatic.

Many people are interested to know how he makes paintings. He said he has never done a sketch. He does not think about themes before creation. He just sits in front of the canvas and lets his inspiration flow. Once it happens, it flows without stopping. "This is like a type of Zen." The village where they live has less than 100 residents. He is surrounded by very quiet nature and lovely animals. His super cute neighbors – owls live in the forests. Once he saw a tree with 11 owls on it. Since he is very interested in human beings and animals, and the beautiful things around him, he keeps them in his memory which become his inspirations for his art creations.
(2)Alfonso Cuñado
1953, Spain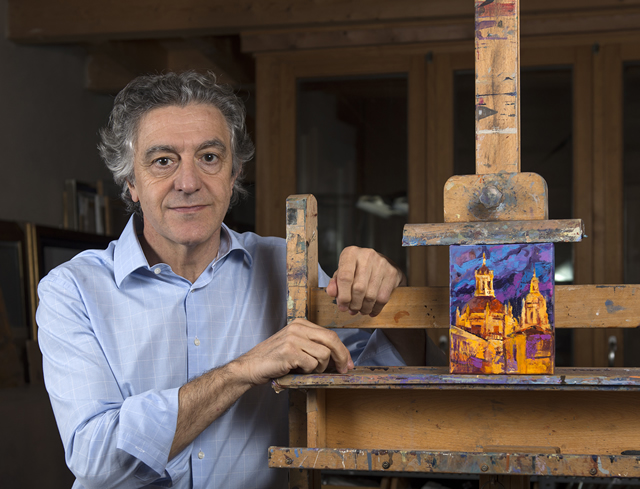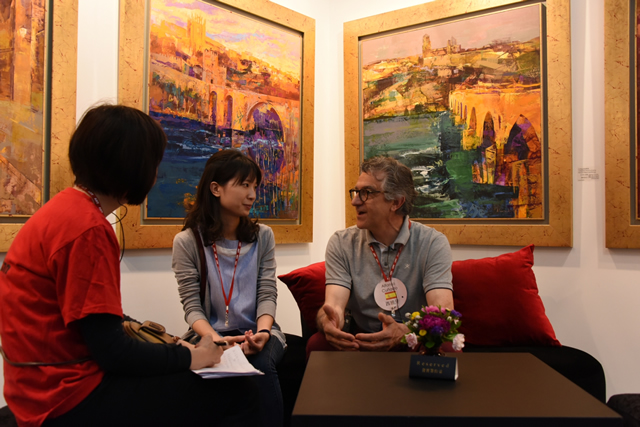 Alfonso (first right) has participated in the A.R.T. for 4 years on a row
"This is like the second home!" This was his fifth time to participate in the A.R.T. Alfonso thinks that the organizer has been very attentive with everything. A.R.T. is like a big family, so familiar to him that he is like returning to the second home. For this reason, he introduced many Spanish artist friends to the A.R.T.

Alfonso's art is characterized by the use of spatula. He even designs and makes his own painting boards. His Jazz Music and Street Artists Collections became great hits and sold out in the preview exhibitions. Even more inquiries came after the A.R.T. began. Since he majored in chemistry in college, he handled the paints as playing magic. "I added the blue tone into my paintings." "There are pedestrians on the streets" "Spanish cities are beautiful and I want to let people know them." Looking at the warm and bright images, someone passing by shouted: "Alfonso has brought the sun from Spain!"
(3)Svyatoslav Artemov
1985, Russia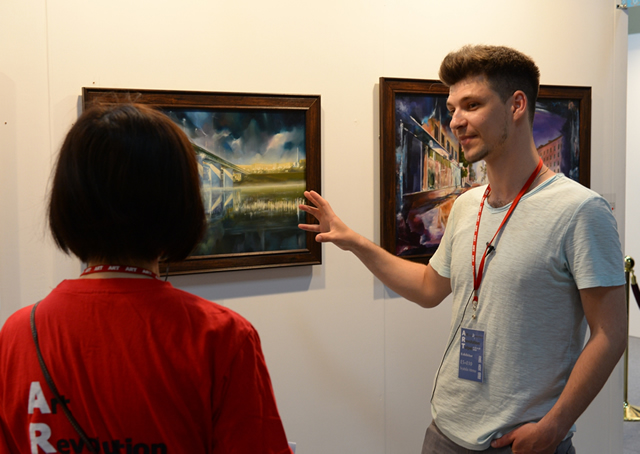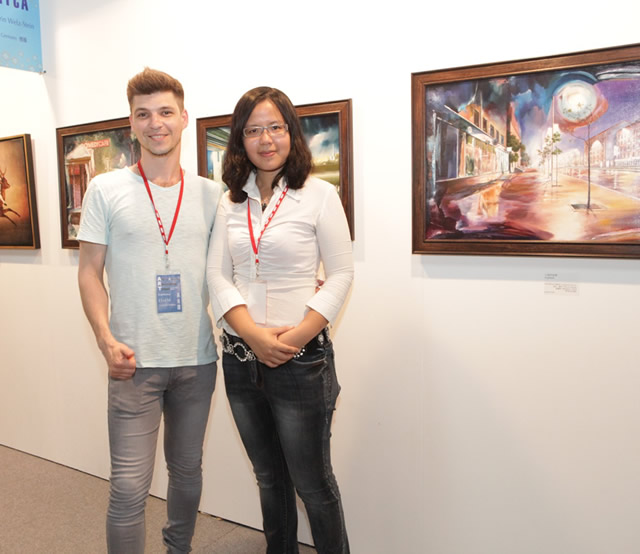 The stylish boy Svyatoslav comes from the city "Kaluga" in Western Russia. It was his first time to join this exhibition. "I am extremely happy! Because my work was not selected last year~" After his work was selected this year, he was full of expectation. He was wowed by the A.R.T. and kept on saying "Amazing!"

He brought three paints this time. "I like cities decorated with halo and the quiet and unique atmosphere of the night. His depiction of light brought life and dynamics to his works. Two years ago he traveled alone in India. Taiwan was the second Asian country he visited. "The street scenes of Taipei are very different from my home town. It has another type of beautiful atmosphere. If I can give it an interpretation, the painting will have a different style."
(4)Zhang Jian
1969, China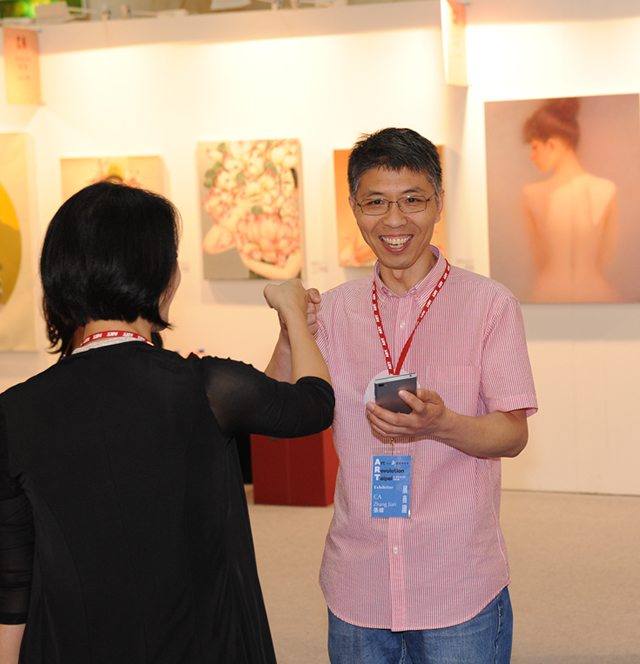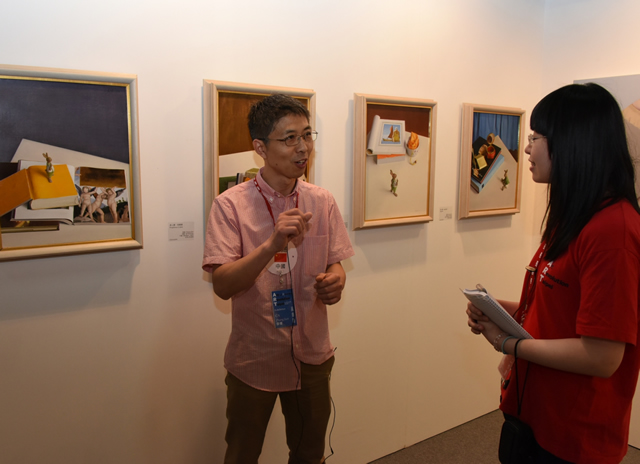 "This is my second time to join the A.R.T. and first time to be at the show. I feel it has been professionally done since the set up. I've been to many exhibitions. The A.R.T. has a higher level than the art show in Shanghai. The staff of the organizer works extremely hard. They are very professional, enthusiastic and dedicated to their work. They provide good service and demonstrate great leadership. I was not familiar with many local, foreign and mainland Chinese artists in the past, but this time we had good exchange. I am very nervous and excited. I like many of the works. There are big differences in terms of styles and features. I've learned a lot from the highlights of those paintings."

  Mr. Zhang thinks that artists should have their own unique styles, just like Fernando Botero used the form of fat Mona Lisa to create a legend.  This year Zhang brought the "table view" collection in which every painting has a classical piece from the art history in it. Through the eyes of the rabbit puppet, the artist allows us to see the world from a different angle~
(5)Pan Qingzhong
1970, China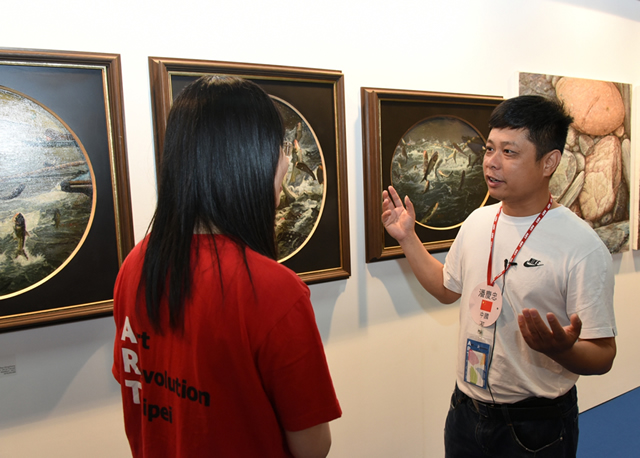 "This is my first time to join an art show in Taiwan. I am very glad. I am also surprised that so many Taiwanese people love art. The "Art your compassion" Charity Sale Event was very meaningful in the sense that people with needs can be helped through art. It touches me."

"To the organizer, I can only say one word: "good!" I cannot find any problems. I have never seen an exhibition to be set up so carefully and seriously. I am very excited every day. I exchange ideas with many artists, learn from them and study their works, which give me a lot of inspirations for my future artworks." Mr. Pan's hometown is in the Thousand Lakes in China. The area has a lot of fish resources. In his works the fish flip on the waves as jumping music notes. They also represent a good harvest. He said: "fish is wealth, and water is wealth. Wealth comes as waves just like fish back in water" with the hope that the collectors will be very "fish jumping". (the same pronunciation as joyful in Chinese)
(6)Saw Tamalar
1978, Myanmar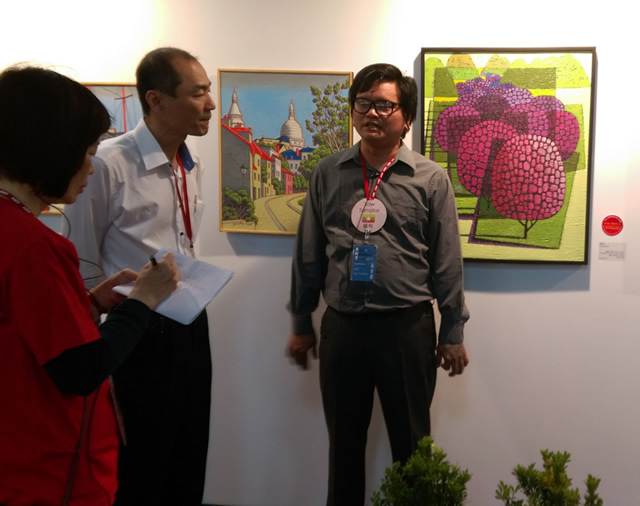 Because of the International Artist Grand Prize Competition, Saw joined such a large-scale art exhibition for the first time in his life. He got to see many works and made friends with artists from all over the world. He kept on thinking he would continue creating art. He said he would do this until the last day of his life.

Saw loves mountains, forests, rivers and land in the nature. He dreams of travelling to all over the world in order to appreciate and feel the beauty of nature. He also hopes to express his feelings on the canvas through his brush.
(7)Dita Luse
1972, Latvia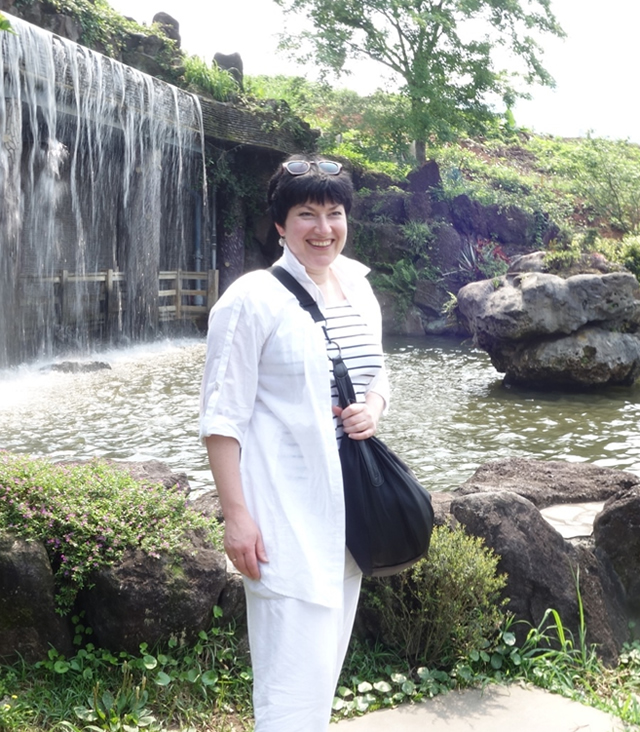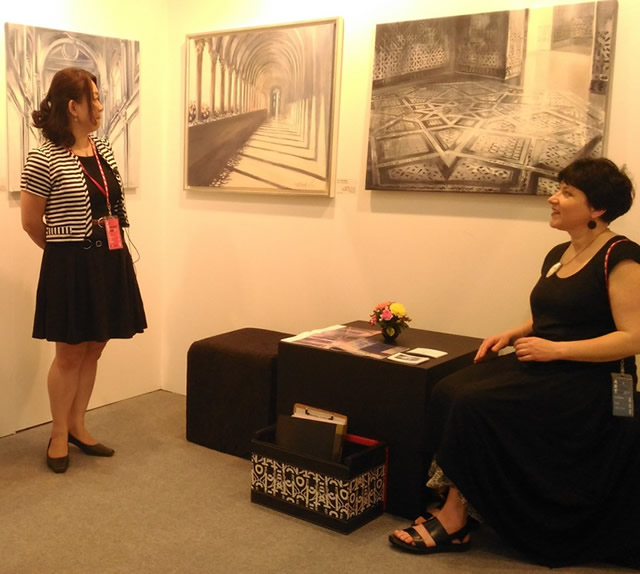 It was Dita's first time to be in Taiwan. She has been to many European exhibitions. She feels that the A.R.T. takes good care of the artists, has a high standard and is wonderful. "I am glad to join the A.R.T. This exhibition impresses me! The overall exhibition works in an organized way. It is perfect and the sales number is good. Among the thousands of visitors from the last few days, more than a hundred expressed their appreciation for my works. This touches me and makes me very happy."

Dita's subjects are the Milan Cathedral and tiles of the Middle Ages. Until now they are extremely beautiful symbols, and precious too. Whenever something gets broken, they will be restored. When people visit the Milan Cathedral between 12am to 1pm every day, they will see the beautiful scene. Her works show space in geometric and architectural styles with a focus on light and shadows. For this reason, these works are especially favored by architects. One collector bought 5 paintings at once. When he saw a painting he liked, he turned around and asked if his son liked it. If his son agreed, he would take it.
(8)Hiroyuki Asano
1964, Japan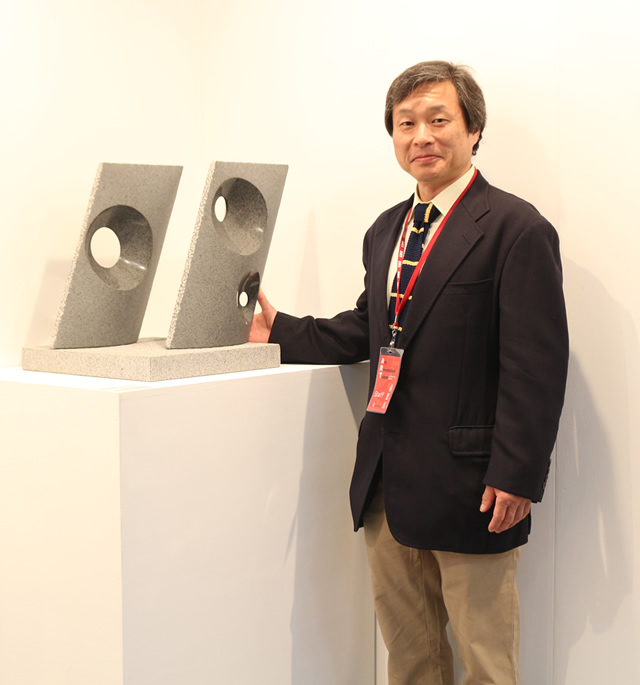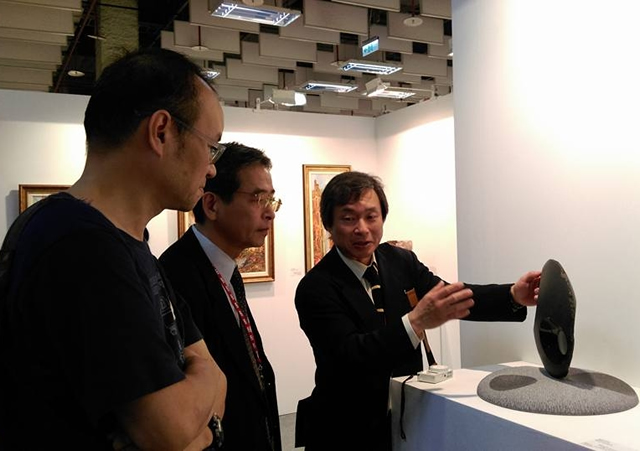 Asano is a famous international stone sculpture artist and associate professor of Tokyo University. He has won many sculpture awards from China, the U.S., Korea and Italy. His works are collected in Japan, Italy, France, Germany, Portugal, Luxembourg, Canada, China, Korea and Taiwan…etc. One can find his works at the entrance of Canada's Rockwood Park and in Taiwan's famous tourist attraction Alishan and East Rift Valley National Scenic Area Administration.

He had a part-time job in a stone factory when he was in his third year of college, and since then got connected with "stone". Once he made a hole on a stone and joined a competition. Out of expectations a child went through the hole for fun. The child was so happy and joyful. When the sun shone upon the sculpture, the shadow started to change as time passed by, and Asano had the feeling of going through time and space. This inspired him to create the whole collection. He believes that the ancient times can be seen now. His works use stone to symbolize time. The holes on the stones are the holes of time. The wind can go through the holes of time and space, so we can see the past and the future!

Asano said he was greatly touched by this art exhibition. It was massive. The works of many famous artists all gather in the same place. He felt so honored, happy and grateful for being able to participate this time. Compared to other exhibitions in the world, the A.R.T. is no less. It is large-scale with a lot of visitors, indeed a popular and great exhibition!
(9)Bhaskararao. Botcha
1974, India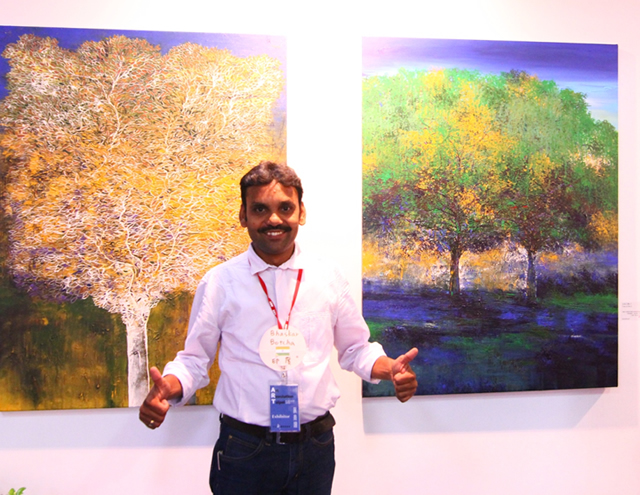 "Great!" "The A.R.T. is so massive." It was his first time in Taiwan. He feels that the whole city is clean and comfortable and compliments the beauty of Taipei. "I've been to exhibitions in Europe and Germany. The information provided by the A.R.T. is very clear and organized. This is not easy. I can get a lot of information right way and solve the problems."

Bhaskararao said, "Buddha reached enlightenment under the tree." The tree inspired him. He wants to depict the details of trees and present everything about trees to the public in order to show their greatness as the mother of the Earth. He is also grateful to the existence of trees. "This time another artist also created a tree collection. I can sense the feelings and the soul in his works."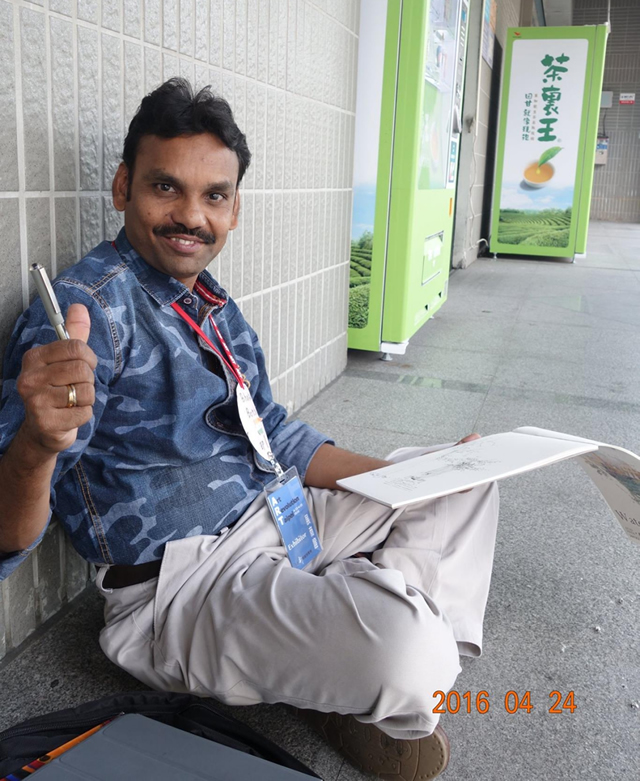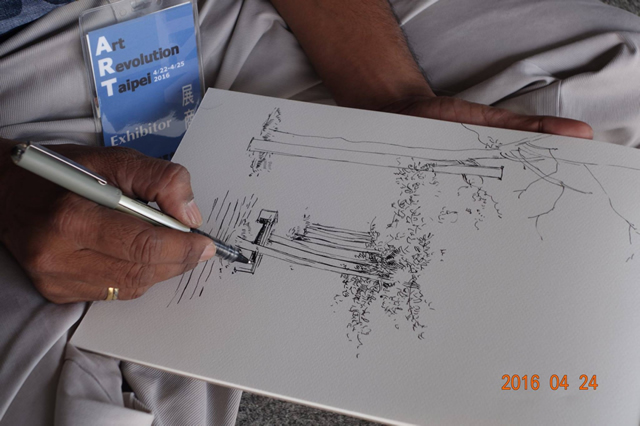 On the third day of the A.R.T., Bhaskararao sat on the ground outside of the exhibition hall.
He started making a drawing of his favorite subject - tree.
(10)K.S.Kameswara Rao
1974, India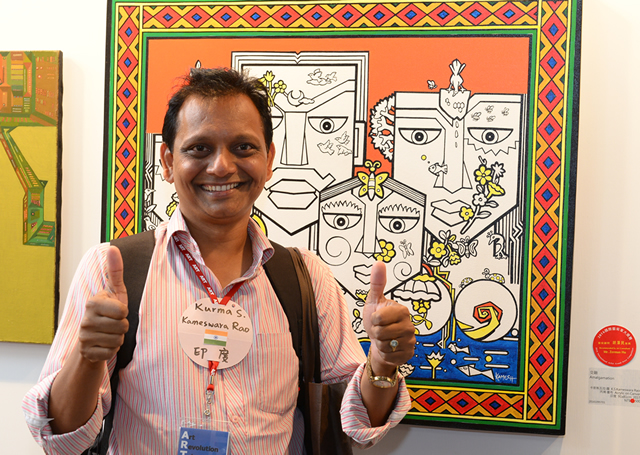 "This is my second time to join the A.R.T. I was here last time in 2014. I am back in 2016, and the staff is still very friendly. The environment is so neat and comfortable. I hope such a great show can continue. I can keep on participating to encourage more artists to come together." He looks forward to the Seventh A.R.T. coming next year.

His works for 2014 depict faces of all kinds of people in India. This year he adds the natural elements. He hopes to depict the co-existence between nature and mankind. In India, people believe five elements exist in every being: air, wind, water, earth and fire. These five elements compose the beauty of nature and are the energy to keep body balance. They are also essential to nurture the life of everything in the world. He blends these five elements into his work. The frame of the painting has red or yellow colors symbolic for the belief in Gods and surrounds the entire
(11)Hanniet Marc
1964, France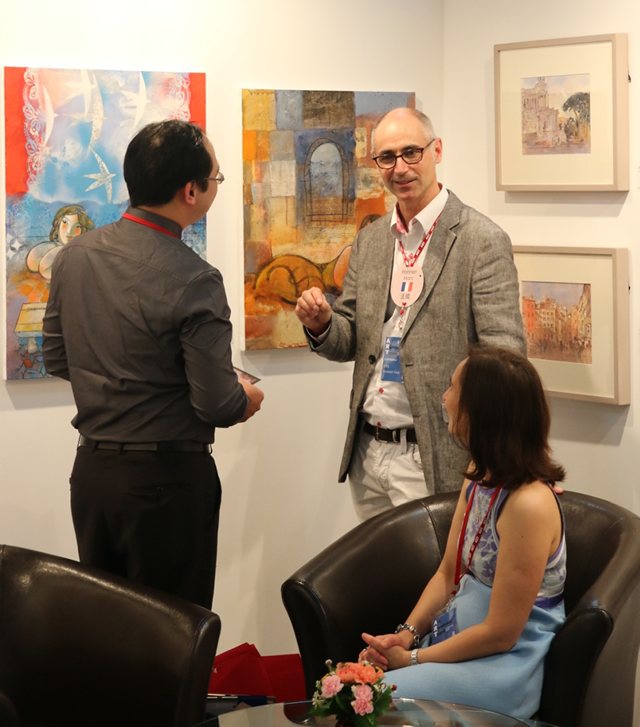 He started creating art since he was a child. Last year his works were selected for the International Artist Grand Prize Competition and all sold out. He was quite happy. He felt comfortable with the contact window and hence trusted the arrangement of the organizer. "Do you have any suggestions?" He said: "please continue! This exhibition is excellent. Besides, this is such a great question. Nobody would ask this. This question means the organizer respects the artists very much." "The visitors all dressed in an elegant way. This is impressive. I also feel that these visitors are real collectors. They have the capability to pick and buy. This is very important!"

Hanniet thinks that the organizer has done a great job. The planning has been five-star. Every area is complete in terms of size. One can spend 1 to 2 hours walking the entire show and does not feel too exhausted. The quality and technical standard of these works is very high. Every artist is not bringing too many works. For this reason, people can see many good and diverse works.
(12)Manuel Lopez-Herrera
1946, Spain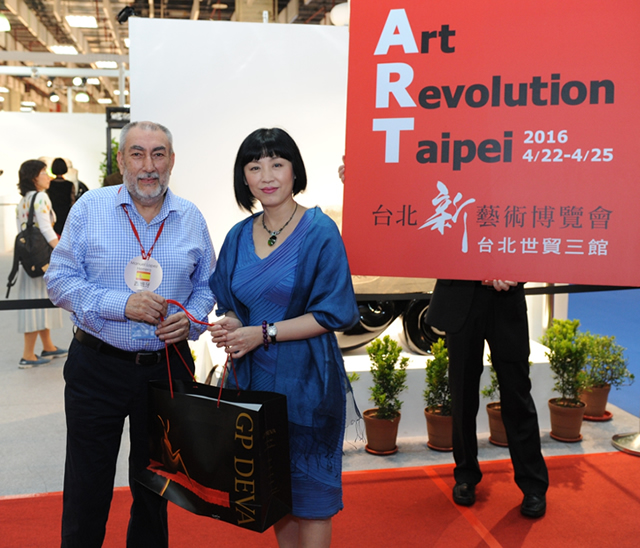 In the drawing, Manuel won the special gift prepared by the organizer and
happily had a photo with the Chairman of the A.R.T. Carol Chou.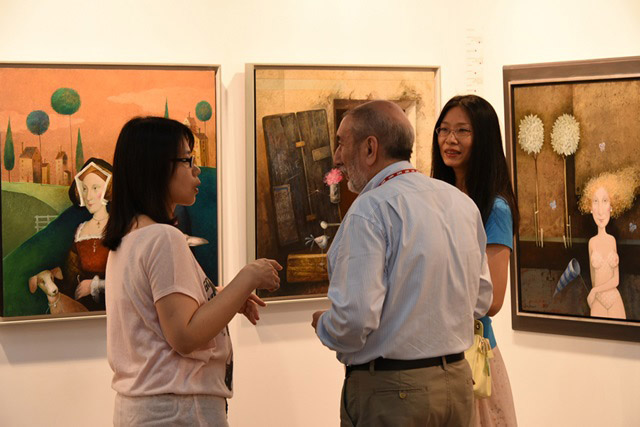 This year was Manuel's second time in the show. "I am grateful for the good location given to me by the organizer. There is a lot of traffic. I feel as good as last year, but my happiness and satisfaction double!" Last year it was his first time in Taiwan and he liked it. This year his appreciation doubles. He laughed and said "You can sign up for me now. We will be happy to join the A.R.T. every year."

"This exhibition is very different from those in the U.S. or Europe. The A.R.T. has been very organized since the beginning and takes good care of the artists. There is constant exchange and communication between two parties. When we exhibit somewhere else, we feel like we are fighting alone. But there is so much human warmth here. The organizer is friendly and looks after us. That is the biggest difference."

Manuel's works show a style of magic realism. He said his paintings for this time do not have particular themes. People can find humor and sarcasm. The works show a relaxing lifestyle. However, in terms of techniques, Manuel shows the same exactness and diligence. His style can be recognized easily and allows the viewers' imagination to go wild.
█ Interviews with participating artists
Interviews with participating artists

(1)
……………… more
Interviews with participating artists

(2)
………………… more
Interviews with participating artists

(3)
………………… more
Interviews with participating artists

(4)
………………… more
█ Interviews with participating artists video
Interviews with artists video I
…………………more
Interviews with artists video II
…………………more
Interviews with artists video III
…………………more
Interviews with artists video IV
…………………more