【A.R.T.】 Interviews with participating artists (4)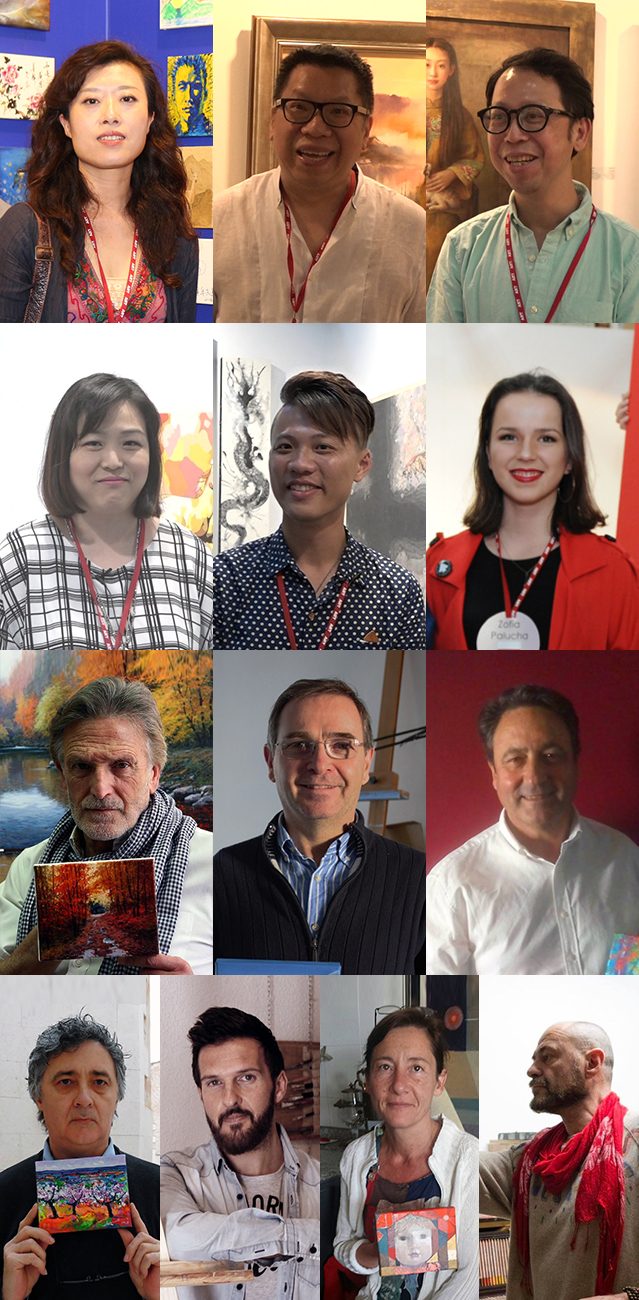 (37) Cao Ying
1974, China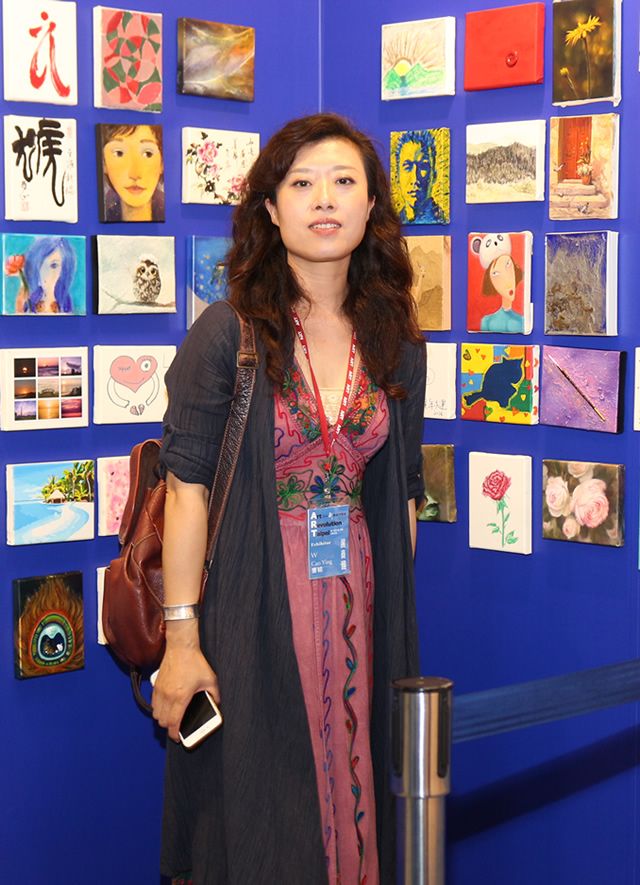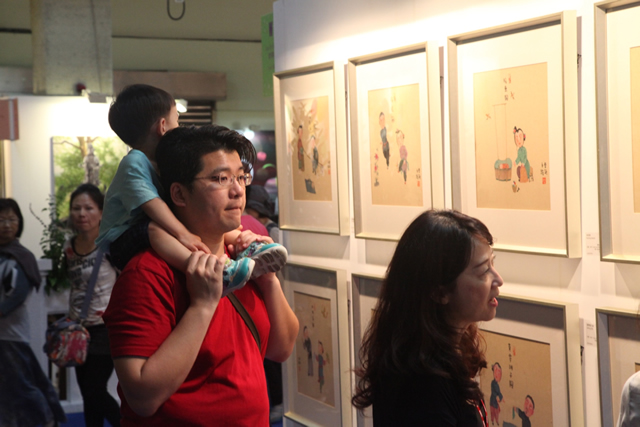 Cao joined the A.R.T. last year for the first time through the referral of a Mainland Chinese artist. She thinks that the A.R.T. has a higher standard, more international diversity, more opportunities for exchange, and a better platform. As the A.R.T. is held in Taiwan, it can be considered a cross-strait cultural exchange. This year she decided to come to Taiwan in order to have first-hand experience of the reputed art expo.

Cao has a background in Chinese literature and art. Her mother is an artist specialized in fine brushwork and Cao was influenced by her when she grew up. For this reason, she was exposed to art and literature in depth. "A lot of images come in my mind, showing everything that happened in the market place and neighborhoods when we were kids. "Kite playing, shuttlecock playing…the simple and frugal lifestyle in my childhood becomes images before me, leading to the creation of the "Old Beijing Custom Collection". I want to describe people's social customs and activities from the past." The paintings record how people lived in the past. This lifestyle has quietly disappeared along the change of time and space. The paintings bring back people's memories.
(38) Thomas Leung
1958, China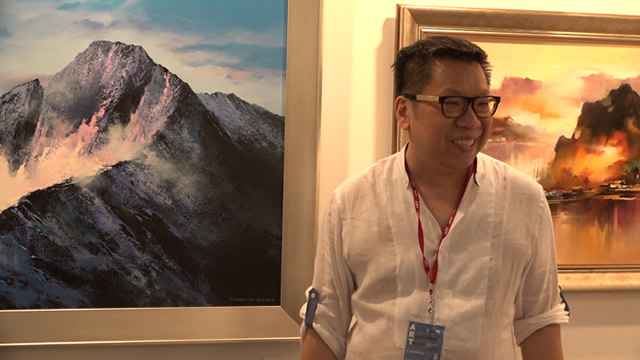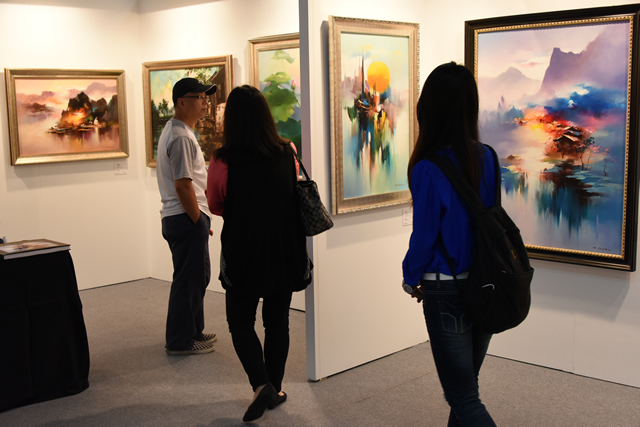 "There are a lot of visitors. I am tired of standing but I am quite happy." Liang is from Hong Kong with American nationality. He has joined many exhibitions in the U.S., Japan, Singapore and Shanghai. He said: "it is rare to see an art expo with such a high standard like the A.R.T.!" "There are a lot of works here, with all kinds of subjects. I've met many artists for the first time and their creativity is unique."

"I love mountains. I've brought this painting "The sky of the Jade Mountain". In order to join the A.R.T., he brought the newest works. "I went to the Jade Mountain in person to feel it and created the Jade Mountain in my heart." "Oh! You climbed the Jade Mountain~~" Liang said: "It was really exhausting to climb the Jade Mountain. But I love mountains, so I felt happy! I chose the blue color to express my feelings for the scenery of the Jade Mountain. I want to deliver a peaceful atmosphere."
(39) Ning Tao
1971, China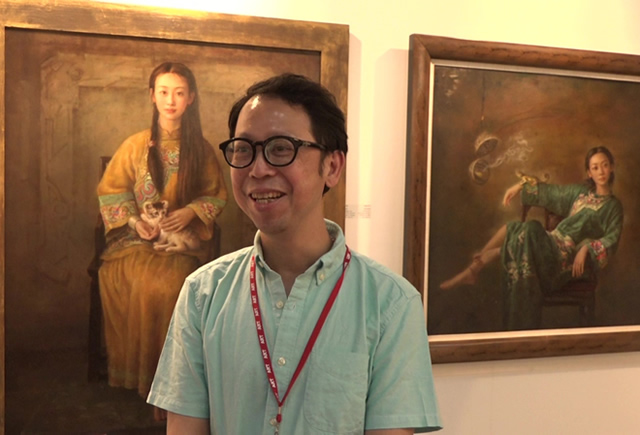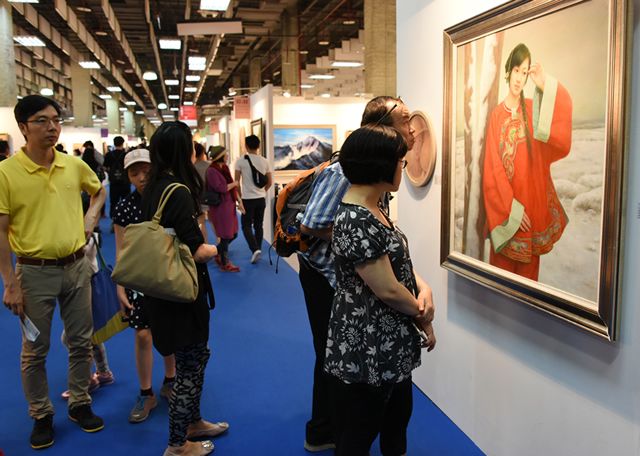 "Once a painting is sold, someone will come to settle the accounts and pack it. You cannot find this in other art expos." Ning continued saying: "the service of the organizer is very good! My works were here in the past. However, this is my first time to be at the booth in person and interact directly with collectors and viewers." "This direct interaction has a great impact on me!"

"I brought more than 10 works this time. I tried to express contemporary ecology in a classic and realistic style. In the last I mainly portrayed the beauty of oriental women." "I've made new attempts to develop an animal collection in order to express myself in multiple dimensions." Ning wants to bring works that are more lively and different.
(40) Shih Yu-Chung
1972, Taiwan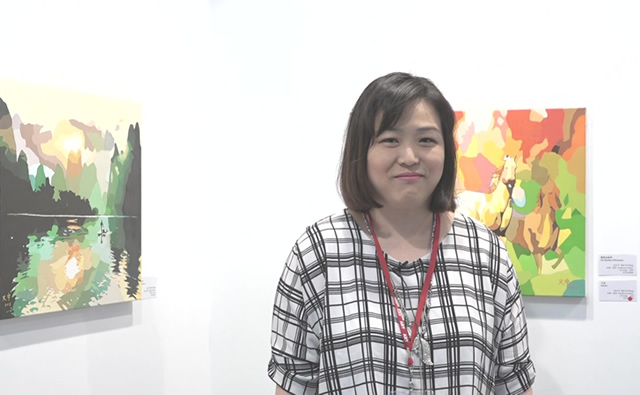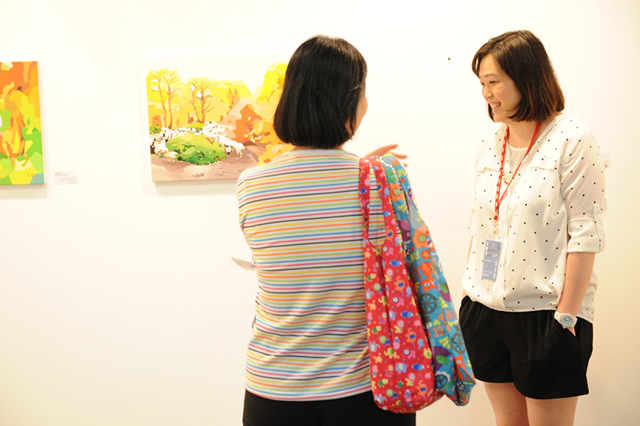 "I came to see the A.R.T when it was held the first time. I was thinking how nice it would be if I can exhibit my works in such a wonderful exhibition!" She thinks that the expo is focused on artists, has a very clear positioning, attracts many artists from many countries every year, helping her to develop views of international diversity. "It is really rare to see an expo giving new artists the opportunity like the A.R.T.!" She is grateful for the great sponsorship of enterprises to allow her to present herself on the international stage. "The staff are thoughtful, and many details are taken care of. It is a good learning opportunity to meet many artists. I found this opportunity so precious and feel very honored."

She majored in drama and learned painting by herself. It has been 7 years since she started creating art. As she loves art, her work was selected for the 2014 International Artist Grand Prize Competition and she gained the opportunity to exhibit at the 2015 A.R.T. This is her third year to join the A.R.T. "Half abstract and half realistic" is how she would explain her works. "I want to give people room for imagination. I intersect different color blocks to express movement and spatial perception." She uses color blocks to portray natural scenery with acrylic paints. This year she focuses on details. The color blocks have more colors to show the changes of light and shadow. The paintings are smaller than before. She laughed and said: "I must make some kind of breakthrough every year! I hope the viewers can feel joy and healed through the works."
(41) Chen Yong-Lu
1986, Taiwan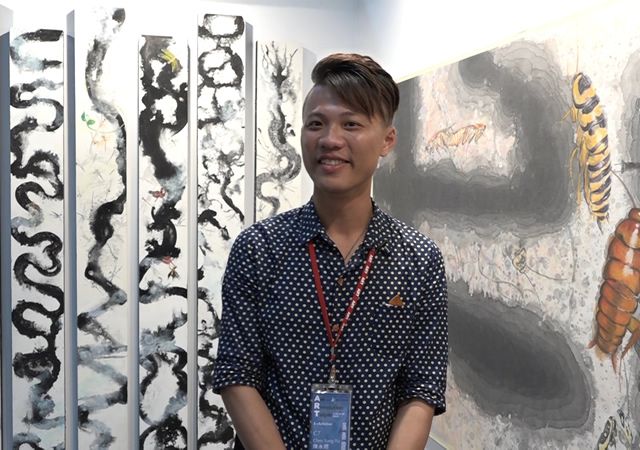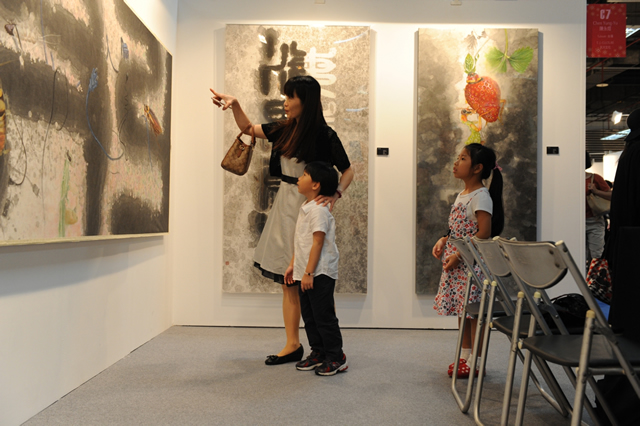 "Being able to join the A.R.T. is such a precious opportunity. The expo can provide us with the opportunity to meet collectors and galleries." The new artist Chen mentioned that in the process he gained a lot of suggestions and help. Especially in terms of market, he thought about how to gain a balance between his personal style and the market. "I feel honored to be able to exhibit here with international artists."

"I want to express that the young generation can be strong." As someone born after 1980, he painted fragile strawberries and strong cockroaches as a contrast. With "cockroach" as the subject for this time, he used water ink and seal character. He wants to add Western oil paints and acrylic paints, and at the same time keeping oriental traditional elements. He laughed and said that his theme is not in popular demand. "I hope that the cockroach not only attracts people's attention but also represents a tough life." He wants to use it to describe the humanity aspects and social reality observed from his life experience in order to tell the story.

Cockroach has always been his subject. This year he added butterflies, but they are black and white. The colors of butterflies go into the background in order to show that people always hide the dark sides of their minds and cover up themselves in beauty.
(42) Zofia Palucha
1993, Poland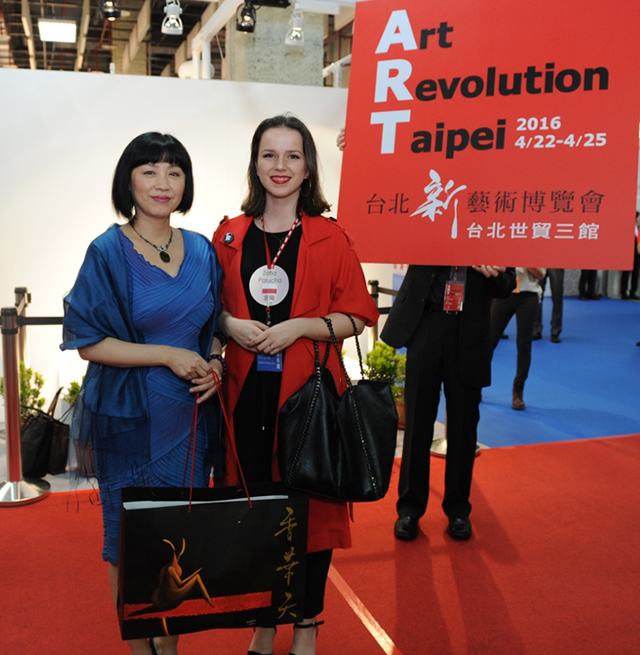 At the drawing Zofial was lucky to win a super exquisite gift prepared by the organizer
and had a photo with the Chairperson Carol Chou.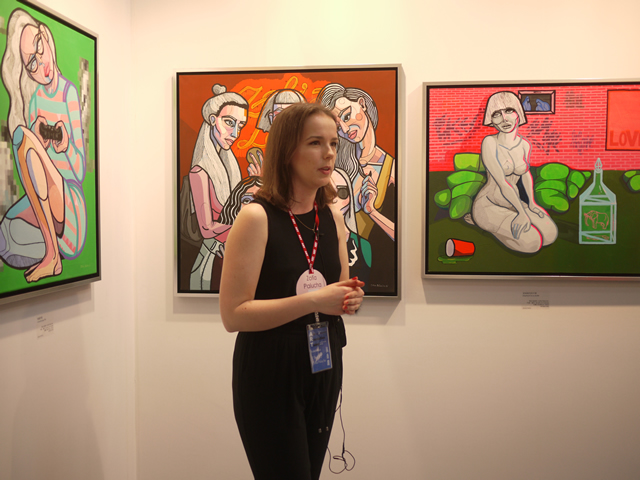 "I did not expect I would win!" Zofia's art has a unique style which is easy to identify. She is considered by the art circle to most likely become one of the famous Polish artists in the future. As she won the prize from last year's International Artist Grand Prize Competition, she got a booth to exhibit her works this year.

"My father is a famous artist in Poland. In the past I have never expected myself to become a professional artist. I've joined the A.R.T. for two years and I am going back to do a good planning for my own future." "Once I got the catalog, I opened it immediately. Only one artist has the same age with me! " (both were born in 1993, making the record as the youngest artists for this year) "Here I meet many artists. We stimulate and inspire each other. I am still too young and have a lot to learn." She said with modesty.

"My paintings focus on single women and some segments of my own life experiences." The paintings express the internal world and real life of women. "Women wear high heels for beauty, just like the flamingo." "This painting called The Night is Late depicts a scene in which the woman is alone." The colors are bright and the style is unique, making her works stand out.


"Spanish Art Area"
Starting from 2013, the A.R.T. launched the "Spanish Art Area" from Picasso's hometown. The area gathers works of excellent Spanish artists. "This year we have brought works of 7 artists with completely different styles." Ms. Rosa Anguas – the agent of the Spanish Art Group Rosa introduced these outstanding artists with enthusiasm. "Quality excellent" is my return to the A.R.T.. That is why every year we picked a diversity of artists hoping to bring more dimensions to the expo."
(43) Miguel Peidro
1950, Spain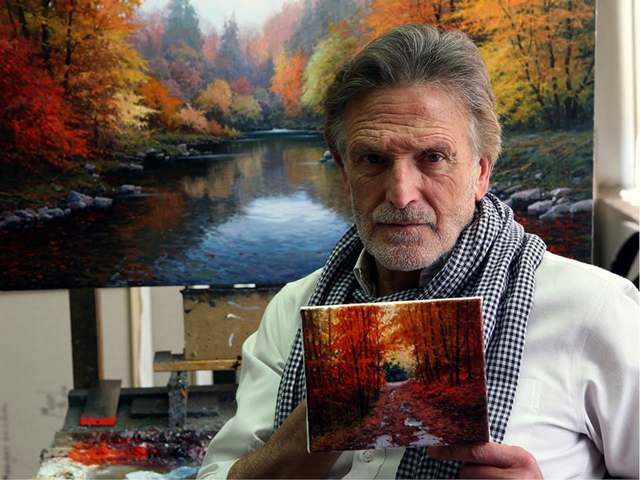 Miguel created a painting for the A.R.T.'s charity event "Art Your Compassion"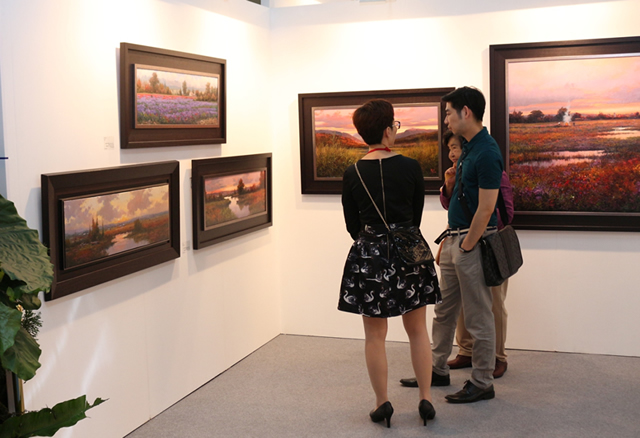 Miguel Peidro joined the A.R.T. last year and gained wide popularity. He is an impressionism artist specialized in landscape paintings. He is very sensitive to natural beauty. His works show a Monet style and he is good at drawing inspirations from nature. This year one painting shows a lilac field, which is an image of the artist's hometown.

In his works for this year, humans and smoke are added. They emphasize on the harmony between mankind and nature instead of just stiff landscape. The contrast between the nature's peace and human actions is also an essential element in his works. Just like "Alps in the Spring" shows a contrast between blooming flowers of early spring and remaining snow of late winter, a contrast between light and shadow on the mountain peaks, and a contrast between colorful flowers and plain forest. All these contrasts enrich the painting.
(44) Toni Cassany
1962, Spain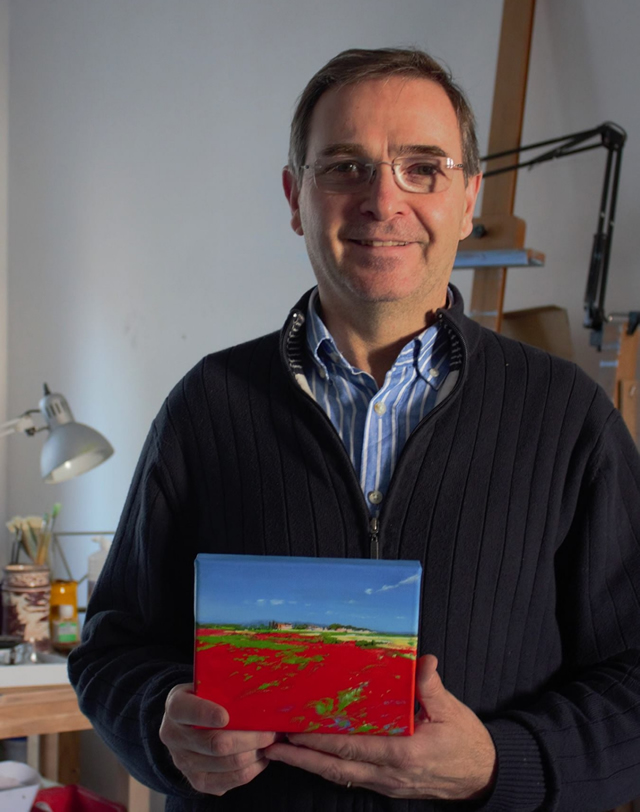 Toni created a painting for the A.R.T.'s charity event "Art Your Compassion"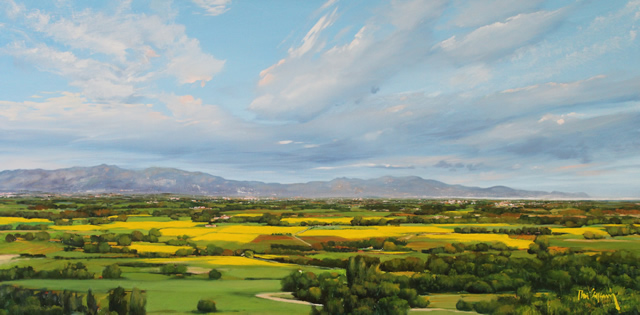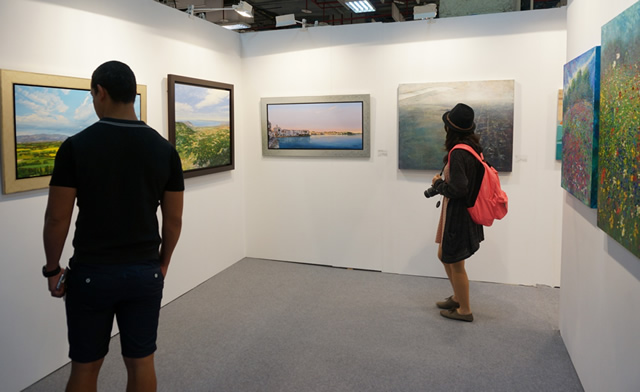 Toni Cassany's art style can be called lyrical realism. He makes the paintings outdoor and shows his feeling about the light and shadow in his works. He is good at portraying the beautiful scenes from an aerial view. His paintings show a strong touch. The scenes of mountains and fields extending to the skyline and changing clouds in the sky are the two features of his works. In order to create the depth of field, he also outlines the far-away houses clearly. Toni not only likes the land but also likes depicting the humans on the land, such as working famers. His works often have different visual impacts on the viewers.
(45) Andrés Rueda
1956, Spain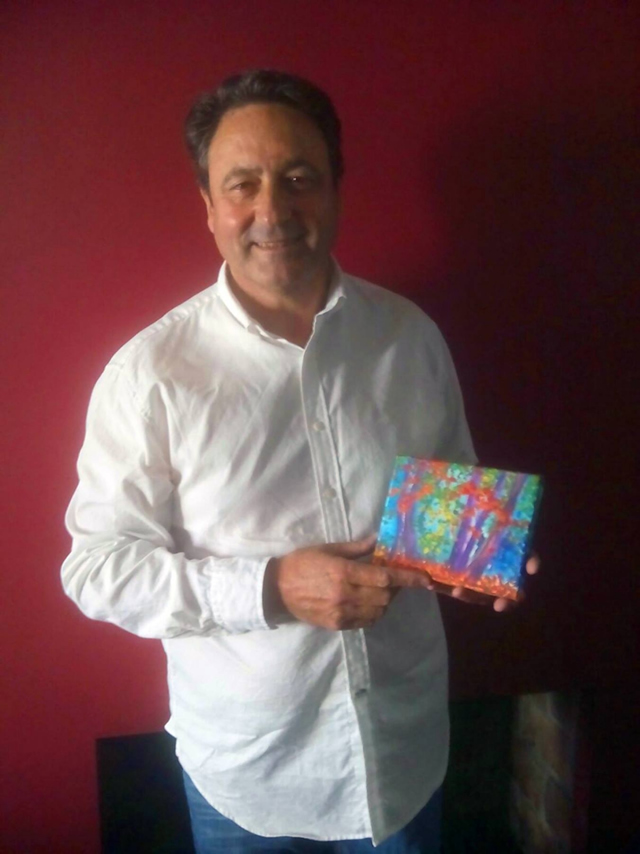 Andrés created a painting for the A.R.T.'s charity event "Art Your Compassion"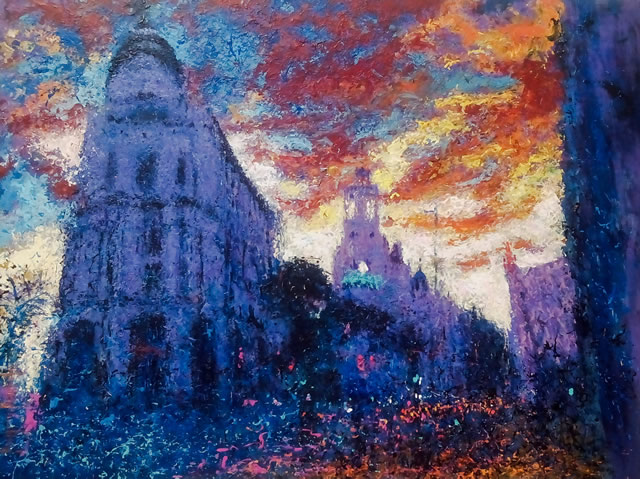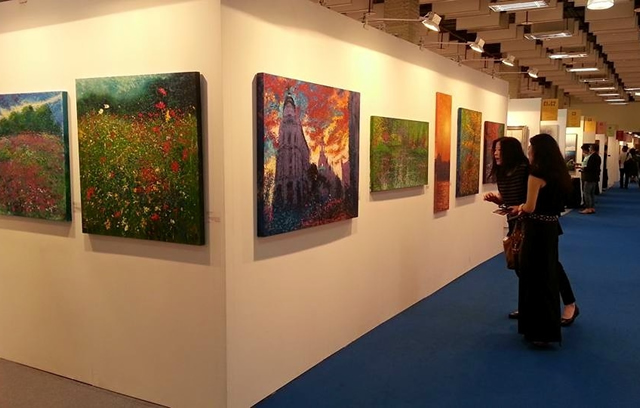 The impressionism master Andrés Rueda joined the A.R.T. this year for the first time. He developed a unique painting style to combine Pre-Raphelite brotherhood, symbolism, impressionism and neo-impressionism. His colors are bold and heroic. The style is none realistic and combines spray painting, giving people a wild and free feel. He uses this style on his favorite – landscape painting, which creates an amazing result. Just like the painting "Look at the sky" shows Madrid's famous landmark in an impressionist style. The weird and constantly changing clouds on the top suggest the style of the Spanish classical master El Greco and also remind people of Van Gogh's Starry Night that show strong emotions.
(46) Ulpiano Carrasco
1961, Spain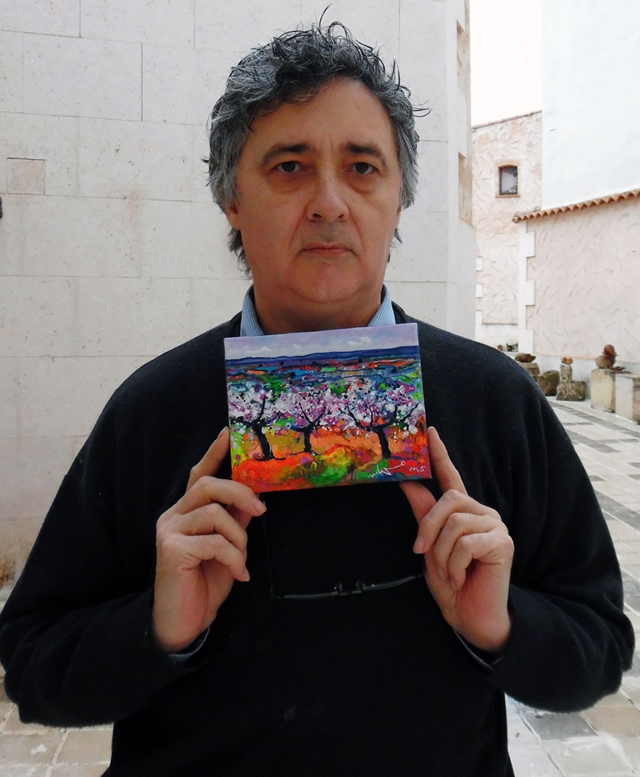 Ulpiano created a painting for the A.R.T.'s charity event "Art Your Compassion"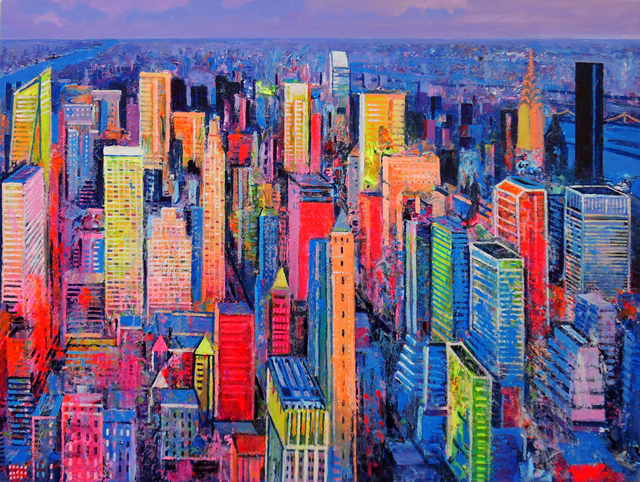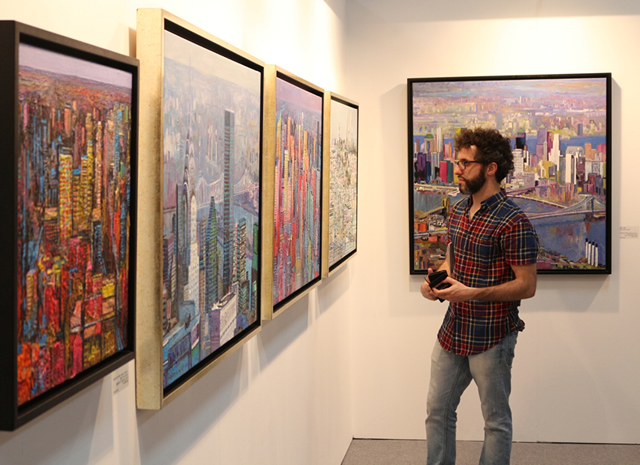 The Spanish artist Ulpiano joined the A.R.T. for the first time and his works are easy to identify. Named as "Modern Van Gogh", he is an impressionist master famous for scene paintings. Internally he is wild and romantic as an expressionist, but in the appearance he is covered with a color palette of impressionism. The painting "Paris" has an ultimate expression of the City of Light symbolized by the Eiffel Tower. The colorful roofs and complicated objects seem to bring a party of colors to the stage so that people can sense a fire-like power. However, it is also full of innocent and fun atmosphere.
(47) Javier Bajo
1973, Spain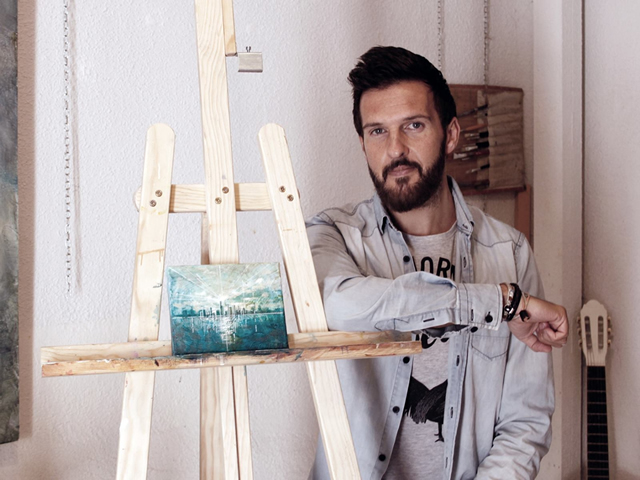 Javier created a painting for the A.R.T.'s charity event "Art Your Compassion"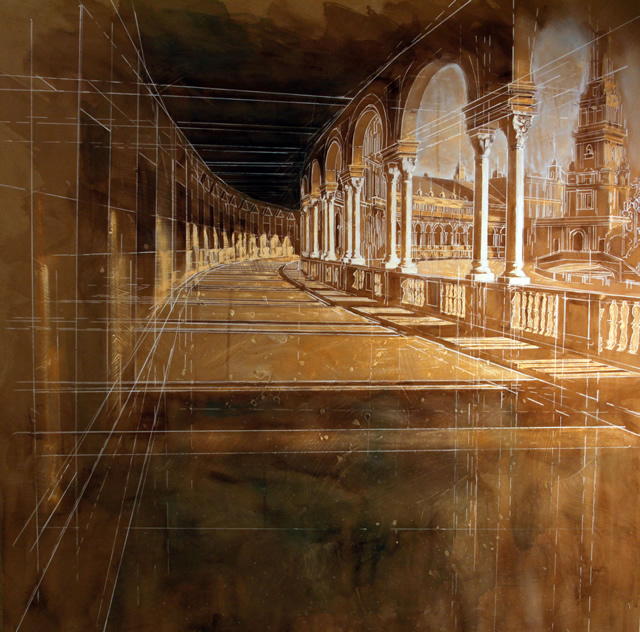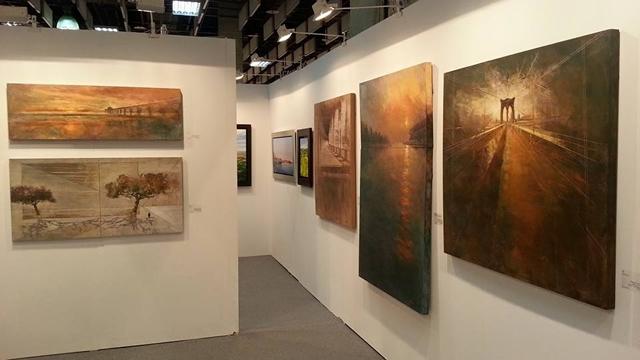 It was Javier's first time to join the show. His style is cubic impressionism. With wooden material and lines created by knife, he created special light and shadow effect. The composition of inward contraction leads the vision to a far-away place where one finds the bright and splendid scene. Javier likes the co-existence of emptiness and reality showed by concrete subjects with an abstract background. In the painting "Spanish square", you can follow the perspective line and see the brightness and darkness taking forms to create spatial perception of emptiness and reality. It comes to an end in the pillar-shaped hallway, showing a contrast between straight lines and curves.
(48) Ana Perpinya
1965, Spain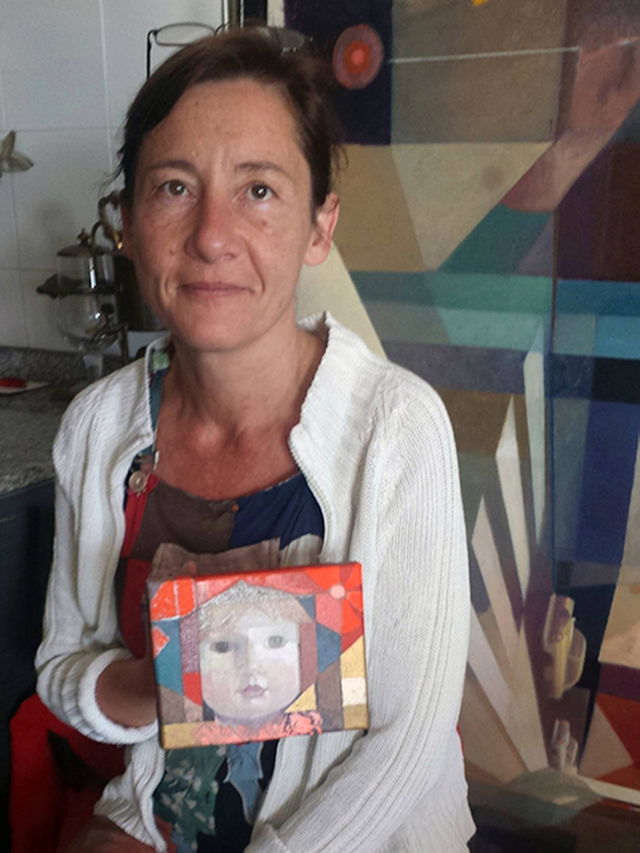 Ana created a painting for the A.R.T.'s charity event "Art Your Compassion"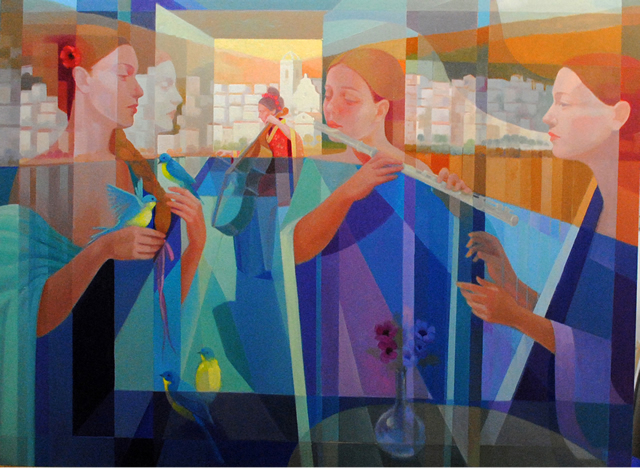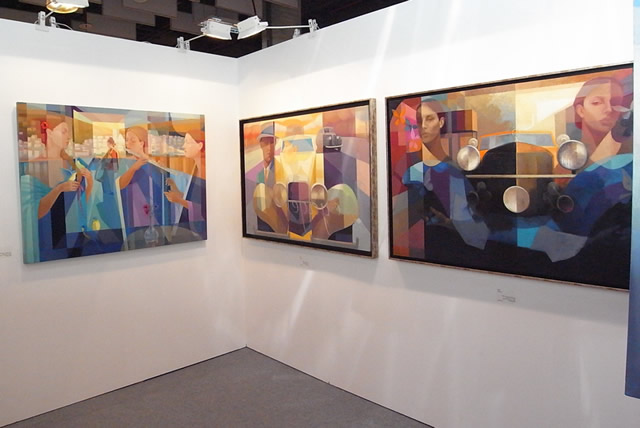 If cubism is to show different angles of vision on the same canvas, Ana shows different times on the same canvas. Her works tell stories, just as TV series, allowing the viewers to imagine the plot.

The works of the music lover Anna show soft colors to portray women's disposition, classical and elegant but not too old-fashioned. In fact Ana also has works with strong colors but they do not show a intrusive feel.
(49) Vicente Romero Redondo
1956, Spain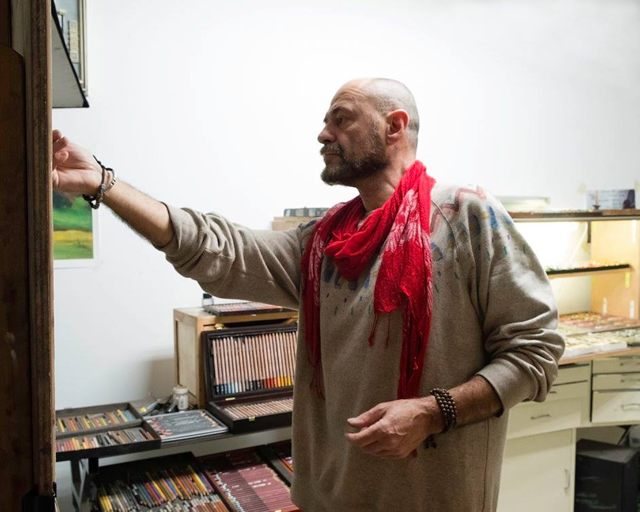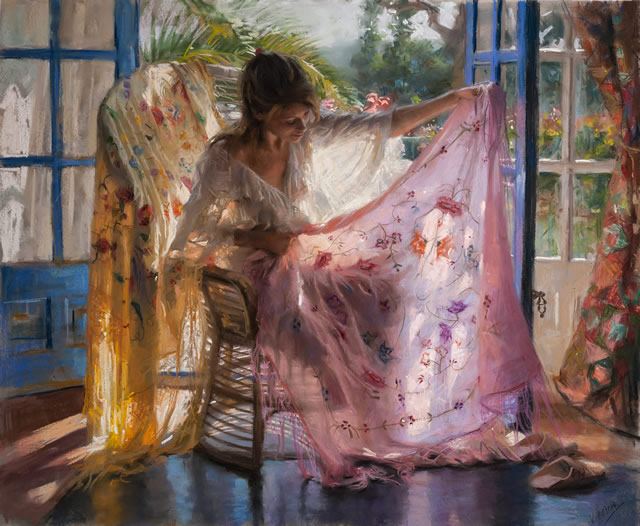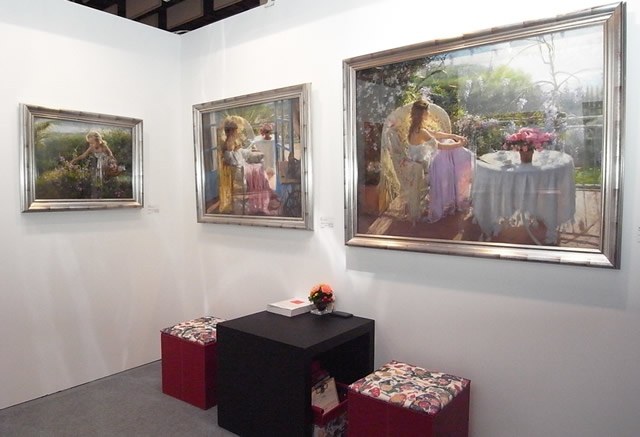 The works of the oil pastel painting master Vicente Romero are popular in Europe and the U.S. With women as the main subject plus the Mediterranean atmosphere and sunshine, his works show a sweet and relaxing style. He graduated from Dali's school – High School for Art San Fernando with excellent academic performance. When he was young, he had the street artist experience and acquired outstanding painting skills. He is often invited to many European art schools to give lectures. Other than people's romantic charms, he also challenged himself to work on other details, such as lace and silk textile. The shine, colors, transparency and graceful feel are all handled well. Since these works are done with oil pastels, no wonder collectors have high demands.
█ Interviews with participating artists
Interviews with participating artists

(1)
………………… more
Interviews with participating artists

(2)
………………… more
Interviews with participating artists

(3)
………………… more
Interviews with participating artists

(4)
……………… more
█ Interviews with participating artists video
Interviews with artists video I
…………………more
Interviews with artists video II
…………………more
Interviews with artists video III
…………………more
Interviews with artists video IV
…………………more