【A.R.T.】 Interviews with participating artists (2)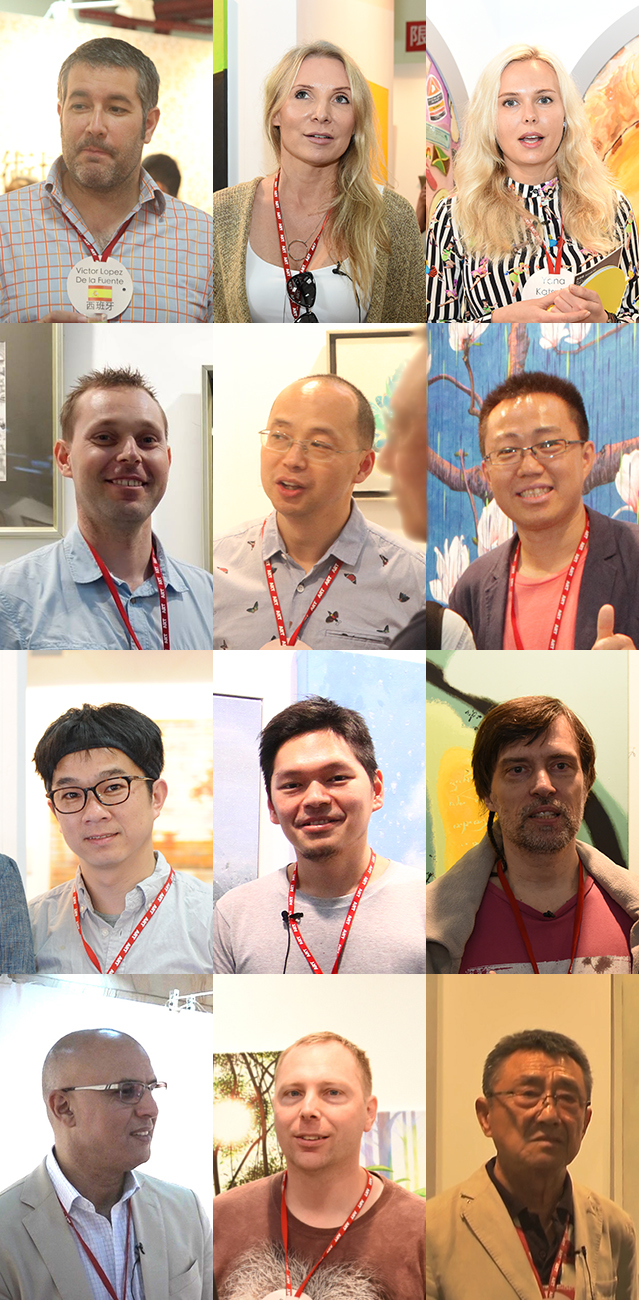 (13)Victor Lopez De la Fuente
1975,Spain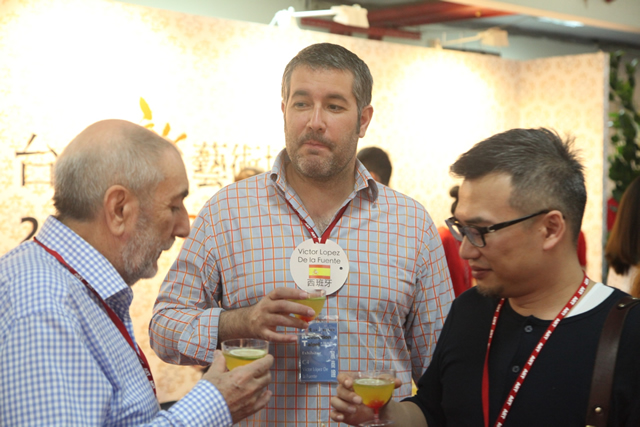 Victor Lopez De la Fuente(中)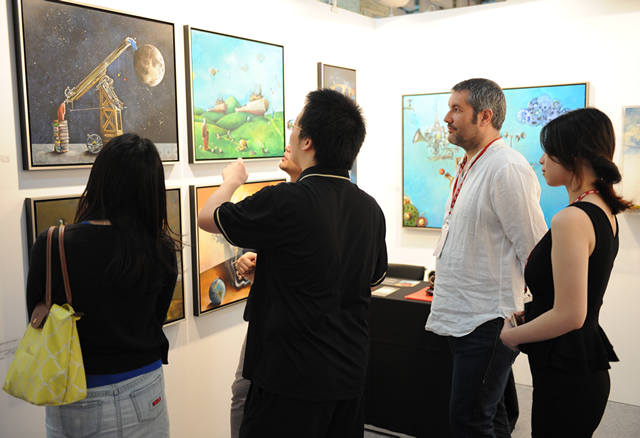 This was Victor's first time to join the A.R.T. "I feel that the A.R.T. is a very good art expo. It is good in all aspects. I am very satisfied! I've been to international gallery exhibitions, and often exposed to professionals. However, here in Taiwan we are exposed to the general public. It is a very new expereince for me." He was grateful for the help of the organizer. In his exchange with the general public, he could feel our kind nature and had a good time.

Victor is the son of the artist Manual Lopez-Herrera. Since Victor was a child, he was exposed to art and enjoyed painting. "My father focuses more on realism. There is more room for imagination in my works. The imagination can go free and wild." He said his style is magic realism. Reality plus surrealism allows people to have different imaginations and feelings. This time he brought works that combine paintings and sculptures, which can boost new creativity.
(14)Anna Bocek
1973,Poland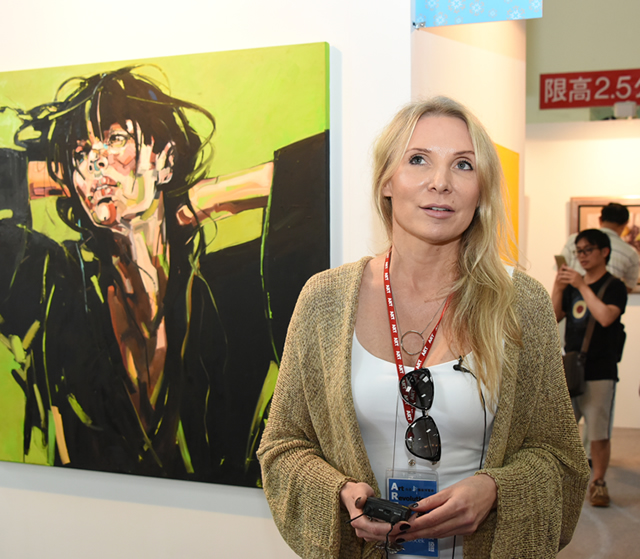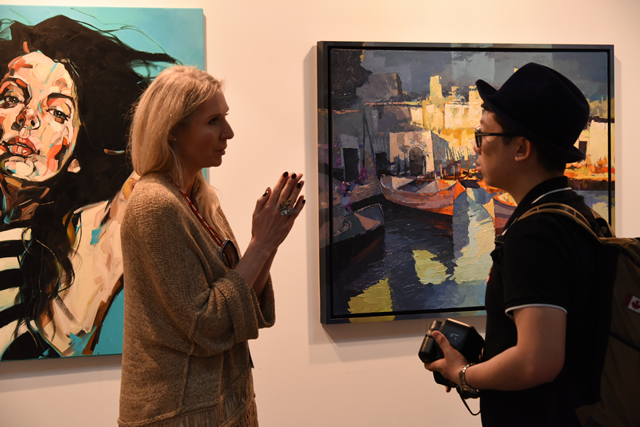 This was Anna's second time to join the A.R.T. Last time it was three years ago. "How to describe your works with just one word?" "I guess rich expression or vibrant energy, because constantly many ideas, colors, shapes and patterns come into my brain." Anna has several roles. She is a writer, a stage set designer, a designer for drama, art and space. She uses half of her time for art creation and the other half for set designs. Her subject focuses on people. "Some are real people. Some are created from my imaginations. Some reflect part of me." She is very active in the art circle and has won 11 art awards. She has done 54 exhibitions in the U.S., Europe and Asia and has been featured by 13 art magazines from different countries.

Anna was amazed by the fossil collection created by the Art Director Lee Sun-Don. She thinks it is incredible to integrate fossils from tens of billions years ago and modern sculptures. She is happy to be able to interact with the Taiwanese public and get closer to a different culture through this exhibition. She feels that it is a wonderful experience. She likes the A.R.T. as it allows her to show her works again. She also finds the security here comprehensive and high-level.
(15) Yana Katsuba
1979,Ukraine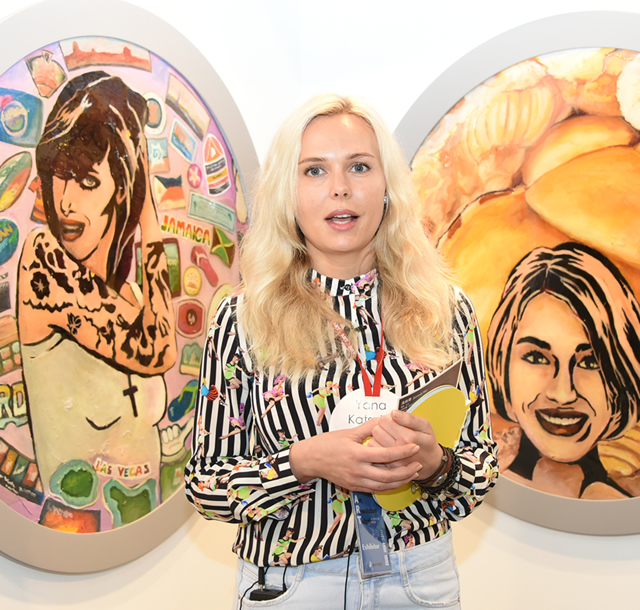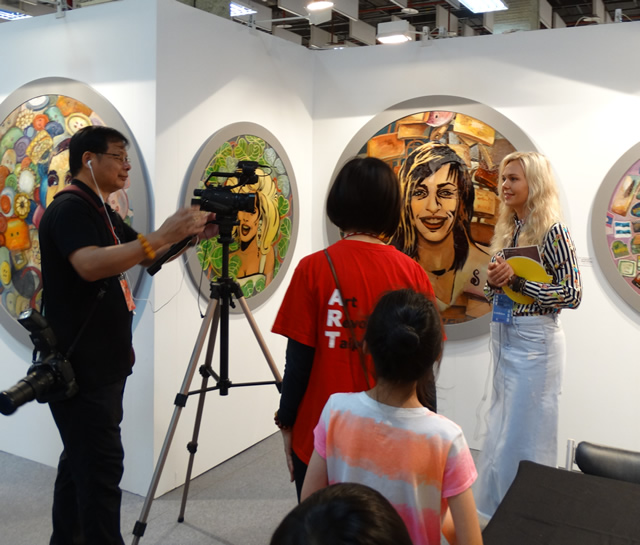 "The subject of my works is happiness! When someone is happy, the person shines from inside to outside. I used different backgrounds to represent everyone is happy for a different reason." "I hope that everyone that appreciates the works can sense the happiness."

"Why do all your works have round frames?" "because a round painting is like a mirror. When we look at the painting, it is like we are looking at the mirror."
(16)Michal Straska
1980,Slovak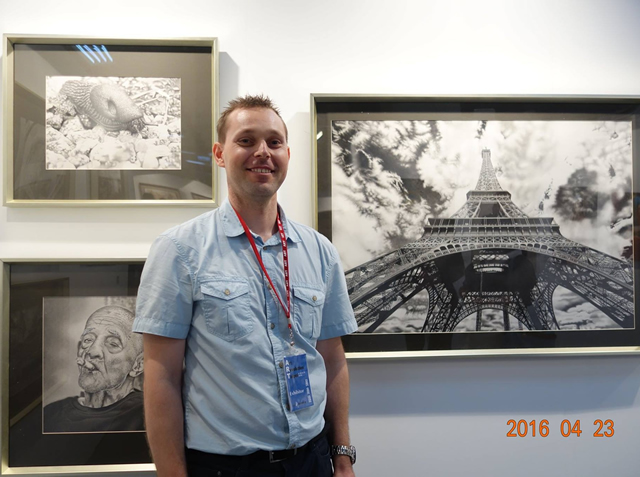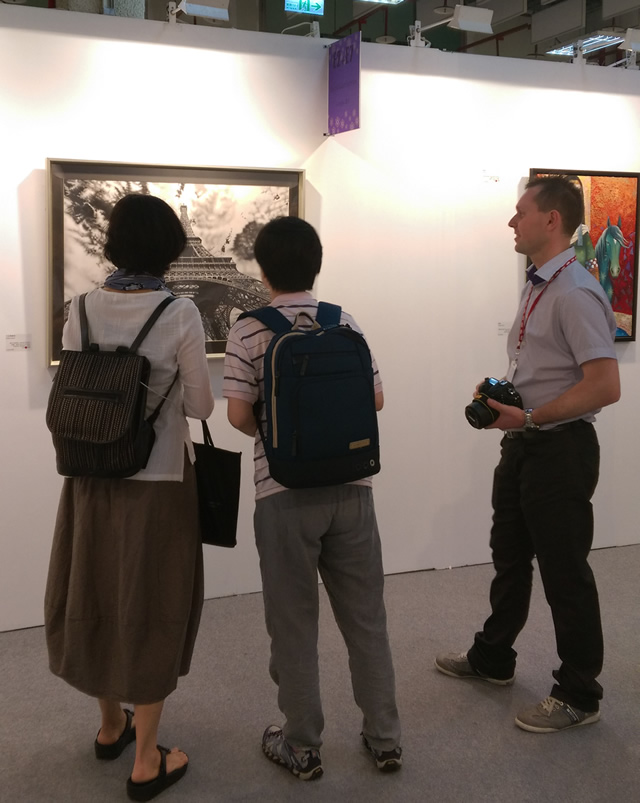 Coming from the beautiful country of Central Europe, the Slovakian pencil artist Michael is an engineer and an amateur artist. Last year his work was selected for the International Artist Grand Prize Competition. His works are very delicate. This year he was invited by the A.R.T to exhibit at the International Artist Salon. All his works sold out in five days, so he was very happy.

At the first meeting at the show, he held the hand of one staff Ocean with excitement and said: "Can you believe it? This is my first time to take the airplane, first time to leave my country, and first time to Asia, and to Taiwan which I know nothing about!" Once he arrived at the show and saw the red sticker on one of his works, he got very excited! because this was this self-learner's first time to exhibit his work and sell his piece. Although what he got from selling a piece is not enough to pay for his return tickets and food and accommodation expenses, this big boy still laughs happily every day. He is like a jumping music note at the show.

During the show, he stayed at his booth all the time with the two sales people every day and smiled at people passing by. He did not complain or rest. The sales people taught him a Chinese sentence: "this is my drawing." He imitated the accent. When people came, he introduced shyly; "hello, this is my drawing!"

"Why pick pencil, not oil paint or water color?" "because pencil is cheap~ in fact children learn how to use pencil to make drawings in elementary schools. I want to inspire people so that they can have the motive to make a drawing or a painting. When asked when he started creating art? He said: "I remember it was in 2009 when a female colleague saw the sketches I normally made, she gave me a photo of her, hoping me to make a drawing of her. I did not expect that she loved it very much, and then I started my art career."

Last year when Michel came to Taiwan, he went to Chiang Kai-shek Memorial Hall to find views and take photos. The drawing he made based on the photo was sold at the VIP night! The Eiffel Tower took him one year to draw all the details. The lines of normal pencil paintings look stiff. Michal has made a breakthrough to create the soft focus effect of photography in his drawings. In the drawing "scenery recycle", everything is white; the land is snow white, the river is transparent white and the platinum of car is silver white. Michal is able to use the pencil to create gradations, no wonder his works won the favor of the organizer.

In terms of his view on the organizer, Michal thinks that the organizer has been great. The staff is friendly. He is able to see artworks from different countries. They are beautiful paintings that gave him a lot of inspirations.

Slovak – a country name that seems to appear on our high school textbook and fade away in our memories, now it began to leave us an unique impression because of this warm and shy big boy Michal.
(17)Wang Dazhi
1971,China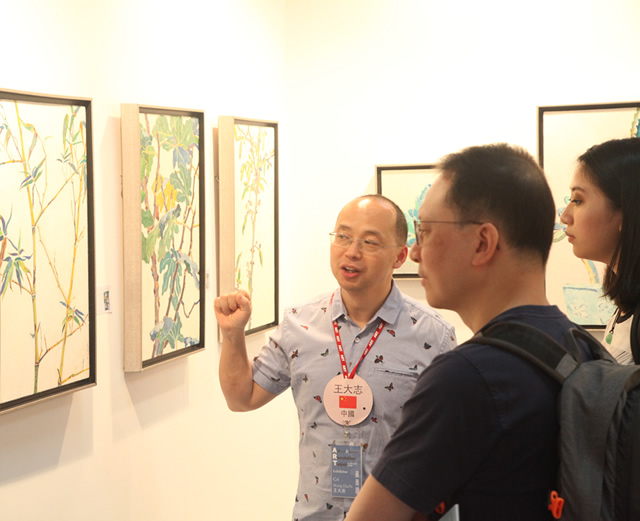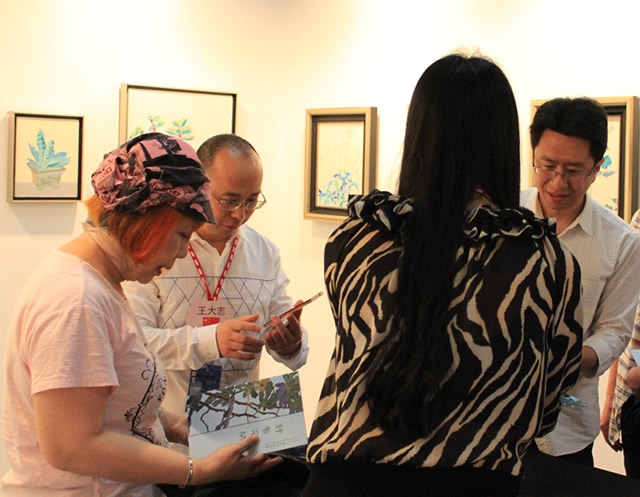 "This is my third time to join the exhibition. Coming to the A.R.T. is like returning home. Again I am meeting many volunteers and collectors who are good friends. Collectors who bought my pieces also came here to see me!" Mr. Wang flipped his catalog happily and pointed at a poem saying: "The poem in my catalog for this time was provided by a Taiwanese collector. The organizer provides a platform for exchange so I have made many new friends.

Mr. Wang said that the artists also need to learn from other people's experiences as well as continue cultivating themselves and enhancing their aesthetics. "Here many artists and I can share our creation experiences and feelings with each other. I am very touched and inspired." "My works for this time focus on plants." The "flower loving collection" depicts the beauty of blooms and their representation of prosperity and fortune. It is also an expression of feelings for life in nature.

Mr. Wang finds the Tyrannosaurus art installation very special. He said he is seeing the organizer continues progressing with the era. "The works change every year, and there is a wide variety. The show planning has been very international, precise and appropriate.
(18)Cheng Yi
1973,China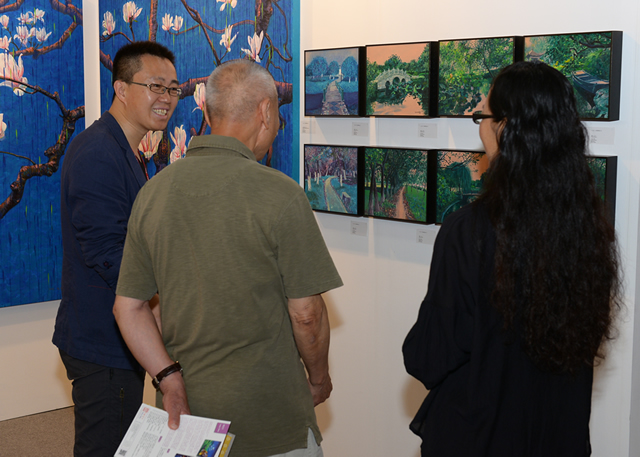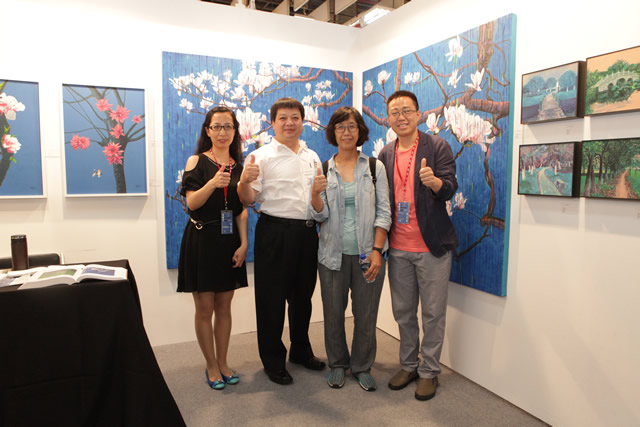 "I've heard that the A.R.T has been great. So when I joined this time, I decided to come to the show with my wife. It is indeed proven to be a great art expo where I've gained a lot."

Mr. Chen said: "Taiwan to me is like a traditional Chinese character. This time I've brought paintings that show many types of sceneries and flowers, but they express the purest mind. The purest point is simplicity. Tradition is also simplicity." Through these works, the mind seems to be cleansed and becomes more peaceful. The four seasons of the year pass by quickly, and people need to cherish time more.

"From the show setup to the VIP night, this time I had the first-hand experience. I feel great. The interactions have been quite sincere. The details of show planning have been taken care of. The A.R.T. has provided a great platform. I've been here for two days only and already gained a lot. I am grateful for the opportunity to join the show." Mr. Chen said he's seen the works of Song Yonghua but he got to know Mr. Song for real after he came to Taiwan. This is the biggest gain for him.
(19)Liu Wei-Tsen
1980,Taiwan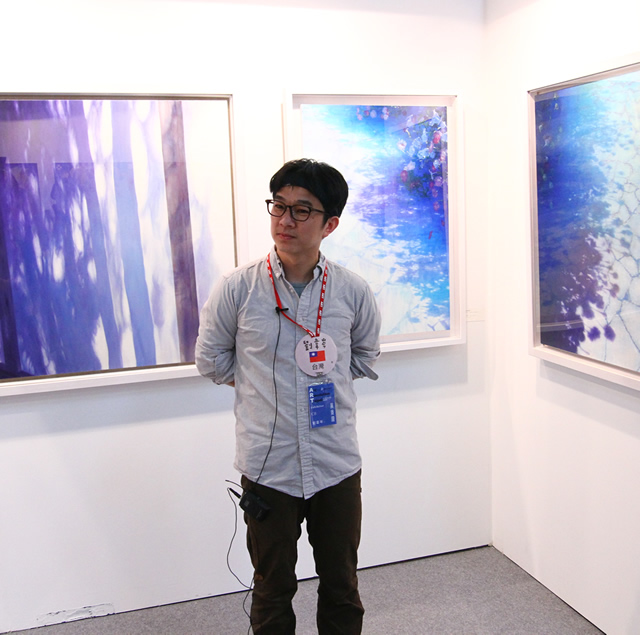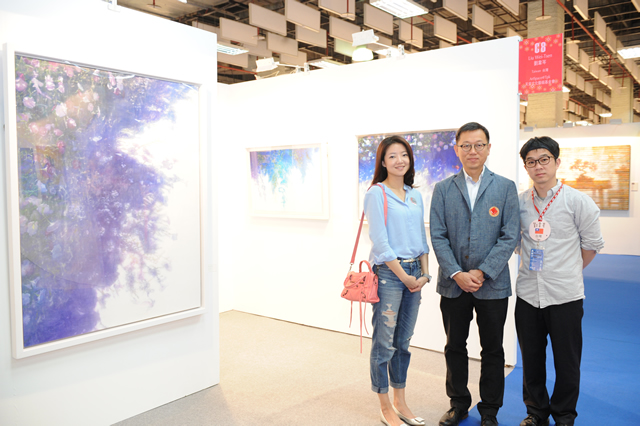 Mr. Liu works in the travel industry and has travelled to many places where he found views as inspirations. The collection "flower-Kucha Palace" shows the flowers and shadows of Kucha Palace in Xinjiang. Looking at the flowers outside of old monuments from ancient times, he tried to imagine how flowers would look like thousands years ago.

In the past the sales people and galleries helped him to sell the paintings. This time he came to the show and had direct interaction with the public. He also learned how to introduce his own works. He said he used to think that it is visual to appreciate a painting. However, since he came, he found it necessary to tell collectors his creation concepts. This is the responsibility of the artists. He said there are more visitors than he expected. Such an international exhibition allows him to see different world views that bring new stimulus and inspirations.
(20)Lin Hsuan-Che
1980,Taiwan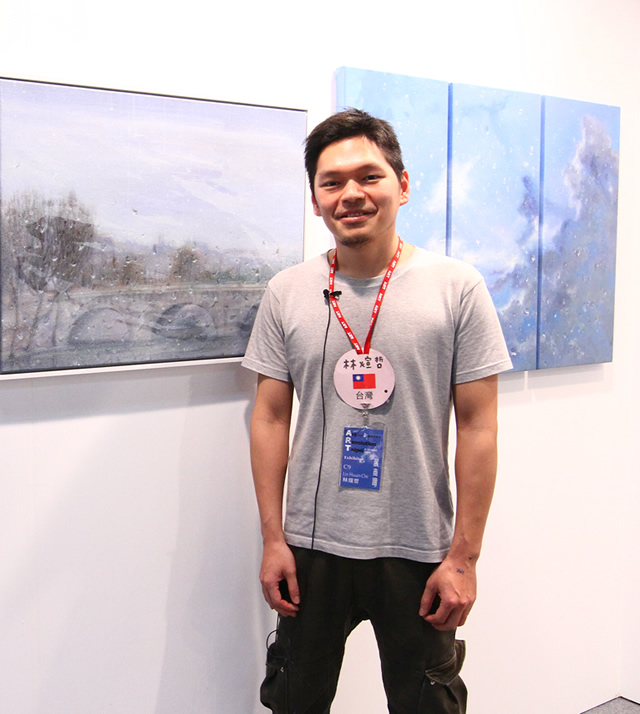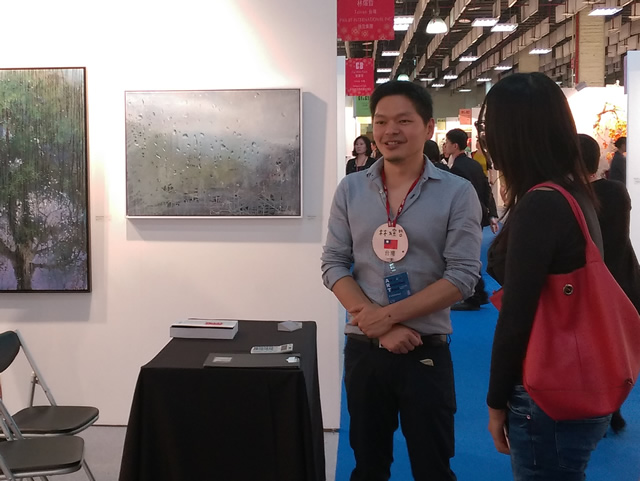 It was Mr. Lin's first time to join the A.R.T. "I feel very honored! At the same time I feel very lucky to be able to come to this massive art show and exhibit with so many international artists at the same time. I've learned a lot at this art expo."

His works for this show draw inspiration from his memory in France. The weather in France is humid and cold, and often one can only see outside from house or subway windows. This kind of sceneries reminds him of Taiwan. He hopes to use this composition to interpret his nostalgia and capture time in the same way as photography.

He is particularly impressed by the Taiwanese artist Liu Wei-Tsen. "maybe because we present the same ideas in our paintings in different ways." Liu creates his paintings mainly from different angles of light, and Lin focuses more on transparency. What Lin wants to deliver now is not just the natural scenes but also his feelings through the change of tones.
(21)Alexander Oligerov
1965,Russia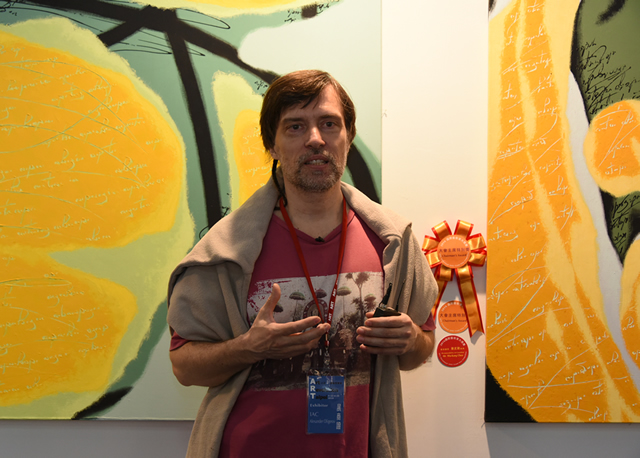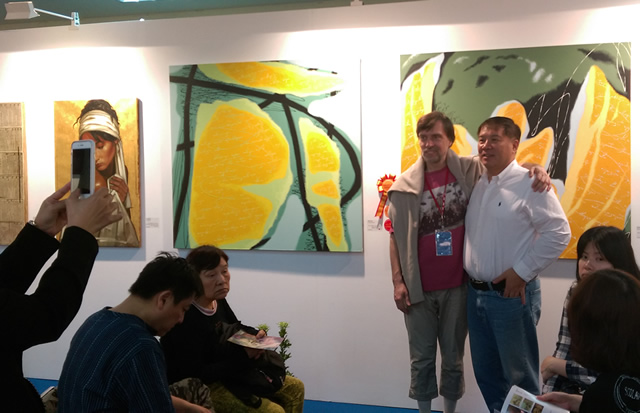 The Russian artist Alexander joined the A.R.T. for the first time. Born in Kazakhstan, he suffered a lot from the continuing wars in his childhood until he left home at the age of 16. He thinks that everyone is facing different pressures every day and cannot avoid being negative emotionally. That is why he hopes to deliver love and good, and the positive power and feelings. He said he has feelings for honey because in the U.S. he heard the song of the rock & roll band Beetles "honey, honey…" and liked it very much~

The two paintings he brought sold out at VIP night, and "Honey treasure" was even honored with "Chairperson's Special Award" from the organizer of Grand Prize Competition! He happily said that he could start making new works. He also said that in Europe the color yellow is a symbol of joy and pleasure and the fruit represents fullness and happiness. On every slice of fruit in his paintings he wrote Russian poems (mostly wishes and eulogies), so it seems that the artist likes giving people wishes. As the paintings have green background to contrast the yellow fruit, the sales team even gave him an entertaining nickname "the Lemon Master".

Actually Alexander has an impressive background. In 2004 he won the first prize "Cap of the professional" in "The best painting" nomination at the international festival of arts "Master-class" in St. Petersburg. In 2006 he was awarded the silver medal of Academy by Russian State Academy of Art. In 2007 his paintings represented the fine arts of Europe, among other 100 artists from all over the world at the "Meeting of the artists from five continents". His works are deeply appreciated by collectors.

He feels that the A.R.T. is a very important art exhibition to allow people see works of different countries and styles. This was his first time to be exposed to Asian art. He said this is important to him as in the past he used to be exposed to European and American art. He hopes to see Asia's traditional art that can help him change internally. He said people must go forward in their lives. He is passionate about art and will keep on creating until the last day of his life.
(22)Khaled Zaki
1964,Egypt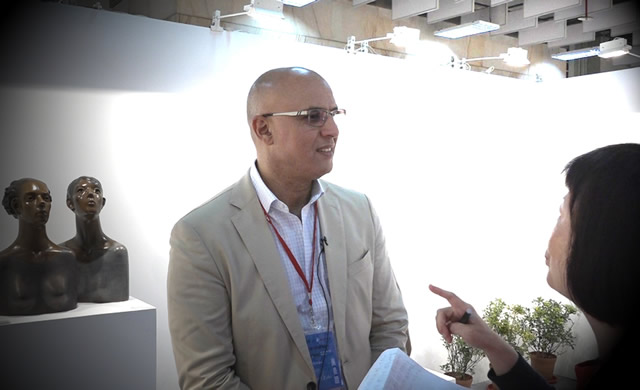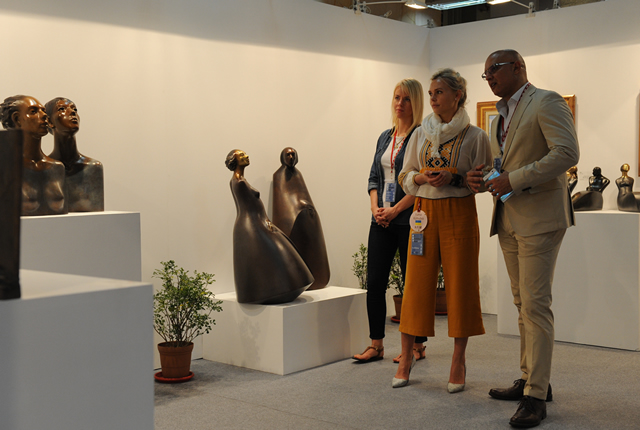 Last year was Khaled's first time to join the A.R.T. It impressed him a lot and he had strong feelings for it. He said he was honored to be able to join this massive exhibition. This is a great opportunity to let people know his works. He can introduce his works that integrate ancient Egyptian culture and modern sculptures to the Taiwanese public and people from all over the world.

Khaled was the representative artist of the national pavilion of Egypt at 55th Venice Biennale. His works have been collected by many art museums. The private collectors come different countries; the U.S., Belgium, Italy, Germany, Ireland, Mexico, Kuwait and UAE. Since the 2011 Egypt Revolution, "my works transformed from abstract to the integration of human sculptures in order to capture and express the present feelings, dreams and common expectations of the Arabian society and Egyptians.

He said: "This exhibition shows progress. It is not easy to get people interested every year. This means the organizer has to work hard every year. This show can allow people to see art pieces from different countries and different cultures. This is one of the world's most important exhibitions. Maybe now people still do knot know, but they will know it in the future." He also indicated that the Asian market is getting more and more important. It is an important thing to come to Asia and meet the clients in person.
(23)Robin N. Denny
1975,United Kingdom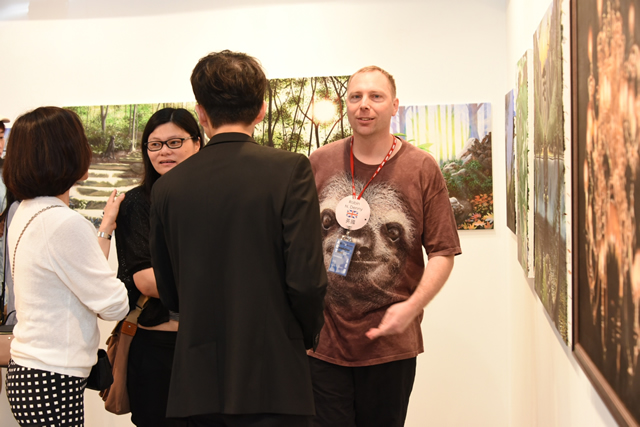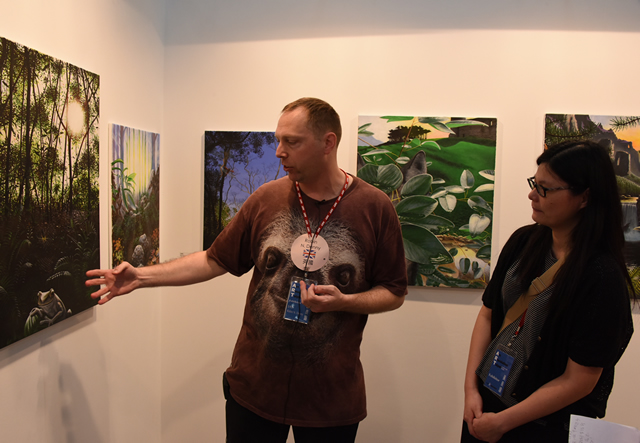 The nature lover Robin has lived in Hong Kong for 10 years. His wife is from Hong Kong. He started painting in the last two to three years. " I like natural scenes and objects. In my works you can see natural elements such as tree leaves, small animals. But I picked the forms randomly to create the connection between humans and nature.

Robin said: "I am happy to join the show. This is a great show to allow artists to share their works with the public. The organizer has done a great job. The setup has been done well." A few years ago he visited an exhibition in Hong Kong. The staff told him the dates of the A.R.T. Two years ago he and his wife purposely made a trip to Taiwan to see the show. He had a good impression about the A.R.T. For this reason he signed up to join. He said in Hong Kong without a good background the artists cannot exhibit their works. He found that in Taiwan there are better opportunities.

This time he showed a collection of paintings related to nature. Among them the cute monkey in "Housailei 1" attracted people's attention. A lady said her husband looks like the monkey in the painting. She asked him to stand next to the painting and open up his eyes to make the same facial expression as the monkey so that she could take a photo. Another painting "heaven and human become one" was just purchased by another artist Wu Gang. The composition is symmetrically balanced. The beetle with open wings in the center is the focus. There seems to be a story in the extending background~
(24)Anjin Abe
Japan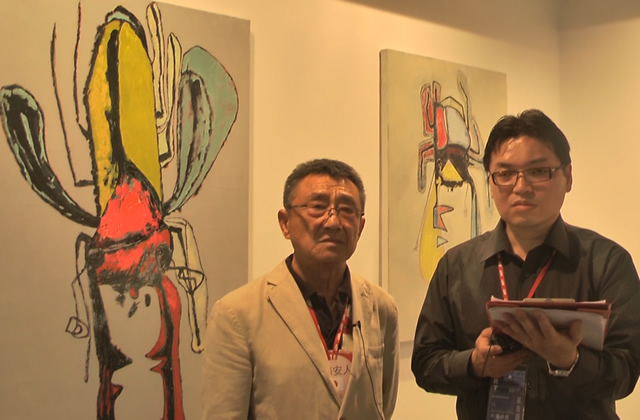 The Japanese artist Anjin Abe has a lot of experiences in joining exhibitions. He is an artist that can work with multiple materials; ceramics, ceramic sculpture, oil painting, bronze, lacquer, and installation art. It was his first time to exhibit in Taipei. "This time I brought oil paintings with a focus on beetle. It is interpreted in an abstract way." In the U.S. and Europe, the beetle is a symbol of authority and the representation of power. Abe hopes to present it with a style of utter innocence in order to bring out the creativity of the painting.

Abe is very satisfied with the arrangement of the A.R.T. and the overall set up of the show. He also suggested that in the future the wall height should increase to 50cm. Regarding the participating artists, he is particularly interested in the works of the Japanese artist Tsutomu Hoshitani who dragged the brush to create the color effects.
█ Interviews with participating artists
Interviews with participating artists

(1)
………………… more
Interviews with participating artists

(2)
………………… more
Interviews with participating artists

(3)
………………… more
Interviews with participating artists

(4)
………………… more
█ Interviews with participating artists video
Interviews with artists video I
…………………more
Interviews with artists video II
…………………more
Interviews with artists video III
…………………more
Interviews with artists video IV
…………………more